Understanding eBay stars and the Rating System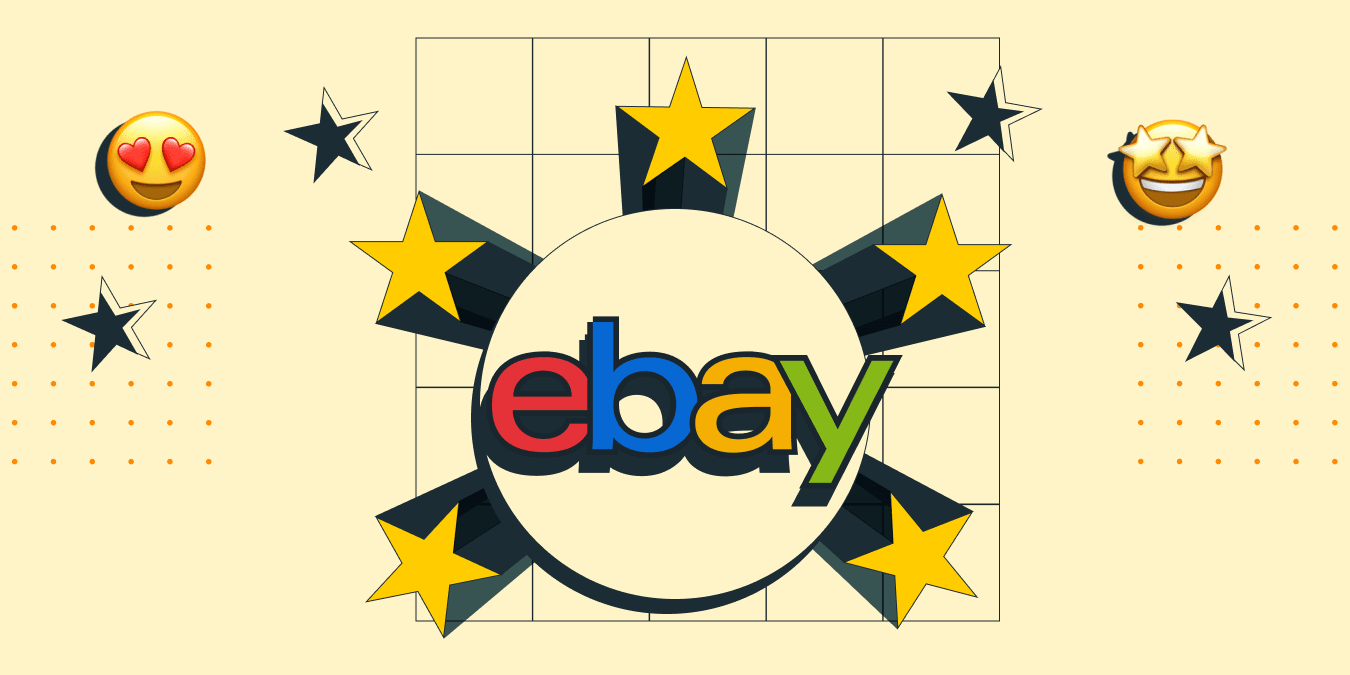 Have you ever wondered what an eBay star is? Here we will explore everything about eBay stars, what they mean, and how to get a better eBay star as a seller.
eBay is a popular online shopping platform with over 600 million monthly visitors, and surely, you're one of them. It's possible that you've spotted the fancy stars that appear on product pages all across eBay. These are the eBay stars that are displayed in your 'Seller Information section.
Maybe you haven't earned your eBay star or you might have seen another seller's eBay star and wondered why it looks different than yours.
In the article, we all explain everything you need to know about eBay stars, what they mean, how they are different, and how to get a better eBay star as a seller.
What is an eBay star Rating system?
Like most eCommerce platforms eBay has its own system to track seller's performance and monitor customers' feedback. Additionally, It provides a metric for buyers for what quality of service they can expect from the sellers.
eBay star is a rating system installed by the platform. The eBay star rating system is based on customer feedback and indicates a seller's professionalism and customer service. It's a reflection of how well things are selling for you and how satisfied customers have been. It's a reflection of how well things are selling for you and how satisfied customers have been.
The score a seller receives is updated every time they receive feedback, which might be positive or negative.
Any time someone gives you a good review, you get one point.
Each unfavorable review is worth a loss of one point.
And If you receive a  neutral rating, you get no points.
A seller's overall score on this scale is often displayed in the feedback section.
To calculate the feedback score you subtract the number of negative reviews from the number of positive reviews.
Let's continue forward and see how these eBay feedback points translate into eBay star ratings.
Did you know you can automate product listing on eBay?
Learn More
eBay Star Chart Explained
Now that we've understood how sellers earn and calculate eBay rating points, it's time to see how that relates to eBay stars.
Basically, the feedback rating of a seller on eBay is represented by a different colored star. And when you accumulate a certain amount of points, eBay awards you a star based on your total eBay feedback score.
The table below shows eBay feedback star colors and how many points you need in total to earn for each star.
| | |
| --- | --- |
| eBay star | Points required |
| Yellow star | 10 – 49 |
| Blue star | 50 – 99 |
| Turquoise star | 100 – 499 |
| Purple star | 500 – 999 |
| Red star | 1,000 – 4,999 |
| Green star | 5,000 – 9,999 |
| Yellow shooting star | 10,000 – 24,999 |
| Turquoise shooting star | 25,000 – 49,000 |
| Purple shooting star | 50,000 – 99,999 |
| Red shooting star | 100,000 – 499,999 |
| Green shooting star | 500,000 – 999,999 |
| Silver shooting star | 1,000,000 + |
Which eBay star colors are better?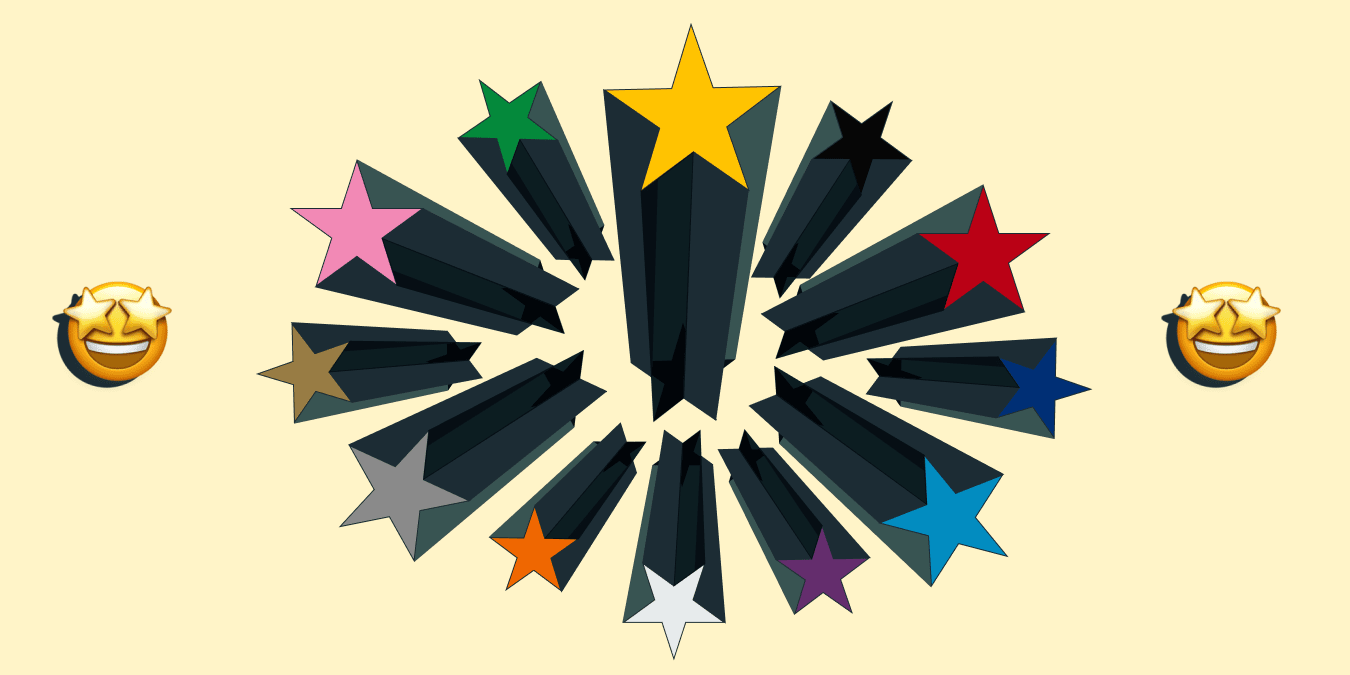 As shown in the table above, eBay stars' colors depend on the points you've earned over time. The stars come in two designs, standard stars in different colors and shooting stars.
Each star level has different colors, showing customer satisfaction with the quality of products and services you provide. So naturally, the more feedback score you earn, the better your eBay star color will be. We have prepared a list of the eBay star colors and ranked them from lowest to highest to give a better perspective:
Yellow color eBay Star:
eBay yellow star is the most basic star which you get when you earn your first ten eBay feedback scores. It is a good eBay star to start with.
Blue color eBay star
For sellers just starting their business, earning a blue color eBay star is an achievement. Accumulating fifty-plus feedback scores shows that the buyers are pleased with your product and customer service. This should motivate you to continue forward.
Turquoise color eBay star
Next on the list is the turquoise eBay star. This eBay feedback star is unlocked after obtaining a hundred feedback scores.
Purple eBay star
eBay purple star is an achievable target even for small sellers. By providing quality service consistently, you can earn the five hundred points you need to unlock it.
Red color eBay star
eBay red star is unlocked after you receive a thousand feedback scores. It is better than all the previous standard eBay color stars. Most sellers on eBay have acquired it.
Green color eBay star
eBay green star is the top eBay star amongst the standard ones. You need five thousand feedback points to acquire it and you can achieve it when you provide good quality customer service consistently.
eBay Yellow shooting star
The first shooting star on the eBay star rating program list is the yellow eBay shooting star which makes it better than all the other eBay star colors. It celebrates an important milestone for many sellers on eBay and requires ten thousand feedback points to acquire.
eBay Turquoise shooting star
The turquoise-colored shooting star requires twenty-five thousand feedback points.
eBay Purple shooting star
You need twenty-five thousand feedback scores to unlock a purple shooting star. Most small sellers will need to continue doing business on eBay for a long time.
While big brands that can sell in large volumes and already established customer base can achieve it in a short period. Both provide a quality service to their buyers and actively seek feedback from them.
eBay Red shooting star
The red shooting star on eBay means you've accumulated fifty thousand feedback points.
eBay Green shooting star
eBay sellers who make large volume sales can earn this star which requires a half-a-million feedback score.
eBay Silver shooting star
The best eBay star is the silver shooting star and is better than all the others. Only the top eBay sellers have this achievement and you get this star after accumulating a 1,000,000 feedback score.
You can use this list to check where you stand and which eBay star is better than yours and aim for it.
How to get stars on eBay?
If you're just starting out as an eBay seller, you'll need to accumulate at least 10 positive feedback scores before you're awarded your first star. In this case, it will be a bright yellow star. Then, when others start to give you favorable reviews, your star rating will rise. As you start ramping up more positive reviews, your eBay star rating will increase, and receive a better color eBay star.
How to get a Better eBay Star?
A high feedback score on eBay is important for your online store, it's time to learn the best practices for achieving that goal. Since it relies only on your eBay feedback rating, you should actively work to increase it. Here are some tips you can use to boost your eBay feedback scores.
Automate product listing
Manually updating multiple product listings can leave room for errors. Customers are more likely to leave negative comments if you provide them with inaccurate information. By using third-party integration tools like Sellbery, you can automate product listing and provide an optimized descriptions of your products to marketplaces.
Upload Real Images
Images are the first thing buyers look at when they land on your product. So make sure you use real images of the product so your customers can see what the product really looks like. Meaning, what you see is what you get. This method is great for building trust with customers.
Furthermore, you can avoid negative feedback and allegations of scams later on.
Crist product images is vital, so 3D product images in good quality can work great as well.
TIP: Using video of your product in action can boost sales by 3-5x.
Seek Customer Feedback
Not all customers provide feedback on checkout, which may affect eBay's feedback score. You should actively try to communicate with your customers and ask for product reviews and feedback on customer service.
Try to sentivices feedback from a customer with a small gift in the order, giving a next purchase discount in the email with feedback.
Remember, it can be small, just be creative and you will get more feedbacks.
Also, There are third-party tools that you can use to automate receiving customer feedback on checkout.
Address Customer Concerns
On eBay, customers may also revise previous feedback. In light of this, you should address negative reviews.
It's possible that you may be able to rectify the issue and perhaps convince them to withdraw the negative comments. Otherwise, a sincere explanation and apology would go a long way toward reassuring potential buyers.
Improve Customer Shopping Experience
Enhance your customer's shopping experience, from landing on your eBay page to delivering products to your customer's doorstep. There are simple ways to do it even for a small seller on eBay.
You can do so by providing accurate product descriptions, timely updating inventory status, offering multiple payment methods, low shipping costs, and most importantly communicating with buyers.
If you provide a smooth shopping experience to your customers you can earn lots of positive reviews which will result in a high eBay star rating.
Build Customer Relationships
Providing excellent customer service is all about being responsive and friendly. Customer satisfaction may be maintained even while dealing with dissatisfied buyers.
You can take advantage of eBay's policy of encouraging buyers to reach out to sellers before leaving negative feedback.
We recommend you use this as a chance to build a positive customer relationship and make up for any genuine negative experience they might have encountered.
However, there might be some bad apples that falsely spam you and also ruin the experience for other customers. You can learn how to block bidder on eBay that is damaging your business.
Research what your competitors are doing
Invest some time in market research. Investigate top eBay sellers and what look at some of the best selling items on eBay. This way you can learn new ways of improving customer service and implement them for your online shop.
For example, most sellers on eBay use MPN for inventory. You must be wondering what is MPN on eBay? Well, MPNs are unique product identifiers that make it easy for your customers to search for them. Using them will help the customers find your product more easily and improve their shopping experience.
Which will result in more positive feedback for you and a better eBay star.
Did you know automating product listing can help you rank higher on search?
Learn How
How important is eBay's star rating?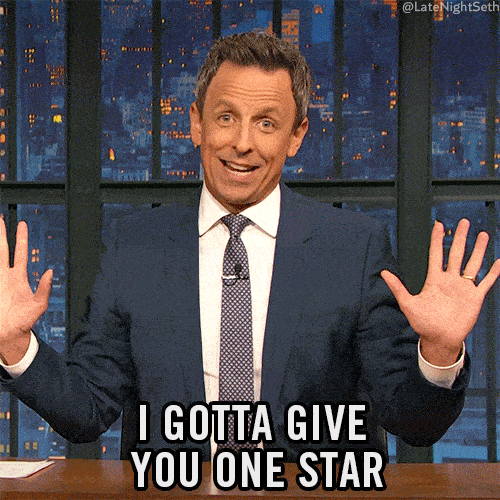 If you've just come across eBay star rating you might be wondering about its significance. Well, you're not the only one,  because there are alot of people unaware of what eBay stars mean. However, since eBay's stars rating reflects customers' feedback in a way, you should focus on earning as positive points as you can.
eBay feedback star: small vs big sellers
A high rating star will attract only those buyers who understand the color difference of eBay feedback stars. However, customers can click on the star icon and check the eBay feedback rating of the seller. So, positive feedback is crucial for gaining the trust of potential buyers on eBay.
If you're a small seller you may be wondering what you can do to compete with the major names in this market. However, the number of stars and overall score you receive in reviews on eBay aren't everything. When making a purchase, the majority of buyers check out the percentage of positive feedback instead of the points. So, having a higher percentage is better than having more eBay star rating points.
Meaning as a small seller you can compete successfully by focusing on providing exceptional customer service. Let's look at an example to understand the difference between eBay's feedback score vs the percentage of positive feedback.
Let's say a buyer is looking for a new pair of shoes on eBay and comes across two sellers.
Seller A = Small local brand has a purple eBay star with 98% positive feedback and 864 feedback points.
Seller B = Popular brand has a red eBay star with 89% positive feedback and 4,256 feedback points.
Some customers may be swayed by seller A's stellar track record of only a couple of negative reviews in the past year. Meanwhile, the feedback score of Seller B might impress other shoppers.
Does eBay's feedback star impact on your rank?
eBay uses an algorithm to rank sites on its search page.  Although, we don't know how much it factors in the eBay star rating, what we do know is that eBay values sellers which offer good customer service. So it's not far-fetched to assume that your feedback score does impact your ranking in eBay search.
Where you rank on the search can drastically impact your business success. Buyers are more inclined to click on products that appear on top of the search. This means ranking lower will reduce your reach and will cost you a lot of potential customers.
To maximize the number of potential customers who see your listings, you want to rank as high on the search engine as possible. eBay's mission is to provide buyers with the most relevant listings and connect with the best sellers that are offering them.
Since, eBay Stars programme rewards sellers who go above and above in providing valuable services to buyers by raising the profile of their listings. You should be focusing on earning feedback points.
Aim for a Silver Shooting eBay star
It is not a coincidence that the top eBay sellers have silver shooting stars with millions in feedback scores. With an average of 99,000 eBay feedback scores a month, the top eBay seller "world of books" has set an example, that providing quality services can bring you success. Although, this is beyond the reach of many eBay sellers.
They shouldn't limit themselves but instead implement the tips we've shared in the article to improve their eBay feedback scores.
If you're a new or established seller on eBay looking to earn more feedback points you can integrate third-party tools like Sellbery to provide your customers with a better customer shopping experience. Resulting in more positive feedback, a better eBay star, and more reach. Because, at the end of the day, feedback scores are just a way to attract potential customers.


Also Popular on Sellbery
Why Email Marketing Is Vital for Startups
For emerging businesses, particularly startups, email marketing is a golden nugget. It's a reliable and powerful strategy that can bring about transformative results. It offers a suite of benefits that cater to the specific hurdles startups encounter such as limited resources, the need to craft a brand persona, and the drive to establish meaningful connections with customers.