How to Block a Buyer on eBay: The Complete Guide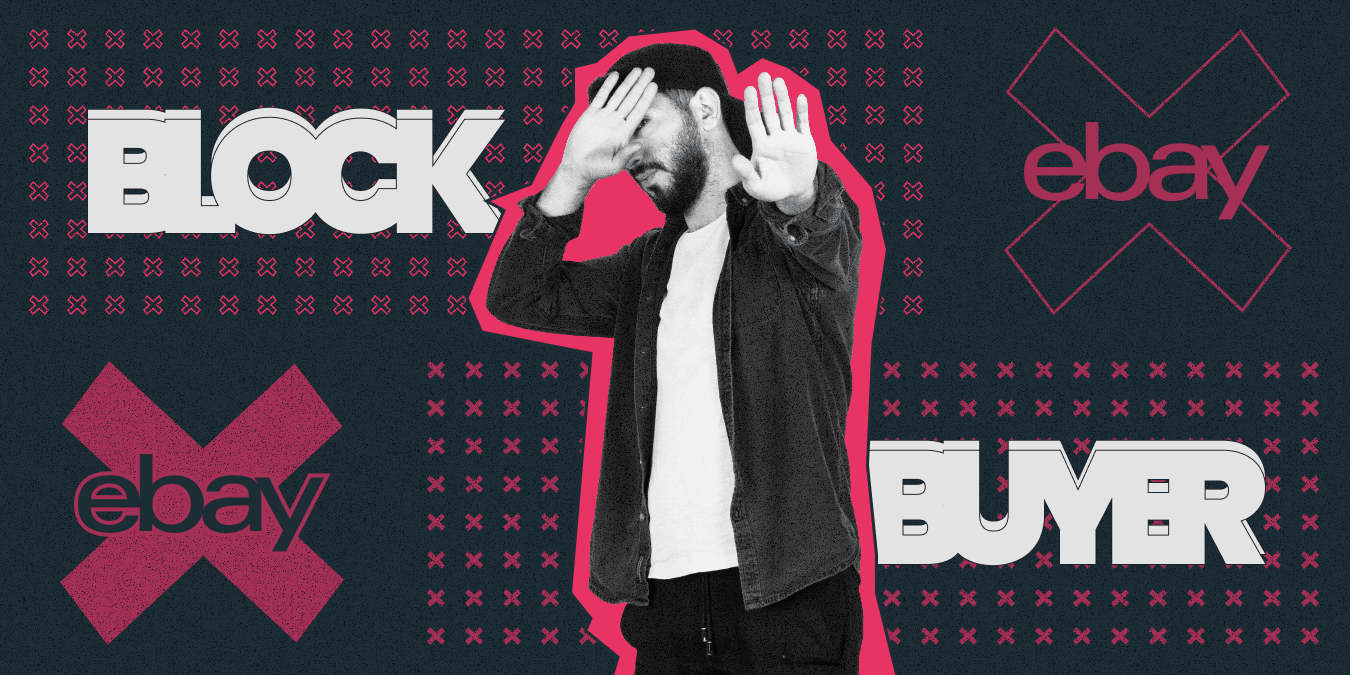 Want to stop a buyer from bidding on your items? Here's how you can block a buyer on eBay to stop them from bidding on or purchase your items.
Blocking a buyer on eBay is a way of preventing a specific buyer from buying your products. It is an essential feature that every eBay seller should know. It allows you to prevent potential buyers from purchasing from you, for any reason. If you block eBay bidder, they will not be able to buy your items. This article will explain how to block a buyer on eBay and why it's important for both buyers and sellers.
Why block a buyer on eBay?
In general, eBay "block buyer" feature is an option for those who have been victims of negative feedback or someone who has been bothering them for weeks with spam messages.
You can block a buyer on eBay at any time, for any reason: the buyer has not paid for an item, the buyer has broken an agreement, or you don't want to sell to them again.
So, there are several legitimate reasons to block a buyer on eBay:
Non-payment of purchases
Fraudulent activity
Backing out of bids / agreed upon purchases.
Abusive behavior or language.
For competitors not to purchase your products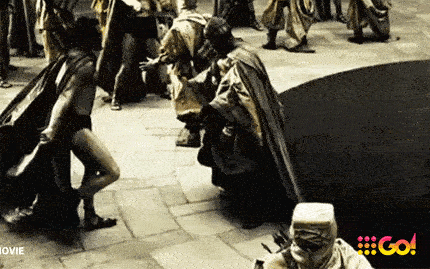 If you block an eBay buyer, they won't be able to purchase or to bid on ANY of your listings – this is why eBay warns sellers to use the feature sparingly.
So, make sure to read the instructions carefully before blocking the person.
Blocks and buyer blocks are two different things and they serve two different purposes. A block can be used to restrict a user's access to the seller's account, while a buyer block is used to prevent users from purchasing items from the account.
Buyer blocks are always temporary and sellers can remove them at any time. However, if a seller has blocked a user, they will need to unblock them in order for this user to purchase anything or to bid on items from your account again.
How to Block a Buyer on eBay
You block a buyer on eBay when you are not happy with the buyer's behavior. Blocking a buyer is an effective way to get rid of someone who is harassing you or bidding against you for an item.
If you want to block an online buyer, the first thing you'll need is their user ID or email address. From there, things are really easy.
Step 1: Log into your eBay account and Go to the block bidders page
Click on the "Help & Contact" link at the top of any eBay page and search "Block buyers". The first link which appears will take you to the block bidders page
Step 2: Enter the buyer's username
Enter the username of the buyer you'd like to block and hit "Submit."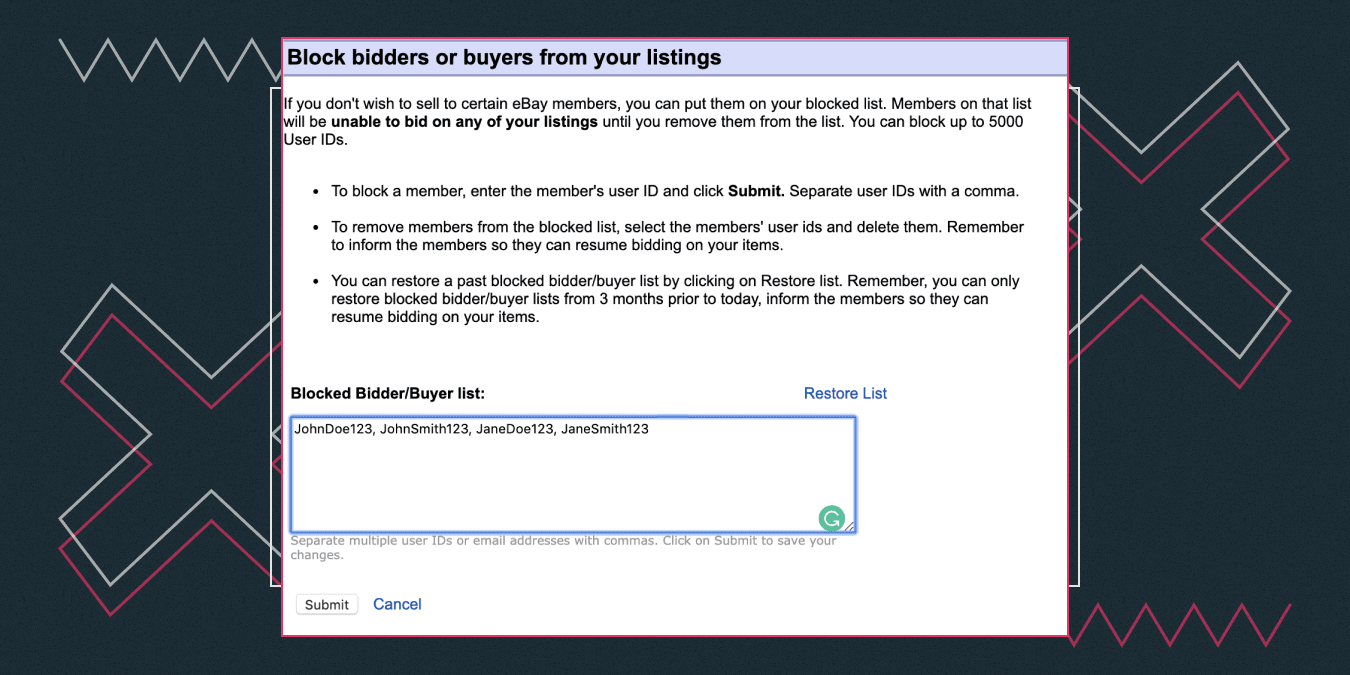 Buying is blocked for those on the list. Removing people from the blocked list will make them active again for bidding and buying on your items. Insert the User ID or email of anyone you'd like to block from your listings and add a comma to enter more than one. eBay allows you to add up to 5000 users to the blacklist. Fortunately, it's not likely that this would ever happen in reality! The 'Restore list' button allows you to view or restore past versions of your blocked buyers list.
However, if you change your mind then you can unblock the buyer at any time. To unblock a buyer on eBay:
1) Go to the Buyer blocked list
2) Click Unblock next to the username of the buyer
How to block messages from buyers
You can still engage with blocked buyers in messages about your listings. If you would like to change this, you should go into the 'Buyer Requirements' section of your eBay account and review the 'FILTER OPTIONS'.
When listing an item on eBay, be sure to uncheck 'Please allow blocked buyers to contact me'. This will ensure that you're not contacted by anyone who has previously been blocked on the site. Though they'll remain able to contact you for issues with past transactions.
All the process of managing your bidders and buyers takes not much time and makes your selling process more pleasant. The same as our multichannel selling platform Sellbery that will help you optimise your product information management process throughout eBay and other marketplaces.
Boost your information management process!
Try Now

Block eBay buyer by specific requirements
By setting buyer requirements for your store, you can reduce the risk of buyers being unhappy. This could include checking that they have been a member of eBay for at least 6 months, have a positive feedback counter, and have bought at least 10 items in the last 12 months.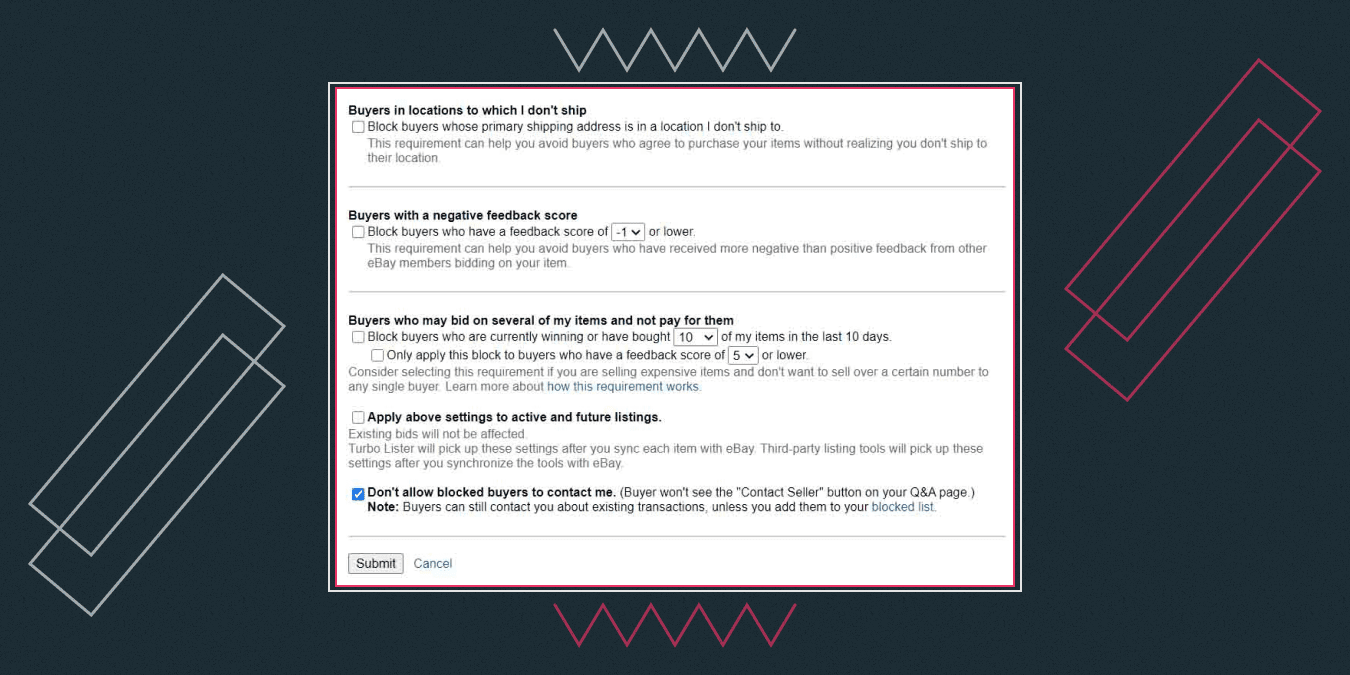 On the Buyer Requirements page, you can block bidders who:
Have a non-paid purchase on their account in the past
Have a low feedback score
Have a history of breaching other eBay policies
Are winning now or have bought 1-100 of your items in the past ten days (you choose the number)
Don't have a PayPal account
Have a delivery address in an area you don't ship your goods to
To choose all of these criteria (or some of them) for your eBay store, you should once again go to the Buyer Requirements page asAs we already described above.
Block eBay buyer by location
Sellers can also block buyers who are located in a particular state or country, which might be useful for some people. For example, you might want to avoid international shipping. Or if you're based in the USA, you might want to prevent orders heading to particular states.
To block buyers from a certain region, go to your account's shipping preferences. Once you get to this page, scroll down and click 'Edit' under the section which allows you to exclude shipping locations.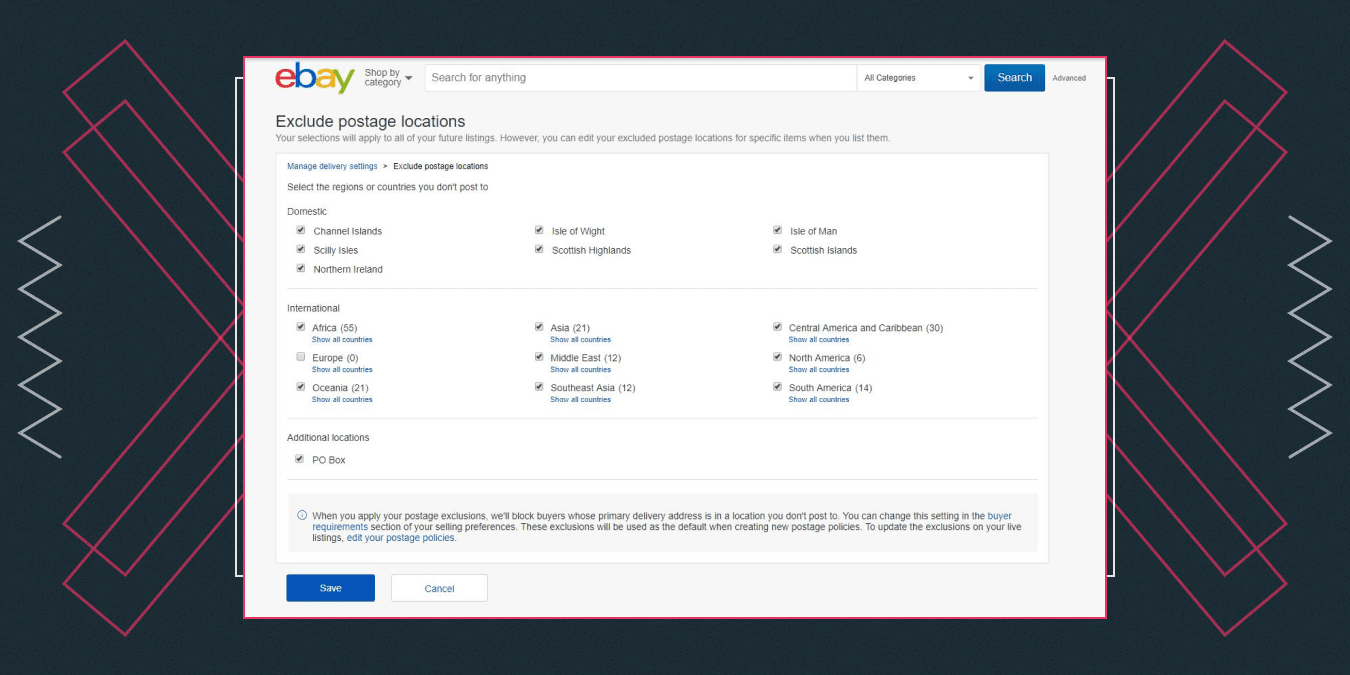 You can now create a list of excluded shipping locations by simply checking the relevant boxes. At last, you can return to the buyer requirements page and check the box: 'Block buyers from areas you don't ship to'.
Conclusion
In order to block a buyer, you will need to go to "My eBay Sold" and click on the item you want to block the buyer from purchasing. Click "Block Buyer." You will then be prompted to enter their email address or phone number and then confirm that you would like to block that person from buying your products in the future.
While you are managing your buyers, let Sellbery manage your orders and product information. You can sell on multiple marketplaces and on your sites and we will help to automate the whole process.
Automate your sales!
Try Now



Also Popular on Sellbery