Discover Best Selling Items on eBay in 2023 and Tips to Sell Better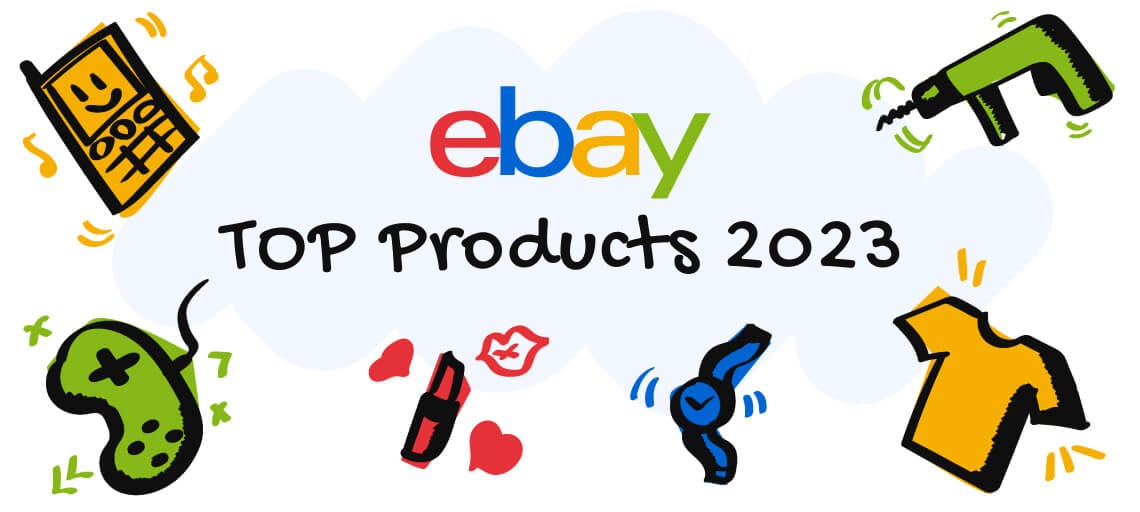 Before you begin selling, it is critical to investigate your competition as well as product trends to have an understanding of the best selling items on eBay.
Are you thinking of opening a business on eBay? The online marketplace eBay is very popular, but with 18 million active sellers, the competition there is fierce. If you want to have an advantage over your competitors, you need to be aware of the best-selling items on eBay.
Continue reading to find out what sells best on eBay and how to boost your sales on the oldest online shopping place.
Why Sell on eBay?
To compare the most popular marketplaces for sellers, eBay is something between Amazon and Etsy. eBay reaches large and diverse audiences like Amazon. At the same time, eBay is easy to set up and manage product listings like Etsy.
Compared to Etsy, where you need to pay for product listings straight away, you can add them for free on eBay for at least a limited time. Amazon, in my experience, is rather suitable for pro-grade sellers and requires more effort to run it.
As for the registration process it really is pretty complicated on Amazon, whereas on eBay, you can easily set up your store's account in less than five minutes.
In my opinion, eBay is the best choice for sellers who wish to launch an online store and have sales quicker with less effort. This marketplace has a broad audience and easy setup, with diverse promotion opportunities. I would say eBay is a middle ground among popular marketplaces.
See the benefits provided by Ebay Integration with Sellbery
Learn More
Top selling items on eBay
This list of eBay's top sellers will help new and established sellers decide what to sell on eBay.
Automotive
Thanks to eBay motors, the vehicle accessories category is flourishing as well on the platform. There is a wide range of products you can offer on the marketplace. Parts and accessories for used and new vehicles are both popular.
eBay's most sold items in automotive category are:
Exterior and Interior Parts & Accessories.
Air & Fuel Delivery. Starters,
Alternators,
ECUs & Wiring.
Lighting & Bulbs.
Motorcycle Parts.
The market for this category is very lucrative as long as you are able to reach your potential customers. We highly recommend you use an inventory management tool, like Sellbery, to list your products. This way you can automate and optimize your product listings to keep up with your competitors on eBay.
Business & Industrial
What sells best on eBay? Business & industrial gear and tools. The fact that construction, manufacturing, and laboratory equipment are all prominent products on the market could come as a surprise to you; nonetheless, there are a large number of buyers looking for such items on eBay.
The top-selling items on eBay in this section are:
Industrial Automation & Motion Controls: PLCs & HMIs.
Medical, Lab & Dental Supplies, Equipment, Devices & Instruments.
Test, Measurement & Inspection Equipment.
These are the most profitable line of products on eBay but you'll face a lot  of competition as well. You can beat your competitors after learning what is MPN on eBay, this will make it easier for your customers to find the products.
Mobile phones and accessories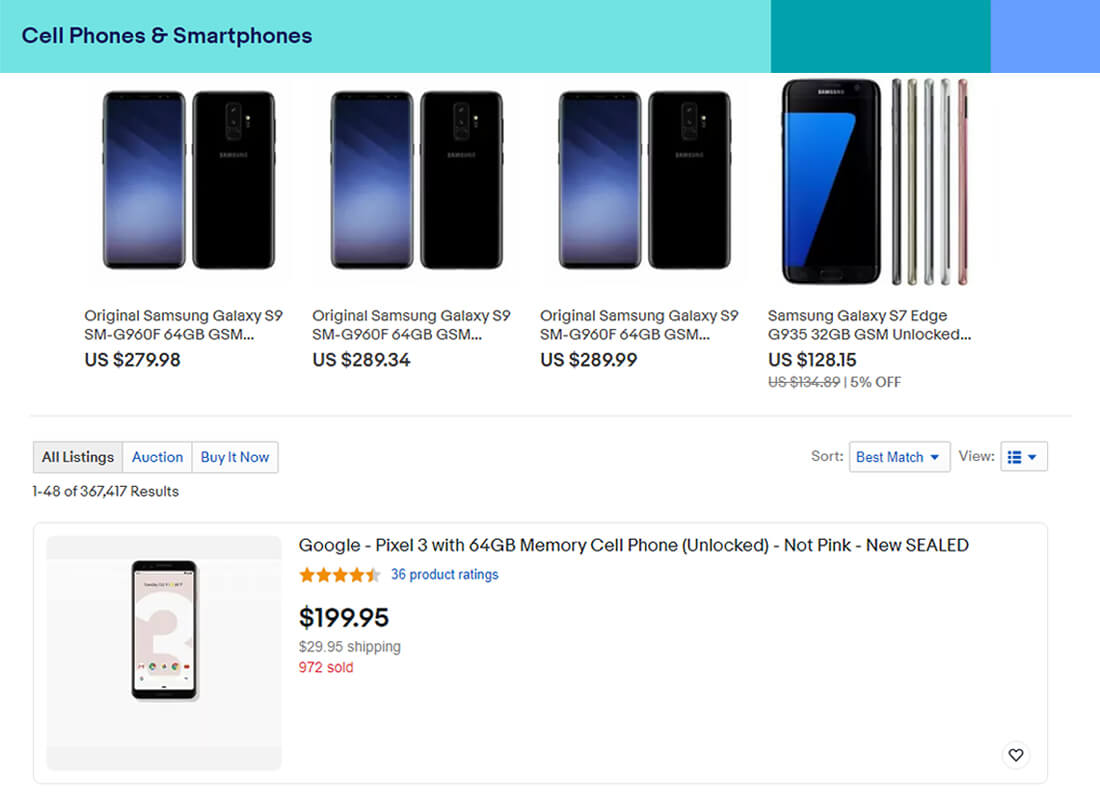 According to the latest reviews, one of the top-selling product categories on eBay is "Mobile phones and accessories". Buyers are chasing used phones and accessories, and this product category is in high demand.
The top items and brands in this category:
The top-selling brands in the phones subcategory are Apple and Samsung
Top-selling accessories are: silicone cases, in-car holders, headsets, covers & skins
Make sure you add unedited images of your items showing all possible scratches. It's ok if your phone has some damages or scratches but you need to be honest about it from the start, otherwise, your buyers may ask for a refund if they receive a used item in a condition that does not correspond to the photo or description in your store.
Pet supplies
If you're a pet parent like myself, you'd love to hear that pet supplies are on the list of best-selling items on eBay. Yes! Pet products are a big hit with the customers on the platform. eBay buyers are interested in all types of products related to the well-being of their animal companions.
Top selling items in this section are:
Dry and canned dog food.
Cat litter.
Dogtags.
Cat food.
Dogs chew toys.
Dog beds.
Fish Aquarium tanks
Fish feeders.
Dog tug ropes.
The key to finding success while selling in this category is to concentrate on providing satisfactory service to customers by fulfilling orders in a timely manner. Dropshipping business model is a perfect fit for this kind of service. You can reach customers in multiple locations and still keep your delivery times up and costs low.
Crafts
People ended up spending a lot of time creating DIY crafts as a result of the Covid-19 pandemic. Because of this growing interest among customers, the craft became one of the best things to sell overall. When it comes to handmade crafts, there is a significant desire for unique, one-of-a-kind items. On eBay, buyers value the originality of design and craftsmanship in a wide variety of products:
Paintings
Sculptures
Drawings
Bead art
Homemade candles and soaps.
If you are an artisan yourself you can easily sell your craft on eBay. Else you can visit your local art clubs and buy items from there. Then resell it on eBay for a profit.
Video games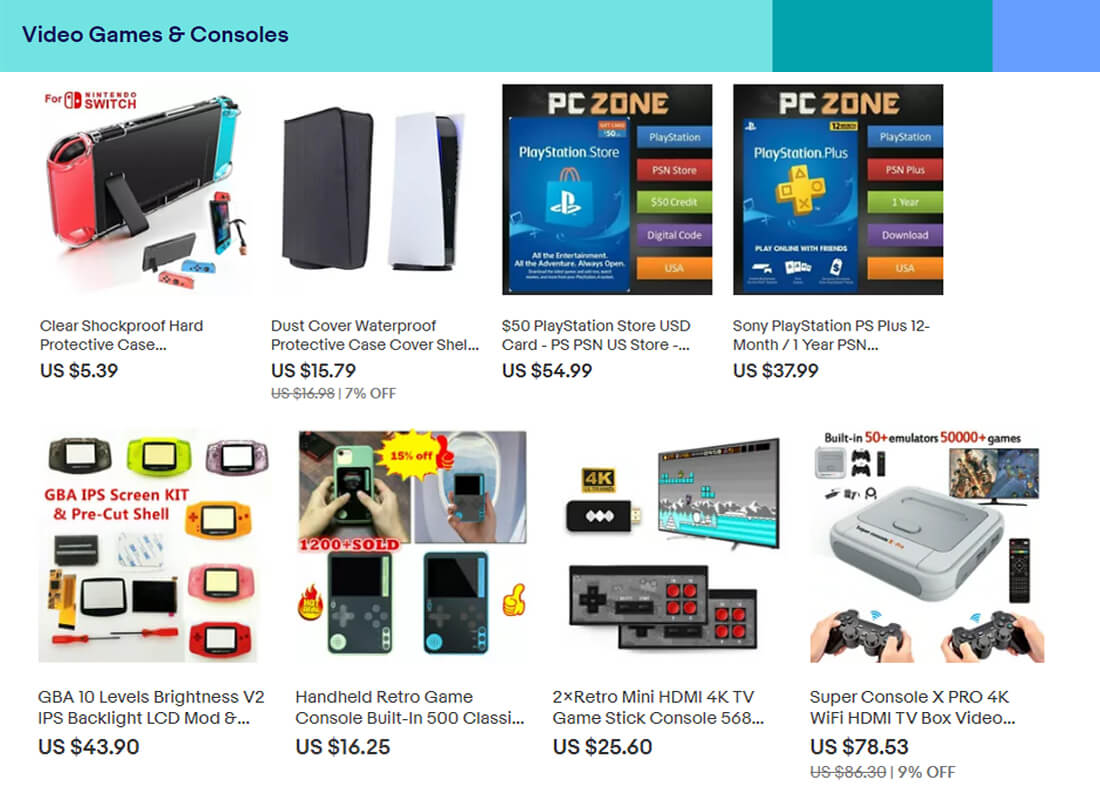 Video games are popular among buyers, especially in the time of lockdowns and isolation. Buyers are looking for a vintage or used games on eBay first, as eBay has the biggest 'vintage seekers' community among all marketplaces.
The most popular brands and items in this category:
Video games (for the top popular consoles as Sony, Nintendo, & Microsoft Xbox);
Console accessories (controllers & attachments) ;
Video games merchandise.
Vintage video games from the 80s or 90s, are a big trend now, as many of us are 80s-90s kids. And, the cyberpunk trend also plays a significant role in the high demand for products from the 80s.
Why don't you add an even more retro vibe when sending a purchased item to your buyer? You can send your buyer a gift like a postcard from that era, for example.
Health and Beauty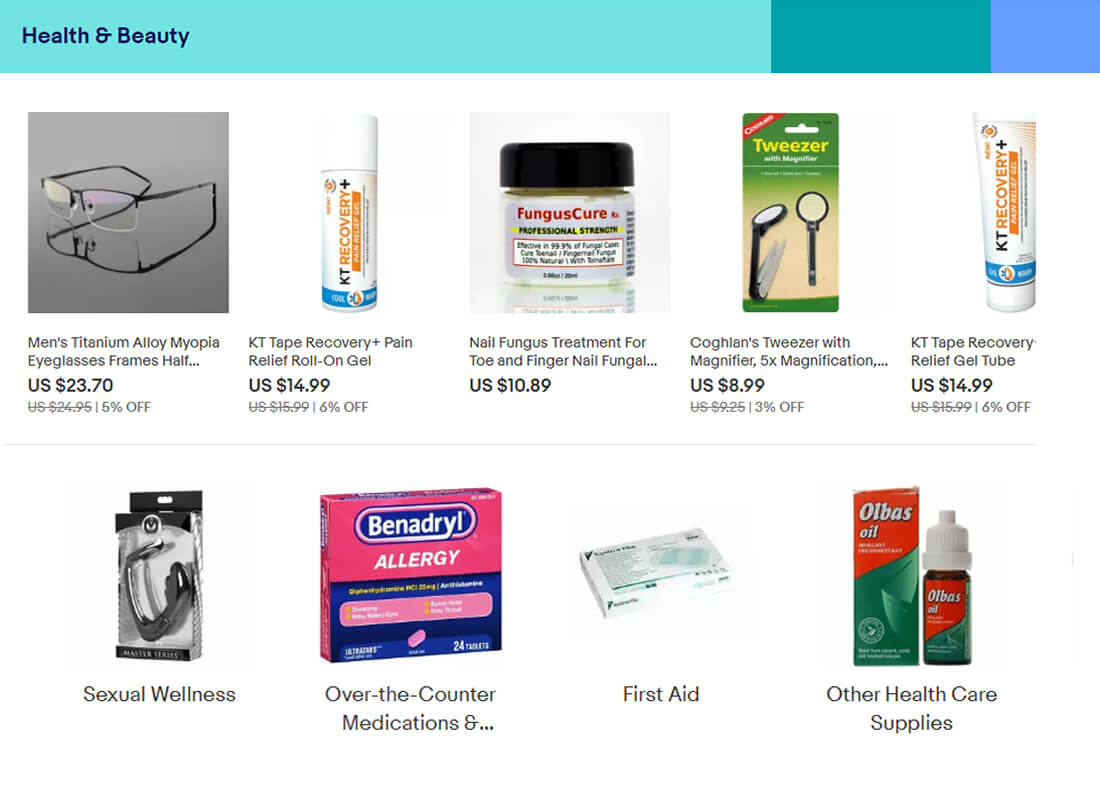 The same as being one of the top-selling items on Amazon, products in the health & beauty category are in high demand on eBay. Skincare is the most significant trend in the beauty industry, but not only. People are chasing magic products that help them to avoid aging and improve their appearance. eBay is an excellent place to get a wide variety of brands, from indie to large ones or well-known brands.
The most popular items in this category:
Fragrances, especially for men (the most popular brands are Calvin Klein, Versace, Creed);
Make-up products;
Skincare and anti-aging products;
Haircare, especially hair loss treatments;
Soaps, items for the bathroom.
In this product category, you must include an expiration date as this information is valuable for buyers. Some may return your products because they are not happy with the expiration date.
Another issue is being transparent about ingredients included in your products, along with terms of use and possible side effects.
Computers & Tablets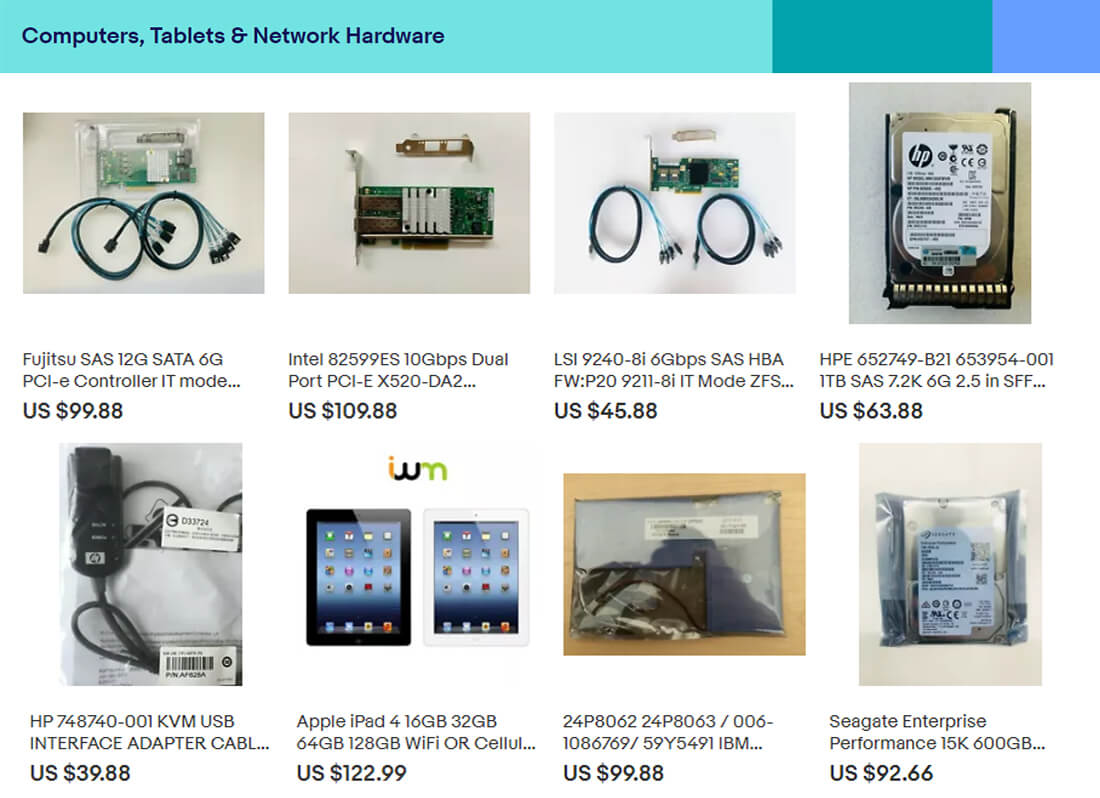 Computers and tablets, the same as mobile phones, generate high sales on eBay. If you don't know what to sell on eBay? Go for computer and hardware accessories.
eBay is a great place to sell your laptop and buy a used one at a lower price.
However, under this category, you may sell a wide range of computer equipment like printers, scanners, and so on.
The most popular items in this category:
Laptops & netbooks;
Desktop computers;
Ultra Mobile PCs;
Networking equipment;
Printers, scanners & supplies;
Drives, burners, and memory;
Monitors;
Networking equipment;
Software.
Buyers are looking for a lower price on eBay, so monitor your competitors' pricing. To avoid negative feedback and refunds, show all existing damages and scratches on the images.
Musical Instruments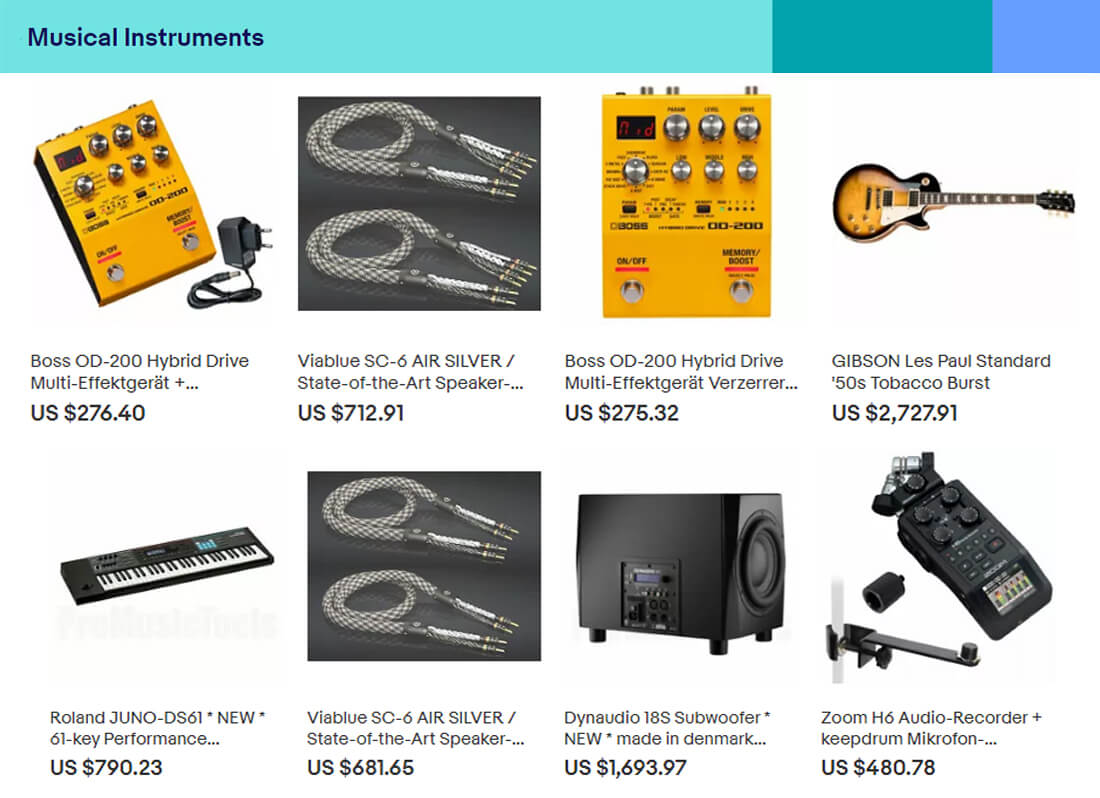 Musicians often resell their musical instruments, as it's convenient to buy used ones at a lower price. Some consumers are interested in vintage musical instruments, and eBay is a good place to sell in this product category.
The most popular items in this category:
Pro audio equipment like microphones (the most popular brands are Shure, Pyle, etc.), cables or interconnects;
Guitars & basses.
Be creative while adding images but honest at the same time. You are selling magic, as music is magic. So, don't add pictures of your guitar with a broken door background. Add as many details as you can, and do not hide any possible damages.
Cameras and photo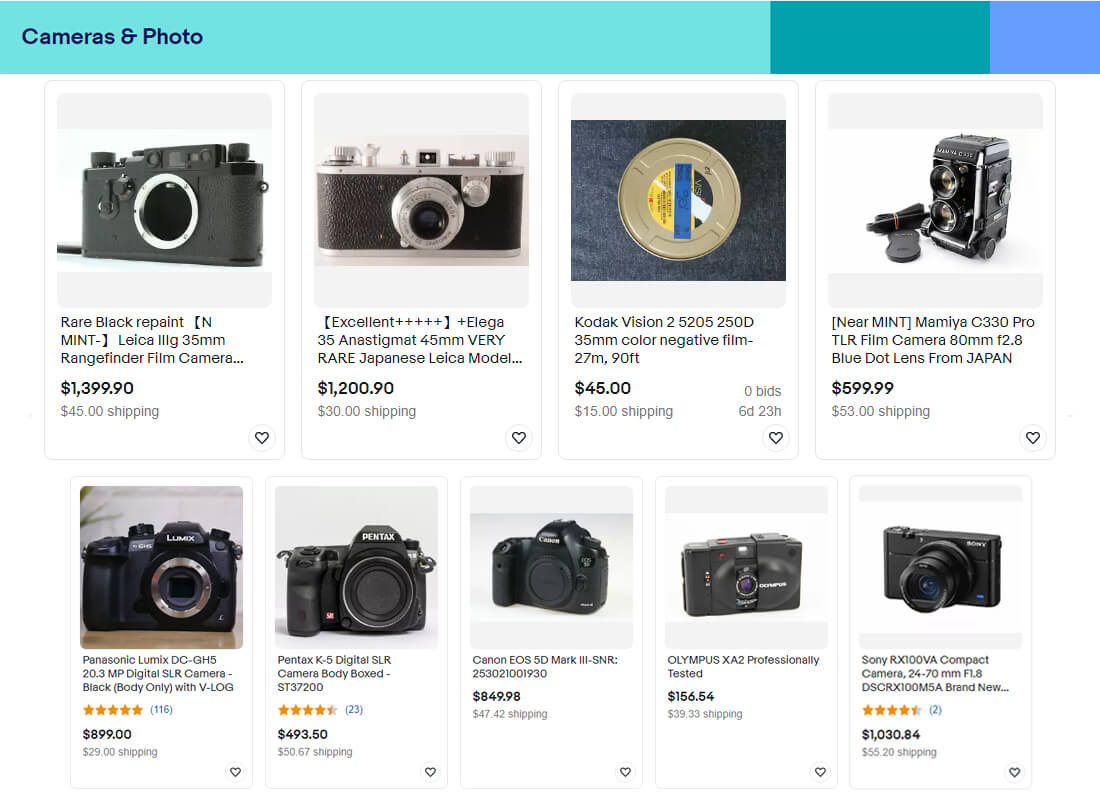 You know what sells the best on eBay? Cameras! This product category is one of the top-selling on many marketplaces, including eBay. People love photographing and digital art, and selling items or equipment related to the Camera & Photo category is the right choice.
The most popular products in this category:
Digital Cameras (the most popular brands are Canon, Nikon, Sony);
Drone cameras, Camcorders & Photo Accessories.
Describe your item's condition cosmetically and mechanically correctly, and be very detailed. Show and describe all scratches or damages but at the same time highlight positive sides.
Home and Garden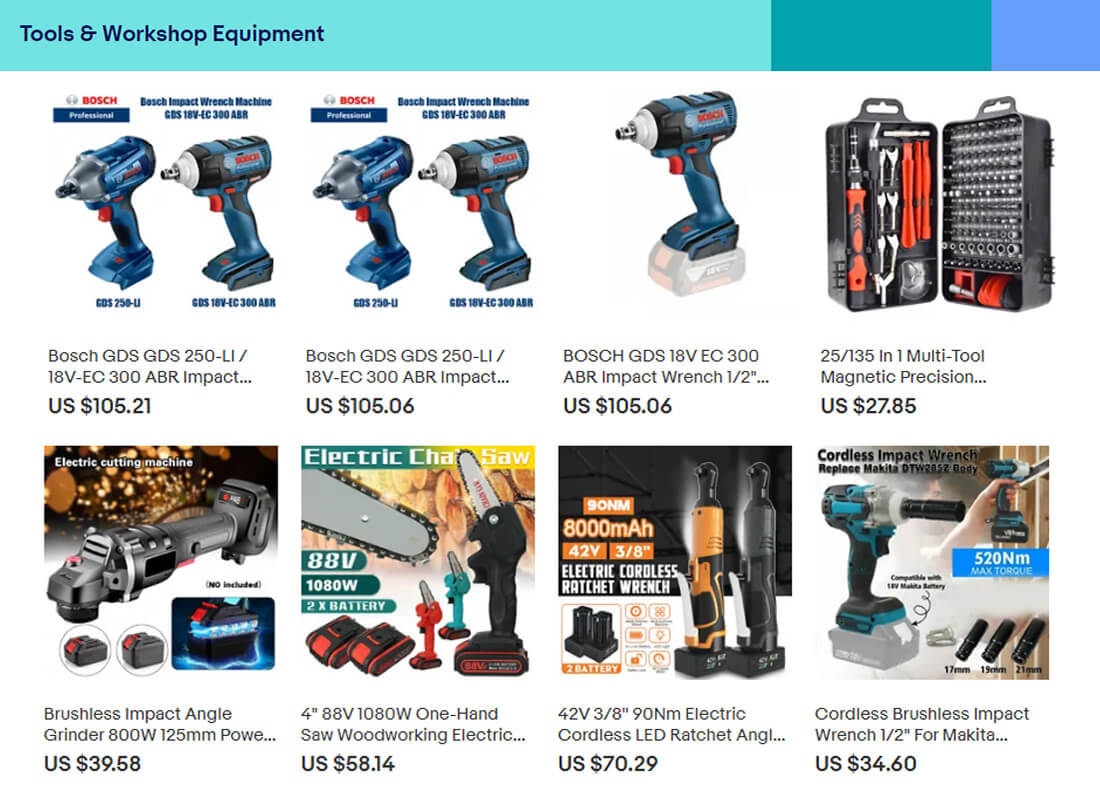 eBay is an excellent place for looking for home and garden items. You can find vintage or used items or buy new units from the recognized brands.
The top popular items in this category:
Tools & workshop equipment (the most popular brands are DeWalt, Milwaukee)
Water filters, kitchen, dining & bar products
If you are selling garden items, don't forget about the season. Garden products are more in demand during the summer. If you sell vintage home goods or antiques, include the year of its creation, current condition, and maybe even the story behind the item.
Baby essentials
Another eBay best seller is baby essential products. It's very natural that parents value the comfort and safety of their babies. Here a list of best selling items on eBay in this section:
Diapers
Nursery bedding
Strollers
Baby carriers
Nursery furniture
Car safety seats
Feeding bottles
Baby proofing gear
It is important for your business success that you sell high quality products in this category. Parents are very sensitive when it comes to their children's well-being and comfort. Negative feedback from them can ruin your selling career.
Fitness Equipment and Gear
During the pandemic, we saw a lot of people focusing on their health and fitness. While the gyms and fitness centers were closed, people ended up working out at home. And fitness equipment and gear quickly became one the most sold items on eBay. The trend is still ongoing and customers love the freedom and flexibility they get while exercising at home.
The best-selling items on eBay in this category are:
Exercise mats.
Dumbbells.
Yoga mats.
Resistance ropes and bands.
Strength training ball.
Training weights.
Hydration bottles.
Your growth is not limited in the fitness sector. There are a wide variety of products you can sell and the items have a limited lifespan which means your customers will return back to you. However, to maximize your potential you will have to accurately list your products. This is where eBay listing tool can help you manage your product listings so rank higher in the search engine.
Jewelry and Watches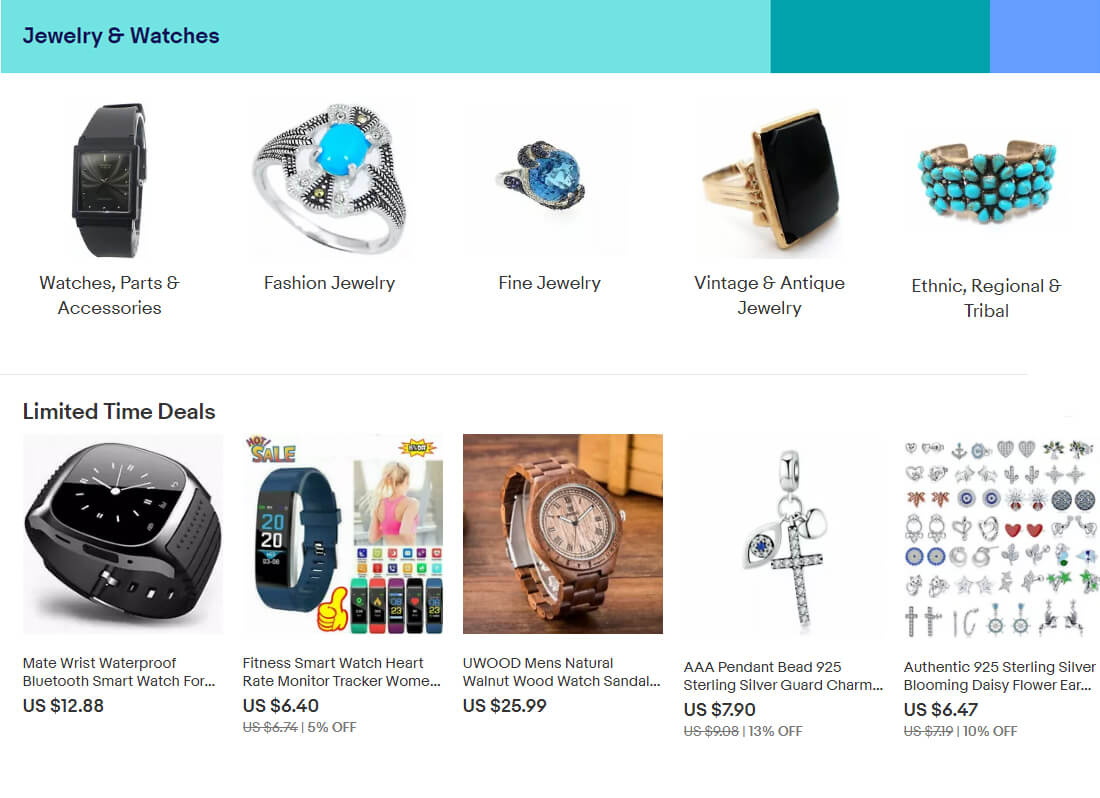 This is a very good niche for sellers. First, such products are less likely to damage while shipping. And, shipping itself may cost less (than sending bags, for example). Jewelry is a popular product category, where eBay's buyers mostly prefer searching for used jewelry items.
The most popular products and brands in this category:
Watches,
Beads & Jewelry making (the most popular brand is Swarovski, but most items are unbranded though),
Handmade jewelry and accessories,
Engagement and other rings,
Necklaces, earrings & pendants jewelry.
Read this eBay guide on selling jewelry and continually research new trends and check Instagram for some ideas. Add high-quality pictures, as your consumers should see any minor scratches on your products. eBay jewelry images differ from Instagram images, where on eBay you should show your items from different angles and with no-filter.
Vintage items and Collectables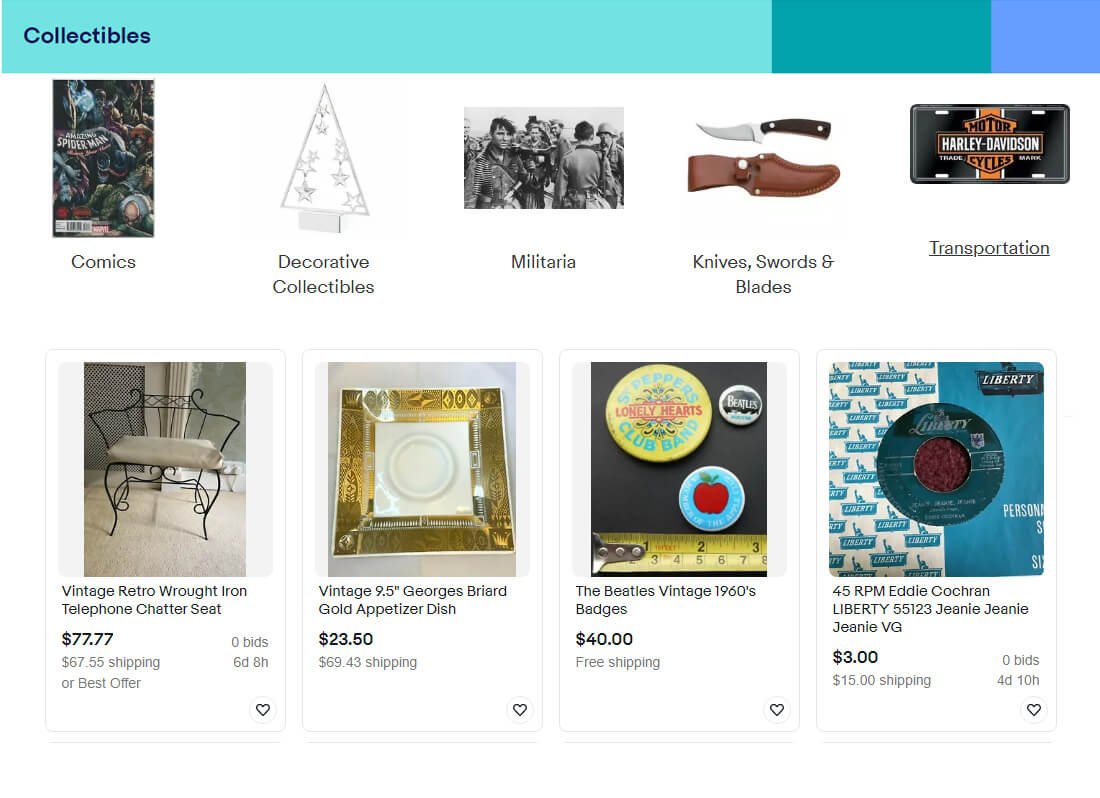 eBay is a top marketplace for selling vintage, collectible items and antiques. And, thanks to bidding on auction you will get the Sotheby's vibe or buy the item at a very good price. On eBay, buyers can get not only used Chanel bags but collectible 1940s dresses or authentic sunglasses from the Soviet Union.
The most popular products in this category:
Vintage accessories,
Vintage jewelry,
Vintage bags,
60s/70s clothing,
Vintage gifts.
Having experience with running my vintage store on different platforms, eBay is the first marketplace I would suggest for selling vintage goods. If this is your hobby or additional income, you can place some products and wait. Still, it's also possible to drastically increase sales if you promote, spend more time on SEO optimization for product listings, and offer excellent customer service.
Toys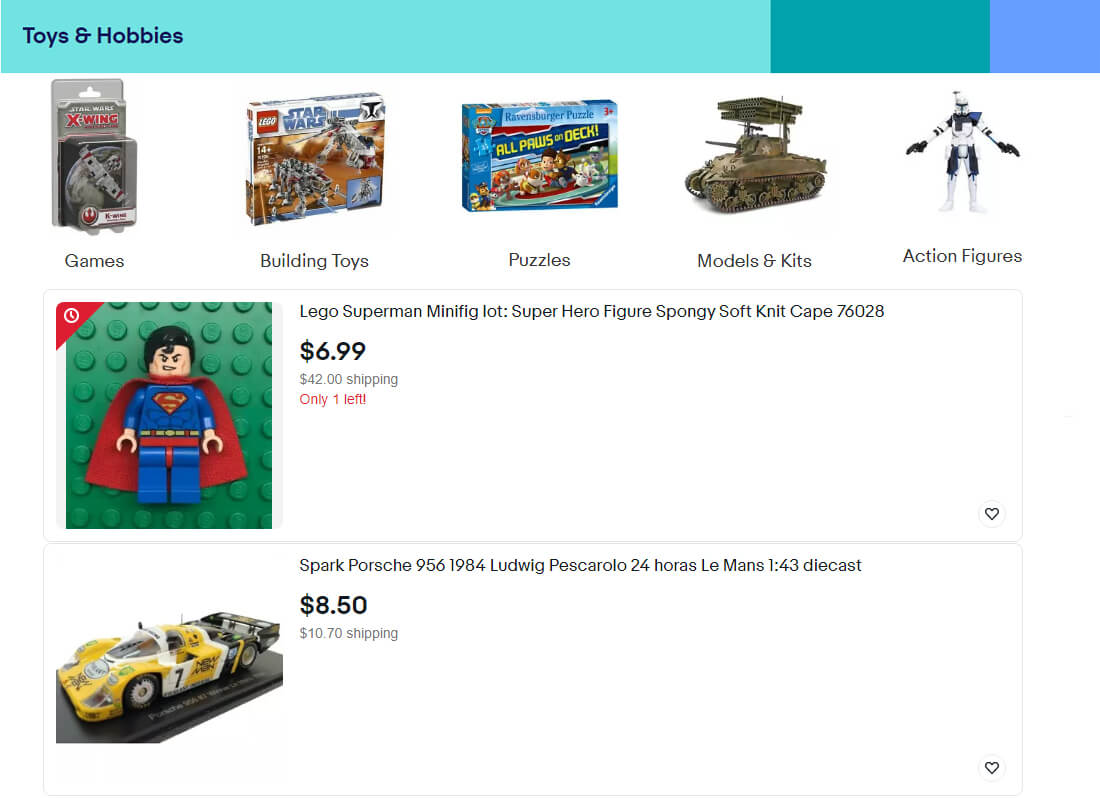 Products for kids are always in high demand. Another top-selling category on eBay is mainly related to kids' choices. Under this category, you can sell Disney toys, which are very popular among kids. But, in this category, buyers also search for collectible toys.
The most popular products and brands in this category:
TV & Movie Character Toys (the most popular brands are Disney, Mattel, & Hot Wheels),
Action Figures,
Diecast & Toy Vehicles,
Building Toys,
McDonald's Happy Meal Endgame toys.
You can pick Star Wars, Disney, and Hot Wheel items to make a profit for sure. Another big trend on eBay is McDonald's Happy Meal Endgame toys.
Clothes, Shoes and Accessories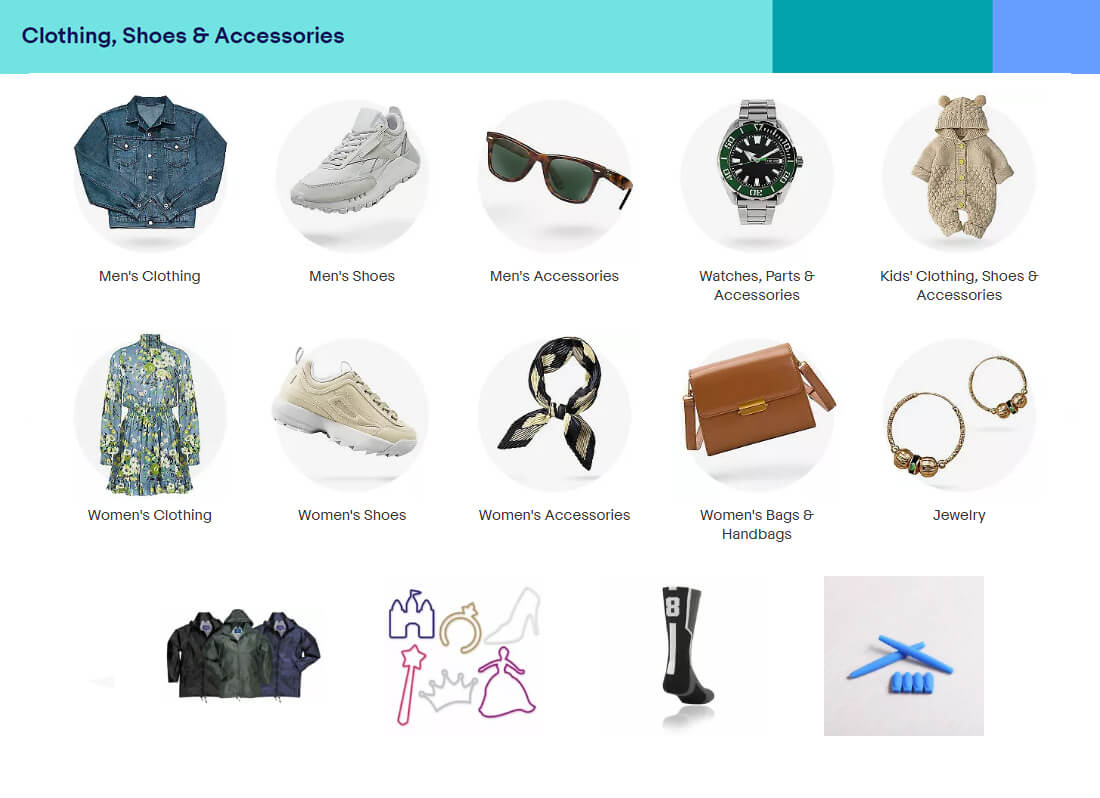 It's not a surprise that consumers are still interested in fashion items. eBay offers a diverse variety of brands, from Puma and Nike to Kors and Zara. As eBay is more vintage-focused, many fashion products are either handmade, vintage or used. Hoodies and printed t-shirts are in high demand, as buyers are always looking for outstanding prints. For example, it's hard to find an Artsy t-shirt with a "Van Gogh" print in mass-market stores, while eBay can offer the whole list.
Top popular products in this category:
Hair accessories for women;
Male t-shirts;
Male hats;
Bags (especially luxury segment).
Research eBay's articles and guides and check its community forums to know what to sell in this product category. Fashion is fast-changing, and you should monitor trends to be competitive. Do you know the color of the year, for example? Or have you watched the latest Versace or Chanel shows? You should if you sell clothing on eBay.
Sporting Goods
On eBay, we've seen a new pattern emerging recently. After the epidemic, consumers have shown a greater interest in purchasing items that are associated with activities that take place outside. Sporting goods and equipment are one of the best-selling items on eBay. Teams and solo sports items are equally popular.
The best things to sell on eBay in the category are:
Bicycles and Bicycle Components, Parts & Clothing.
Hunting Scopes, Optics & Lasers.
Scooters.
Football shoes.
Basketball.
Golf club and balls.
Tennis rackets.
Since the season is changing, you may want to look into selling winter sports gear in order to get an advantage over your competitors..
Travel Accessories
Post-pandemic there is a huge demand for travel equipment. Since travel restrictions have been relaxed around the world people are eager to explore. When it comes to traveling the market trend shows that customers value safety and comfort products. Top selling items on eBay in this category are:
Travel bags
Passport and ID card holders
Travel pillow
Money belt and wallets
Safety locks
Customers often place their orders around their upcoming trip plans.  You can get an advantage over your competitors by providing choices for quick delivery. Delivering orders in a timely manner may be a significant contributor to the success of your company. On the other side, delaying it might lead to low client satisfaction, which in turn can result in lost sales.
Stationery products
Even though these lines of products might not be as fancy as clothes, jewelry or video games, they are still top sellers on eBay. There is a huge demand for stationery products on the platform and the category is wide open for you to explore.
Some of the best-selling items on eBay in this category are:
Printer Ink.
Printer toners.
Printing paper.
Gift wraps.
Gift cards.
It is the perfect time to start selling these products since the holiday season is around the corner and the demand for gift accessories will skyrocket. Keep in mind the profit margins might be low for these products. So it is essential you learn how to reduce eBay fees so you can increase your profits.
Top Selling Items on eBay Post the COVID-19 Pandemic
Since the global pandemic seems to be winding down, there has been a shift in the best-selling products on eBay. Although the majority of the most sold items on eBay have remained the same such as personal hygiene products, there have been a few additions to the list. First, individuals began making more purchases of travel and outdoor sports equipment. Second, as a result of people being able to leave their homes and eat outdoors, there has been a decline in the need for food supplies.
The top-selling products on eBay post the coronavirus pandemic:
Masks and disinfectants.
Power banks for cell phones.
Shopping gift cards.
Food Stall gift cards.
Backpacks for laptops.
Luggage bags.
Portable gaming devices.
The demand for these product categories will further increase, so put them on your sellers' list. Since COVID is dying out of our society people are planning to spend more time outside, buying clothes, gym apparel, sports equipment, and travel accessories. Since a lot of people adopted gaming as a hobby during the pandemic, they are investing in portable devices to continue enjoying this activity outdoors.
Learn how Sellbery can help you manage inventory across multiple marketplaces
Read More
Basic tips for selling on eBay
Spend time on adding proper product listings and SEO. It is crucial to add proper product descriptions with relevant SEO keywords. Make sure you keep these descriptions unique (not copy-pasted from the other shops), and short but informative.
Create unique, well-written (not too long) descriptions. And provide as much information as you can to ensure that your products are ranked higher. This will help you reach more buyers and increase sales on eBay.
Add good-quality images that attract attention. Place product listings with creative images but realistic at the same time. Don't take pictures too professionally for eBay.
Feedbacks are crucial. I started my shop with the first negative feedback and was blocked for two weeks. After a few more sales and positive feedback, my shop has come back to life. Feedback is essential, and after the store reaches a 100% positive feedback rate, sales will grow faster.
Provide excellent customer service. To get a good rating on eBay, you should provide professional customer support. Make sure you reply fast, and that your messages are friendly and helpful. Solve buyers' issues, and read eBay's policies on what can or can't be included in messages sent on eBay.
Proper packaging. I had some issues when sent sunglasses were broken because of bad packaging. Keep this in mind, as I had to refund that order.
Promotions can work. What you will definitely get if you start paying for ads or advertising on eBay is the views of potential buyers.
Bottom line
We hope this information sheds light on what sells best on eBay. You may sell out your unique antique vase quickly, but if you want to make sure your store will have regular sales, choosing the right niche and top-selling products is a good way to succeed. Constant product research is an essential part of the selling process, and it always is a good idea to have a how to sell on eBay detailed guide at hand!
Regular sales also depend on the visibility of your products on eBay. If the description is according to all the rules of SEO, then you will be in the top search of this marketplace.
Our company Sellbery has made the necessary functionality to ensure that your goods are ranked as high as possible on eBay.
Optimise you online selling!
Try For Free



Also Popular on Sellbery