Etsy vs Ebay: Where Should I Sell? Detailed Comparison Guide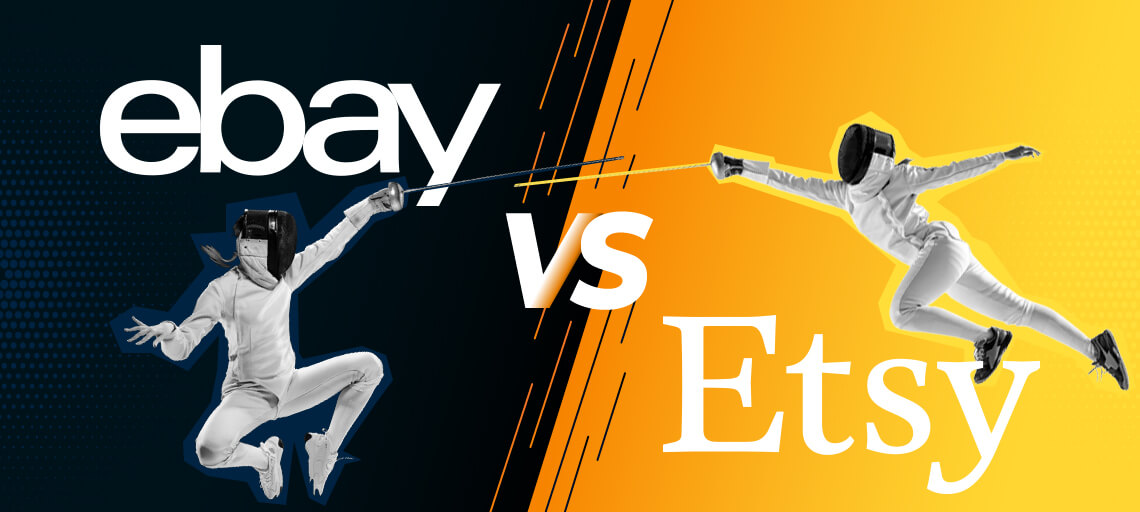 Should you be selling on Etsy or on eBay? To answer the question, check out the two platforms' pros & cons, compared side by side.
Do you dream of making it big in the commerce world, selling a distinctive range of items, building a well-known brand, and being your own boss? More people than ever before are bringing such dreams to reality.
For this purpose, they're focusing on the right product and the right eCommerce platform that enables effortless connection with potential clients. They would also seek to pick the right marketplace to sell on, comparing the existing options.
Of all the marketplace opportunities, we will compare side-to-side the two of them. Both of them stand out as popular and in-demand on a global market.
Etsy as well as eBay both have amazing reputations, but which one is the right choice for your needs? Let's do a bit of comparison to discover what each one brings to the table. Here's everything you need to know about selling on Etsy vs. eBay for the development of a successful commerce business.
Pick any plan for free!

Get more info on how to integrate to eBay to make the most of it: list, manage and optimize all your product listings to increase your sales.
What Customer Bases (Types of Buyers) eBay and Etsy Cater to?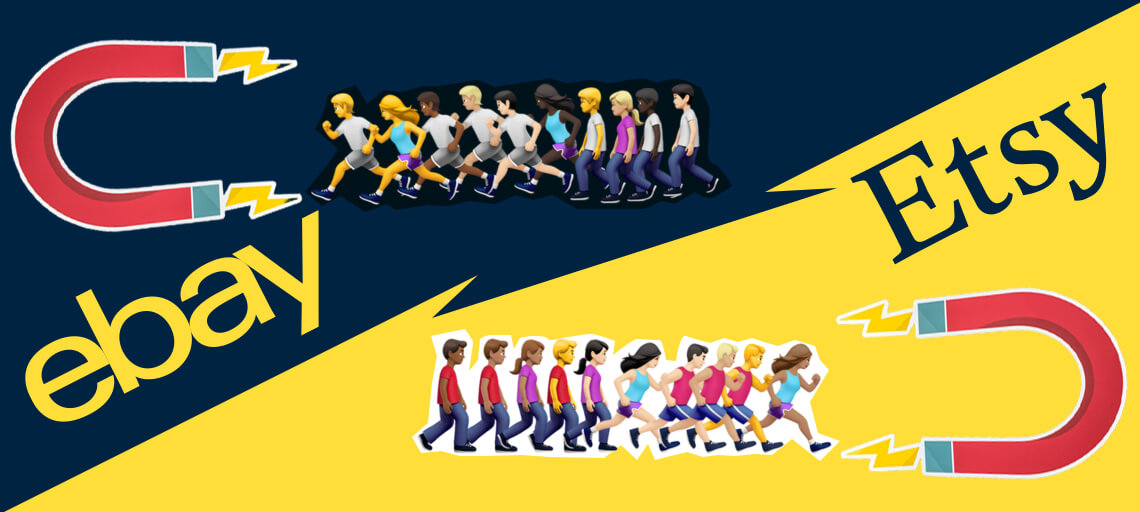 Who isn't familiar with the incredible potential of eBay in the online shopping world?
The marketplace's annual net revenue reached 10.8 billion dollars in 2019 and it's been growing ever since. It's the second biggest online marketplace in the US after Amazon and as of now, it features more than a billion active listings.
Today, eBay has over 180 million active buyers 16 percent of which confirm that they shop at least once a week. There are approximately two billion daily transactions that occur between buyers and eBay sellers on the platform.
Etsy still doesn't have the status of an eCommerce giant but it also offers lucrative opportunities (that you only need to recognize and harness for an amazing seller experience). So, how is Etsy different from eBay?
For a start, it's not a general marketplace. This eCommerce company focuses predominantly on handmade and vintage items, which turns it into an artisan market of sorts.
The concept seems to be working well and in 2020, Etsy generated annual revenue of 1.7 billion dollars. The number of active sellers has quickly climbed through the years. While in 2012 there were only 830,000 Etsy sellers, the number reached 2.1 million in 2018.
As far as customers go, the average Etsy customer falls in the 18 to 35 age range. The overwhelming majority of buyers on the platform are women, which has had an impact on the overall aesthetics and branding of the platform.
So, is eBay or Etsy better for selling? The answer would depend on your goal. If you'd like to target a broad and very diverse audience, eBay would be your pick. For handcrafted goods and products that would appeal mostly to women, you'd definitely feel more like home on Etsy.
What to Sell on Etsy vs. Ebay – Types of Products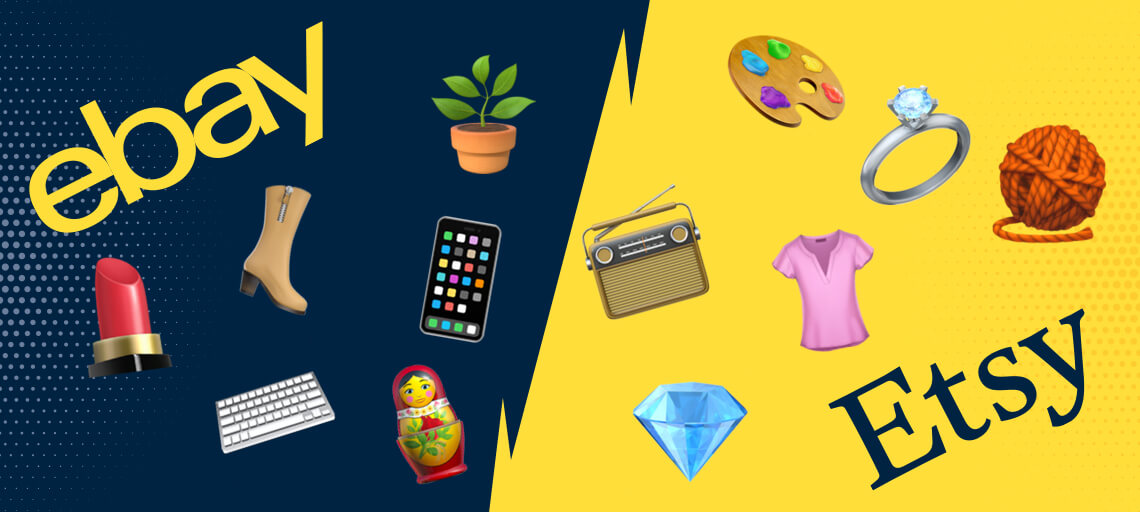 Selling on Etsy vs. eBay is a difficult comparison to make because the platforms have very distinctive characteristics.
But for the sake of making that analysis, let's examine the types of stuff you can sell successfully on either platform.
eBay is the kind of platform that will work with any product. Some of the top product categories include:
mobile gadgets,
health and beauty,
home and décor,
garden products,
fashion crafts,
collectibles,
computer peripherals.
As you can see, the range of possibilities is wide open and you can easily establish a solid business within any of these niches (or any other product category).
Etsy offers its customers a somewhat more specialized experience. The top product categories there include:
jewelry,
handmade items,
supplies for handmade item creation,
accessories,
clothing,
vintage items
wedding items.
If you have a very distinctive product line that will appeal to the Etsy demographic, you should definitely give the platform a try. Chances are that you'll quickly establish your brand's popularity there.
Seller Fees Comparison
Looking at Etsy vs. eBay fees is also important to make the right strategic business decision. There are always costs linked to running your own business. If some of these could be minimized or eliminated, however, you should definitely explore the possibilities.
eBay has both monthly and annual fee structures. More info on the selling fees is available here. Fees are either percentages or fixed amounts and they depend on the category and type of item being sold (insertion fee).
If you want to open a store on eBay, you'll have to pay an additional eBay fee in the range from 7.95 to 349.95 dollars per month, depending on the plan you choose.
The Etsy fee structure is less complicated and more effortless to assess. The seller fee info is available for review here. The most important stuff to keep in mind is that you'll be charged a listing fee of 0.20 dollars for each new listing created and a transactional fee of five percent of each product's value (when it gets sold). Onsite and offsite ad fees could also apply, depending on how you choose to promote your listings.
eCommerce Tools on Etsy and eBay
The eBay vs. Etsy comparison shows that both platforms have their pros and cons. Choosing one or the other depends heavily on what you intend to do and how you plan to grow your business.
Speaking of growing your business, both marketplaces are interested in helping you achieve the best possible results. You'll be given access to a good range of commerce tools that simplify the setup of your store, interactions with potential clients and marketing.
Looking at eBay, here are some of the most important commerce tools to check out if you want to increase eBay sales consistently:
Seller hub: the center of all operations that allows for easy listing creation and management, business performance monitoring, payout analysis.
Listing templates: also called selling templates, these are available via the hub and allow you to refrain from starting each listing from scratch.
Promotions manager: a tool aimed at allowing the creation of discounts, coupons, sales events, promotional shipping, etc.
eBay mobile app for sellers, allowing you to complete important processes on the go in essence, it's a pretty comprehensive and user-friendly experience you can master, even if you don't have a ton of experience with an online store.
As far as Etsy tools are concerned, here's what you'll get access to:
A digital handbook that gives new sellers comprehensive knowledge about setting up successful listings;
A community forum where tons of useful and practical information can be exchanged;
Various third-party tools (some of them available free of charge) that can be used for many purposes – to do better search engine optimization and marketing, order preparation and shipping automation, email marketing, social media marketing, image processing and uploading, etc.
So, if you're looking for a comprehensive and integrated experience, eBay is the platform for you. A more laid-back and casual approach towards selling is available over at Etsy.
Connect multiple marketplaces to reach out to more customers.

Check the full list of features provided by Sellbery
Final Verdict
eBay vs. Etsy for selling – what should you choose? Hopefully, you have some idea about the answer to this question by now.
You can be highly successful on both eBay and Etsy. However, you have to be strategic about your use of each marketplace.
If you want wide reach, an integrated management platform and a chance to sell all kinds of items eBay would be the platform for you. Keep in mind, however, you'll need to manage the fees and the fairly intense competition.
For handmade, vintage and craft items, Etsy would offer good possibilities. Again, however, you need to have a distinctive voice, a good marketing plan and a comprehensive approach towards store creation.
Some sellers are successfully utilizing both platforms and that's also an option. If you plan on using this approach, be strategic and don't just copy-paste listings on both. It's up to you to utilize the strengths of eBay and Etsy while avoiding the shortcomings of these two marketplaces.


Also Popular on Sellbery
How to grow eCommerce sales with the Amazon FBA program
Selling products online has never been easy. Retailers constantly compete with thousands of other sellers who offer the same products. Today, at the times when anyone with an internet connection can start an e-commerce business, standing out from the crowd and building a highly profitable e-commerce business is so challenging as it has never been before.