Selling on Amazon Handmade vs Etsy: A Side-by-Side Comparison Guide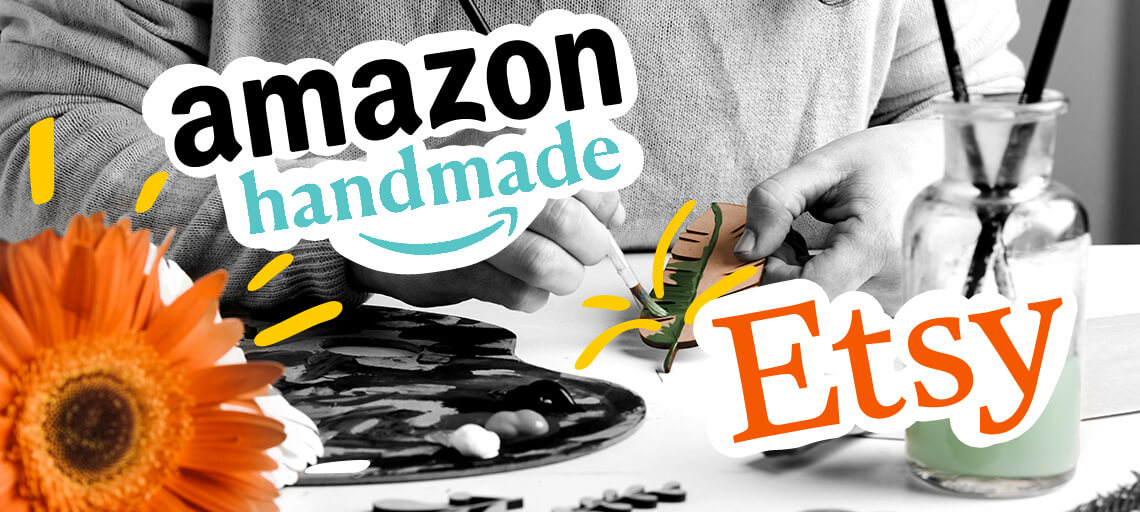 Selling on Amazon Handmade vs Etsy: A Comparison Guide
Selling handmade has never been that opportunistic, and the eCommerce world offers diverse ways to sell artisan products online. Selling on marketplaces is usually the first choice of the 'fresh sellers'. And, the challenge is to choose the right platform to start your online business. The most popular platforms for handmade items are Amazon handmade and Etsy, but selling on either of them have some very significant differences.
Before you start selling handmade items on marketplaces, you might need to compare Amazon handmade vs Etsy, as probably one of them doesn't work well for you. Both platforms are great for artisans, as they both have good traffic and are popular among those interested in handmade products.
Sellers are interested in comparing these and other platforms as it's hard to spend hours adding products, promoting, and having trouble understanding the dashboard. So, choosing the right platform to start selling is crucial.
I have created a guide and comparative analysis of selling handmade products on Amazon handmade vs Etsy.
A Foreword on Each Marketplace
Etsy's history dates back to 2005. The main idea of Etsy was selling handmade and vintage goods, bringing the opportunity to showcase and sell handmade arts and crafts for creators and artisans.
Today, Etsy is the number 1 marketplace for selling handmade items, and the company dominates this market. Etsy represents itself as a place to promote arts, artisan or craft products helping their creators to be discovered. Currently, Etsy has over 2 million active users and 35 million active buyers.
Amazon has its own story. This is the biggest marketplace globally, where you can buy almost everything from almost every part of the world. Amazon decided to take the handmade market and launched Amazon Handmade in 2015. This is a sister microsite allowing handmade makers to reach their audience.
Amazon is famous for its vast customer base, over 300 million or so, and a huge sellers' community. However, Amazon still isn't the place where creators want to sell their handmade items, but more the marketplace where you can get everything you want. Sellers should be careful while selling on Amazon handmade, as this platform doesn't allow products that violate the copyright and an intellectual property.
Download the eBook
"Best Tools & Tips to Succeed on Amazon"
and Get:

Tips from experienced Amazon sellers;
Tools for setting and scaling your Amazon Business;
Special discounts on top-shelf eCommerce platforms.
Amazon Handmade Vs Etsy – Similarities & Differences
These marketplaces have the same purpose – to help sellers reach their customer base. In this case, they are pretty similar but believe me, you will see how different they are when you go through the whole process of selling. This primarily is related to the first stage – the registration process (spoiler: Amazon Handmade is tougher😉).
No need to choose between Amazon and Etsy! Sell in both now!
Find out how!
What's Similar about Amazon Handmade and Etsy?
There are some similarities between Amazon Handmade and Etsy, and they are the following.
The way your shops are represented. Both platforms have a user-friendly design, dashboard, and easy to use functionality. Your customer will see a well-designed shop. On both platforms, it's easy to find products through the Search. All shops are showcased properly so that sellers will have a well-done, usable online shop.
Product Listings. To add the products, sellers use descriptions, numbered fields, custom prices, shipping options, etc.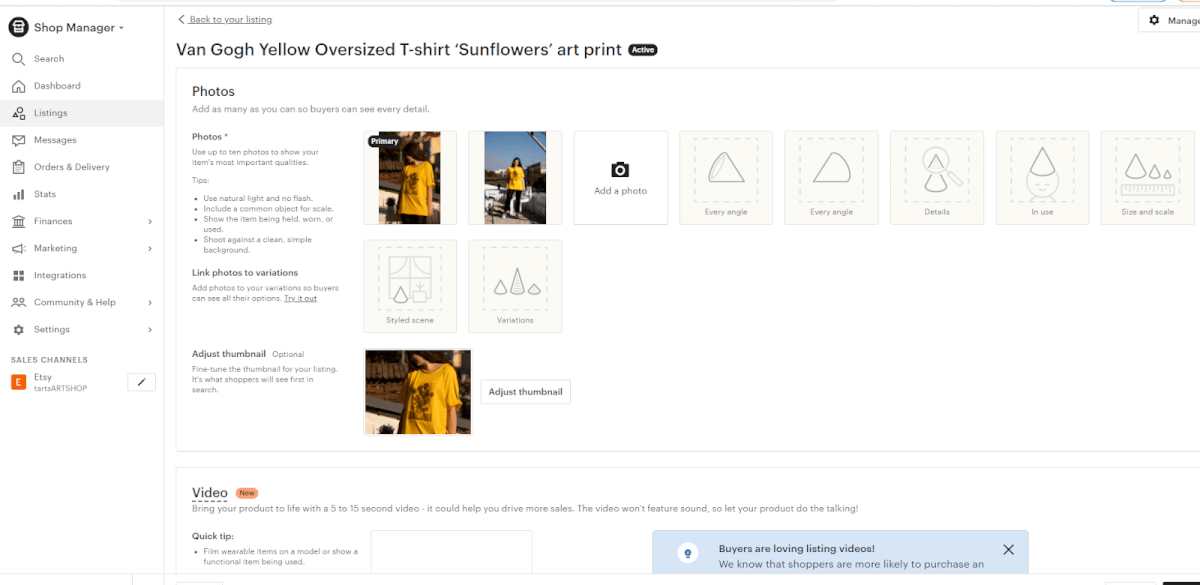 Custom Products. Through Amazon Handmade and Etsy, sellers can offer handcrafted and unique items to millions of visitors interested in handmade. Both platforms have the idea of showcasing handcrafted things and selling them quickly, with no need to set up a website for the shop and add professional pictures.
What's Different between Amazon Handmade and Etsy?
Now, let's find out what differences to expect from each marketplace.
Sign up Process. This is the hardest part of selling on Amazon Handmade and the easiest part while selling on Etsy. You can get your shop set up on Etsy in a few clicks. Very easy process, so you don't need to be a pro seller or IT geek. On Amazon, you will need to wait for approval of your application for weeks or even months and fill in the form where you describe your business, and it's very hard to be approved. Moreover – some categories are not allowed on Amazon.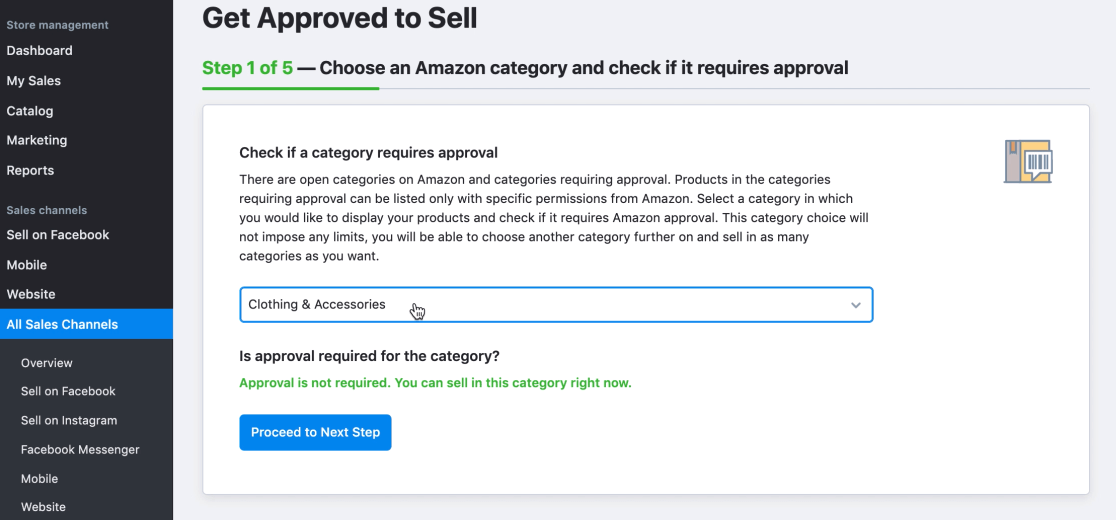 Target Audience. Those who are chasing handmade items, aware of both platforms and search artisan products on all possible marketplaces, including Amazon Handmade and Etsy. Amazon has a larger audience, around 300 million customers. Still, Amazon Handmade is more specific, and, as its new marketplace division, not all handmade fans are there. Still, Etsy, with its average of 35 million users, is focused on artisan items only.
Listing fees. On Amazon Handmade, there are no listing fees and no expiry date, but Amazon Handmade charges 15% fee per sale. On Etsy, you will be charged $0.20 per listing straight away, and 5% per sale. You actually pay for the ease of registration and usage because Etsy is very simple in use and placing items.
Payment process. Here, again – a point goes to Etsy marketplace, where funds are available straight away. On Amazon, the payment process can take up to 24 days for a single transaction.
Product Categories. There are only 14 product categories available on Amazon Handmade, while Etsy offers 160 product categories.
Shipping charge. On Amazon Handmade, the unit/weight-based shipping is the default model. The cost for standard shipping is $4.49, and the default per-weight shipping charge is $0.50 per pound. On Etsy, you will pay 5% transaction cost and 5% shipping charge. This is the same as the 5% transaction fee for a $35 item with free shipping.
Customer Support. Last but not least is customer service on both marketplaces. According to various reviews, Amazon as an eCommerce mogul – offers better customer support than Etsy. You can call Amazon, get immediate assistance, and troubleshoot any issue. On Etsy, you can reach out via email.
Pros & Cons of Selling on Etsy
So, let's dig it deeper into what is selling on Etsy and find out its "dark and bright sides".
| | |
| --- | --- |
| Pros | Cons |
| Sign up process is easy – As it was mentioned, Etsy is a winner among all platforms when it comes to the registration process. Few clicks and your shop is live. | Selling fees – Unlike other marketplaces, where you can avoid selling fees at least for some amount of products, on Etsy you need to pay selling fees. Lifehack: recommend sellers to Etsy and get your free listings. |
| Product listing is fast – Just 5 min and your products are live. Dashboard is easy to use, so you need to add pictures, description, shipping/refund, and payment information and you are done. | Etsy should promote more – Etsy has a big customers' base, but still this marketplace is not as big as Amazon and eBay or other emerging platforms like Depop. Etsy should focus more on attracting more buyers/sellers. |
| Design and usability of the platform are great – Etsy is a cute website. When you add your products they are really well-represented and easy to find. Dashboard is also understandable even for newbies | Changes and updates – Etsy should work more on updating its website, mobile version and algorithms that help selling. In order to get more views and more sales, you need to spend more time on this marketplace, adding more SEO keywords, better descriptions, list more products, etc. |
Do you want to sell on many channels from on place? Try to connect it all in Sellbery.
Get it free!

Pros & Cons of Selling on Amazon Handmade
Selling on Amazon Handmade is a challenge, and the application process is tough. But let's find out what benefits and pitfalls will this platform bring you when registered.
| | |
| --- | --- |
| Pros | Cons |
| Customer base – The very best advantage of Amazon is that it's the most popular marketplace in the world. Even though not all handmade seekers know about Amazon handmade, they still search on Amazon, and handmade items are shown on the Amazon general platform. | Application process – If you want to sell on Amazon Handmade, it doesn't mean you will. You need to fill in the application form, and wait for weeks to be accepted. It is pretty difficult to get into Amazon Handmade. |
| Product listings don't need much updates – To get more sales you don't need to spend as much time on Amazon SEO optimization. Etsy is not as great as Amazon when it comes to views and orders, Etsy requires more time to work on product listings SEO. | Algorithms – Amazon has a big customer base, but still algorithms are tough. Even if you have good SEO, it doesn't mean this will work. |
| Customer support – Amazon has better customer support, and more options to reach out to a customer agent. On Amazon you can call and talk with customer agents, while Etsy just gives you an email. | Website's usability – For some unknown reason, the top selling platform in the world still does not have a good enough design and a dashboard. Etsy's design is more user-friendly . |
Products Sold on Amazon Handmade & Etsy
There are only 14 categories available on Amazon Handmade. Etsy -160 categories.
The handmade products are usually the following:
Artworks,
Handmade clothing;
Jewellery;
Kitchen and dining;
Gifts;
Shoes and handbags;
and more
How to Sell On Amazon Handmade vs Etsy
As I have already mentioned, both platforms have some differences, and before starting to sell, you need to know how to sell on both.
Etsy
Set language, currency, location, etc.;
Pick the title of your Etsy Shop;
Add your product listings;
Choose payment method and billing information;
Customize and promote your shop.
Amazon Handmade
Complete the application process;
Sign Up to Seller Central;
After approval, add your listings for free;
Promote and sell.
Both platforms are similar in their selling processes, but Amazon is different in registration and payment. As it was mentioned, with Etsy, you get payment straight away while you need to wait with Amazon. If you want to get your shop promoted quicker, buy ads, promote your shop on social media, or reach out to bloggers. Once you make your first sales and get positive feedback, your shop will grow, and the platform's algorithms will promote your store more, reaching out to more buyers. Also, don't forget to include shipping information and set pricing. Also, both marketplaces may charge shipping fees together with product fees.
See the benefits of Etsy Integration with other Platforms with Sellbery
Wrapping Up
Both platforms, Amazon and Etsy, are suitable for handmade sellers. Amazon Handmade is more challenging to get into and more complicated while selling. Etsy is easy to set up, but you need to pay more fees and work harder to reach more buyers. Amazon Handmade can bring you more buyers for fewer efforts. Etsy has less traffic to its platform, but Etsy is specialized in artisan items. If you want to reach more buyers but ready for a lengthy application process and challenges while running the store – go to Amazon Handmade. If you want an easy setup and ease in managing the store – pick Etsy.
People also ask
1. Are the Items On Amazon Handmade and Etsy Really Handmade?
– Yes, but Amazon Handmade is strict when approving artisan sellers. On Etsy, you just start selling, but everyone knows that Etsy is handmade. So, if you sell something else, you probably will have fewer sales. With Amazon Handmade, you need to prove that you are the artist behind your products and artworks or your employees. Also, mind the copyright and intellectual property. On Amazon Handmade, you need to prove that you are selling unique items, Etsy doesn't need any approvals.
2. Can Reviews And Return Policies Really Help Me Sell?
– Of course. Reviews and positive feedback are something that helps you to sell. Once you get even one positive feedback, you will see how your sales increase. I would say until you get the first positive feedback, you are less likely to sell a lot. Return policies must be included, as your buyers should know how they will return or refund the items. If you want to provide just a partial refund or any other restrictions for returns, include this information in the product description.
3. Can You Sell Handmade Items at Amazon?
– Yes, in order to sell on Amazon your handmade products or artwork, you need to apply to Amazon Handmade. This is a sister website, separate from Amazon, but your items will appear in the general Search on Amazon.
"We are focused on genuinely handmade products. … The handmade experience we've created is unique with the Amazon feel customers know and love,"  Amazon spokesperson Erik Farleigh.
But, you must sell handmade items with your copyright. Amazon Handmade is quite strict, and not everyone passes the application because their items are not entirely made by them (for example, you create t-shirts, but some of your prints are not your artwork).
4. What's the Application Process for Handmade at Amazon Like?
– This is the whole process of filling up, sending more information if needed, the form and waiting a couple of weeks or months to be accepted. Sellers need to include details about the manufacturing process and provide photos of the products you create.
"Each application is reviewed by a member of our team to ensure that the artisan and their items meet our definition of handmade," Erik Farleigh.
The application usually takes 30-60 min, and it's crucial to be very specific, and send all information required. Remember, not all applicants are accepted. It is really hard to get to Amazon Handmade, so be serious about the application.
5. Do You Need Etsy and Your Website at the Same Time?
– It's good to have your website, but it's not easy to get desired traffic to your store. It takes at least six months to get views on your website and to do that, you need to work hard with your SEO and content. Also, not all customers trust unfamiliar brands' websites, so if you show your store is live on famous marketplaces like Etsy and have good reviews, this will influence their trust in your store. In case your store is popular among your community, why not reach out to more buyers on marketplaces?
6. Why do You Need Another Platform Like Amazon Handmade or Etsy?
– The more places you showcase your items on, the more you can sell. If you have already set up your store on social media or a website, you can get a completely different experience and sell on marketplaces. Both Etsy and Amazon handmade will give you extra traffic to your store, and you will do less work than you need for a website or social media accounts.


Also Popular on Sellbery