Sites like Etsy: Best online Etsy alternatives of 2022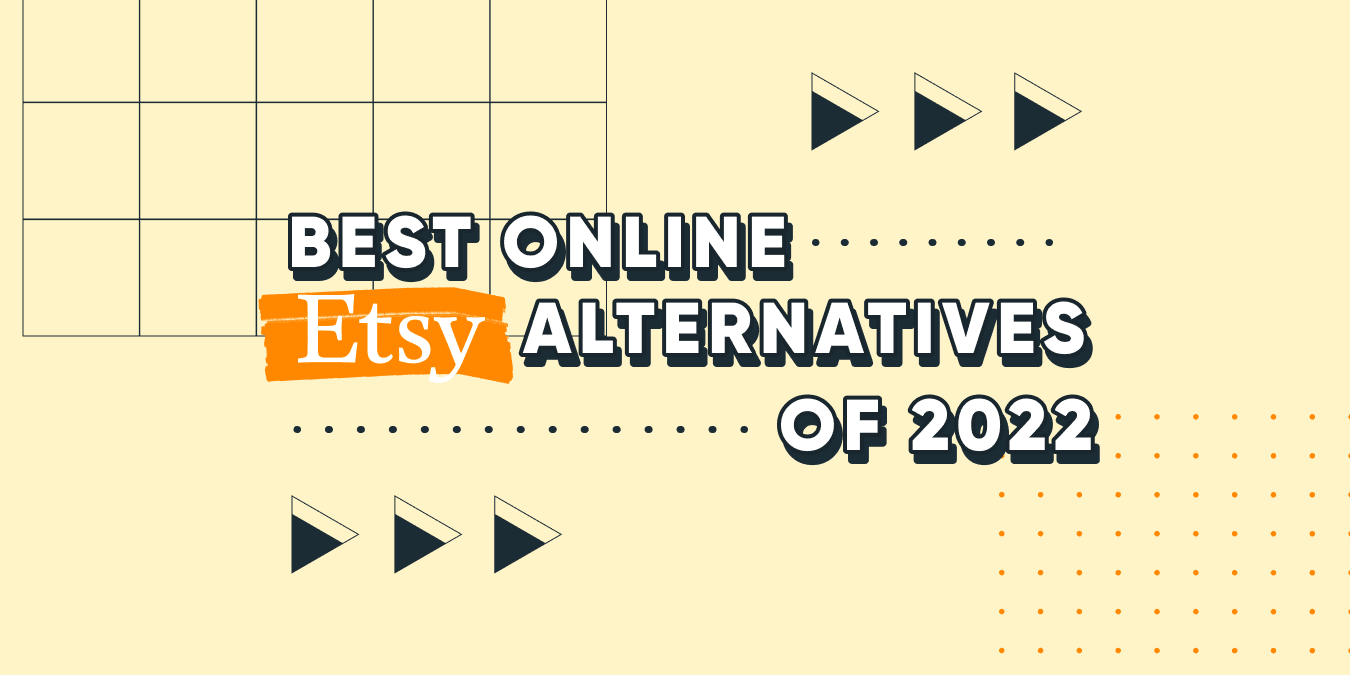 Here are some of the online shops like Etsy, you can look into which will provide you with an alternative for business needs. We will go through each one of them down below.
Is there anything better than earning money while sitting at home and sipping your cup of tea or a glass of fine wine? Of course, this is not an article about a get-rich-quick scheme but one where we focus on how to market your handmade, vintage, custom, or unique products in a different method as opposed to the traditional route.
Etsy is one of the most popular websites which extends support to its sellers to sell such products but the increased competition has made it difficult for people to get started. There are currently 7,522 registered active sellers on Etsy as of 2021 — an increase of 72 percent from the previous year.
This competition has driven away from a number of potential sellers. However, what if there was another way?
In this article, we will look at various sites similar to Etsy and understand how those platforms operate and how you can leverage their services to enhance your business. This will allow you to make an informed decision which can potentially help you reach the goals you initially set out to achieve.
Whether it is about building your own store or tapping into leading local or global online marketplaces, you have a number of options to choose from. If you are unsure of the kind of products you can sell online then take a look at the most popular items in Etsy for reference.
 Sites Like Etsy to Sell Your Craft
Here are some of the online shops like Etsy, you can look into which will provide you with an alternative for business needs. We will go through each one of them down below.
1. Shopify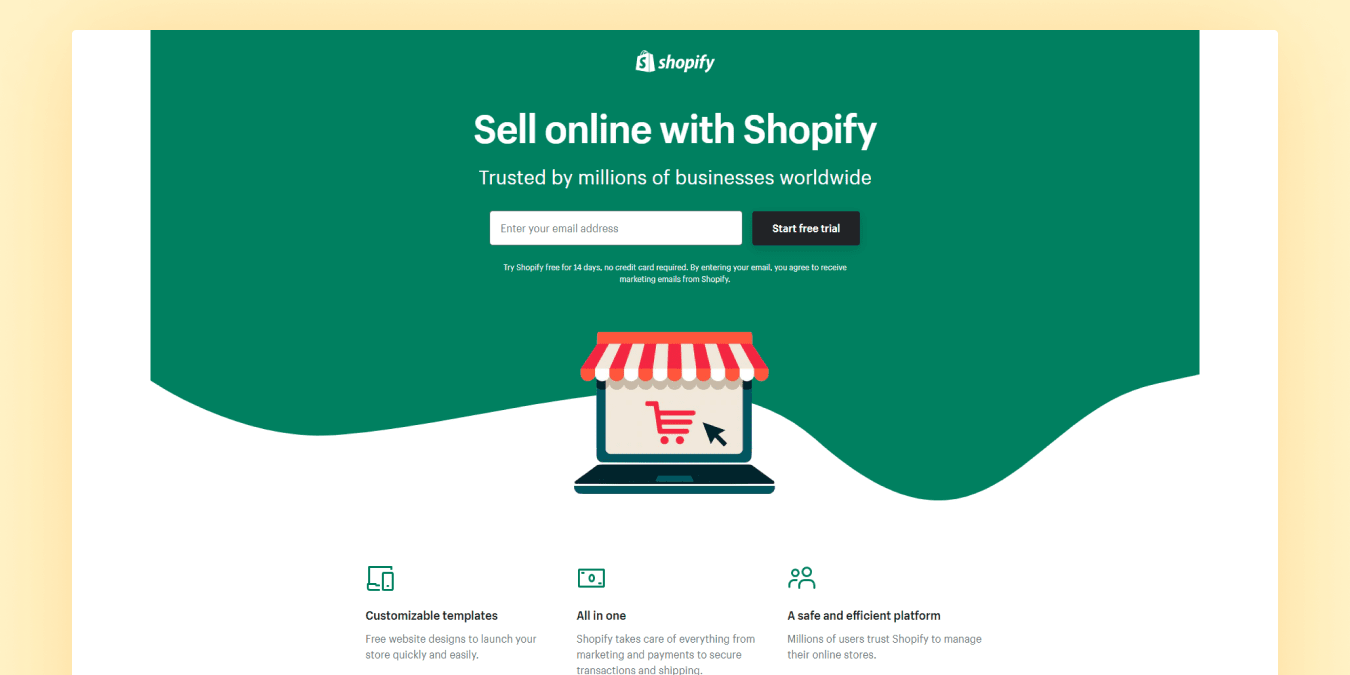 Cost: $29 per month, excluding transaction fees.
Just like how Etsy is one of the most renowned online marketplaces, Shopify is all-in-one and also the largest eCommerce website like Etsy. Ask any entrepreneur and they will tell you that Shopify is one of the most trusted Etsy alternatives to creating their very own brand experience. It does not matter whether you are an individual or a part of a large retailer, Shopify has you thoroughly covered. The basic plan offered by Shopify includes an eCommerce website, which includes a variety of themes, access to sales channels, staff accounts, and reporting services along with other things.
Fee Structure:
Basic Plan: Starts at $29 per month, plus transaction fees;
Shopify Plan: Starts at $79 per month, plus transaction fees;
Advanced Plan: Starts at $299 per month, plus transaction fees.
These plan prices do not include transaction fees as they are separate. However, Shopify offers its users to either adopt their own payment service or opt for a third party. You will have to make the decision on your own based on your requirements.
Tips to Use Shopify as Etsy Alternative:
The biggest advantage of Shopify is that business owners have access to tools through which they can easily integrate Etsy and utilize a multi-channel approach;
Using two platforms simultaneously allows you to earn more as pointed out by analysts at StitchLabs, who evaluated the data through their software and found that retailers selling their products on two different platforms have 190% higher revenue compared to those who stick with only one;
Take your store to another level by using different Shopify apps which increase the functionality of your store and have a direct impact on your revenue.
2. Amazon Handmade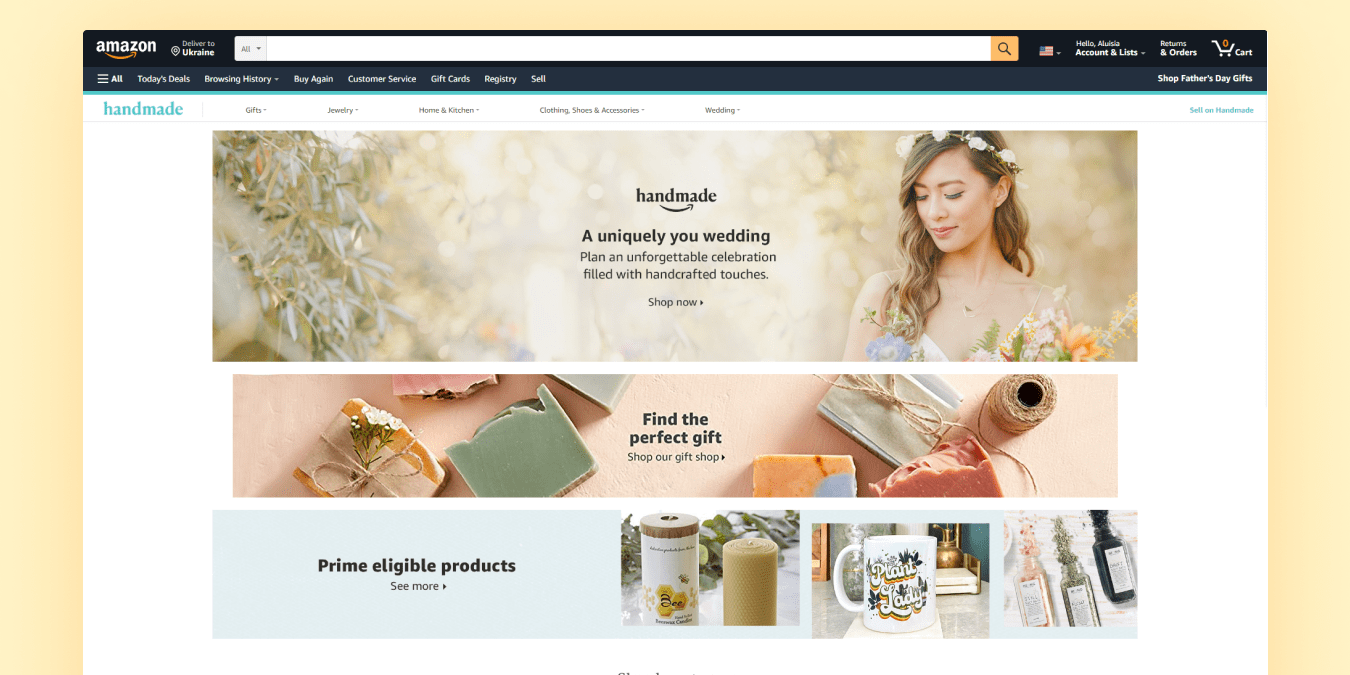 Cost: Free to join and list items, flat 15% referral fee on all sales.
Second on the list of online shops like Etsy, Amazon remains one of the biggest giants in the eCommerce market and this was the company's attempt to compete directly with Etsy. Amazon Handmade is reserved specifically for the artisan-only seller community with a huge customer base. Entrepreneurs are looked after by the marketplace as it offers through Fulfillment by Amazon, rich analytical data, and no expiration on listing along with other things. However, nothing comes cheap and due to Amazon's popularity, the costs are higher when compared to other marketplaces.
Fee Structure:
Individual Plan:  $0.99 per item sold, plus transaction fees;
Professional Plan: $39.99 per month, plus transaction fees.
If your sale volume is more than 40 items per month then you will have to adopt the Professional Plan as the Individual plan is for those who sell fewer than 40 items on a monthly basis. Since you sign up for Amazon Professional, if you are approved for Amazon Handmade then the monthly fees will be waived off.
According to Amazon, "For every item sold, sellers pay Amazon a percentage of the total price—including item price, shipping cost, and any gift-wrapping charges—or a minimum amount, whichever is greater. Referral fees are in addition to selling plan fees."
Tips to Use Amazon Homemade as Etsy Alternative
Amazon's policies might seem a bit harsh as it does not allow you to take the customers outside of their platform;
New sellers might need to jump through hoops and accept the tedious and lengthy application process;
Although FBA might be convenient, it might not be the best decision for your handmade goods as some require extra care.
Want to avoid the routine work of manually listing products onto new channels?
Try Now

3. Wix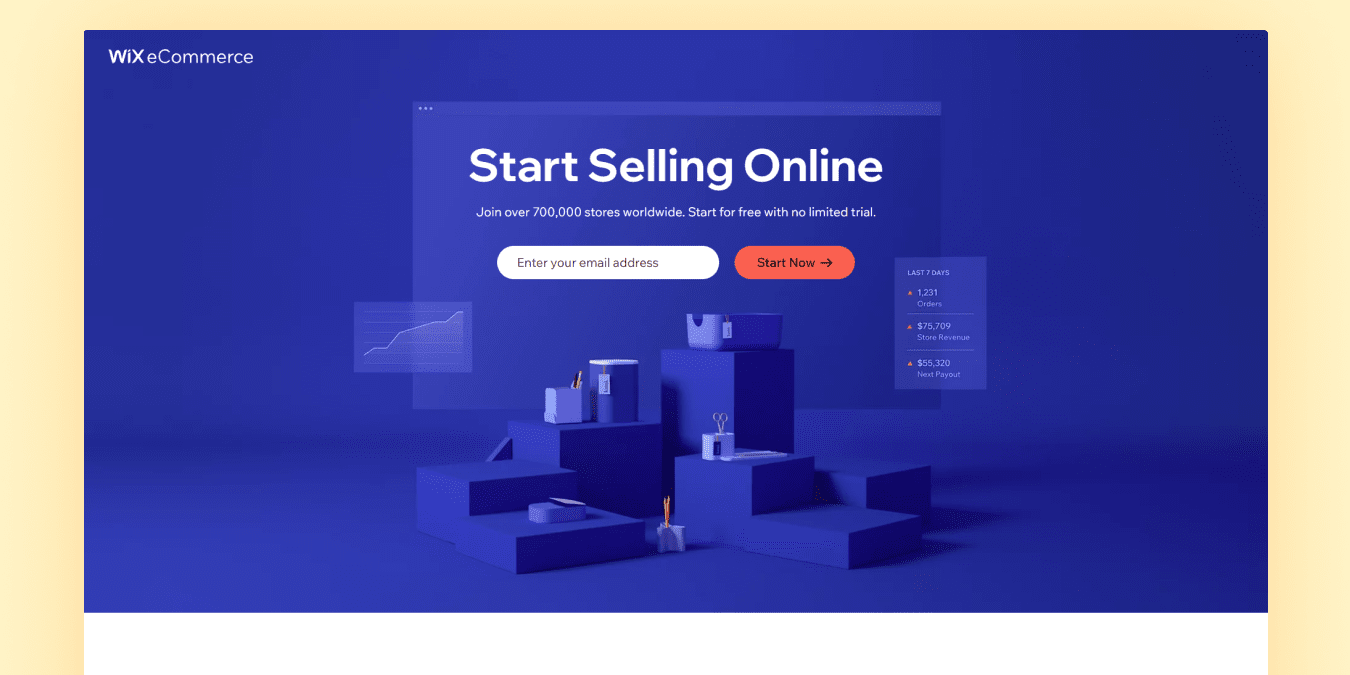 Cost: $17 per month, plus transaction fees.
Next on the list of online shops like Etsy is Wix, invested heavily in promoting its services as it captivates consumers by offering simplistic and user-friendly templates which are easy to customize. There is extended support provided by Wix in terms of tracking orders, setting taxes, and changing shipping rules for different locations. Wix also allows credit card payments along with PayPal which makes your life easier.
Fee Structure:
Business Basic Plan: $17 per month, plus transaction fees;
Business Unlimited Plan: $25 per month, plus transaction fees;
Business VIP Plan: $35 per month, plus transaction fees.
Tips to Use Wix as Etsy Alternative
Wix solves the problem where Etsy falls short; offers various marketing tools which help you set up your business in a more refined manner;
There are limited SEO features that might limit your potential to get organic traffic;
Wix does provide Etsy integration but there have been a number of technical issues reported, which the company is currently working on.
4. IndieMade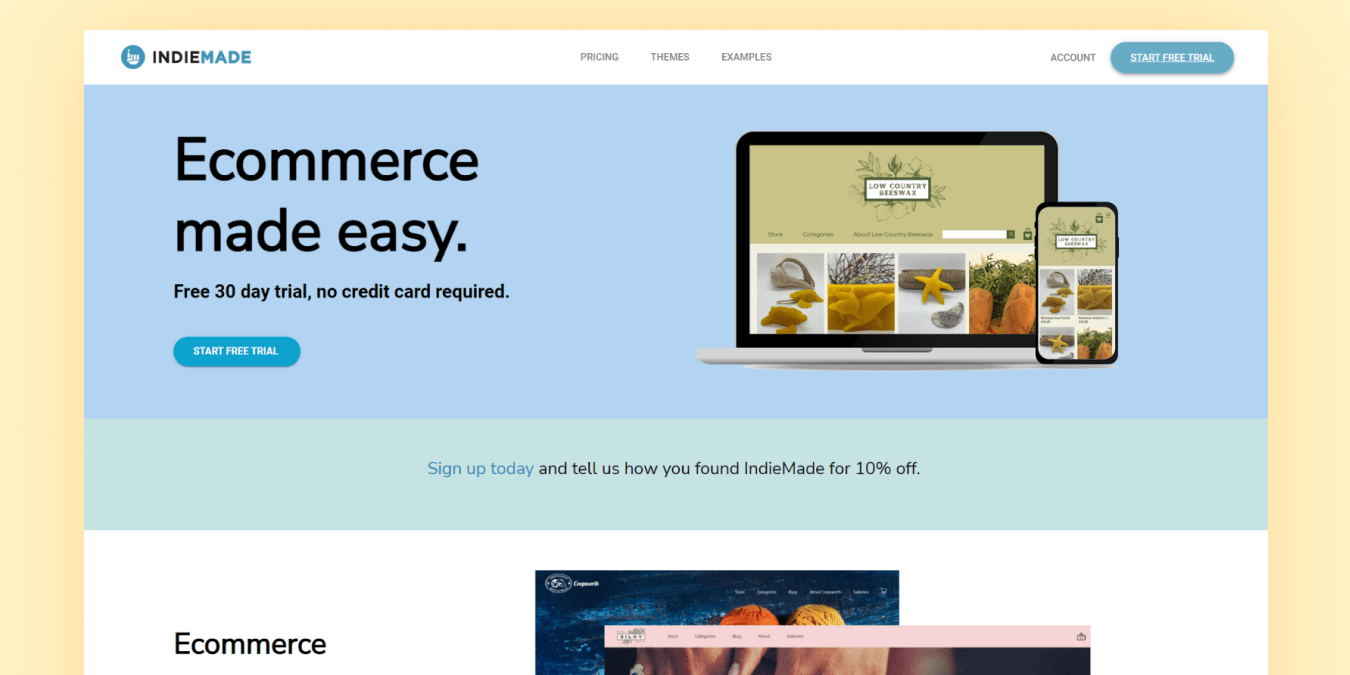 Cost: $4.95 per month (up to 10 products).
Primarily created to sell art, IndieMade handles everything from marketing to managing to building an effective website like Etsy. The platform offers a 30-day free trial during which you get access to all the tools including marketing tools and web hosting as well. IndieMade directly syncs with Etsy when it comes to inventory management features, which provides added comfort. This way, you will never have any inaccurate data.
Fee Structure:
Basic Plan: $4.95 per month, up to 10 products;
Standard Plan: $12.95 per month, up to 250 products;
Pro Plan: $14.95 per month, up to 500 products;
Plus Plan: $19.95 per month, unlimited products.
Tips to Use IndieMade as Etsy Alternative
The customization options are rather limited and offer a similar experience to Etsy. However, if you want to customize your store then this might not be the option to go for.
5. Squarespace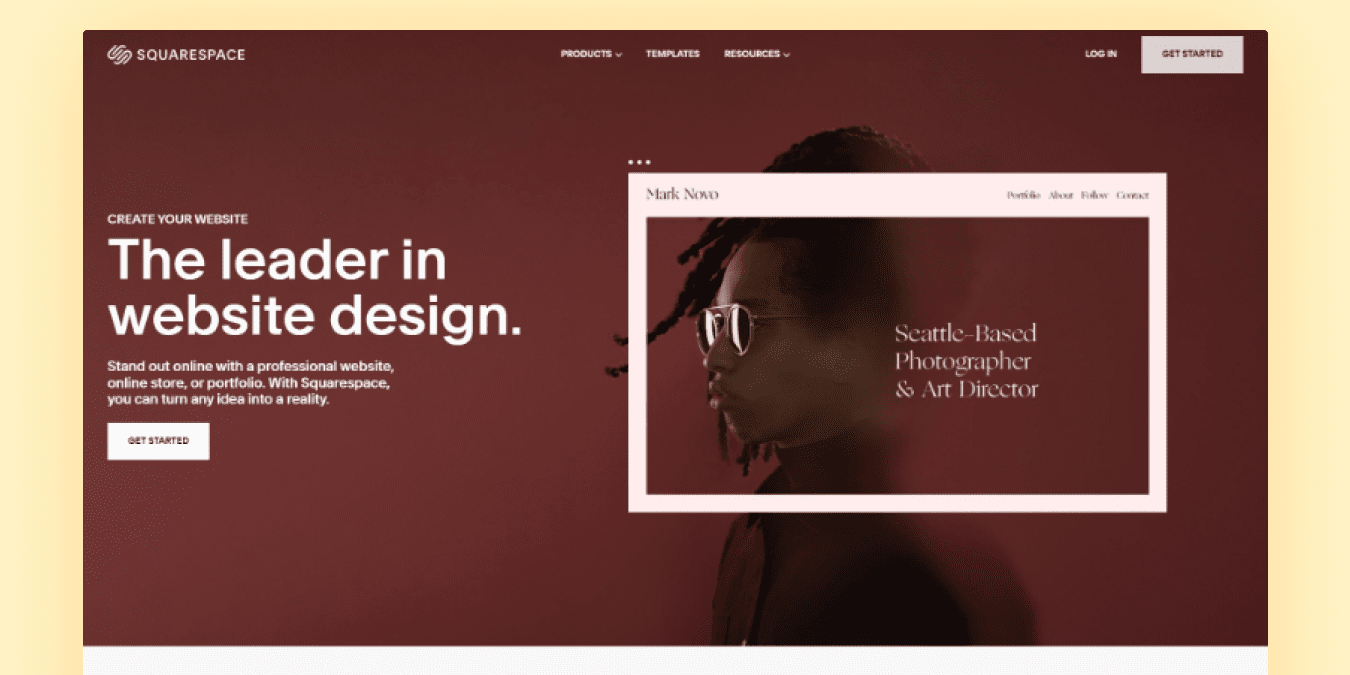 Cost: $18 per month, plus transaction fees.
Another alternative to Etsy is Squarespace, which offers visually appealing templates which can be customized through the ease of drag-and-drop design tools. In addition to visual focus, this platform offers blog and SEO tools, unlimited products, and a free custom domain. The biggest advantage of opting for Squarespace is perhaps the ability to import your Etsy website, which means you will keep all your products and their associate's URLs during the process.
Fee Structure:
Personal Plan: $16 per month or $12 with annual subscription;
Business Plan: $26 per month or $18 with annual subscription;
Basic Commerce Plan: $30 per month or $26 with annual subscription;
Advanced Commerce Plan: $46 per month or $40 with annual subscription.
Tips to Use Squarespace as Etsy Alternative
Squarespace requires patience despite not requiring any technical knowledge because it is a complete website builder whereas Etsy offers only a specific eCommerce tool;
Great for those who want to invest time in building their own store and creating a specific brand outlook.
6. Big Cartel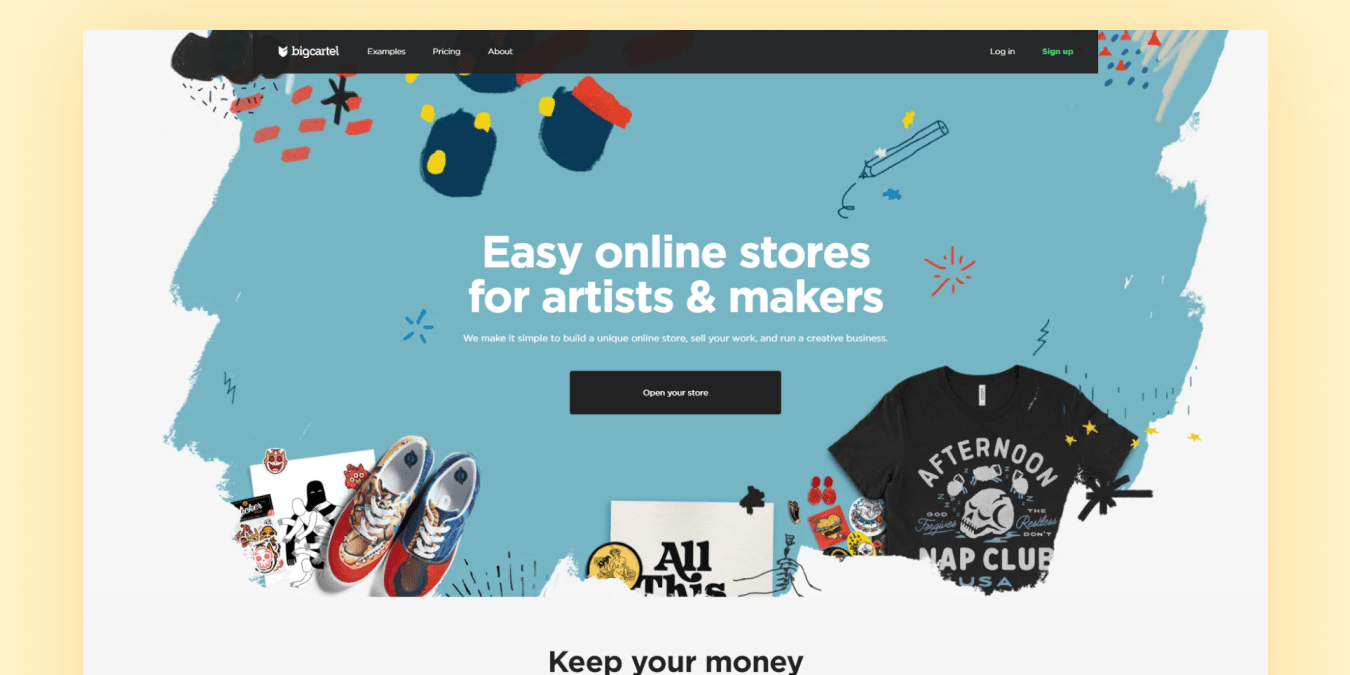 Cost: Free (up to 5 products), the basic plan starts at $9.99 (up to 50 products).
There are other sites like Etsy, like Big Cartel. In order to understand Big Cartel, you only have to look as far as their tagline which claims "by artists, for artists." The platform promotes the creativity of the crafters and helps them succeed in a competition-stricken environment. The biggest difference is perhaps that Big Cartel does not have its own marketplace like Etsy. However, it does offer the ability to create your own store on your own website. Another thing to consider while opting for this platform is to know that Big Cartel does not have its own payment arrangements, which means you will have to rely on Stripe, PayPal, or Venmo.
Fee Structure:
Gold Plan: Free, add up to 5 products;
Platinum Plan: $9.99 per month, add up to 50 products;
Diamond Plan: $19.99 per month, add up to 500 products.
Tips to Use Big Cartel as Etsy Alternative
Big Cartel is similar to Etsy but allows you to build your own website and online presence. Like Etsy, it also has a built-in audience and a customer base but lacks many benefits which Etsy would provide otherwise.
7. Zibbet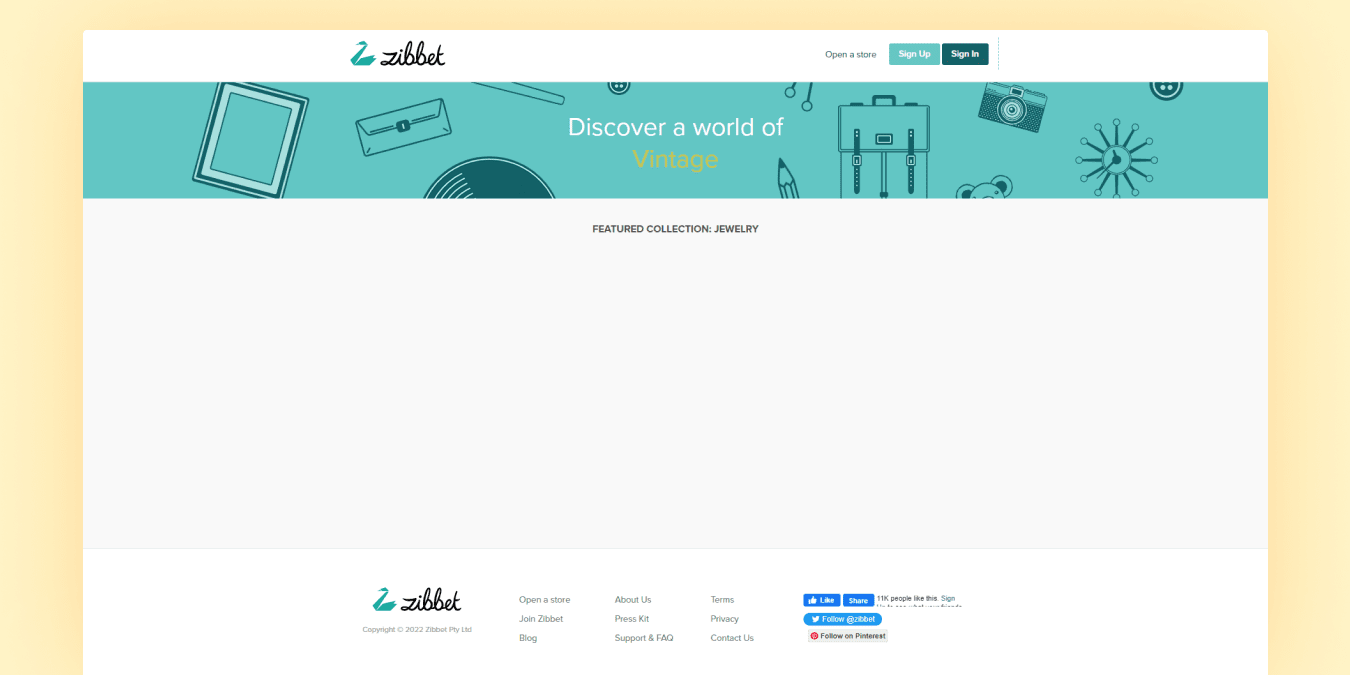 Cost: $5 per month, per user.
Like Etsy, Zibbet offers you the best of both worlds as it lets you create your standalone website along with access to its marketplace consumer base. You can import your products from different platforms including Etsy and eBay, this way you can manage your inventory from one location.
Fee Structure:
Offers only one way of doing business, which is to pay $5 per month per user.
Tips to Use Zibbet as Etsy Alternative
The platform has received some good feedback for its prompt customer service;
Ideal platform for those who are looking to only sell unique items which could be vintage or collectible.
8. Bonanza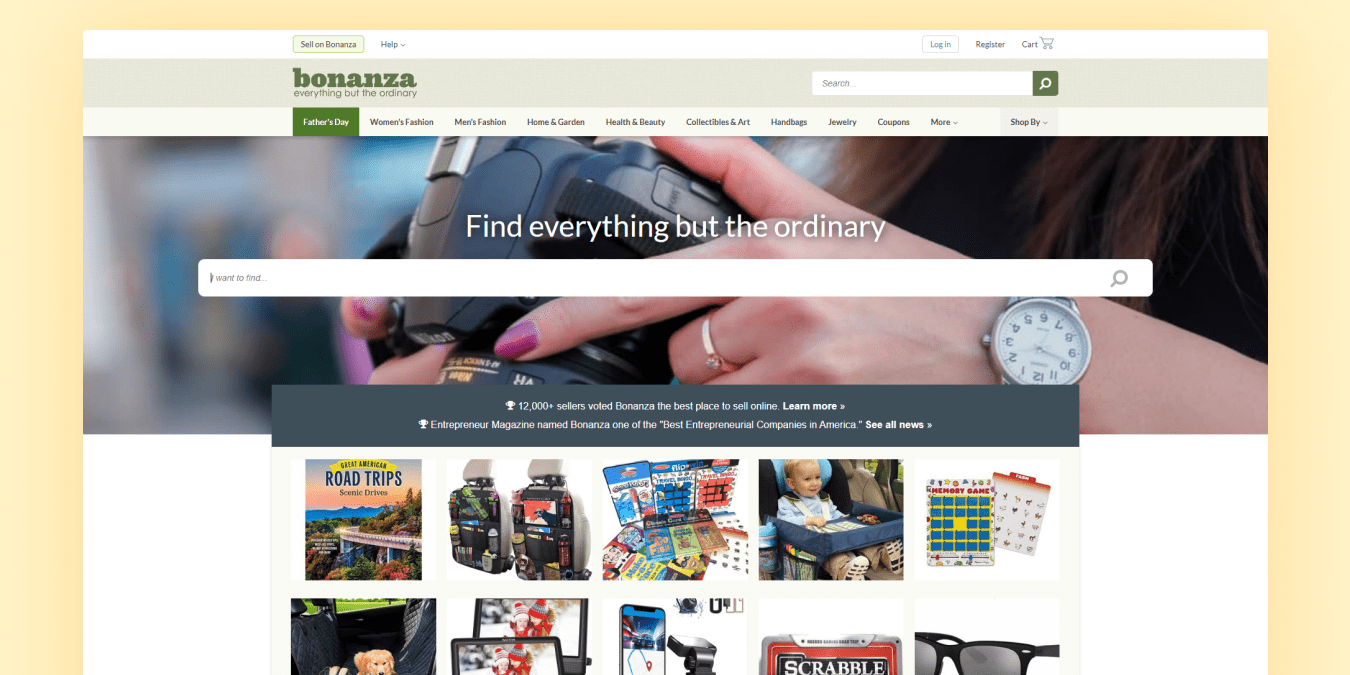 Cost: Sellers pay 3.5 percent, $0.50 minimum.
Moving forward, Bonanza is next on the list of stores like Etsy, which primarily caters to unique items which might include arts, crafts, and collectibles. You can benefit hugely from automated listings on Google Shopping, eBay, Nextag etc. Bonanza offers tools for analyzing data, advertisement, and also marketing. This platform offers exposure but its relatively smaller userbase does not give any competition to Etsy. You can either list your products on its marketplace and/or opt to create your own store.
Fee Structure:
3.5 percent if Final Value Offer (FOV) is under the $1,000 range;
If FOV exceeds 1,000 then you pay 1.5 percent of the amount exceeding the limit along with the existing 3.5 percent;
Advertisement services will cost extra ranging from 9 to 30 percent of FOV.
Tips to Use Bonanza as Etsy Alternative
You might want to adjust your prices a bit as Bonanza has a norm where customers are almost always expected to negotiate the price, something which might be of regular occurrence over at Etsy.
9. eBay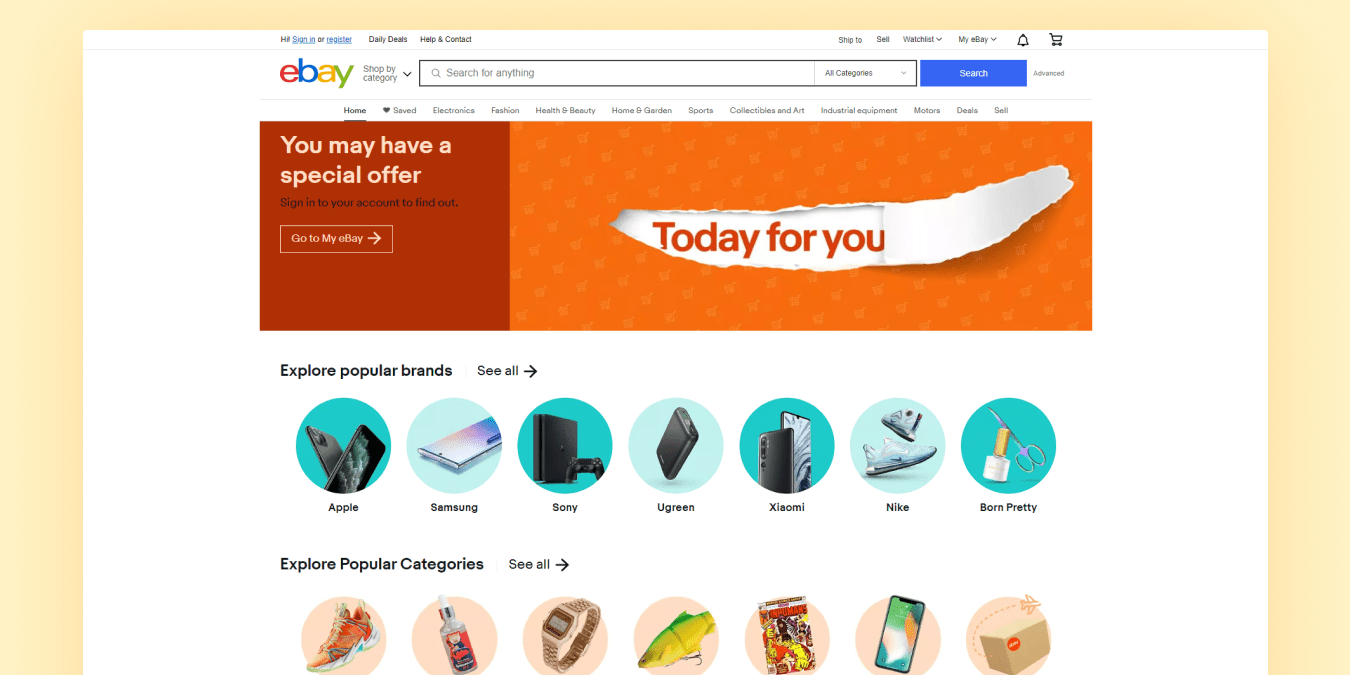 Cost: $4.95 per month with fixed-price and auction listings and more.
eBay was initially famous for selling used goods but it has gradually been transformed into a complete marketplace where you can find everything imaginable. The platform is on top of the list of websites like Etsy, filled with useful features such as recurring customers putting alerts to update themselves whenever you add a new product or a listing.
Fee Structure:
Starter Plan: $4.95 per month, up to 250 free fixed-price listings;
Basic Plan: $21.95 per month, up to 1,000 free fixed-price listings and 250 auction listings;
Premium Plan: $59.95 per month, up to 10,000 free fixed-priced listings and 500 auction listings.
Tips to Use eBay as Etsy Alternative
You can choose a different fee structure where you have to pay an insertion fee and a Final Value Fee. You can list up to 250 items without paying insertion fees but after that, it is 35 cents per month per listing;
It must be noted that although you can list things as an individual and as a business account only the latter has the ability to offer inventory, order, and track sales.
10. ArtFire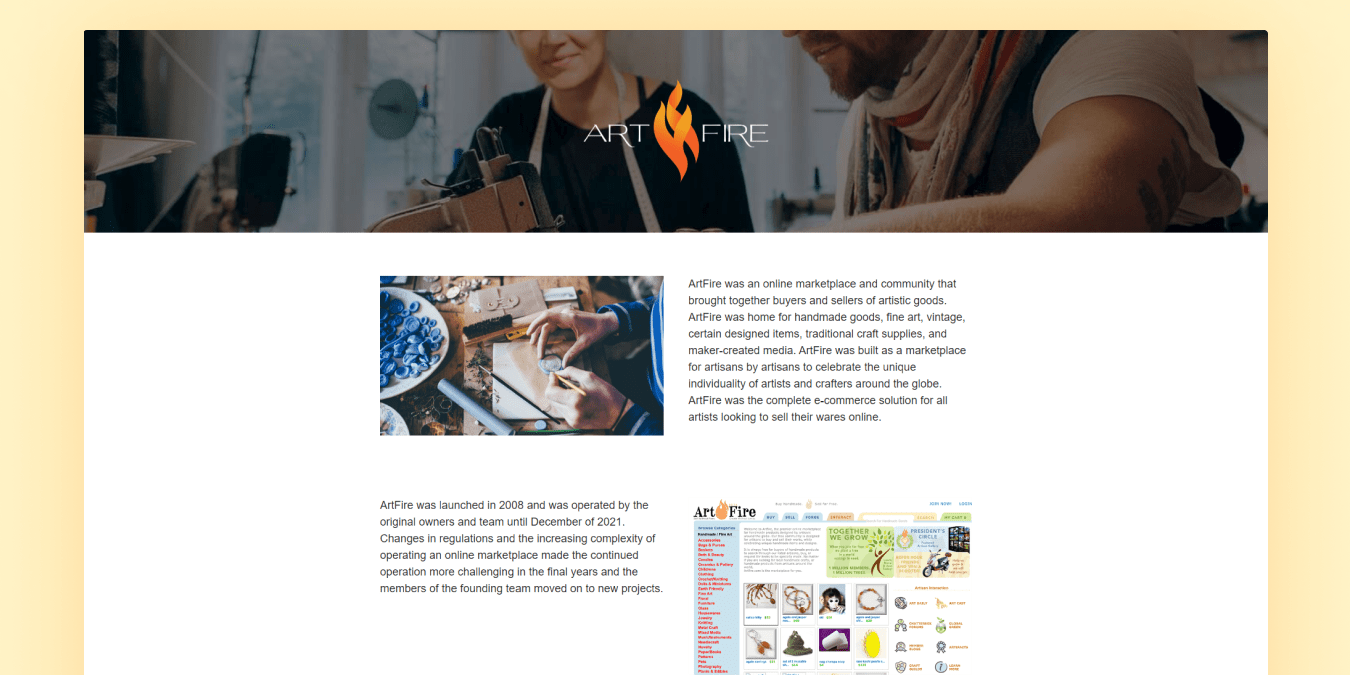 Cost: $9.99 per month, plus transaction and listing fees.
ArtFire is an Etsy alternative and it is a platform that is meant for handmade and artisan goods. Commercial products listed on the platform are charged a commission modifier. The platform is easy-to-use and lets you customize things around without having the need to know any coding. ArtFire eliminated the problem of having to promote things on the web as it automatically shares all your items on major search engines.
Fee Structure:
You pay from $9.99 per month to $49.99 per month for the shop;
Listing fees start from $0.23 but are free once you choose the middle-tier plan;
12.75% fee of the final selling price is payable if the item is sold.
Tips to Use ArtFire as Etsy Alternative
The ArtFire platform offers great community support, which can help you strategize better in regard to your business;
The platform extends support to customers as they don't need to sign-up to purchase items.
11. iCraft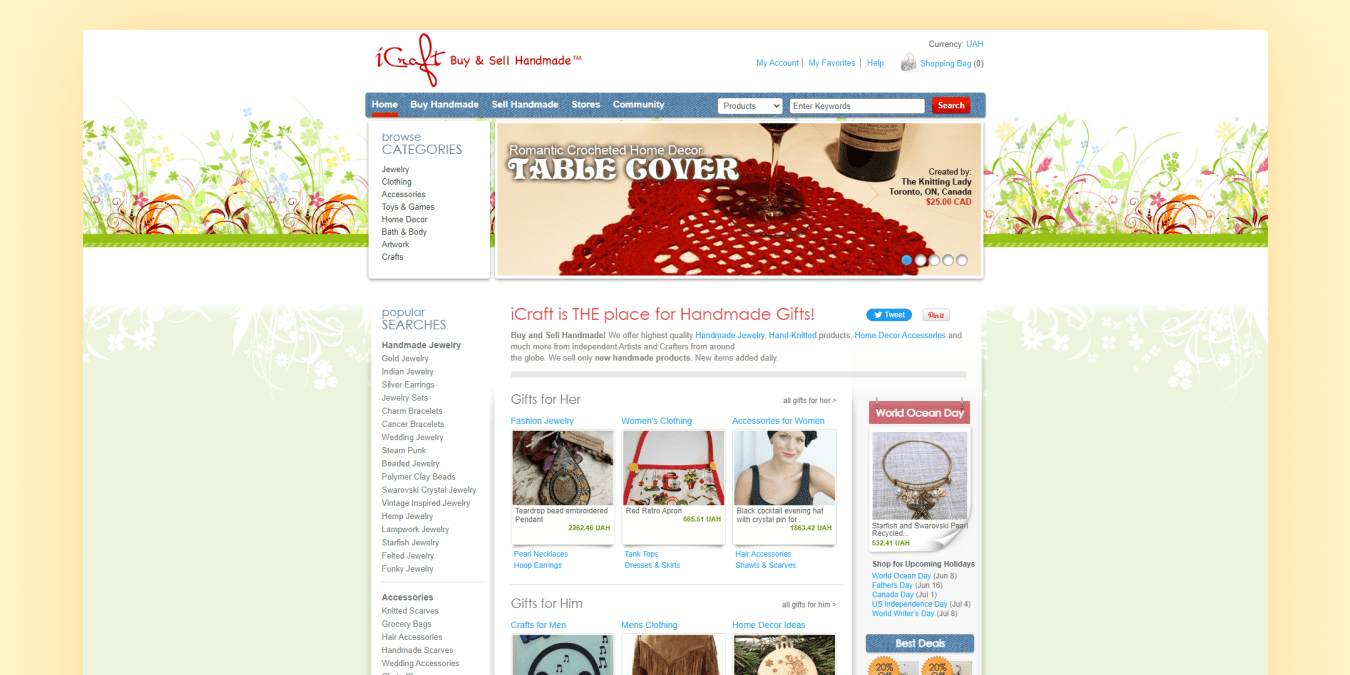 Cost: $15 per month, $25 registration fees.
The closest product-wise alternative to Etsy is iCraft. This platform is strictly restricted to sellers who handcraft and handmake goods. You can also inform your potential customers regarding the availability of custom design orders. Although the platform does not have transaction or listing fees iCraft has a team in place that strictly monitors the submitted work to ensure that it meets the company's values.
Fee Structure:
Monthly Plan: $15 per month;
6-Month Plan: $12 per month;
12-Month Plan: $10 per month.
There is a small non-refundable one-time fee of $25 which you have to pay when setting up your creator exhibit. This is required so that the iCraft can begin verifying the details you have provided.
Tips to Use iCraft as Etsy Alternative
12. Storenvy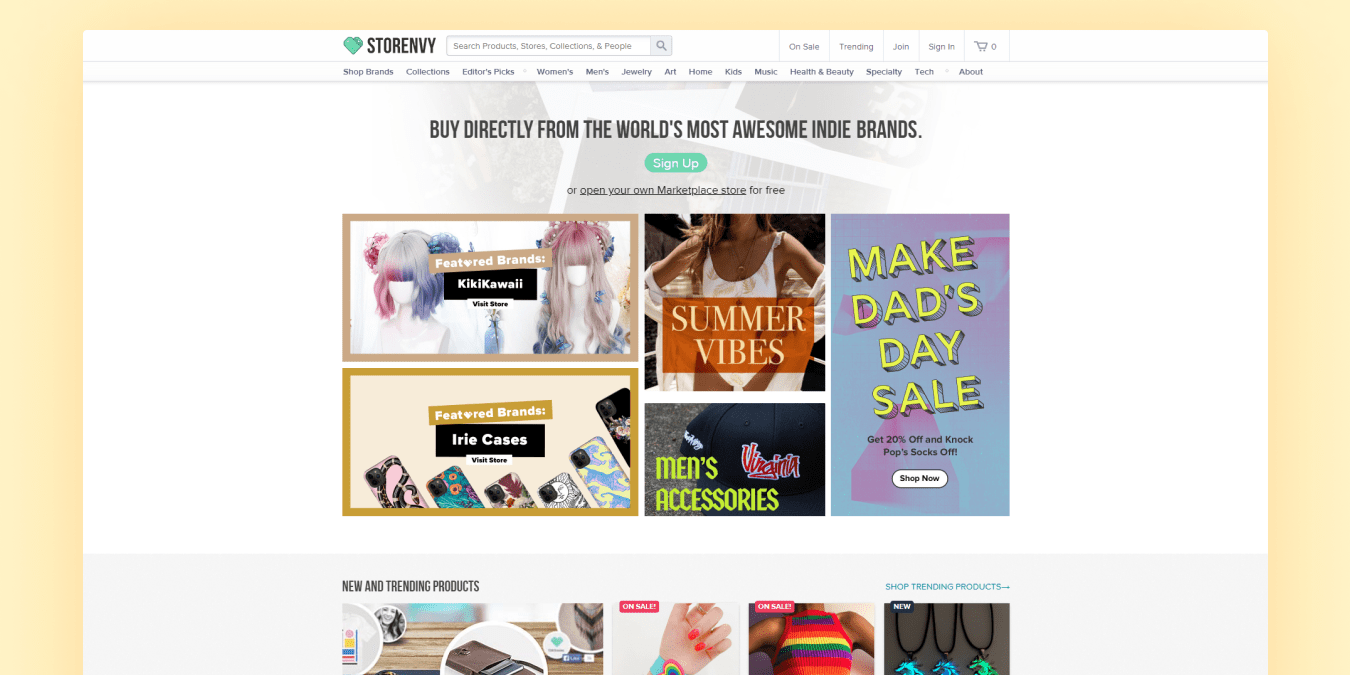 Cost: Free up to 1,000 items, $14.99 per month after that.
Storenvy is a social marketplace website like Etsy, that is entirely geared towards promoting indie brands and you can sell most of the things on their platform. The platform has a good track record with these categories: books, music, tech products, and beauty items. If you fall in the category then this might be exactly what you were looking for. You can sell independently on this platform or you can also choose to utilize their marketplace. However, remember that Etsy has better exposure in terms of traffic but Storenvy's targeted audience can definitely be of help depending on your products.
Fee Structure:
Plus Plan: $14.99 per month, up to 2,000 products;
Pro Plan: $29 per month, up to 5,000 products.
Tips to Use Storenvy as Etsy Alternative
Unlike Etsy, Storenvy allows you to completely revamp your storefront and you can use any picture as your store backdrop;
What Storenvy lacks in flash, it makes up for it with its cost and prompt customer service. These two things are often on the priority list for many business owners while looking for an Etsy alternative.
Bottom Line – Which Platform Should You Choose as Etsy Alternative?
There is no definite answer to this question as it entirely depends on your business and the products you are selling. In addition to that, your work ethic also factors in this because some platforms are simpler whilst others require some getting-used-to.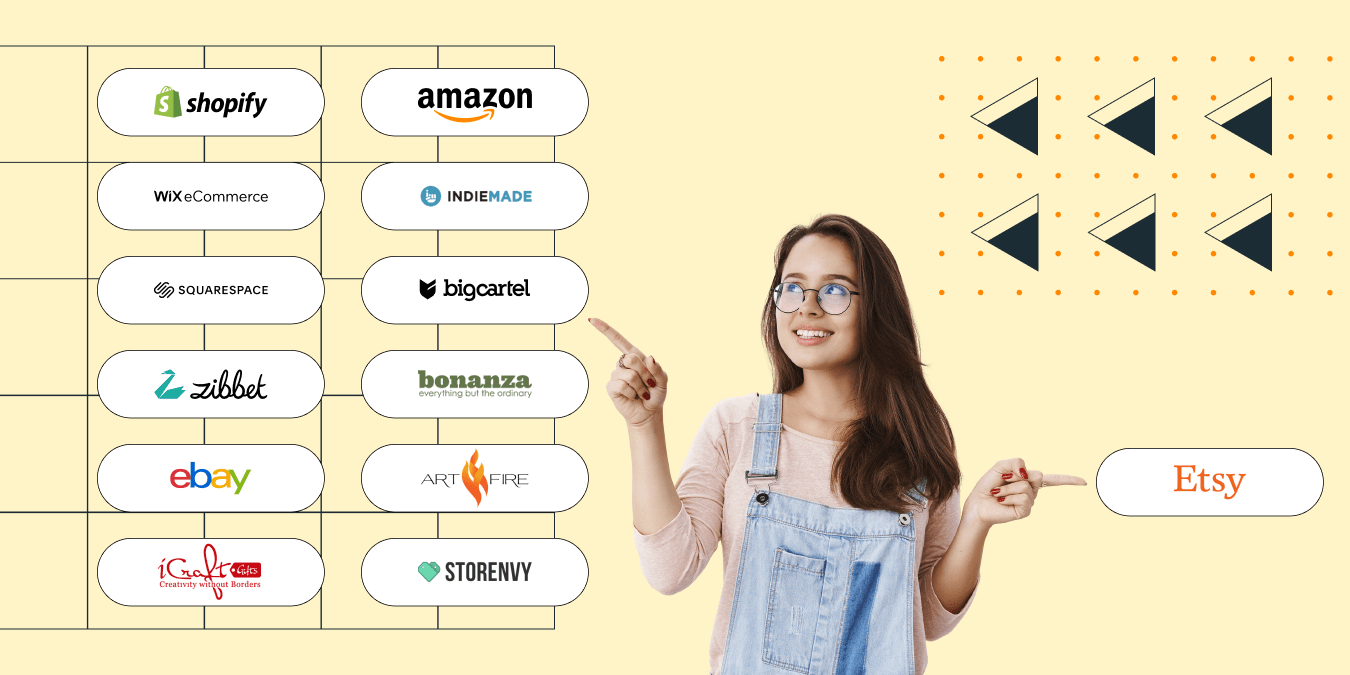 While Etsy may be ideal for some, it is not desirable for everybody. That's absolutely normal. There are numerous stores like Etsy available to assist you in starting and growing your online business.
Consider the online shopping features that will have the greatest impact, such as various payment processors, transaction fee limitations, real-time inventory management, dropshipping, and a user-friendly interface. After that, spend some time evaluating and testing each platform. This article provided a list of websites similar to Etsy, that cover most if not all of the features.
Amazon is the best option if you are looking to reach the masses but its strict rules and regulations make things a bit more complicated. However, if you can comply with them then that's a huge plus.
If you are looking to desperately move away from Etsy to get rid of part-time selling then Zibbet and Bonanza might be the way to go.
As mentioned before, this is a subjective decision that should be taken by considering everything about your business.
Want to conveniently integrate all your channels and optimize each product on any store or marketplace you have.
Try Sellbery


Also Popular on Sellbery
Optimizing Manufacturing Processes with Advanced Data Analytics
Elevate your manufacturing processes with cutting-edge data analytics solutions. Uncover the power of real-time monitoring, predictive analytics, and advanced data insights. Learn how manufacturing data, sourced from machines and human factors, enhances quality control and efficiency. Explore the role of data analytics in optimizing operations, reducing costs, and boosting profitability. Discover the types of data generated in manufacturing and implement data analytics platforms for seamless analysis. Power your business intelligence with Microsoft Power BI through experienced consultants. Embrace a data-driven approach to streamline processes, cut costs, and elevate productivity. Overcome challenges with effective advanced analytics, providing a complete view of your business data for informed decision-making. Transform your manufacturing future with data-driven efficiency and competitiveness.