How Do You Start a Dropshipping Business – Step by Step Guide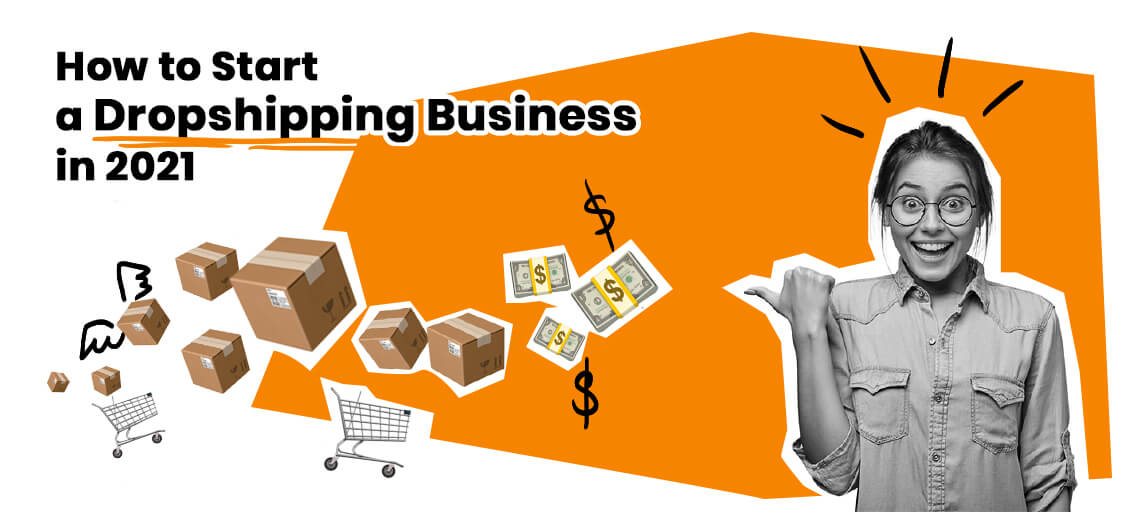 A comprehensive guide on the dropshipping business model, along with the proven strategies that will help you build a successful online store.
Dropshipping is a popular way to quickly launch an online store with no need to produce items or spend time on shipping them to customers. In recent years, the dropshipping model became even more desired for sellers because of Amazon and Shopify.
Thanks to such eCommerce marketplaces and platforms, sellers can start an online business for as little as $20. Sounds good? But, do you know how to start a dropshipping business?
Pick any plan for free!

Sellbery strives to help sellers overcome any drop in sales due to COVID-19.
Therefore, All seller plans are FREE till October 1, 2021!
Start selling on more marketplaces like Amazon, eBay & Etsy without paying a penny!
Dropshipping may seem easy if you've never tried this model before. This model definitely brings a lot of opportunities to sellers (and some YouTubers promise big profits in weeks after launch), but, at the same time, has various pitfalls if you do not follow the right steps at the beginning of your journey.
So, we prepared a comprehensive guide on the dropshipping business model, along with the proven strategies that will help you build a successful online store.
What Is a Dropshipping Business Model?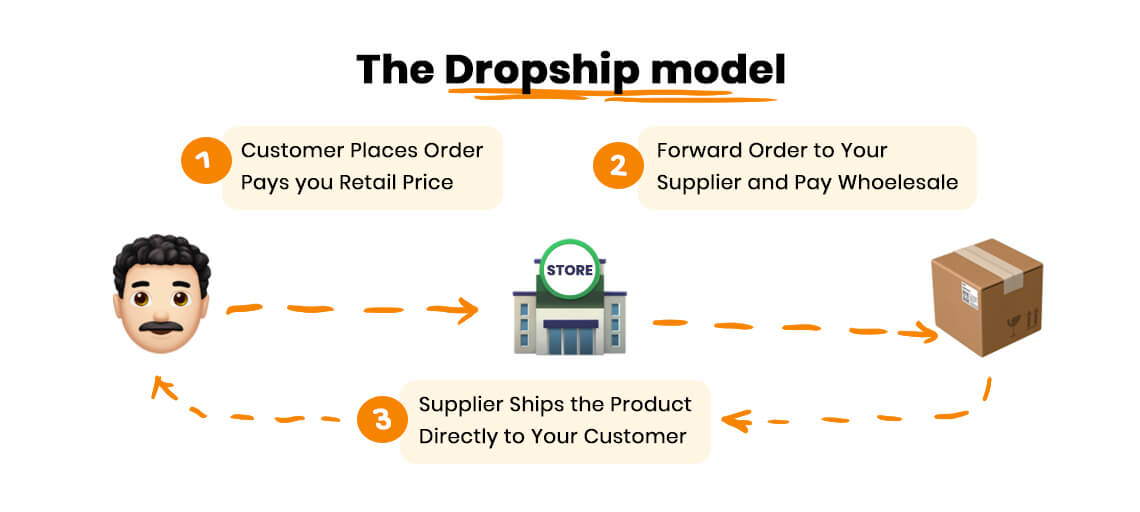 Dropshipping is an order fulfilment method where stores don't keep their products in stock. In other words, you can sell items from a third party with no need to hold any inventory. Instead, when a store sells an item, it purchases the item from a supplier and then ships it directly to the customer.
If you are an artisan or creator who wants to enrich the world with the new top-notch creative products, dropshipping is not for you. If your main goal is to establish a well-organized eCommerce business and don't spend time on item production – dropshipping is for you.
Why Start a Dropshipping Business?
One of the biggest pains of the sellers is overstock. In other words, when you produce more items than you actually sell. Dropshipping solves this problem. For example, the production cost of a simple t-shirt is usually about 30-50% of the final price, and it can be too expensive to produce more than you can sell.
And, don't forget about the time spent. To create the item, you need to find good materials and a factory, along with the creative ideas and people who can implement them. Then you need to take care of shipping, packaging, and hiring employees. With the dropshipping model, you will skip these stages and become responsible only for the marketing and financial sides.
Even though the margin is low in a dropshipping model, it's a low-risk business as most of the processes are operated by a third-party supplier. You don't need to take the risk of producing the items that don't sell.
You can pick dropshipping model if you:
Want to get into entrepreneurship and eCommerce with fewer risks;
Want to focus on the business side rather than production;
Want a side business where you don't need to be involved 100%.
The major PROS of dropshipping:
Low Expenses,
Low Cost of Inventory,
Low Order Fulfillment Costs,
Low Shipping Costs,
No Storage Costs.
How to Start a Dropshipping Business?
If you pick a dropshipping model to operate your eCommerce business, follow these steps to overcome possible pitfalls.
1. Select Your Niche
Before establishing any business, selecting your niche is the first crucial step. Of course, it's great if you choose a niche you are interested in most, but, from my experience, entrepreneurs may build a successful business just thanks to effective management and marketing. Anyway, you need to know your niche well to make sales and be competitive.
How to find a suitable niche?
It's great if you already know what you are going to sell, but if not – do some research. There are some really good places where you can get useful information on current market demand.
Google trends. Google trends have information on product trends and demand during different seasons. Thanks to its data, sellers can see if a niche is on an upward or downward trend. GT doesn't show search volume, so use the Keyword Planner to find the product's popularity in search.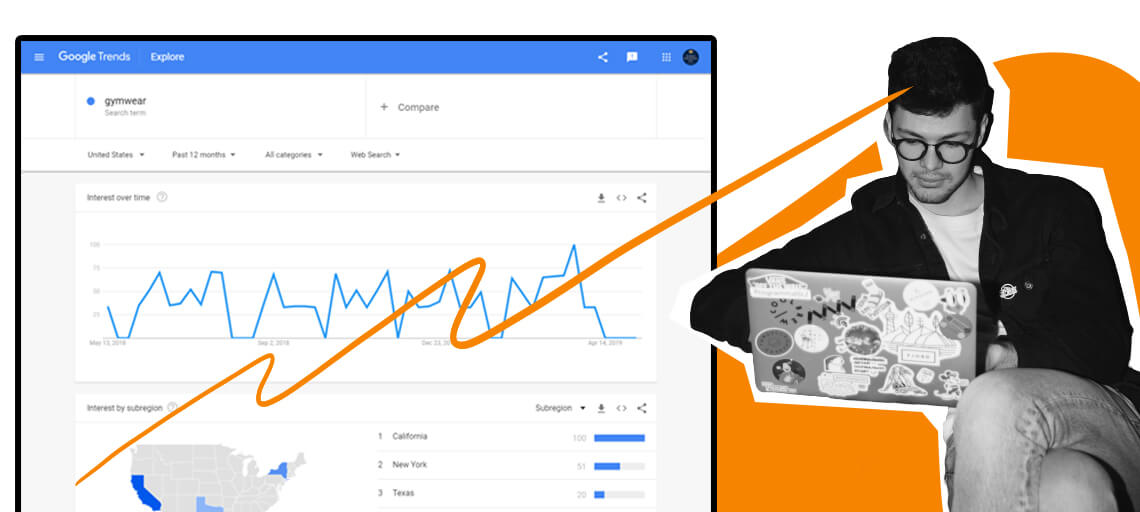 Keywords search tools. You will need these tools for SEO optimization and to understand what people are looking for. For example, you can check what prints for t-shirts are in the highest demand among buyers.
Statista. If you want to get the recent stats on niches, products, trends, or other eCommerce data – Statista is the best place for you.
Trending products in big stores. Another lifehack for finding products that sell is to check big online stores like CultBeauty or so, and see what items are the most popular among buyers.
Some useful tips for choosing your niche
Cover a wide audience. Make sure your selected products are in high demand for a broad audience. Selling creative posters with significant prints focusing on a specific audience may result in low sales, as you focus on too narrow a niche .
Look for high purchase price. In other selling models, low-priced items can bring more profits than high-priced items, but this is not the right way for dropshipping. The average drop shipping profit margin is low and between 15-20%, so it doesn't make sense to sell items at low prices. Another option to increase profit margin is to sell items in bulk. For example, if you sell an item for $20, you get around $3, but your margin will be higher when you sell ten items at this price (even if the wholesale price of each item is lower than regular price).
Aim at low shipping cost. We sell internationally, and shipping costs may be higher than the order itself. And, in some cases, sellers have to pay refunds, including shipping price. I advise you to pick those products for selling that have low shipping costs. These items should be not heavy and small-sized.
Choose searchable products. Check keywords on different keywords planner tools, one of the top popular is Google Keyword Planner, to see whether your items are something that people are looking for. This is really a good way to see the buyers' demand in your niche.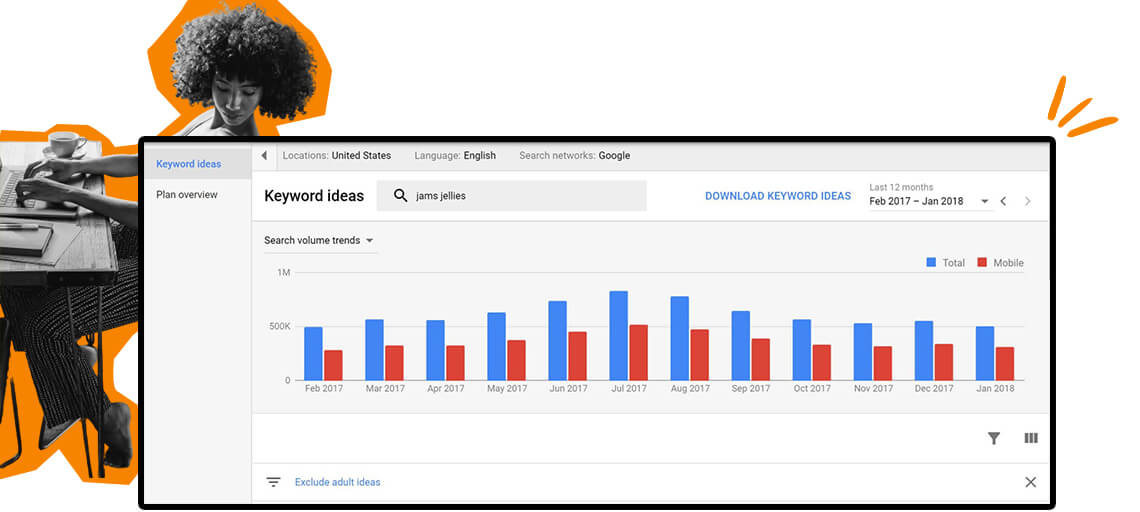 Unique or unavailable products. Don't choose products your buyers can quickly get down the street or in the supermarket. If you sell t-shirts with unique prints or creative items, they are more likely to stand out.
2. Do market research and competitor analysis
Competitive analysis is an essential step while establishing any business. Dropshipping seems easy, but that ease is attractive for many competitors in the eCommerce business. You will be competing with other dropshippers (who may use the same suppliers as you) and with such retail giants like Amazon or Walmart.
For this model, pick a highly competitive niche as it shows that there is high demand. Your duty will be to focus on marketing activities, and you can stand out from your competitors with proper promotion, customer service, sales techniques, etc.
Where to get this data?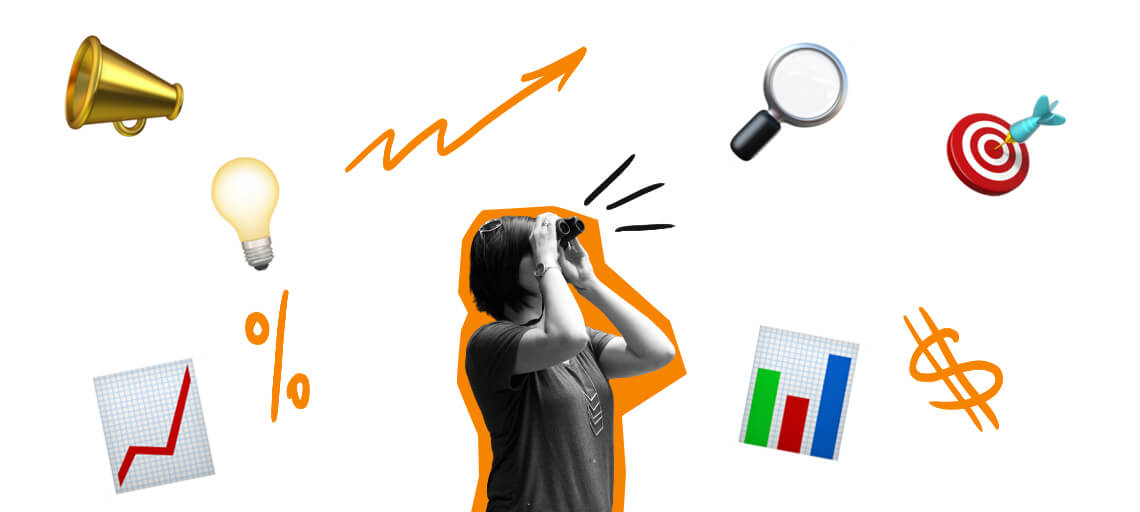 SEO research. You can use a keyword planner plus SEO tools like: Ahrefs or Alexa and SEMrush to get key ideas about various aspects of your competitors' marketing approach.
Social media. Monitor social media posts of your top competitors or other recognized stores, check their users' engagement and messages delivered by the brands. Check communities and what people are looking for or what complaints they have.
Content marketing performance. Spy your competitor's best performing content pieces using such tools like BuzzSumo or Monitor Backlinks and SEMrush.
Newsletters. Choose your top competitors and monitor their newsletters. This approach will give you some insights and ideas for your search ranking strategy.
3. Choose suppliers
Collaboration with the right supplier is crucial for dropshippers. A third-party supplier is the basis of your dropshipping business. Some suppliers can be scams, send items of bad quality, or make other mistakes that will damage your brand's reputation. You need to find a reliable partner to make sure your items are in stock and customers get orders on time.
TIP: How to test potential suppliers before choosing one: order an item from your "candidate" yourself and see what kind of experience you get to understand, what kind of experience the buyers will get.
Find a supplier that works with dropshippers. You need to find a third-party that offers dropshipping services, as not all of them do. Some of them are manufacturers and wholesalers only.
Good reviews (ratings). Carefully check your potential supplier's rating and feedback if possible. Make sure this is a legit supplier. Talk to the supplier, ask relevant questions, measure communication level, and create a synergy between you both.
There are already few most common approaches to find a third-party dropshipping partner, though marketplaces like:
Spocket.
AliExpress.
Suppliersdata
SaleHoo.
Doba.
Wholesale2B.
Worldwide Brands.
Wholesale Central.
Sunrise Wholesale.
MegaGoods.
InventorySource.
National Dropshippers.
Dropshipper.com.
OfficeCrave.com.
Alibaba and AliExpress have a wide range of Chinese suppliers, but they are pretty similar to each other.
4. Build your website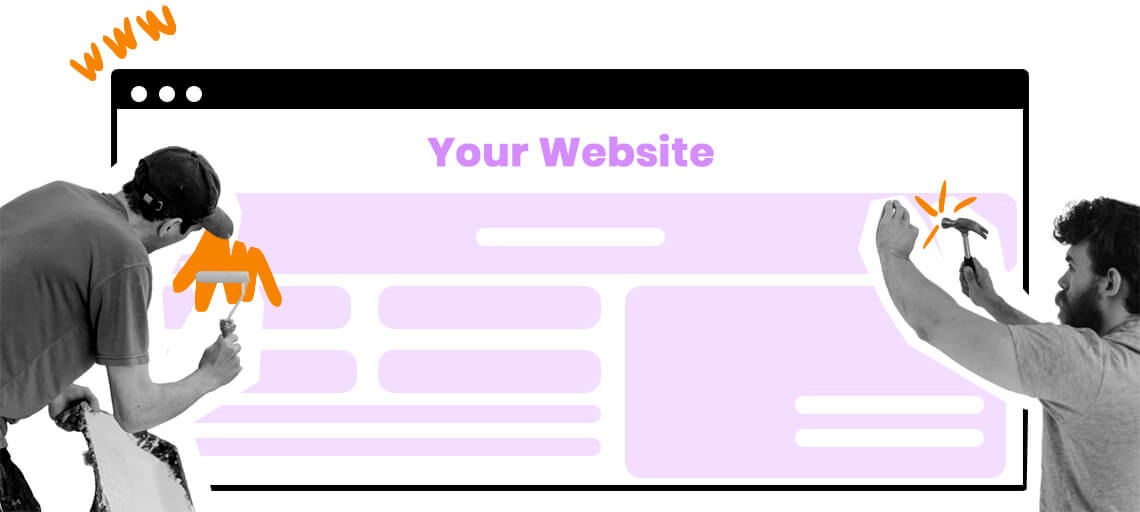 If you are planning to run a dropshipping business on a regular basis – build your online store. To do that, choose a platform like Shopify or Woocommerce, as this is the fast way to launch your store without any coding experience. The price of these platforms is reasonable, and you can hire a web development company to implement custom solutions for your store.
Dropshippers often choose marketplaces like Amazon but owning your online store brings many benefits. First, store owners have complete control over customer service, design, and branding. On marketplaces, design and branding are very limited, and refund/return policies are often not on the seller's side. Second, you don't need to pay fees and profit margins.
Among the main cons, I would highlight the guaranteed traffic marketplaces can offer. With your own store, you will need to work hard to drive the same traffic as a marketplace provides, but, as soon as you bring your customer to your site – you will have greater profits from them.
Utilizing organic traffic with great content can save you many dollars spent on paid marketing (as Sellbery is actually doing now 😉). With helpful content businesses do not have to spend the marketing budgets on the paid traffic.
5. Pick a suitable business structure
If you are planning to establish a legit long-playing business, you'd better decide on your business structure in the first place. The most common structures for dropshipping businesses are the following:
Sole proprietorship. This business structure offers no personal liability protection but is easy to implement. Everything you need to do is to report your earnings.
C corporation. This type of business structure offers maximum liability protection. But note, this business structure is subject to double taxation and more expensive to incorporate.
Limited liability company (LLC). An LLC offers more protection of personal assets, as you'll have a separate legal entity. But, you'll need to pay some ongoing and incorporation fees.
6. Promote your business
When all steps above have been passed, it's time for the most fun but the most time-consuming and expensive part – marketing. Especially in the dropshipping model, where most processes are automated, promotion of products is your primary job.
The most popular ways to promote your store are:
Content marketing. Content remains a King! For a long-term run, you'll need to grow organic traffic to your website. And, the best way to do that is to share valuable content with your audience. I would suggest writing about your chosen dropshipping niche, for example, or add videos or podcasts.
Some of the top useful tools and resources to get started with topic ideas:
Answer the public – a keyword tool that visualizes search questions and suggests autocomplete searches in an image called a search cloud.
Ubersuggest – a free SEO tool that specializes in generating new keyword ideas.
ContentDistribution – a tool to help companies build massive online audiences through content creation and distribution.
Also, you can take advantage of the topic specific forums as:
General Forums (Quora, Yahoo!, etc.)
Industry-Specific Forums (Your Readers' Forums)
Industry Publications etc.
Ads on Social Media and Google. This approach may seem very easy for newbies – you set the target and click on the 'Boost post' button. The cost of the Facebook ad for instance is about .97 cents per click. You may spend a lot of money on ads and get zero sales, as Google or Facebook algorithms are not perfect when it comes to reaching your target audience.
However, reaching out to your target audience through social media and Google ads is still a popular way to promote your business. While creating ads, make your perfect audience persona, optimize your ads by interests, age ground, geo location and gender to the better target audience. Or, you can reach a more qualified audience by setting a pixel on your website and build a custom audience from information that is covered.
While creating your ads, monitor some latest social media content trends. Sellers are making their social media posts simple, short and catchy with realistic 'smartphone made' pictures.
Influencer marketing. This is a trendy approach, which is a very effective way to reach your audience quickly. Partnering with influencers can be costly, as professional influencers are in high demand, and sometimes it's even tough to make them reply to your emails.
Sellbery is a multichannel listing tool to synchronize your product listings & automate order and inventory data between online stores and/or top marketplaces.
How to Find a Dropshipping Business for Sale
Do you know that you can even buy an already existing dropshipping business via such marketplaces as Exchange? If you don't want to start a dropshipping business from scratch, just buy an already existing store. On such marketplaces, you can buy established stores and even large successful eCommerce stores.
You can choose a dropshipping business that matches your interests and get as much information as you need. Companies share their data on revenue, traffic, and so on. Exchange is Shopify's marketplace, and all data comes directly from the platform, so you'll know what to expect once you buy the store.
Wrapping Up
Dropshipping business brings various opportunities for sellers. There is no need to produce products and invest a lot of money. In dropshipping model, most of the processes are automated and outsourced, while dropshipping seller just need to focus on promotion.
So, if you have a great business idea, but don't want to spend a lot of money and time on building a store from scratch – choose the dropshipping model to start.


Also Popular on Sellbery