Shopify or Etsy? Why not both?! Shopify-Etsy Integration Guide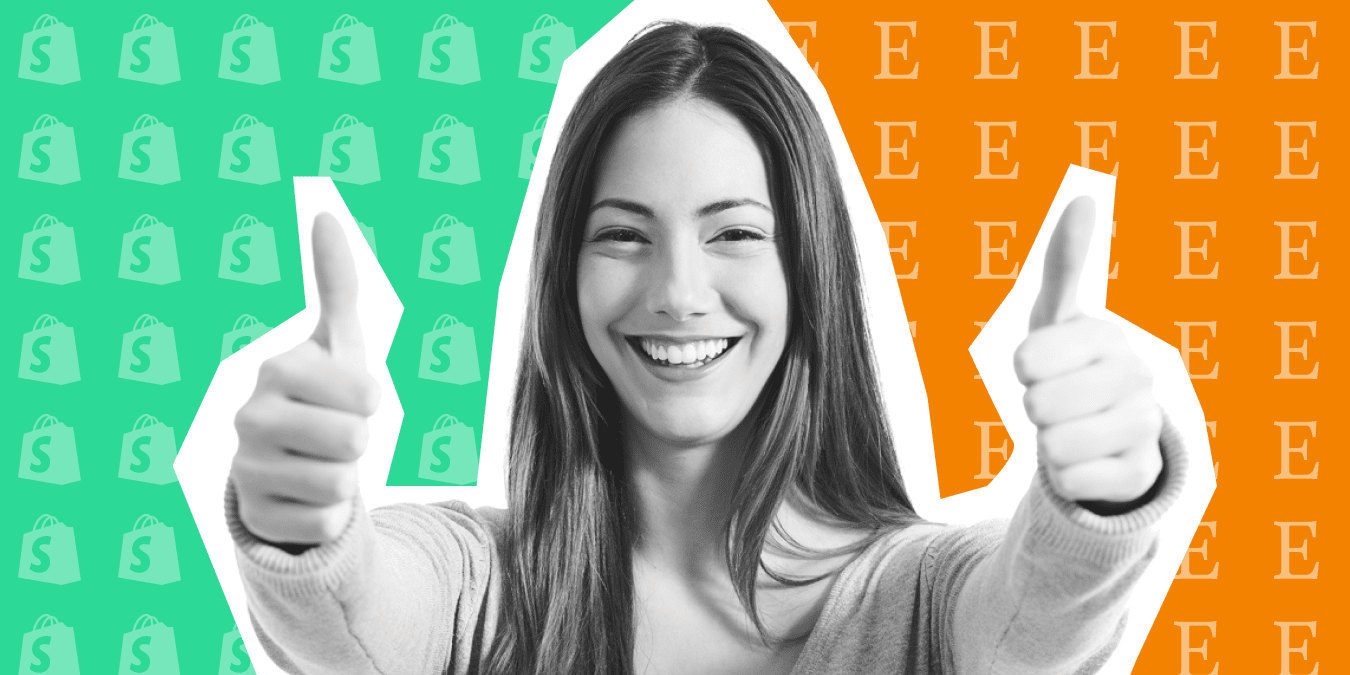 Does Shopify Integrate with Etsy? - YES! A detailed guide on ways to integrate these platforms and on the benefits of selling on them both.
Intro – Does Shopify Integrate with Etsy?
Already selling your items on Shopify and now – thinking about expanding to Etsy? Or, perhaps, you'd like to use both platforms at the same time?
The answer is – Yes, Shopify can be integrated with Etsy, so you can easily migrate your store from one platform to another or keep your store on them both!
Integration of these platforms provides sellers with the following benefits:
Synchronizing your inventory – which makes it easier to manage both platforms.
Export / import items – you can easily update your listings on both platforms.
Managing your orders and billing – accounting gets easier if both shops on each platform are registered under the same name.
Etsy and Shopify have a lot in common, and if you already have your business working on Shopify, you might as well take advantage of Etsy too.
Connect your Etsy store to other platforms to reach out to more customers
FIND OUT HOW

PROs of Selling on Shopify
Let's discover the main benefits sellers can get using the Shopify platform:
Easy setup. Even though you need to set up Shopify store from scratch, it is easier than you may think. The Shopify registration process is simple, so just 5-30 min and your store is live.
Customization. Shopify provides you with enough themes and design options, so the store's look is entirely in your hands. You can build your brand identity by adding visual elements that align with your business needs. The look of your product listings can be also complemented with many design variations like media and videos. This will definitely help to attract more buyers.
Various features from the app stores. You will need to update your store with new features at some stages of your business growth, and with Shopify, you can simply do it by uploading them to the app stores.
No transaction fee. You don't need to pay transaction fees or any other commissions, and your product listings do not expire (on Etsy, it expires in 4 months). But, you will be charged monthly for using the Shopify website.
Buyers trust your brand. Shopify is a recognized eCommerce platform, so no surprise buyers will have more trust in your brand.
For some sellers, it may already seem that it's better to sell their goods on Shopify only, but – wait a sec ) – and read the next paragraph to see what Etsy has to offer.
PROs of Selling on Etsy
The main benefits of using Etsy are:
Large audience. Etsy is a big marketplace with many active buyers to sell anything handmade.
Functionality. Etsy is already 'packed' with everything needed for selling. It offers a very user-friendly dashboard, metrics, finance management, and product listing as easy as 'ABC'.
Marketing tools. On Etsy, you can promote your items straight away, and the more you SEO optimize your listings, the more Etsy promotes your store.
Upselling options. The buyers can see your store promotions like sales or discounts within the marketplace, which increases the odds they will notice your products and buy them online.
Accessibility. Everyone can join Etsy for free and pay minimal fees for transaction, listing, order processing, and commission.
No bureaucracy. You do not need to get a license to sell on this marketplace.
So, now you know several benefits of both platforms, and it's time to talk about their integration.
Why Shopify Etsy Integration?
Prior to making a decision whether to use Etsy and Shopify at the same time or not, let's dive into the main features of each platform:

| | |
| --- | --- |
| Shopify – is a very popular eCommerce platform that provides many possibilities and features for sellers to give you an excellent opportunity to build and manage your online store here. | Etsy – is a well-known marketplace for creative and unique products. It has a huge community of active buyers (over 27 million) and a very small entry fee for potential sellers (only $0.20 for listing one item). It's a great choice to create a successful online store. |
As you can see, both these platforms look attractive and interesting.
Here are the main differences:
Shopify – Reported in October 2019, $135+ billion in sales on the platform overall with 218 million buyers. (Shopify & You) This platform is available in 175 countries and used by famous companies like Pepsi and Nestle. Some buyers have no idea they are getting products from the stores on Shopify, which speaks about the quality and possibilities of the platform.
As for Etsy, this platform has a great community of active buyers  interested in handmade and unique products and antique goods.
More than 85% of this community are women and around 80% of orders are made by return customers – those buyers who already have shopped on Etsy at least once.
Each platform has its benefits, and it can help you increase your sales in various ways. For example, Shopify is a platform that provides top services on customization. As for Etsy, it gives sellers access to a huge community of active buyers providing a straightforward setup.
More and more sellers choose both Etsy and Shopify to sell their goods in both places, and these are the benefits they get from it:
Expand their business: it's simple to sell to target audiences that do not overlap with each other, so there are better chances to increase sales.
Take the best of both worlds: they get the most effective benefits from two worlds and use all the incredible advantages and useful features to evolve their business.
Explore the market: they are able to test the water before starting to list their products on any of these platforms.
(also) Using Etsy and Shopify simultaneously is an excellent choice for dropshippers who sell products with minimal investments and without inventory management. Most dropshippers prefer using Shopify, and integrating it with Etsy is a wise way to get more results.
If all of the above is what you seek, it's time to dive in – how to integrate the platforms!
How to Integrate Shopify and Etsy?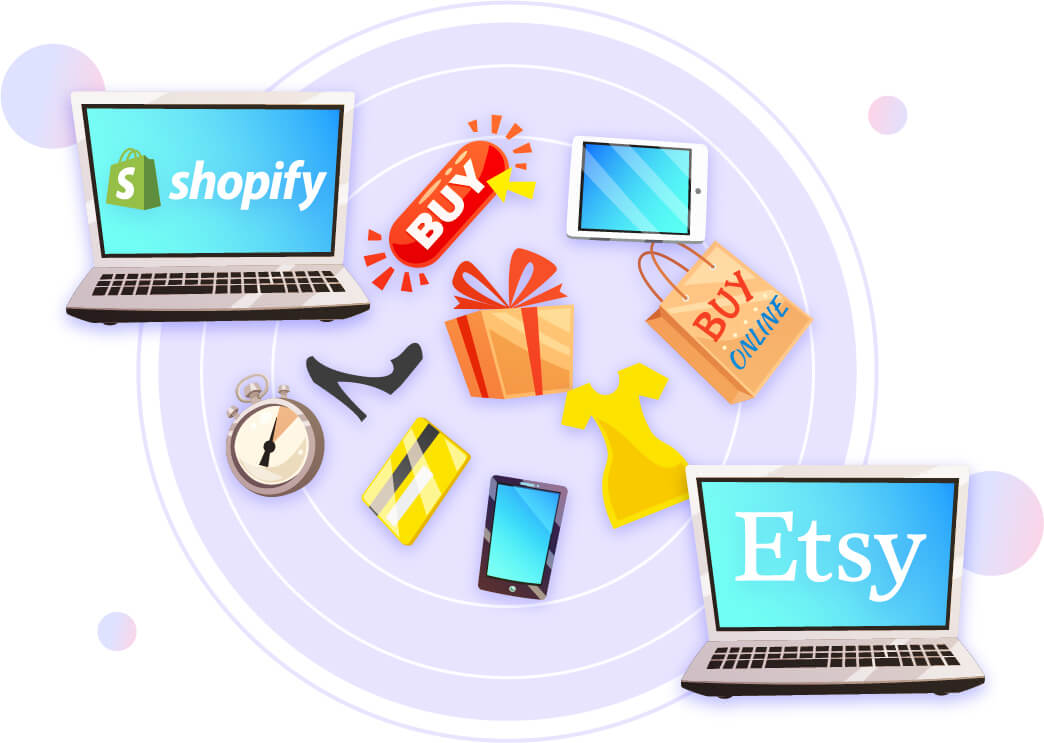 Now, let's discover the main ways of integrating Shopify and Etsy to get benefits from both platforms and take your online business to a new level.
1. In-App Marketplace Integrations
The main ways of interacting between Shopify and Etsy as they offer on the platforms' sites are: migrating from one platform to another or – integrating both platforms to work at the same time.
How to Migrate: from One Platform to Another
You can migrate from Etsy to Shopify in a simple way – follow all the instructions on the Help Center to do everything correctly. And, you can also use Shopify's apps Easy Import – Etsy migration and Product Import to transfer your store from Etsy to Shopify.
How to Integrate: Manage Etsy and Shopify Simultaneously
Here are the main methods of integration the platforms you can use:
2. Third-party integrations
So, if you have already checked out the details of the in-app integrations above, you might have noticed that the costs of those integrations can be pretty high for your store and your business.
Also the marketplaces' native features are limited in use, while third-party integrations provide you with more features for your store. That's why we suggest using third-party integrations, such as multi-channel listing tools for eCommerce.
To Sum Up
If you are already selling on Shopify, you can also expand to other marketplaces like Etsy. If you choose to sell on both Shopify and Etsy, consider different integration options, as you don't want to add your product listings manually. In-app type of integration can work for your store, but it's costly and limited in its functions. If you choose a multi-listing automation tool, you can integrate several stores and marketplaces at the same time with fewer expenses.


Also Popular on Sellbery
How To Add Google Analytics To Shopify
Analytics is a full-proof way to learn what your customers really need instead of guessing what they might need. Google Analytics has become a goldmine of e-commerce data for online sellers all over the world.