15 Top-Selling Product Categories on Etsy with Their Best-Selling Items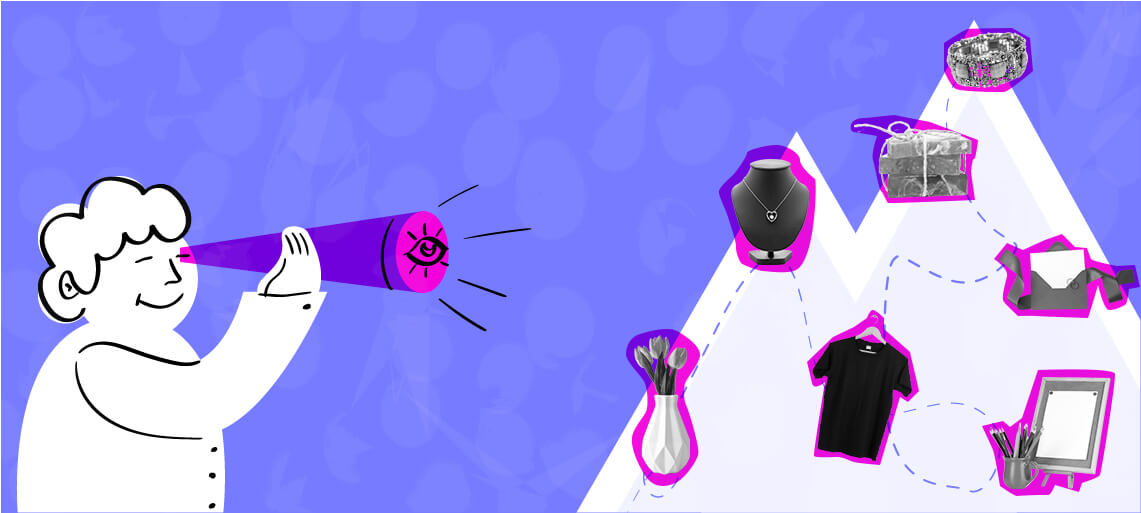 Checking out the best selling items on Etsy will help you fine-tune your strategy and ensure more consistent income generation in the long run.
What are the things to sell on Etsy in order to become a millionaire? 😎
Sounds too far-fetched?
Ok, let's tone it down a notch. 😉
What are the things to sell on Etsy in order to make a good income and build a trustworthy, sustainable business?
That's probably a bit better and more realistic (although striving to become a millionaire is definitely a much more noteworthy cause, isn't it?).
Connect Etsy to your other sales channels to reach out to more customers.
Check out now
Doing product and category research is obviously important for a great start. True, going through such homework will probably be quite boring but it's going to make all the difference in the world. This is especially important for people who haven't come up with a very, very specific product yet.
If you don't feel like doing Etsy category research or you simply can't be bothered, don't worry! We have you covered. We've gone through the essentials, focused on successful selling and the niches worth exploring so you wouldn't have to. Here's the outcome of that research.
Why Should You Even Bother with Etsy?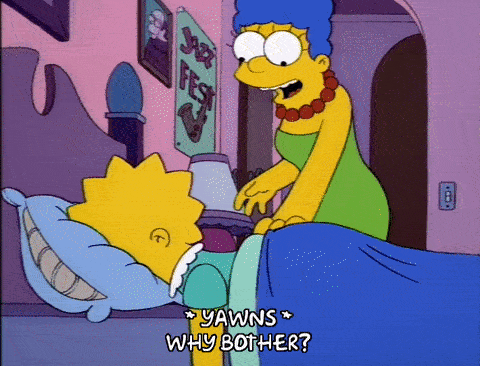 Well, why shouldn't you?
Selling on Etsy is easier if you're focused on the realm of handmade and artistic goods. The marketplace is less competitive in this case with different product categories. Being reliant on more platforms, however, can help for the consistent and healthy expansion of your brand.
Back to the main question, why Etsy?
Here are just a few of the reasons why it makes sense and should be given a try:
Huge potential: according to the official 2020 Etsy presentation, the number of platform users grew from 9.3 million people in 2012 to 81 million people in 2020. Similarly, the number of sellers went up from 830,000 to 4.1 million over the same period. That's a huge marketplace that has been growing and growing. Currently, over 60 million products are offered for sale on Etsy and approximately 92 percent of the customers believe they can find items that aren't available elsewhere. All of this builds a sense of exclusivity, trust and loyalty that smart sellers can make really good use of.
More specialized than other marketplaces: we have talked about this characteristic before by running a comparison between Etsy and Ebay, as well as other marketplaces. While being quite significant, it's still a lot more specialized than the alternatives like eBay and Amazon. As a result, sellers can carve out a niche and find it a bit easier to come across the right customer demographic. For some products and handmade creations, having a narrower set of prospects can be much better than a large group of leads that aren't all too interested.
The Etsy community: ecommerce can be a cutthroat business, especially if you come across some of the bigger sharks on Amazon or eBay. Etsy maintains much more of a community sense. If you're not aggressive in your business approach (and let's face it – most of us aren't), the chances are that you'll feel completely bulldozed by the big players out there. On Etsy, you'll get a lot of support from the community. Sellers can easily interact with each other, ask questions and benefit from the experience of those who have been in business longer. Such know-how can be incredibly difficult to obtain elsewhere.
User-friendliness: if you don't know how to build your own website or maintain an ecommerce channel, you're not alone. Many artistic folks struggle with the business side of things and that's where Etsy "steps in." The platform is created for people who aren't ecommerce, marketing or SEO professionals. Setting up an Etsy store, promoting it and interacting with clients are all fairly easy. And if you still don't know what you're doing, you can always fall back on the above-mentioned Etsy community.
Easy to track performance: how's your store doing? Are you a shining success or just mediocre? Etsy helps you know the answers. Built-in analytics give you a ton of information about your performance and the stuff you could be doing differently in order to improve. Such information is invaluable (and keep in mind that accessing detailed data will often cost you money). Not only do you get an accurate portrayal of your current performance, but you can also seek opportunities to become better in the future.
These are just a few of the reasons why the decision to sell on Etsy is a good one.
To make use of these benefits, however, you have to be one smart cookie.
Smart cookies research and learn from the experience of others. Luckily, you can do that by exploring best selling items on Etsy. There are dozens of categories, some of them having an absolutely stellar track record. Pinpointing those can help you reach more clients, start selling faster and ensure consistent sales.
Let's check out some profitable products, some hot categories and the ways you can use that information to turn yourself into an absolute overnight success.
Best Selling Categories on Etsy (and Some Hit Products)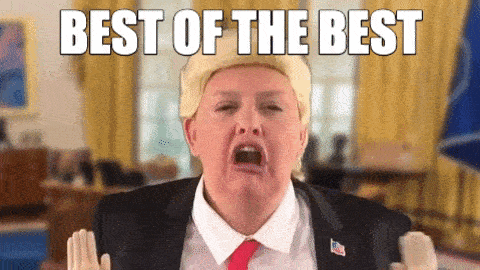 A profitable niche can be difficult to find but since these are an absolute gold mine, the time spent exploring is absolutely worth it.
We've dug through hundreds of Etsy pages to see what people like and what they feel meh about. Here are the results.
Presenting to your attention the most popular Etsy categories and some of the hit products within each.
1. Craft Supplies and Tools
Hands down, this category is the Etsy king of 2021.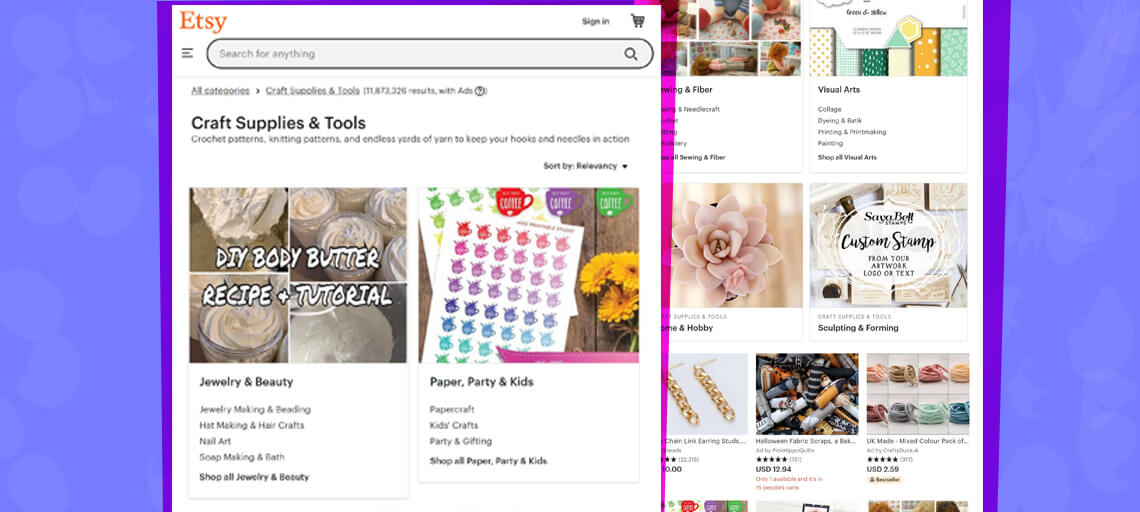 According to Marketplace Pulse ranking the first two top sellers on Etsy belong to this category. These stores are PlannerKate1 and Beadboat1. The first one has generated over 1.7 million sales (over 41,200 sales in the last 30 days) and the second one comes close with 1.1 million sales in total and 32,000 sales over the past 30 days.
Optimize your arts and crafts!
Try Now

Etsy is a platform for everyone in love with arts and crafts. Hence, it's no surprise that people seek supplies for their favorite hobby there.
TIP! The best aspect of this category is that you don't specifically need the talent of a craftsman to make it big here. You can find a good and affordable wholesale source of arts and supplies that you can offer via your Etsy store.
Some of the products you can start selling within the niche include:
Beads, gems and jewelry making supplies;
Chains, charms and pendants;
Jewelry making tools;
Sticker albums;
Vision boards and dashboards;
Paper and cardboard;
Sewing supplies;
Home improvement tools and supplies.
As you can see, the range is huge and you can easily find a sub-niche that you can dominate.
2. Jewelry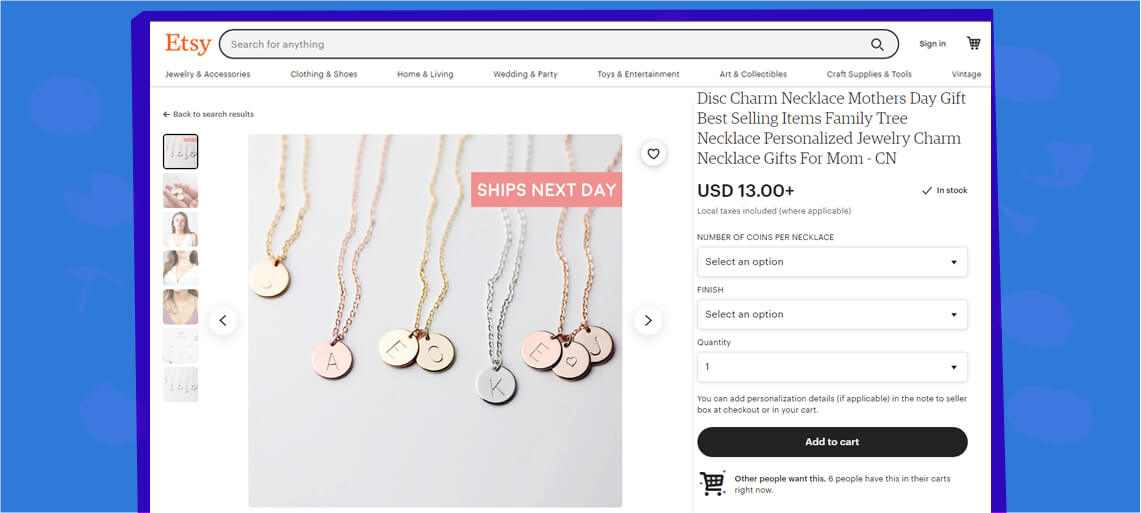 Among the best sellers on Etsy way too many of the top entries fall within the realm of jewelry.
For example, this personalized charm necklace has over 100 reviews and it's only been listed at the end of March 2021. Since then, over 2080 people added it to their favorite items lists.
If you already took a look at the list of the top Etsy sellers (link above) – that shows you which shops on the platform are performing exceptionally well. CaitlynMiimalist is one of the top performers in this category, having generated more than 1.1 million sales so far.
Jewelry on Etsy can be made of various materials and not just precious metals. You'll easily find a niche for:
polymer clay items,
pieces made of beads,
stainless steel,
natural materials like seashells and pebbles.
TIP! In fact, the more artistic and distinctive your proposition is, the better its performance will be.
This category will always be hot as people seek jewelry both for gifts and for themselves. Ring, earrings, bracelets and necklaces all perform exceptionally well and if you have a distinctive style, you can easily ace any of these sub-niches.
3. Home and Living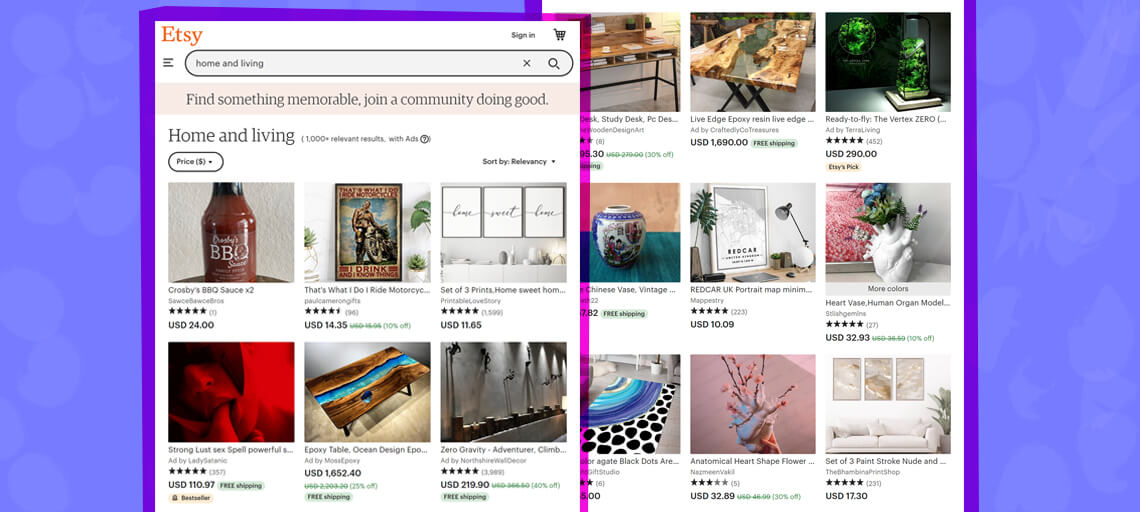 Here's another very, very hot product category that's responsible for so many best selling items on Etsy.
The top Etsy shop in this realm is ilovelotus with its almost 550,000 total sales and 26,500 sales over the course of the last 30 days.
Do you want to sell on many channels from on place? Try to connect it all in Sellbery.
Get it free

Home décor comes in so many distinctive varieties. Some of the top products in this realm include:
Pencil holders and stationery supplies;
Plant pots and vases;
Wall décor;
Decorative pillows and rugs;
Picture frames;
Candles and scented candles;
Bedding;
Bathroom accessories;
Storage and organization items.
4. Personalized Items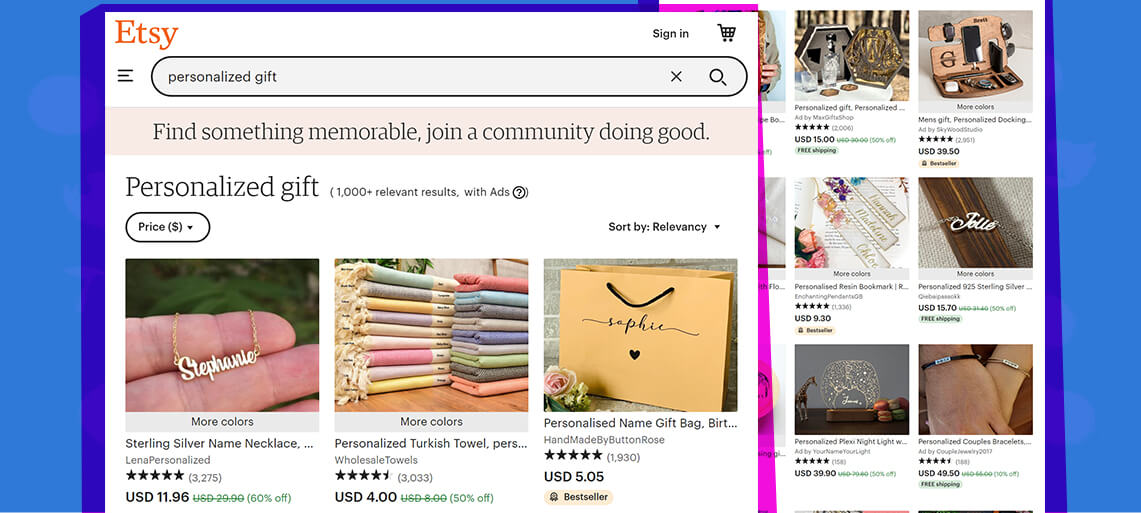 While this isn't a separate category on Etsy, it's a group of products that people are consistently looking for.
Personalized items are the ultimate gift. They're also ideal for anyone who likes being distinctive instead of sticking to mass-manufactured products.
Some personalized items that do exceptionally well on Etsy include:
Wall art;
Motivational posters;
Personalized jewelry;
Portraits and commissioned paintings;
Personalized towels;
Engraved pens;
Personalized housewarming gifts;
Personalized mugs;
..and many others. As you can see, the choice is limitless. You can search for personalized items on Etsy to see the huge variety that extends well beyond what we've included here.
5. Clothing and Textiles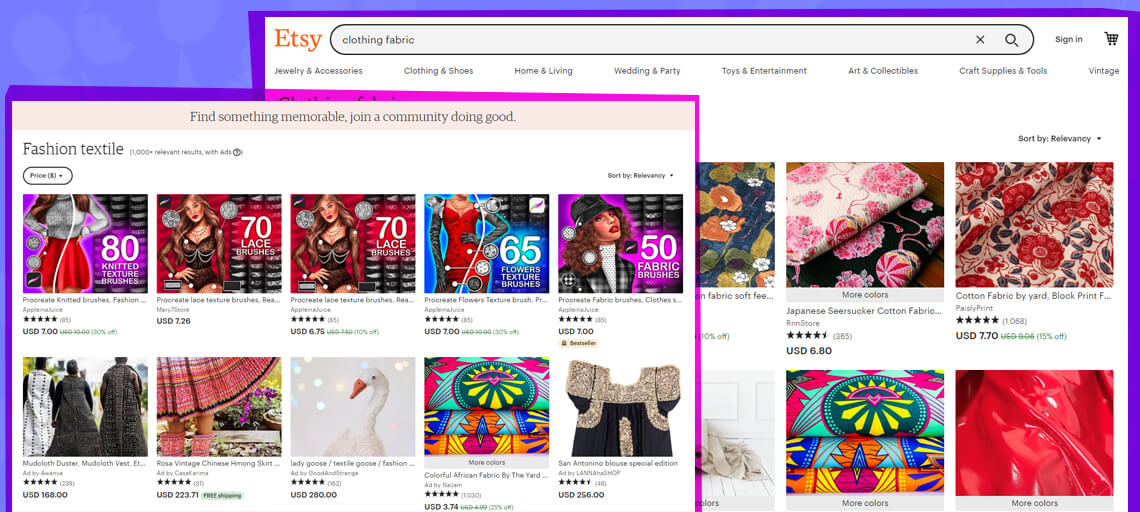 More and more people are growing tired of fast fashion. Hence, they'd prefer to invest in handmade clothes or items manufactured by small designer studios. If the focus falls on uniqueness and sustainability, that's even better.
This category allows you to take orders from clients on Etsy.
That means you'll be receiving direct input on what people are seeking and what they'd like to buy.
Anything from swimsuits to scarves and baby clothes can perform exceptionally well.
TIP! What matters here is the quality of the fabrics, the way the clothes are made and the uniqueness of the designs.
Accessories like hats, gloves, bells and bags also do quite well and these are also worth exploring.
6. Wedding Items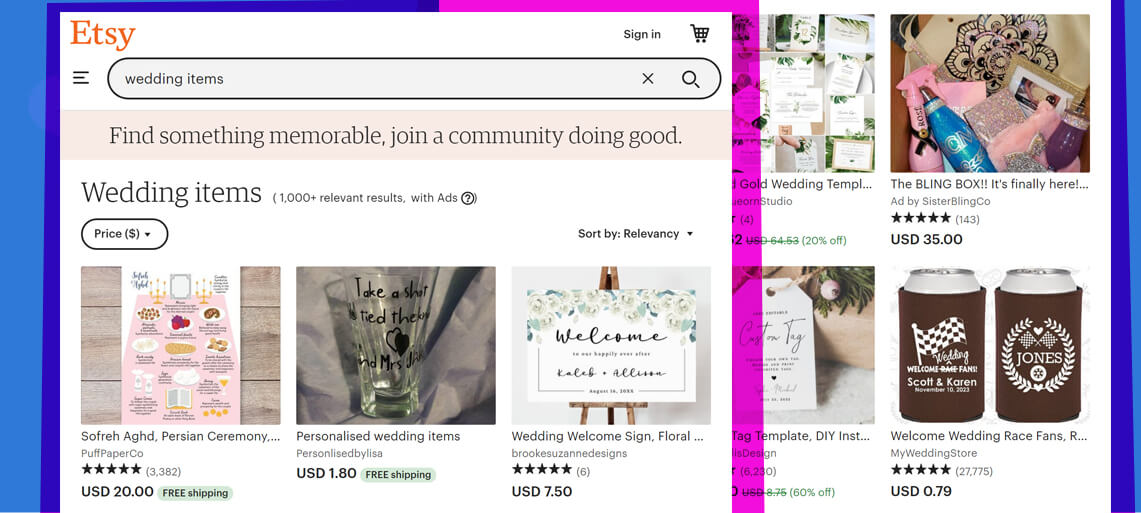 The list of Etsy bestsellers continues with wedding items.
Again, these offer a good alternative to mass-manufactured products and decorations that many brides and grooms avoid like the plague.
Attention to detail and unique designs are the two things that can set wedding items on Etsy apart.
UnmeasuredEvent is the top Etsy store in the category with more than 109,000 sales.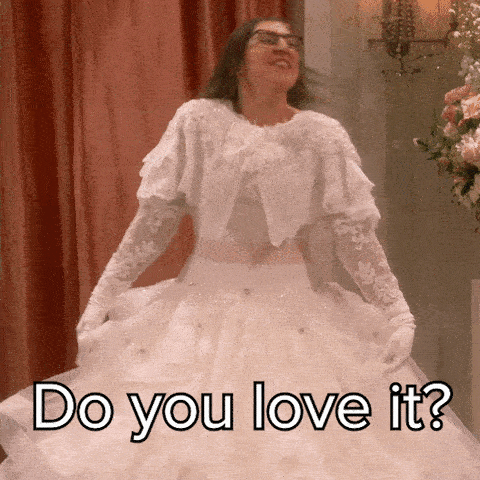 Some of the best-sellers in that shop include:
Handcrafted invitations,
Menus,
Programs and timelines,
Bachelorette party favors,
Place cards,
Labels,
Thank you cards,
Wedding favors.
7. Spa Products and Handmade Cosmetics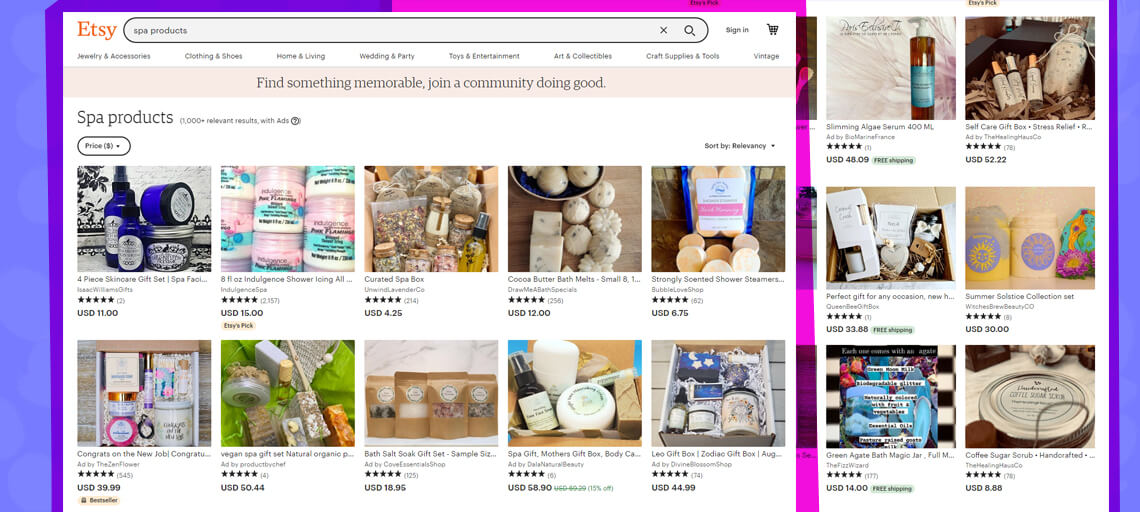 Here's another niche that has seen a lot of growth lately.
A number of the most profitable products on Etsy fall in this category. People are looking for natural, handmade and sustainable products. This is why bath salts, soaps, body scrubs, lip glosses, makeup, balms and body butters all do exceptionally well.
Now, this category can be a bit tricky.
NOTE! Making cosmetics from home isn't always safe or legal (depending on your location).
There could be safety and hygienic requirements, standards and guidelines you'll have to meet in order to sell such items.
It's up to you to make sure that such activities are legal in your country.
Also, you'll have to perfect your manufacturing process. Selling cosmetics that have started to spoil is a definite recipe for disaster that will easily ruin your reputation.
Selling Better on Etsy: A Few Pro Tips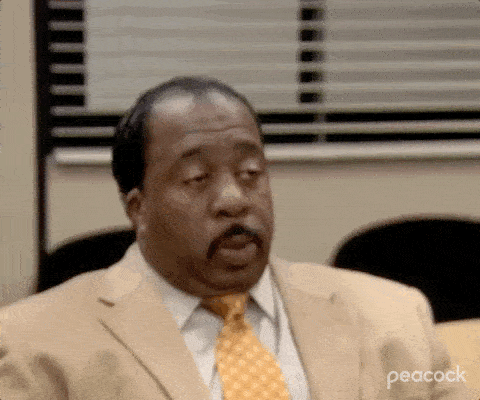 Understanding the best selling items on Etsy is just a part of the picture.
In other words, the fact that someone else has succeeded with handmade organizers and calendars doesn't mean you're going to be the next big hit in the realm.
Once you find profitable niches, you'll have to come up with the right offering.
Your offering should appeal to a wide audience but still be distinctive enough and different from competing products.
If you put out something that someone else has been selling for years, the chances are that you'll need months or even years to carve out your niche… that and a solid marketing budget.
Just because you know what sells well doesn't mean you're going to monetize this information.
You have to be strategic about setting out your store.
In fact, it's a good idea to launch marketing campaigns in advance. Building some anticipation and having a loyal audience before launching your Etsy store can help for the effective start of your brand new venture.
Also, you may want to rely on a cross-channel approach. Etsy is good but so is Amazon for many product categories. By building an omni-channel presence, you can make the most of the huge potential each platform lays at your feet.
Do you want to sell on many channels from one place? Try to connect it all in Sellbery.
Try Now

8. Stickers
Stickers! we know we know, You must be wondering why we placed them in a separate category? Well, the numbers speak for themselves, stickers are a hit on Etsy with over 3.7 million listings and an impressive click-through rate of 82%.
Artists are cashing in on custom designs and popular franchises. Customers can find any type of sticker they want, from vinyl and waterproof to laptop and planner stickers. The top-selling stickers feature cute versions of ordinary objects and motivational phrases.
9. Mugs
Next, we have something you can easily relate to! There is no disputing that everyone loves a good cup of coffee or tea in the morning, and Etsy customers are no exception.
Personally I believe everyone deserves to enjoy their preferred drink in a nice mug. And I'm not the only one because there are over 2.4 million listings for mugs on the marketplace.
Furthermore, with an average price of $18.17 and a CTR of 71%, selling mugs on Etsy can be a profitable product line to target. That's why we're putting them in a separate category.
So, what can you sell in this category on Etsy? From personalized mugs with funny quotes and imagery to more sophisticated designs, shoppers are interested in all.
Although most of the top sellers such as "SpokenGifts" and "HeatherRobertsArt" are focusing on coffee mugs mainly, there is potential to sell beer mugs as well.
10. Bags and Purses
The time when we viewed bags and handbags as functional items only is long gone. In fact, Bags & Purses on Etsy are like a treasure trove for fashionistas who love to accessorize! There's a huge demand for handmade and unique products that offer utility and are fashionable such as :
Custom totes
Backpacks
Leather wallets
Clutches
Laptop Bags
Tip! Make your designs practical while still having a unique flair to differentiate you from the competition.
You can also get creative with it and provide customers the option of having their initials, favorite colors, or distinctive patterns embroidered on their purchases. Furthermore, you should use high-quality materials such as leather or canvas that can withstand wear and tear to create products that last.
11. For Babies & Kids
If you're a creative person with a passion for babies and kids, you're in luck – Etsy's For Babies & Kids category offers a wealth of opportunities to turn your passion into profit. It is no surprise that parents and caregivers are always on the lookout for personalized and unique items for their little ones, making the market for handmade and one-of-a-kind products very profitable.
With a little creativity, the possibilities are endless. Some of the popular items in this category are:
Handmade baby clothes
Personalized feeding bottles
Custom nursery decor
Toys.
If you're looking to cash in on the For Babies & Kids market, just remember to use high-quality materials and offer unique designs. Parents want to trust that the products they're buying for their little ones are safe and durable, and that they're getting something truly special.
12. Pet Supplies
If there's one thing we know for sure it's that humans love to spoil their animal friends. Since increasing numbers of people are treating their pets like family members, there is a growing market for distinctive and personalized pet products.
Some of the popular items to sell in this category are:
Handmade collars.
Handmade leashes.
Personalized food bowls.
Beds.
You have countless opportunities to create one-of-a-kind products that pet owners will love. You should focus on offering unique designs and high-quality materials. This will allow you to attract a loyal customer base and establish yourself as a leader in the pet supplies category.
13. Mobile Phone Accessories
We all are addicted to our phones, and let's be honest, they're basically an extension of ourselves. We take them everywhere we go, we rely on them for everything from social media to email, and we can't imagine life without them. So it's only natural that we want to make them as fabulous as we are!
And that's where mobile phone accessories on Etsy come in.
With the increasing popularity of smartphones, there's a huge demand for unique and personalized phone accessories.
Personalized phone cases
custom phone grips
stylish phone charms
These are just a few examples of the types of products that do well in this category.
The unique benefit of selling in this category is that it offers a wide range of price points, making it accessible to a variety of customers. For example, you can sell budget-friendly phone grips to high-end custom phone cases.
14. Toys & Games
We all know about the success of the toys section in physical stores but what if I told you they are as popular if not more on Etsy? In fact, The toys & games category on Etsy offers a unique selection of games and vintage toys for kids and adults alike. You will find unique games that are not available in mainstream stores.
Many Etsy sellers specialize in creating educational and eco-friendly toys, making them an excellent option for parents who are looking for sustainable options.
Some of the best sellers in this section are:
Wooden puzzles
Handmade board games
Interactive plush toys
Unique card games
You can come up with a unique game or toy that encourages learning and development. This way you can attract parents who are looking for toys that not only entertain but also provide educational value.
15. Electronics
If you're looking to try something new? Give the electronics category a go! While you might not immediately think of electronics when you think of Etsy, this category offers a unique opportunity to create and sell tech products that can't be found anywhere else.
So where do you start? Think outside the box and consider what unique gadgets or accessories you can create that can't be found elsewhere. Custom circuit boards, LED lighting kits, and 3D-printed gadgets are just a few examples.
Another advantage of the electronics category is the community of makers and tech enthusiasts on Etsy. By connecting with other makers, sharing your projects, and seeking feedback and advice, you can improve your skills and grow your business.

To Sum Up
Don't be afraid of going big and entering the world of Etsy with a bang.
You can easily start out from home and scale your business as needed. And who knows, it could soon turn into a full-time venture. Sky is the limit, especially if you're committed to taking the idea out of the hobby and into the real entrepreneurship realm.
Utilizing a multi-channel listing platform can make the task of growing sufficiently easier. Don't hesitate to get in touch with our team if you have some additional questions about how Sellbery works.


Also Popular on Sellbery
Unveiling Insights: Navigating the World of Data Science
Explore the forefront of innovation with our in-depth article on modern backup trends. Delve into how Database Administration Services form the nucleus of cutting-edge advancements, ensuring the robustness and reliability of your data infrastructure. Stay ahead in the realm of technology as we unravel the pivotal role these services play in shaping the future of data science.