A Beginner's Guide to Etsy Seller Fees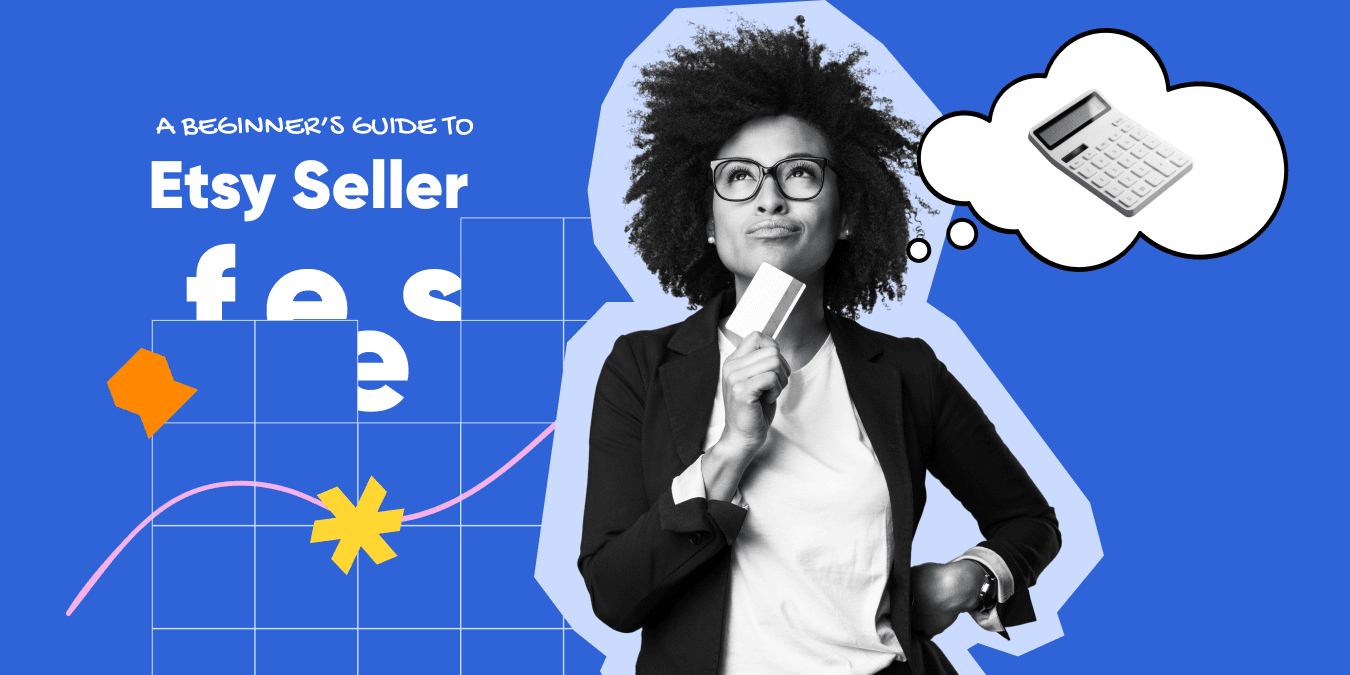 A guide to the Etsy seller fees structure so users can account for general fees, avoid hidden Etsy costs, and profitably run their online business.
Etsy is a one-stop marketplace for handcrafted, vintage, and customized products created by independent artists and small business owners from across the world. The multi-billion-dollar shopping site currently has 61 million new and reactivated shoppers with a whopping 145% increase in international sales since last year as per a recent report.
Although selling on Etsy can be a lucrative online business, beginner and advanced sellers should be aware of new changes to fees and pricing under the sellers' policy. These fees are applicable generally but also levied for special features, promotions, and additional services such as Etsy Plus. An informed approach by sellers can preclude avoidable fees, ensure profitability and help create a sustainable Etsy business.
This guide will provide a simple breakdown of the Etsy selling fees; Etsy's Fee Policy as well as the types of charges applicable to Etsy sellers from 2021 so that you can effectively account for what percentage does Etsy take. Our financial tips and strategies will help you cut Etsy costs and make your Etsy shop a success.
Find out the best selling products on Etsy and also how to become an Etsy seller before you further dive into this article.
Etsy Seller Fees
Every online eCommerce platform charges some kind of fee to you for using their platform. Etsy is no different, Etsy selling fees are an unavoidable element of doing business for eCommerce retailers, regardless of platform.
It is only fair because they are letting you use their platform services and expose you to their millions of active buyers.
With that being said, the Etsy fee structure has been put under question in the past.
Back in 2018, Etsy increased their transaction fees from 3.5 percent to 5%, compelling Etsy buyers to pay more than 50% more on certain items. In addition, they asked sellers to pay for social media advertisement fees as well as pushed sellers to offer free shipping. Of course, this didn't sit well with the Etsy Sellers and they found it difficult to process all new changes in Etsy fee structure.
This guide is based on the updated etsy fees and payment policies that were implemented earlier this year and highlights the changes that were made to the Etsy fees for selling.
Etsy Fees
There are a number of fees you have to pay when selling on Etsy. Now we are going to break down and explain all the Esty fees you will be subjected to. There are 9 different Etsy fees you need to know of.
1. Etsy Listing Fee
For each item you put on for listing you will have to pay 0.20$ for it. For example, if you put up 10 necklaces separately you will have to pay 2.0$ in Etsy listing fees but if you list them as a pack, you will only pay 0.20$. You will be charged for the listing fee regardless of whether the sale is made or not. The listing will be active for four months before you must pay to renew it. An Etsy listing fee is charged to your account when you post or renew it and it is non-refundable.
Auto-renew sold fee
If a listing is purchased from your shop, auto-renewed listings will automatically repost it, saving you the time of manually reposting products. You will be charged the standard 0.20$ per list if you set a listing to auto-renew and it's purchased.
Multi-quantity listing fee
When you list multiple quantities of an item you will be charged the initial 0.20$ fee and then each time the listing renews after a sale.
Private listing fees
If you wish to post a private listing for a private buyer, you will be charged a standard 0.20$ per listing.
2. Transaction fees
Etsy transaction fee is directly connected to your sales. When you sell a product, Esty will charge you a transaction fee of 5% of the mentioned price for each listing plus the cost delivery and gift packing cost you charge to the buyer. This transaction fee is charged directly to your account when the transaction takes place. If you charge the shipping transaction fee separately to your buyer, Etsy will take 5% of the total shipping fee.
3. Subscription fee
Etsy is offering you a subscription-based premium membership to boost your business on their platform. EtsyPlus membership has features like custom domain name, restock alerts for your customers, discount on credit listing, and ads fee. This membership is available to you at 10$ per month with an option to cancel it whenever you want.
4. Advertisement Fee
Etsy is offering Etsy buyers two different methods to advertise their products. They are Etsy on-site ads and off-site ads, both of these advertisement options have different fee structures.
Etsy Ad fee
The first one is Etsy Ads, this method lets you promote your items within the marketplace. These advertisements are available on a pay-per-click basis, with the cost of each click varying according to demand. This option gives you the flexibility to set a daily budget for how much you're willing to pay for on-site ads, and Etsy will only show your ads until that daily limit is reached.
Off-site Ad Fee
Etsy's offsite ad is a new way for you to market your listing on other social platforms such as Facebook, Instagram, Google, and so on. There is no upfront fee charged for this service and you will have to pay if a sale is made through these ads. Although all Etsy buyers are signed up for this feature by default, buyers below 10,000$ annual sales can choose to cancel it. However, Etsy buyers that have above 10,000$ annual sales can't cancel it even if their sales drop below $10,000 in coming years. Etsy charges a 12% or 15% fee on the selling price of the goods for this service.
5. Pattern fee
Etsy is offering you a new platform to design your web-based online store with the latest Etsy Pattern feature. Even though your inventory is connected to your Etsy shop, your pattern store is completely separate which gives you options to customize and develop your brand. You can try out the Etsy Pattern feature with a free first 30 days trial period after that you will have to pay 15$ per month. You can also list your items separately on Etsy without being subjected to a listing fee or transaction fee.
6. In-Person Sales
Etsy has teamed up with Square to provide sellers the option of selling in person. To make in-person sales you need to acquire a Square card reader to collect the payment from the buyer. You will pay the regular listing fees plus Square's payment processing fees (2.6 percent + $0.10) when you collect payments in person for products you've listed on your Etsy site. However, you will not be charged the Etsy transaction fee of 5%.
7. Payment processing fees
All retailers must pay payment processing fees to receive online payments. Companies (such as PayPal and Square) that offer financial payment processing services charge roughly 2.9 percent + $0.30 fee per transaction on average. This payment processing fee is a common method of charging clients for the service.
Etsy Payments is Etsy's in-house payment process system, which is available for sellers in 36 different countries (including the US, UK, Australia, and Canada). However, If Etsy Payments isn't available in your location, you can accept online payments with PayPal. In such a case, a standard Etsy payment processing fee will be applied and no additional paypal fee will be applicable to your transaction.
Etsy Payments imposes a transaction fee of 3% + $0.25. For sellers Etsy payment processing fee is a small cost to sell on Etsy. You can accept payments through credit cards, debit cards, Etsy Gift Card, Etsy Credit, PayPal, some bank transfer services, Apple, and Google Pay with this feature. You can also let your customers use their PayPal accounts to pay. These payments will be in line with Etsy Payments rates rather than PayPal rates.
8. Currency Conversion Fee
Etsy will charge you a currency conversion fee if your listing price currency is different from the one registered to your Etsy account. Etsy charges a fee of 2.5% for currency conversion of a deposit. We will highly recommend you keep your listing currency and account currency the same to avoid this unnecessary cost.
9. Delivery fees
Etsy provides postage labels for sellers in some regions (USA, Canada, Australia, India, etc.) to make the process of courier delivery smooth. This feature helps the seller and buyer track couriers and move through customs easily. They can also purchase parcel insurance after they buy the postage label. The fees charged for a postage label will depend on the origin, destination, weight, mail class, package type, and dimensions of the package. Information on Etsy courier and insurance partners is available on their website.
Does Etsy Charge Sales Tax
Firstly, the sales tax that is charged to you is not a part of Etsy selling fees. Like most online businesses Etsy is now regulated to collect and remit taxes for various nations including US states. So, Etsy is obliged to charge you sales tax as part of the checkout process, the applicable tax will be automatically added to your sales. The tax is then billed to you as a tax fee, so Etsy can forward it to the concerning body. It is important to mention Etsy never charges any additional processing fees for calculating, collecting and remitting sales tax.
Calculating your Etsy Fee
Looking at all these Etsy fee numbers can be confusing and it makes it extremely difficult to calculate how much does Etsy charge. There are tools available to help you figure that out which makes it easier for you to make financial decisions such as pricing and budgeting. Try out this free Etsy fee calculator by Salecal. All you have to do is enter the cost of your product and it will calculate the Etsy selling fees and your profit margins.
How to Manage and Minimize Your Etsy Fees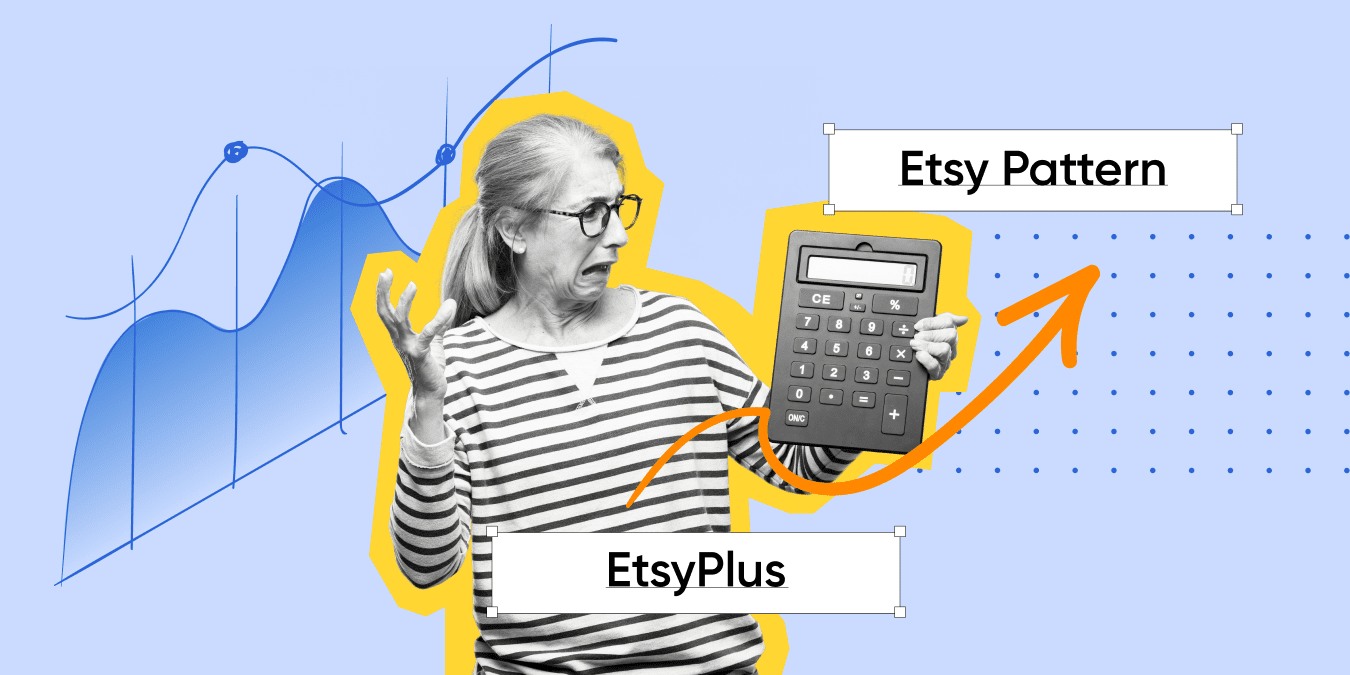 It is extremely difficult to maximize your profit managers if you accumulate unnecessary Etsy buyer's fees. For starters, we highly recommend you understand the Etsy listing fees and go forward manage your listings accordingly. Plus, you can charge Etsy handling fee separately to your buyers and reduce your cost to sell on Etsy. After that, maybe look into EtsyPlus membership and see if that takes advantage of it and you cut down on listing fees, ads fee, and other bonuses. Also, if you want to take your brand to the next step you might want to look at the Etsy Pattern feature and reduce listing fees further.
Final Words…
Understanding Etsy fees Structure is crucial for your business. Beginner and advanced sellers should be aware of new changes to etsy fees and pricing under the sellers' policy. An informed approach by sellers can preclude avoidable fees, ensure profitability and help create a sustainable Etsy business.
If you want to integrate your Etsy store with other marketplaces, you can definitely give Sellbery a try!
Integrate your Etsy store now
Try Now



Also Popular on Sellbery