Your Own Shopify Dropshipping Store: Full Guide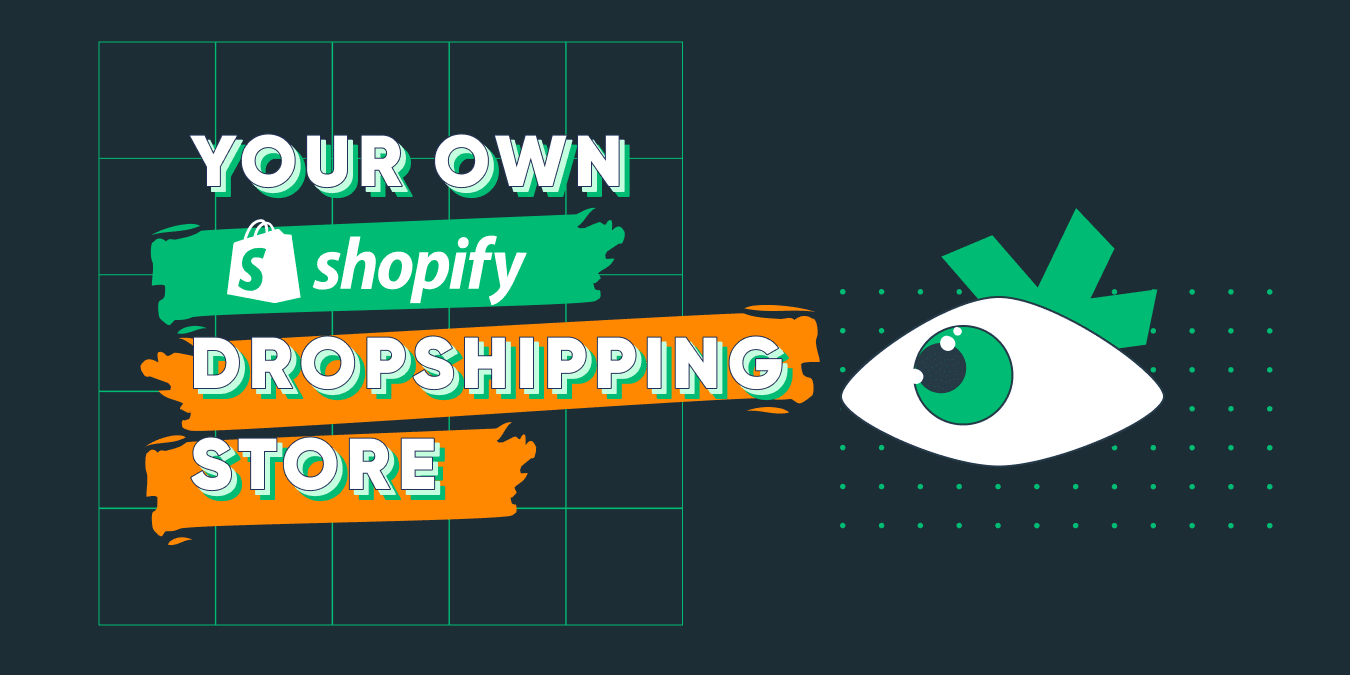 Let's explore this elaborate guide which provides a solid framework for you to start your own Shopify dropshipping store and venture on your entrepreneurship journey.
Dropshipping is an enticing business model in today's time due to its inexpensive startup costs, absence of overhead, and straightforward operating structure. For individuals interested in starting a new business, dropshipping is an excellent alternative because it can be started for as low as $100.
Shopify dropshipping provides a doorway for independent entrepreneurs into the eCommerce industry. There has been a considerable increase in online shoppers which makes venturing into dropshipping business even more intriguing. And if you're looking to start your own dropshipping business this guide is for you.
What is Shopify dropshipping?
Today you're going to learn everything you need to know to begin building your first dropshipping business. And to get started, all you need is a computer, an online business, and some simple marketing.
First things first, let's define what dropshipping actually is. Dropshipping is a fulfillment model that allows you to buy directly from suppliers and manufacturers who will then ship the products directly to your customers. This lets dropshippers focus on marketing and customer service instead of warehousing and the logistical challenges traditionally associated with running a dropshipping business.
Let's get into how the model really works. Let's start by defining the roles throughout the supply chain.
First, we have manufacturers and they're the ones that actually create the product. Then they sell it in bulk to wholesalers and sometimes to retailers. Then we have the wholesalers, who buy the products in bulk from the manufacturers, mark them up slightly and sell them to the retailers. Lastly, we have retailers and these are ones who sell products directly to the public at a markup. Notice how a dropshipper isn't listed in the supply chain. That's because dropshipping is an invisible service. It's not a role.
Dropshipping works like this; you as the retailer, choose the product, set the price, put it in your online store, and run advertisements to attract customers. Soon enough, a customer sees your product and pays you a retail price. As soon as that transpires, you inform your supplier, to who you then pay a wholesale price, and they immediately dispatch the product to your customer.
Here's an example:
Let's say you're selling resistance bands. You find a supplier that sells them for $20 with shipping included. Then you put them on your online store for $45 with free shipping. Now, when a customer places an order, you pay the supplier $20 and they'll ship the product directly to your customer, using the information that you've collected, then you get to keep the $25 in profit.
Now you might be wondering why won't your customer turn around and just go buy from your supplier. Well, there are a few reasons; the first is that manufacturers and wholesalers typically have what is known as minimum order quantities, meaning they only sell in bulk. Additionally, they often don't provide wholesale prices to the general public and instead only sell to legitimate businesses.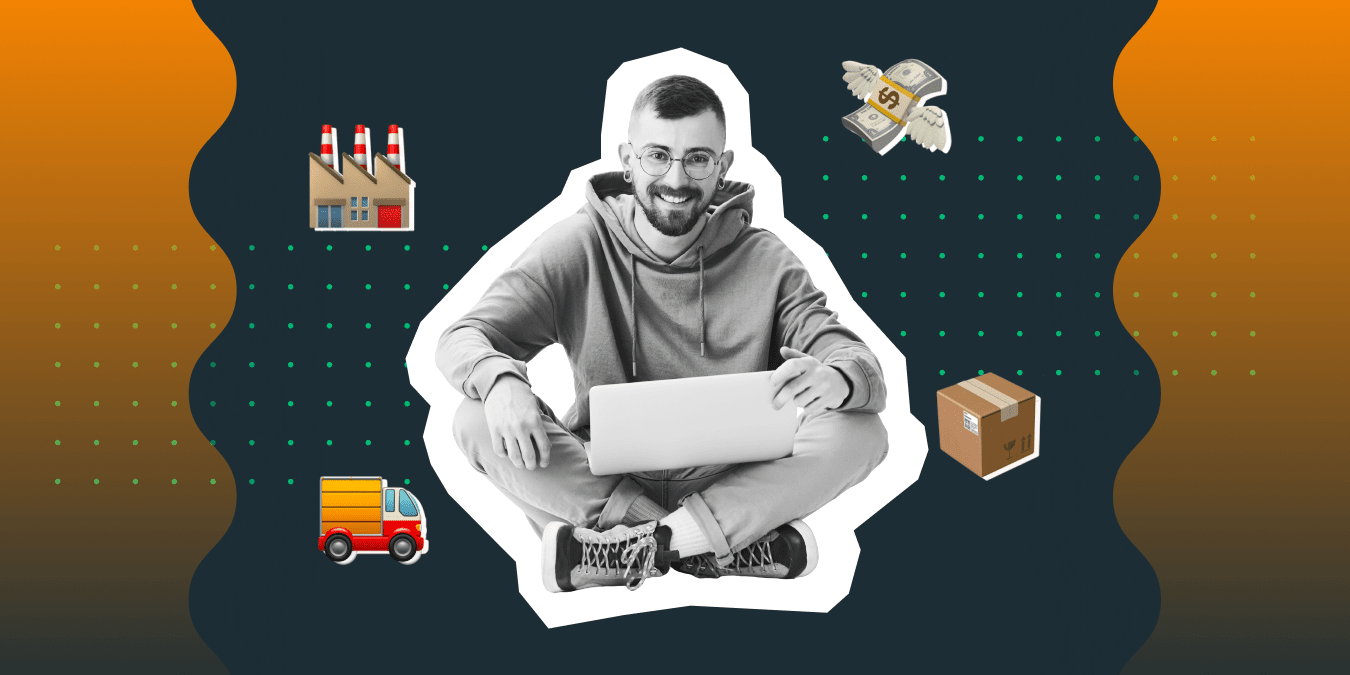 Second, individuals aren't just purchasing your goods, they are purchasing your marketing, the legitimacy of your website, and frequently the way of life that your brand stands for.
Thirdly, the majority of suppliers don't concentrate on the marketing and are often harder to find and the ordinary customer isn't willing to put in that much effort.
Benefits of Shopify dropshipping
In digital entrepreneur communities, dropshipping has become such a notable model because it has so many benefits for those just starting out.
Low capital requirement
For one, less capital is required. And without the need to spend thousands of dollars upfront on inventory, dropshipping is a really accessible and less risky way to get into the world of eCommerce. It's also a lot easier since you don't have to deal with packing and shipping, tracking inventory, or paying for a warehouse, there's a lot less to worry about than other forms of eCommerce.
Easy Scaling
Because you don't have to worry about these functions, it's also easier to scale. Traditionally with retail businesses, if you were to receive three times the number of orders, you would have to do three times the amount of work. And that's just not the case with dropshipping. Since you don't have to buy in bulk right away.
Easy to test new products
It's also easier to test the market. A lot of dropshippers will actually list and sell an item to test the market before buying it in large amounts. And as any seasoned entrepreneur will attest to, validating your idea will save you a lot of heartbreak later, the biggest risk is building and selling something that no one wants. An easy way to introduce new products is using shopify listing, it reduces the time and helps you lose out on potential sales.
Flexible working hours
Lastly, in today's economy, the ability to work from anywhere is really attractive. It is the most attractive thing for new and young entrepreneurs that want to start dropshipping business on the side.
How much money can you make dropshipping on Shopify?
Although you'll certainly make less when you're first starting out in the eCommerce industry. On average, dropshippers can make anywhere between $1000 to $5000. However, dropshippers earn 50% more than the stores that keep their own inventory, so there is a lot of money to make for you.
If you're aiming to make your Shopify dropshipping store a strong profitable business, you'll need to develop it into a strong brand and have appropriate profit margins.
However, your profit margins will be low in the beginning because you might have to spend a lot of your early income on advertisements which will be costly. The typical Cost Per Click for Google Ads advertising is $1 to $2, according to WordStream.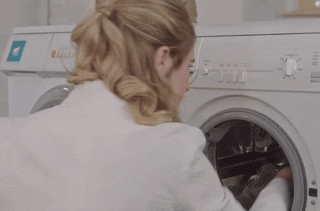 How to start dropshipping on Shopify?
Dropshipping is such a great business model for new and seasoned entrepreneurs because it lets you get started with a small investment, generate passive income, and work from anywhere.
If you're looking to make a serious business out of dropshipping, it's important that you set it up the right way as most suppliers won't actually work with you, unless you're a legally registered business, at which point you'll gain access to wholesale prices.
Here are some of the most important steps for making your business legit:
i. Decide on a business structure. ii. legally register your business. iii. set up a business checking account and credit card. iv. Lastly, abide by the tax regulations in your region.
Apart from making your business legit, it is crucial that you follow the rest of the steps so that you can conveniently start your dropshipping business on Shopify.
1. Find a lucrative dropshipping niche
We suggest finding a niche. A niche market has its own tastes, identity, and needs. Niche markets are great for dropshipping because they differentiate and lessen competition. For your convenience, we have put together some of the tools that you can use to find the right niche for your dropshipping business:
Google and its Auto Suggest feature
When coming up with product ideas, Google is an excellent place to start because it will show you what people are really looking for.
Online shopping platforms
Additionally, you can look into social shopping platforms like Etsy, Pinterest, Fancy SSENSE, and Wanelo.
Social elements are incorporated into social shopping sites, such as product sharing and user engagement tools that quickly reveal how popular a product is.
Apart from these, Facebook Insights, Amazon, Trendhunter and AliExpress are some of the amazing tools which you can use to find the trending niches.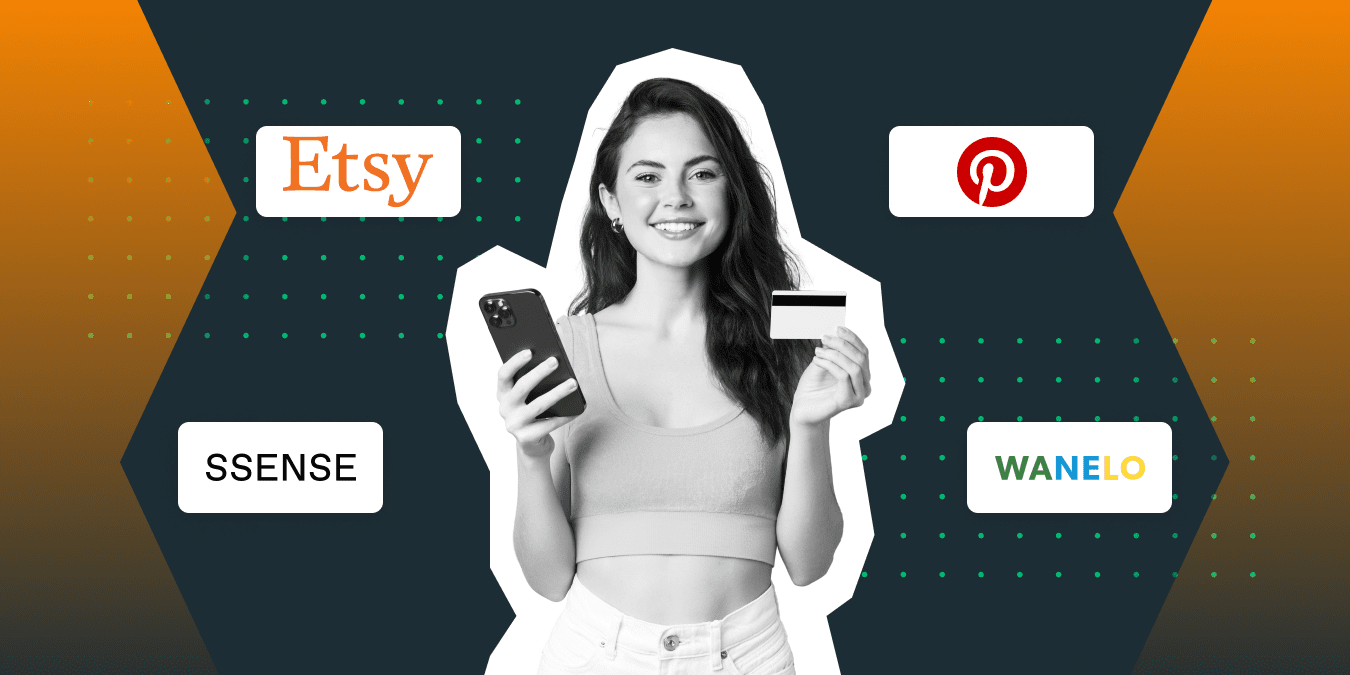 Using these tools, you will get an idea of the top niches that are currently thriving in the market; the ones you can choose from to start your dropshipping business. With the help of these tools, we have put together some of the evergreen niches that can give you a headstart while you are starting your dropshipping business on Shopify.
Clothing and accessories are two of the most popular dropshipping niches, and they're also some of the cheapest. T-shirts, jewelry, and caps are just a few of the many options available to you.
Dropshipping electronic goods can be a challenge. As a dropshipper, you may wind up with low-quality equipment that no one wants, or a little profit margin.
In the absence of large competitors, focusing on low-cost electronics may be a smart option. Higher-priced gadgets, on the other hand, are an excellent choice for a reverse dropshipper.
Toy business also has enormous potential for growth. Dropshipping copyrighted items is impossible without a formal contract, however, you may import a broad range of toys for your store. Seek out products that are in line with current popular trends or that have long-term popularity.
Beauty and health items is also one of the most lucrative niches. Because there are so many products to choose from, you'll have greater freedom in deciding what sort of products to sell to your customers on your website.
As far as fashion goes, jewelry and other accessories have never gone out of style. Jewelry is a popular item to sell, and there are several reasons why this can be a profitable niche for your dropshipping store. From engagement rings to wedding bands, people are continuously on the lookout for new ways to express their love for each other. A dropshipping company that sells jewelry is an excellent choice for someone who wants to get into the business.
It's important to keep in mind that while these niches might be lucrative in general, you can still choose a niche that aligns with your passion and hobbies and ensure that the niche you have chosen allows you to earn a profit. Thus, before launching your dropshipping business, calculate an item's profitability. Profitable dropshipping requires wide and healthy margins to cover business costs, shipping fees, marketing, and supplier cuts (like 70 percent if not higher).
2. Define your target audience
You'll want to find out more about your dropshipping store's target market once you've identified it. Understanding your target market will help you make better decisions about what new items to sell, what sales channels to concentrate on, how to market your brand, and much more.
It can be helpful to ask yourself the following questions when you define your target market:
Who stands to gain the most from my offering?
What distinguishes my product from those of my rivals?
Who is finding my stuff online? How are they finding them, exactly?
You don't need to conduct in-depth research to identify your target market, but you should be well aware of who you are marketing to.
3. Choosing a supplier to launch a dropshipping business
There are two ways to search for a supplier for your Shopify dropshipping business.
Search manually on Supplier Database
Dropshipping Shopify App
If you decide to search for suppliers manually you should start with Google, but be aware that you'll need to conduct a thorough search if you choose this method. Historically, wholesalers have had horrible marketing and promotion skills.
As a result, you'll probably need to browse through several pages of Google search results. You might need to experiment with different search terms and ensure that we use numerous keyword modifiers, such as bulk distributor, reseller, and warehouse.
Utilizing supplier directories is a further common method of finding wholesalers. These days, there are online databases with pre-screened providers, and access is often charged once. The most well-known supplier directories include wholesale central, international brands, Doba, and saleHOO.
Best Dropshipping Apps for Shopify
Here is a list of top dropshipping apps for Shopify to get you started
Modalyst: If you're looking to operate in the EU and USA both, Modalyst is a good app to start with. It's a dropshipping item marketplace with a concentration on suppliers situated in the United States and Europe as well as name-brand products.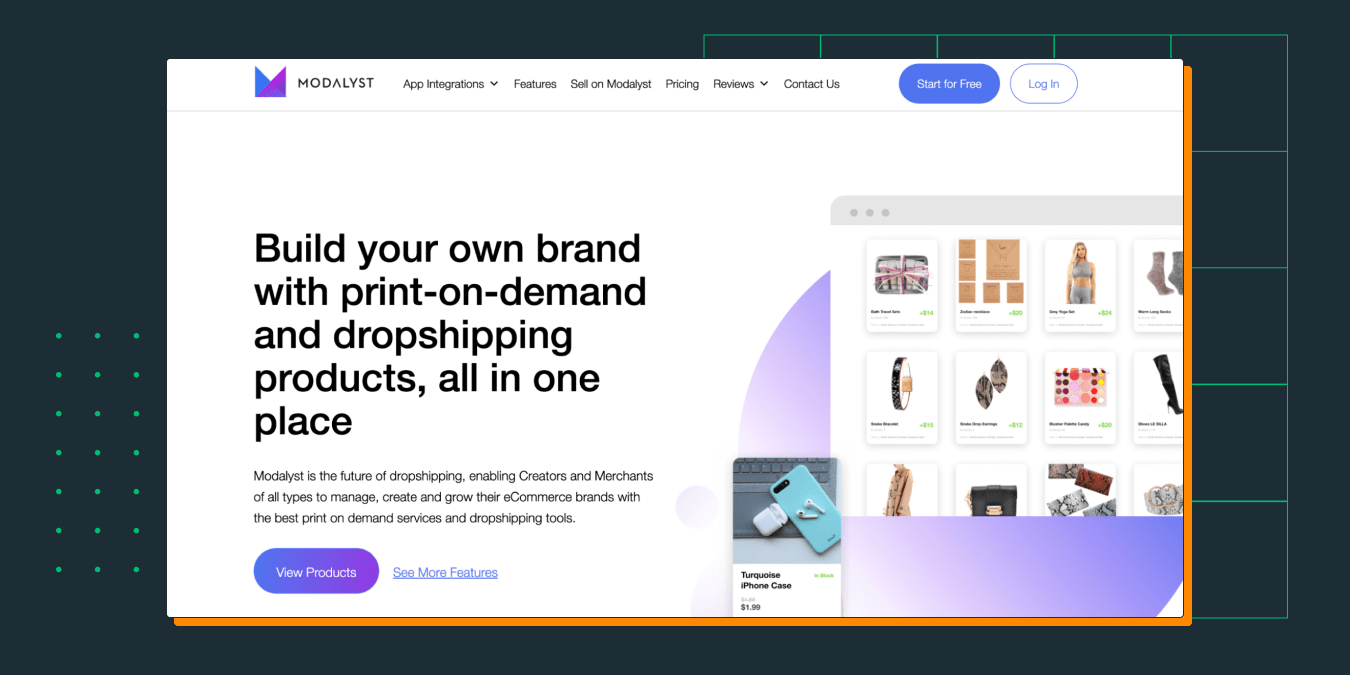 Spocket: Next on the list is Spocket, if you want to deal with fancy and trendy items, it should be your go-to. Spocket is a dropshipping marketplace that focuses on trendy products and ships orders from merchants located in the United States, Europe, and Canada.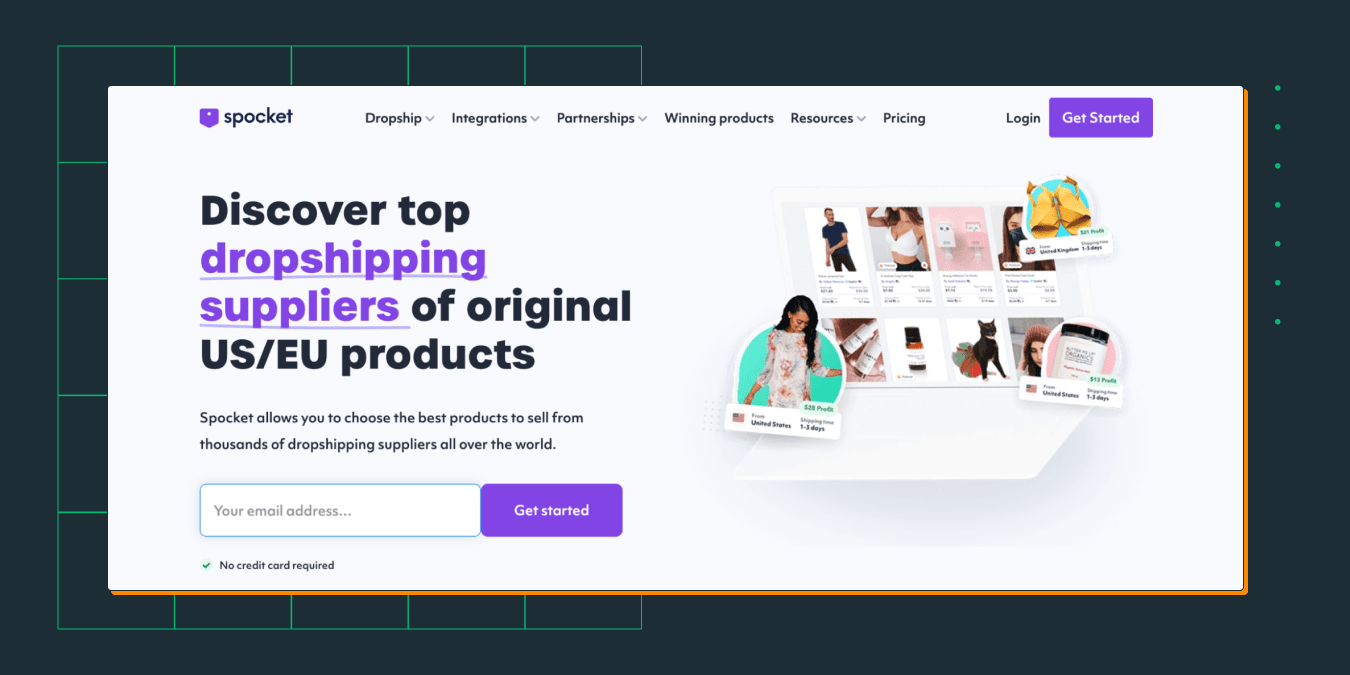 Printful: The next one on the list for you if you want to be creative and are heavy on customized products; Printful is a print-on-demand (POD) dropship  vendor that enables you to manufacture a wide variety of personalized products using designs that you develop yourself.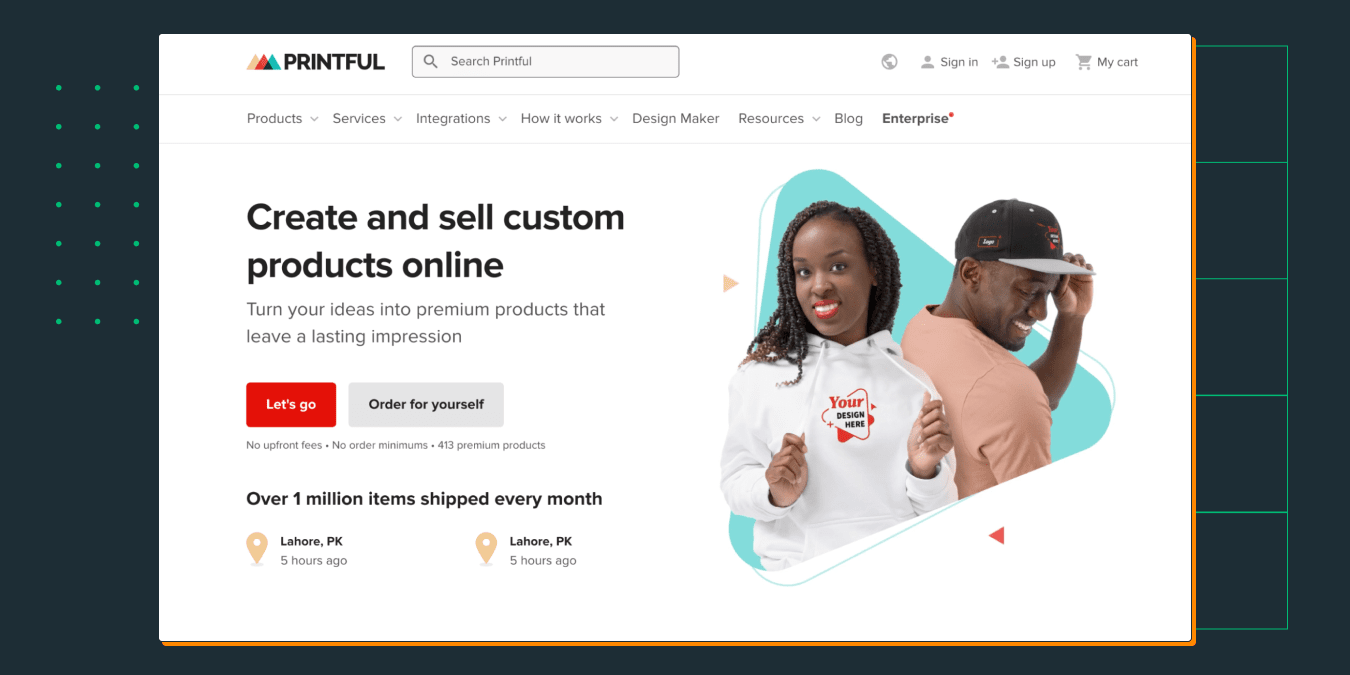 My Online Fashion Store App: Last on the list is a dropshipper that specializes in fashion goods and accessories; My Online Fashion Store is based and operated in the United States. If you want to start a fashion dropshipping store, My Online Fashion Store app is where you should start with.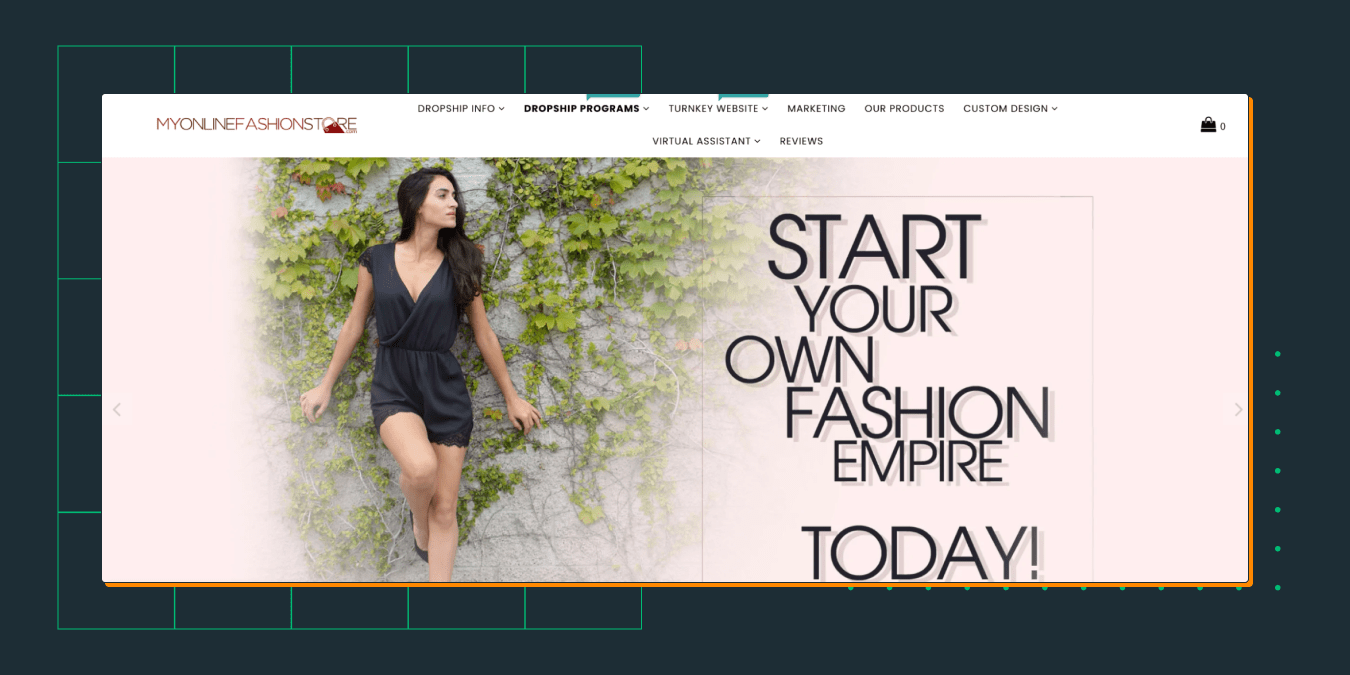 These are only a few Shopify dropshipping apps just to get you started and make the process of finding a supplier easier for you. There are plenty of other dropshipping apps available, which you look for when you start to understand the market better.
Need a tool for Shopify dropshipping? Take the benefit of automated Shopify dropshipping now
Try Now

4. Some Tips on Selecting a Dropshipper
On Oberlo, seek for suppliers who offer Epacket delivery. Epacket is a shipping choice made available by third-party logistics companies that enable merchants to offer quick and inexpensive shipping for small items. The names of these terms speak for themselves. Additionally, Shopify API key is a good method to increase coordination with vendors and increase the productivity of your store.
While it is probably simpler for dropshippers to use an app like Oberlo. There are some strong arguments in favor of manually finding a supplier:
Quicker shipping
By searching for a supplier manually, you should hunt for one who is near the area you are trying to target.
Control
You'll have more control over packaging, branding, and quality if you locate your own provider.
It's vital to keep in mind that selecting your own supplier may take weeks, at the very least. Additionally, you'll have to verify the supplier on your own.
Steps for dropshipping on Shopify
Now that you understand the basics of the drop-shipping model. Let's get on to how to set up your first dropshipping store.
Step 1: Set up Your Shopify Account
You've to start with registering an account on Shopify. Click on "Start a free trial" to begin setting up your account. Shopify offers a 14-day free trial period so you can test it out. Make sure you have a store name in mind because that's the first thing you'll need to set up your account.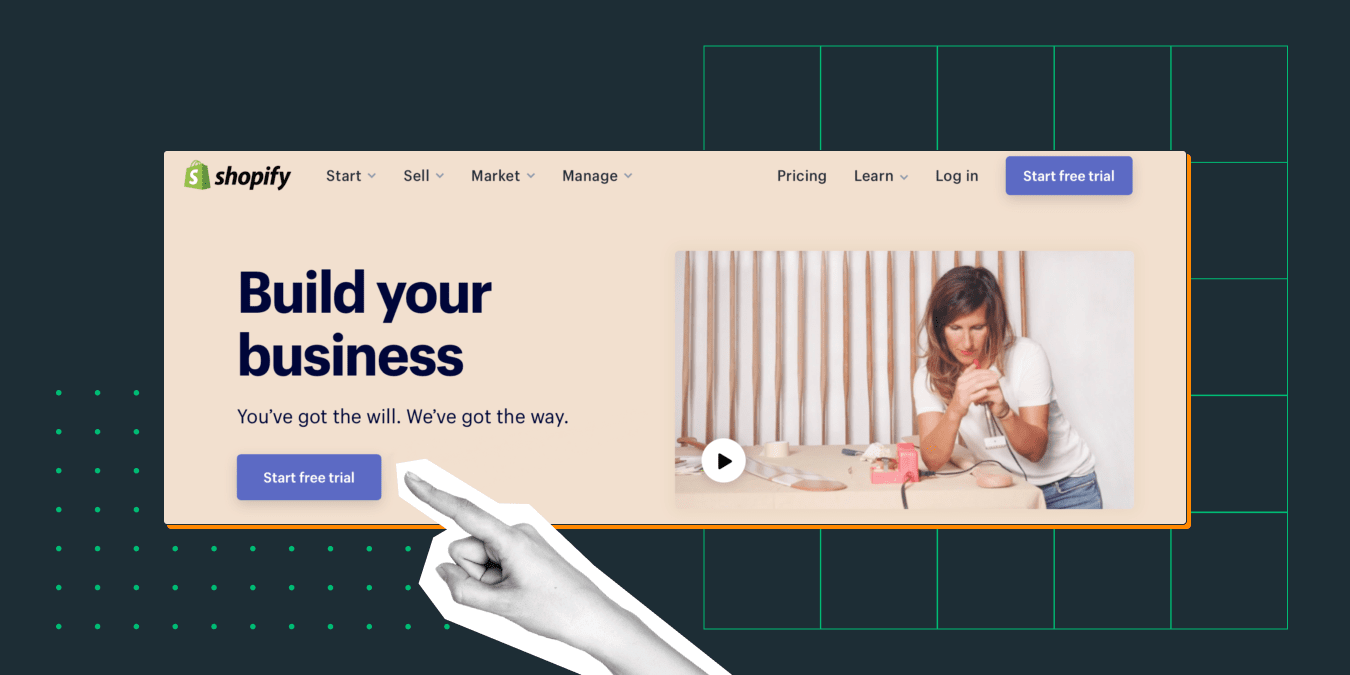 Step 2: Add Products
As soon as your account is set up, Shopify provides you a walk-through guide of the store, which lets you configure your account's requirements.
Furthermore, Shopify will automatically add its own Oberlo dropshipping app to the Apps page of your new store if you choose to "help me discover a product to sell" in the section above.
Shopify stores are effortlessly connected to AliExpress, the world's largest dropship marketplace, by the built-in Oberlo app. However, you may use this and other dropshipping Shopify vendor apps alone or in combination to create a collection of branded dropship products. Here is a list of the best dropshipping apps for Shopify.
Step 3: Design Your Store
It's time to finish your shop design and launch your Shopify websites once you've included a variety of dropshipping items to your Shopify store. To accomplish this, you must:
Set up your Shopify store theme, which is your website's general look.
Add pages for shipping and customer service.
Make menus for website navigation.
Set up your shipping, tax, and payment information.
Connect your website address, often known as your domain name or URL.
The quick-start guide for Shopify walks you through these essential setup steps and makes the procedure very simple. To get everything ready for the launch of your new Shopify dropshipping store, budget an hour or two.
Step 4: Adjust Your Store's Settings, Policies, and Rules
We'll go over your freshly created Shopify account's settings in this segment of our Shopify dropshipping guide. This phase is crucial for getting your business ready to accept payments from customers, figuring out your shipping costs, and putting up your store policies.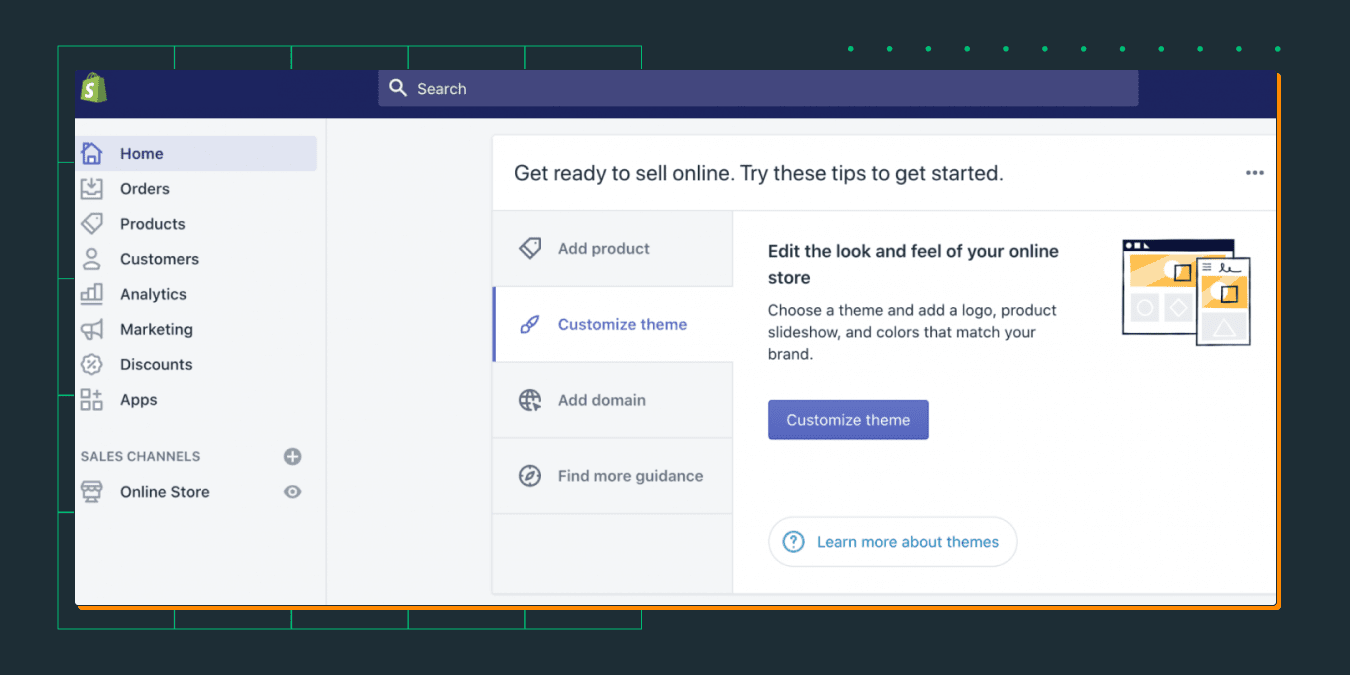 Step 5: Payments Method
Setting up payments for your Shopify dropshipping store is the first thing you must do. This is an essential step since without adding a payment option, you won't be able to accept payments from clients.
You must go to Shopify's Settings page in order to add payment information. Simply add your payment details by choosing the payments option from the left.
Step 6: Select a Plan and Launch Your Store
The last step is for you to decide on a Shopify paid plan. If you want to take advantage of the additional features such as analytics and reports you should definitely get it as soon as possible. Alternatively, you can wait for your trial period to end then switch to the paid plan. Here are the paid plans offered by Shopify to you.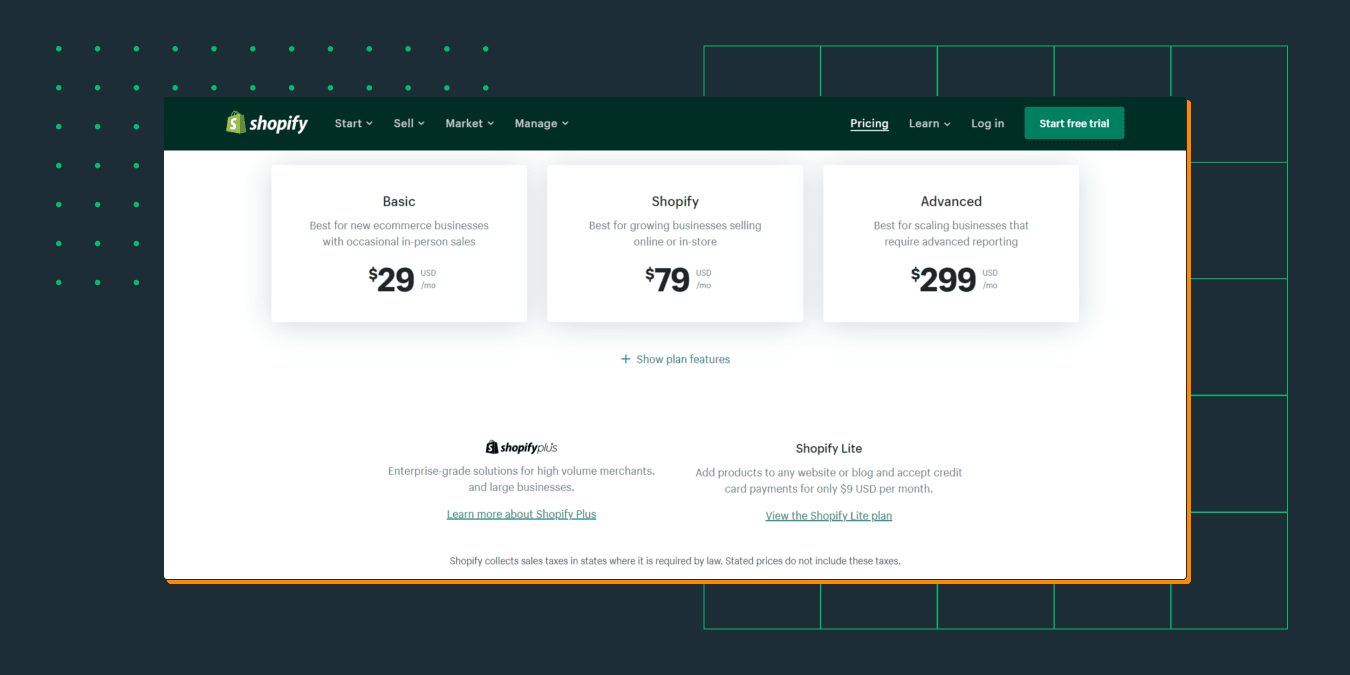 Market your dropshipping store
Once your Shopify dropshipping website is operational, you should start promoting your brand-new online shop. It takes a very long time for new websites to show up in Google and other search engine results. Therefore, to get things started, you should concentrate on more direct marketing strategies like social media, paid to advertise, and email.
Lack of store traffic is the main source of annoyance for new eCommerce retailers. Too many business owners spend months developing the ideal website and brand only to introduce it to a market that is unaware of their existence.
The "build it and they will come" philosophy, it turns out, is not applicable to the world of internet businesses. The success of your business depends largely on marketing and traffic generation. And in order for this to happen, you must exercise some initiative.
This is especially crucial in the first six to twelve months of your life, when no one has ever heard of you. For at least six months after your site launches, you must devote 75% of your time to marketing, visitor development, and SEO. It's quite easy to get caught up in polishing the look of your website or your brand, but marketing is ultimately what will make a difference.
For beginners, the most important thing to remember is to adopt the mentality of a scientist and methodically test value propositions and marketing channels until you unearth the ones that work for you. It is important to remember that every product and every brand is different.
And there really isn't a word one size fits all approach. There isn't one single  marketing strategy that will work for all your products.
Some of the marketing channels you should try out:
Google Adwords and Facebook ads: One of the most cost-effective ways to market your store is using Google Adwords and Facebook ads. Both are great at reaching your targeted audience. So if you've some money to spend you should try it.
Email Marketing: Targeted email marketing is another great way to reach new customers as well as keep your existing customers updated on your product line.
Social Media Marketing: In Today's age, having a social media presence is a must for brands. Posting your products actively on social media platforms such as Instagram, TikTok, Facebook, Twitter, etc is a great way to reach new customers.
Influencer Marketing: Contact social media influencers to try out your brand and market it to their audience.
Top Shopify dropshipping stores
Here are some of the top Shopify dropshipping stores to inspire you as well as to learn from their success.
Meowingtons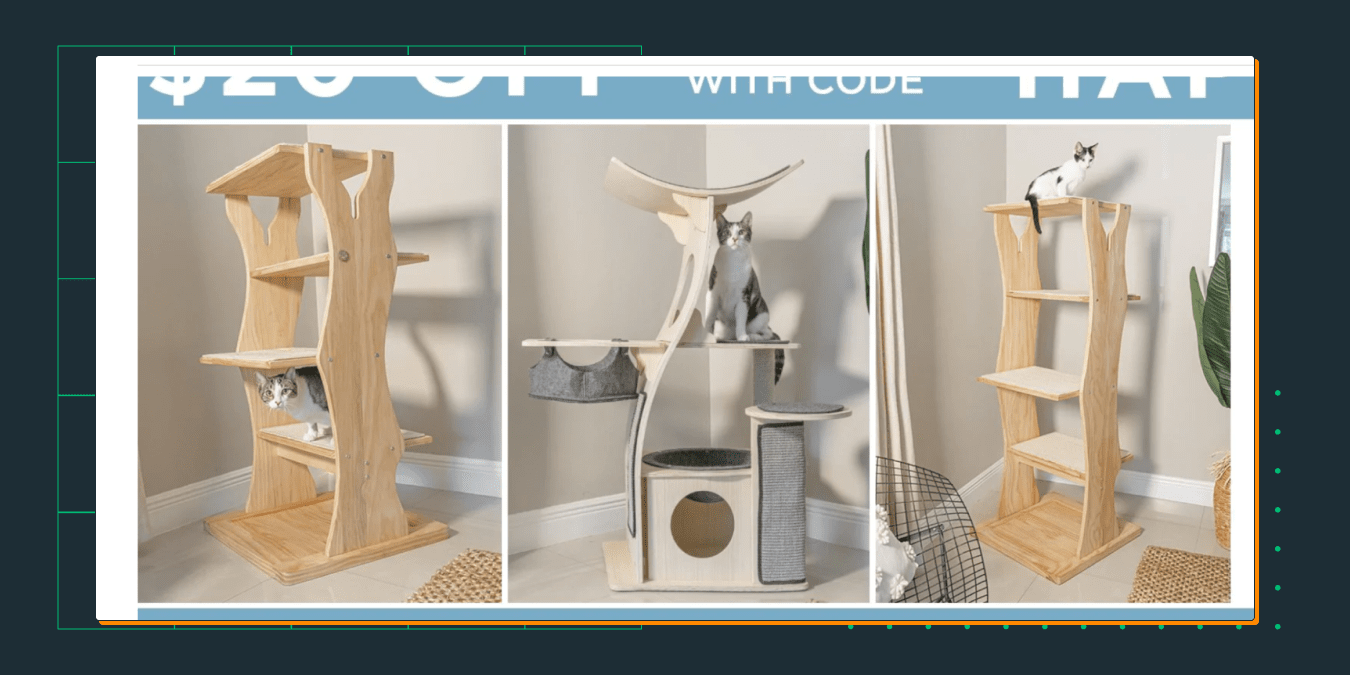 If you're looking to invest in a niche market such as pet accessories, you should check out Meowingtons. They displayed extremely well how smart marketing and catering their products to their customers can develop a strong audience and long-term customers.
Meowingtons social media numbers are skyrocketing, which just shows how niche items can really be successful in dropshipping business stores.
Inspire Uplift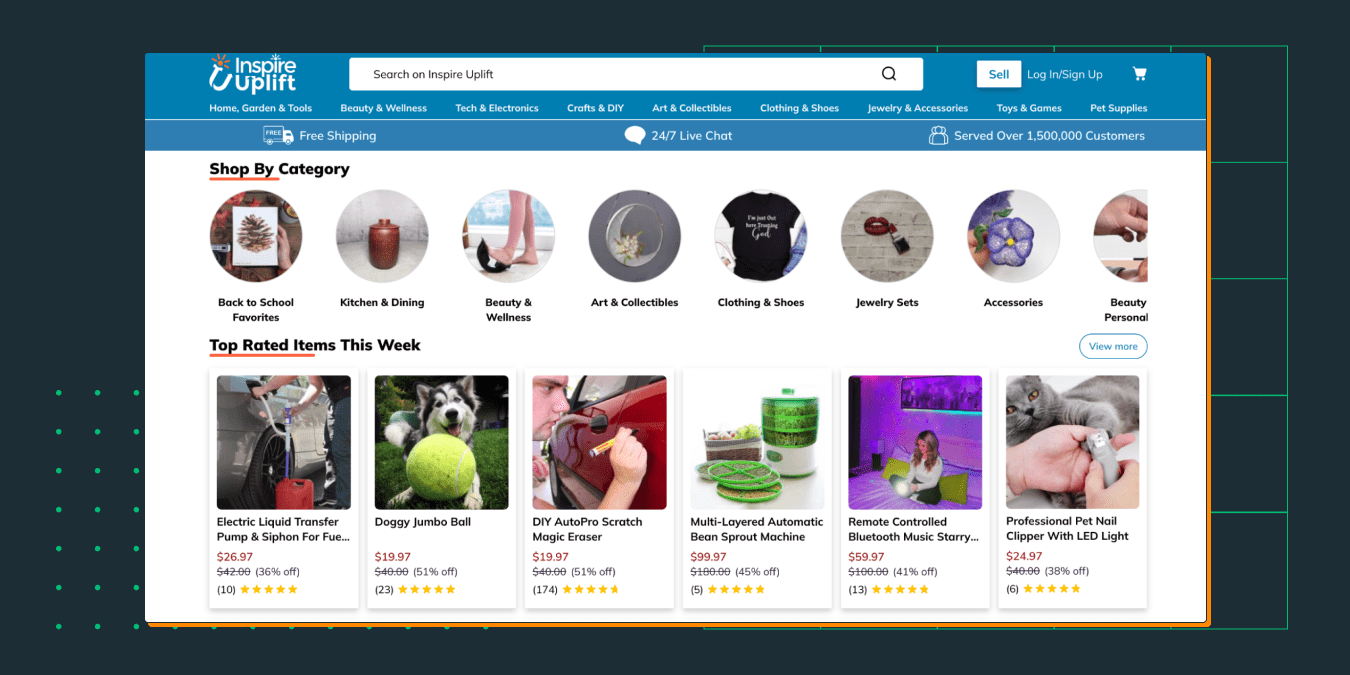 If you want to know what longevity looks like in dropshipping business, Inspire Uplift is the perfect example for it. You can look at their success and how experimental they have been over the years with their brand. They have used different dropshipping apps as well as different product lines to cultivate a solid customer base.
Warmly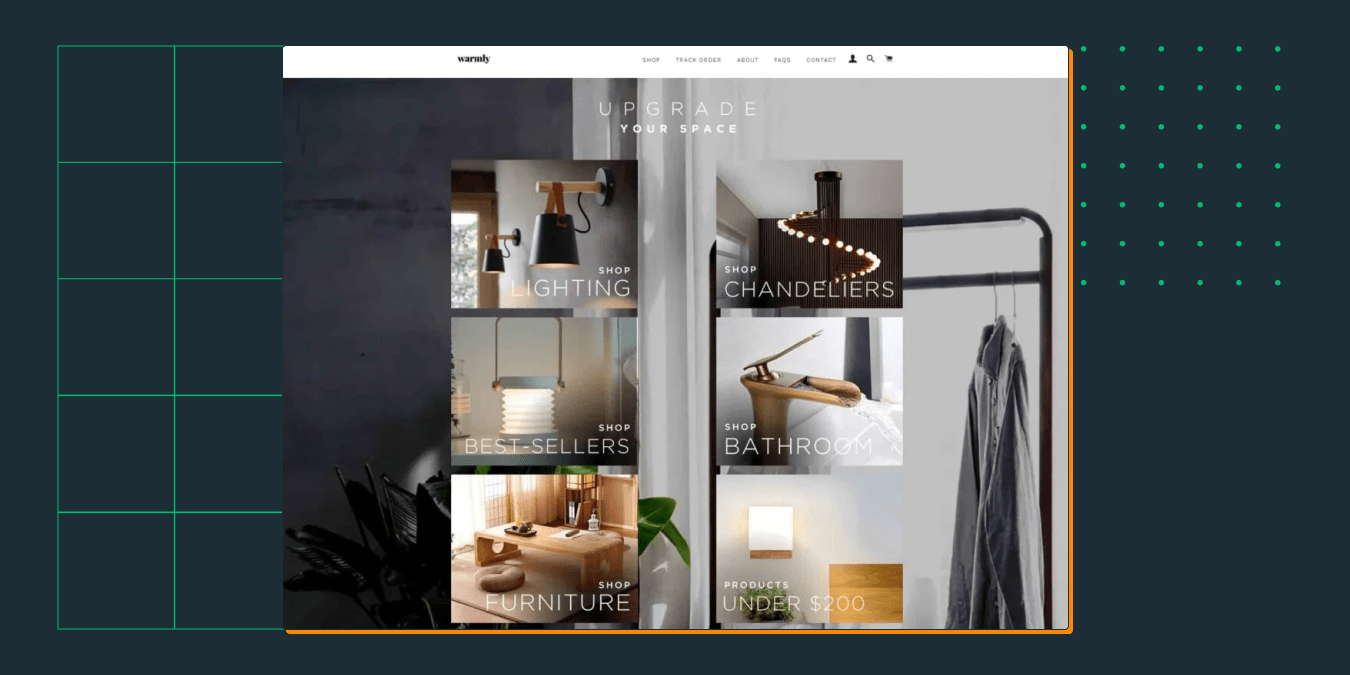 The store theme speaks for itself.
Warmly store website's theme and layout are designed to match their brand and products. From logo design layout to products, everything is connected perfectly to their brand name. Definitely, something you should take from their book.
Dog Pawty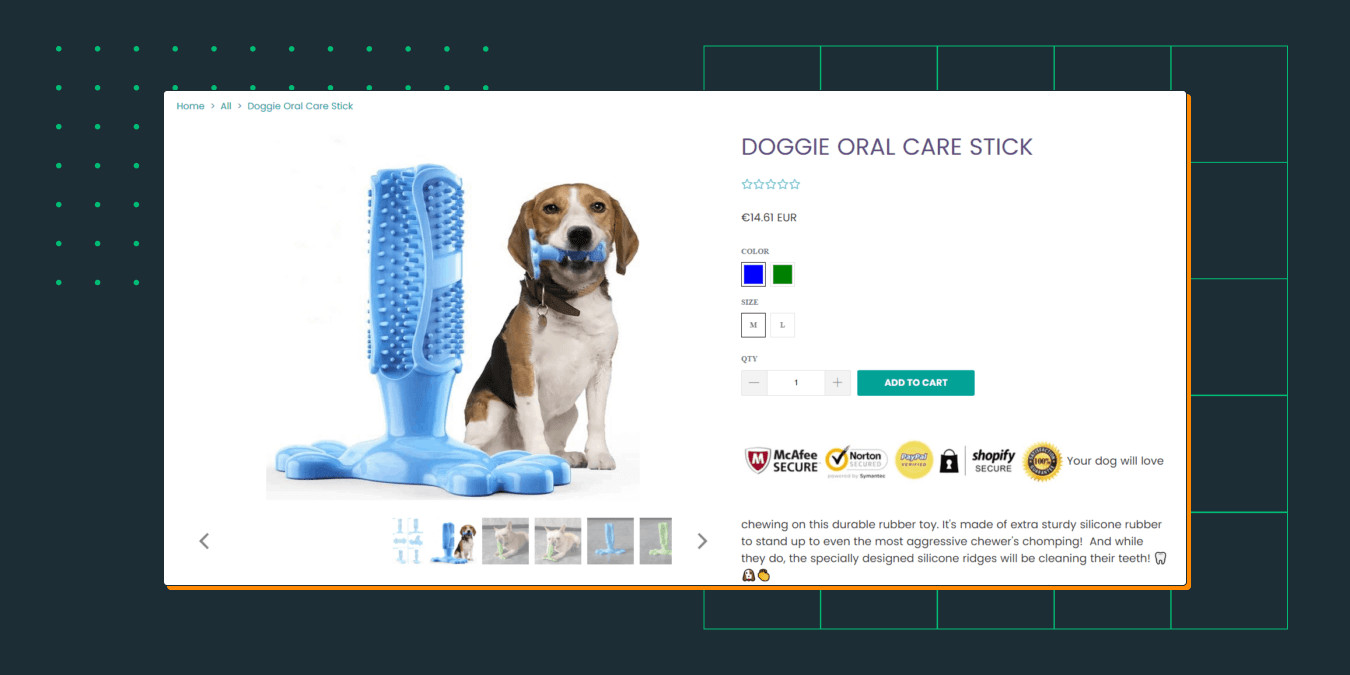 Dog Pawty is the ideal example of easy to market products. You can check their social media platforms and see for yourself how impressive their engagement levels are. You can learn from Dog Pawty how to develop a niche community for your dropshipping store.
Best Choice Products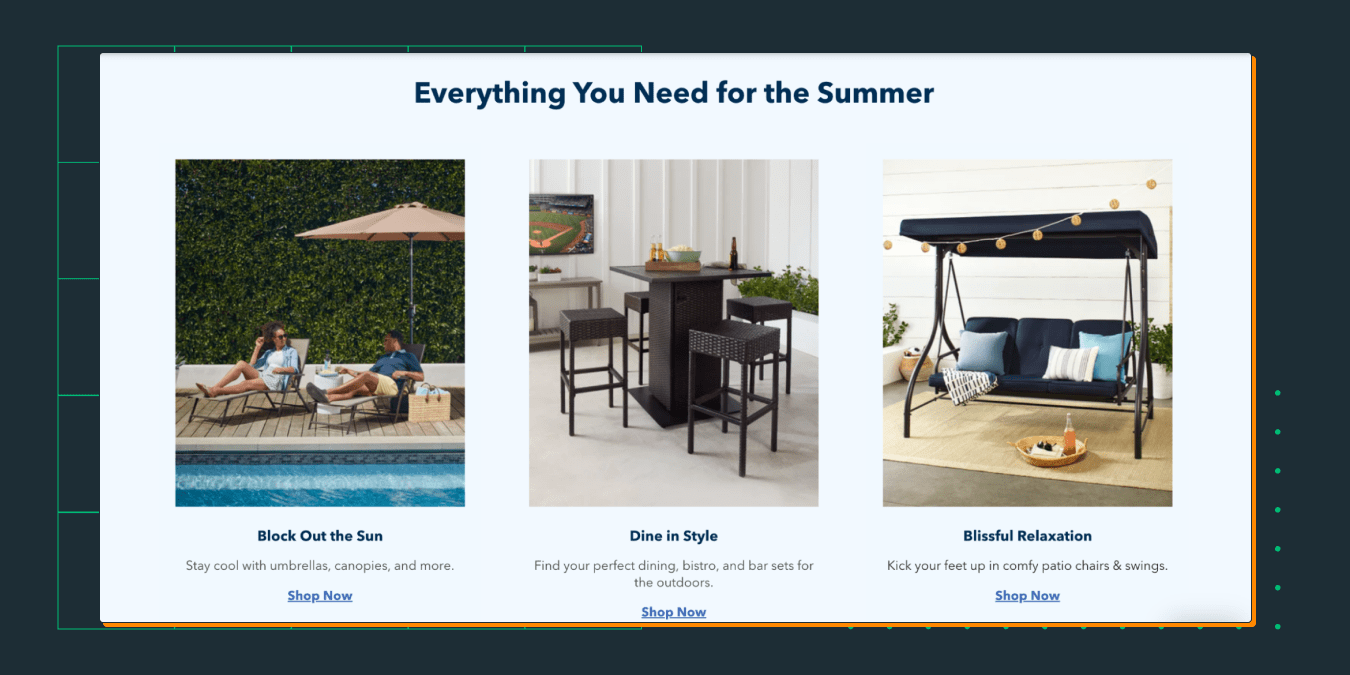 Best Choice Products is a great example of a successful influencer and social media marketing strategy because they encourage their customers to use hashtags with the pictures of their products on social media platforms. The engagement level on their website clearly shows it works well with their audience.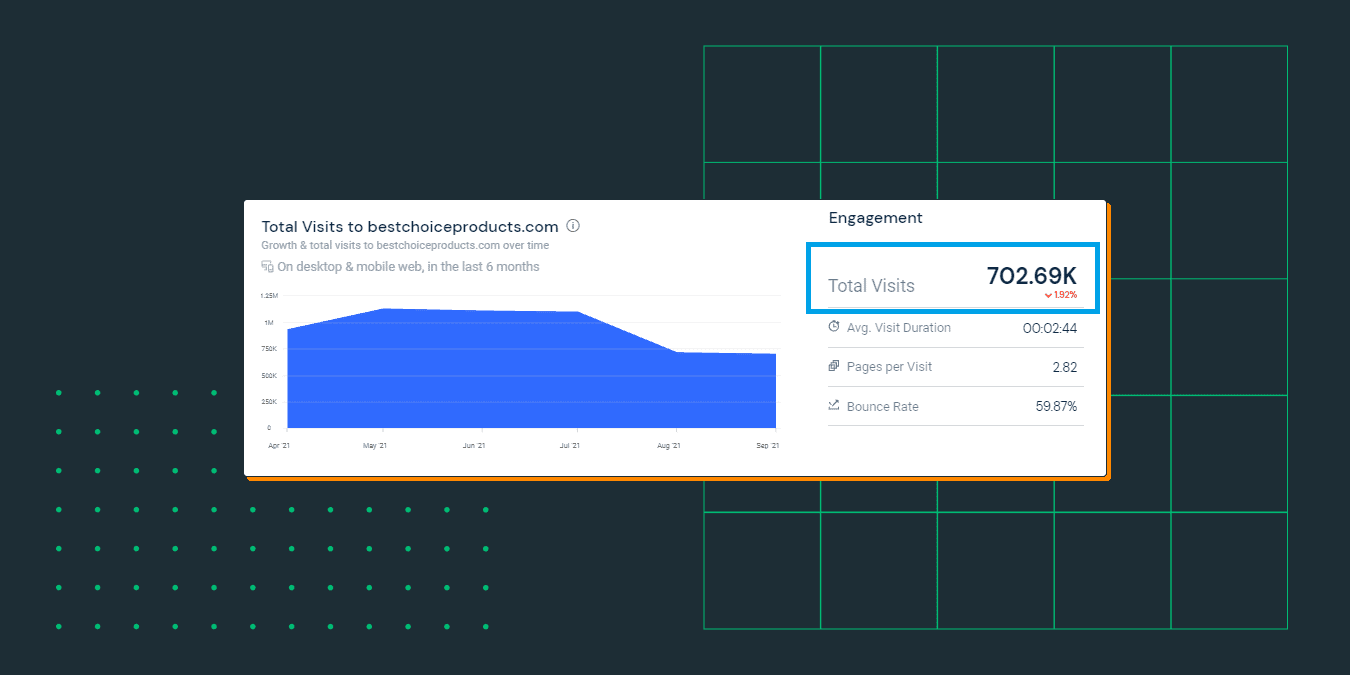 Summing up – Shopify dropshipping
Shopify dropshipping is easy to use and offers a lot of features for young entrepreneurs to start out and experiment with. We think one of the most important things to remember is that just like any other business with dropshipping, it's vital that you have a long-term perspective. Building a dropshipping business is just like building anything else of value. It takes a significant level of commitment and investment over time to truly build something that is successful.
To make things easier for you and to get you started with your dropshipping journey on Shopify, ​​you can give Sellbery a try which is an automated tool and will definitely give you a headstart and help you pave your way in the eCommerce world.
Give Sellbery a try now!
Try Now



Also Popular on Sellbery