Best products to sell on Amazon: Most sold items in 2023 and more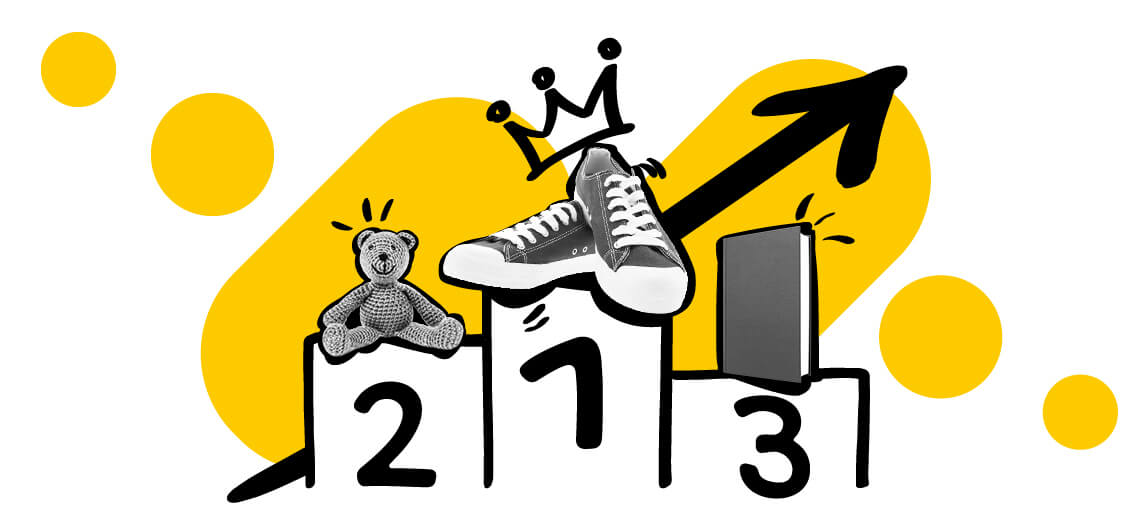 It's completely normal to get a little overwhelmed when trying to pick what things you want to offer. In this article, we will help you find the best products to sell on amazon on Amazon.
Amazon is the go-to place for shopping online with over 300 million active buyers. It makes sense that you would want to start selling on the marketplace. You might be wondering where to start from? What are the best products to sell on Amazon? It's completely normal to get a little overwhelmed when trying to pick what things you want to offer since there is such a wide variety of possibilities available to you.
But don't worry! In this article, we will look at the best-selling items on Amazon and guide you on how to find the right product to sell.
Why sell on Amazon?
Let's start with why you should sell on Amazon. There are plenty of reasons why Amazon is the leading eCommerce platform with over 1 Billion dollars in market cap. You can cooperate with the marketplace completely remotely; the advantages of trading here are:
no need in paying for the rent of a warehouse and/or a store,
obtaining a trade license,
paying salaries to the store staff,
spending on marketing and business promotion,
entering a market many times more solvent.
Furthermore, Amazon is an excellent platform for entering the international market and generating revenue in currency without large investments. In return, you will have to pay a small commission or a modest monthly fee.
Another significant advantage of selling on Amazon is that you don't need to have your own website. With Amazon, you can start your business straight away. Many stores function perfectly without their website – marketplaces share their resources and improve their functionality. Transparent rules and prompt technical support allow you to conduct business from anywhere in the world.
Focus on selling – Integrate Sellbery to manage your inventory and listing products on Amazon
Try Now

Top items sold on Amazon
Amazon maintains its own list of current best-sellers across a wide variety of categories, including but not limited to toys, books, and video games, and the list is refreshed every hour. However, If you want to come up with a long-term strategy on what to sell in a month or even a year, these lists of top sellers are not the most solid and practical method to rely on. We've prepared a list of categories and top items sold on Amazon that have been successful for a long period.
Best-selling products on Amazon
Here are the best products to sell on Amazon:
1. Clothing, Shoes & Jewelry
It's hardly surprising that apparel, footwear, and accessories are among Amazon's top-selling items. When it comes to clothes, Amazon customers are more interested in affordable basics like Hanes and Amazon Essentials than they are in high-end designer labels.
The most sold products on Amazon under this category are:
Sweatshirts & casual shirts.
Slippers and socks.
Undergarments.
Travel bags and purses.
It's vital to keep in mind that there's a lot of competition in this particular market segment, so it's essential that you have something to offer that no one else has. Customers who are looking to spend a lot of money on name-brand things typically seek elsewhere than Amazon. Make sure your clothing, footwear, and jewelry are of great quality at a reasonable price if you plan on selling any of these items.
2. Toys & Games
No surprise that kids are one of the most excessive categories of market consumers. And, this product category constantly reaches top sales on Amazon, The trend in movies and Disney obsession and movie-themed educational and generic games tend to place these products very demanding for parents. Amazon publishes a list of holiday toys every year to determine the buying behavior of shoppers.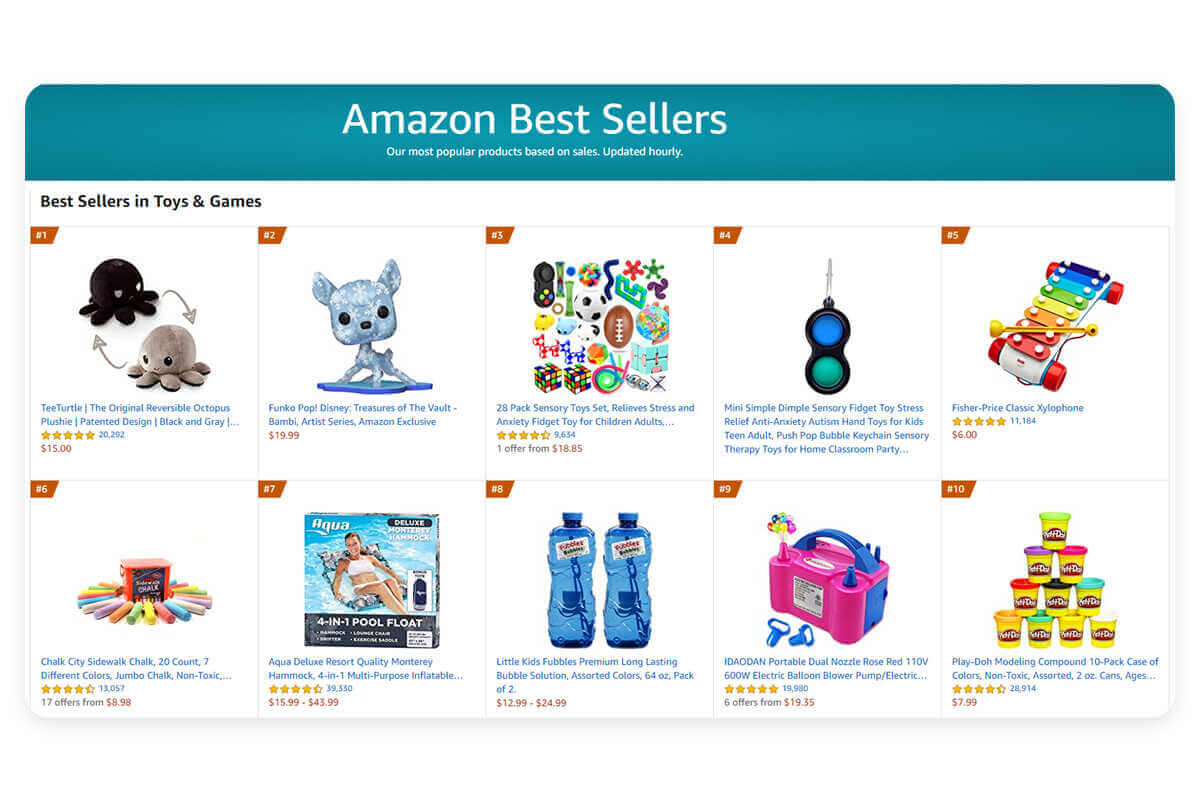 Products under this category are:
Memory games
Multicolored toys
Card games
Wooden play sets
Outdoor kits
Lego blocks
Table games
Puzzles
Sellers can use this list to analyze the types of toys and games popular with children and their families. Currently, STEAM toys and Leapfrog toys are the most popular, including science, technology, engineering, art, mathematics, etc. This year, there was a high demand for board and card games.
3. Books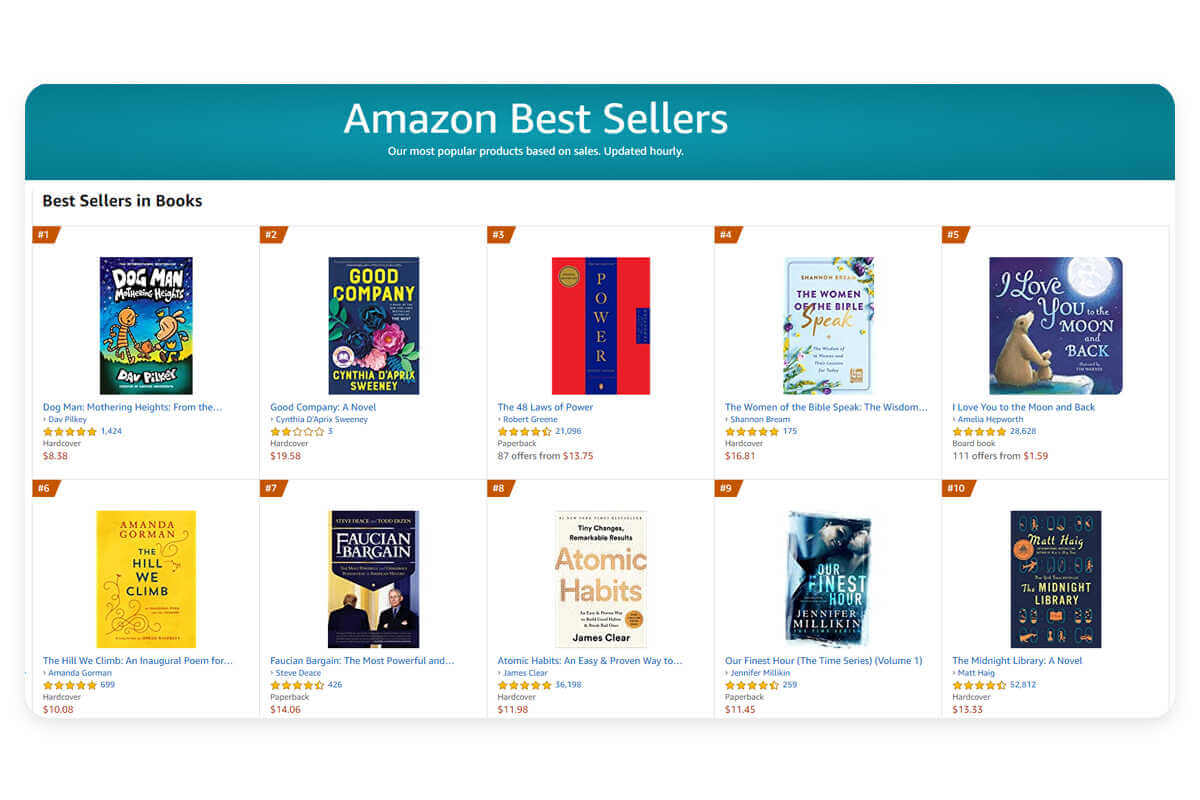 Amazon is a very famous place to sell books. This is one of the biggest markets for selling this type of product. Amazon offers three ways to sell your book:
Listing the book on Amazon and then sending copies to Amazon.
Having your seller account.
Selling your book for the Kindle.
Top selling books are:
Fictional books
Suspense and thriller books
Biographies and memoirs
Comics
Cookbooks, diet books, and recipe books
Children's books
You can sell both – used and new books. While selling new books, acquiring brand-new books can be difficult. You will need to buy from wholesalers, distributors, and publishers, which you will have to believe in large quantities. While selling used books, it is the easier way to get into the bookselling market. You can sell vintage books bought in local fairs and don't spend much on investing in them.
You can also publish your own books, but it is a big challenge. Good writers can make big figures by selling published books, it takes a long time to promote your books, but it can lead to a big successful business in the long term. Self-published books are more popular, and Amazon makes it easy to publish your books on Kindle.
4. Electronic Accessories & Gadgets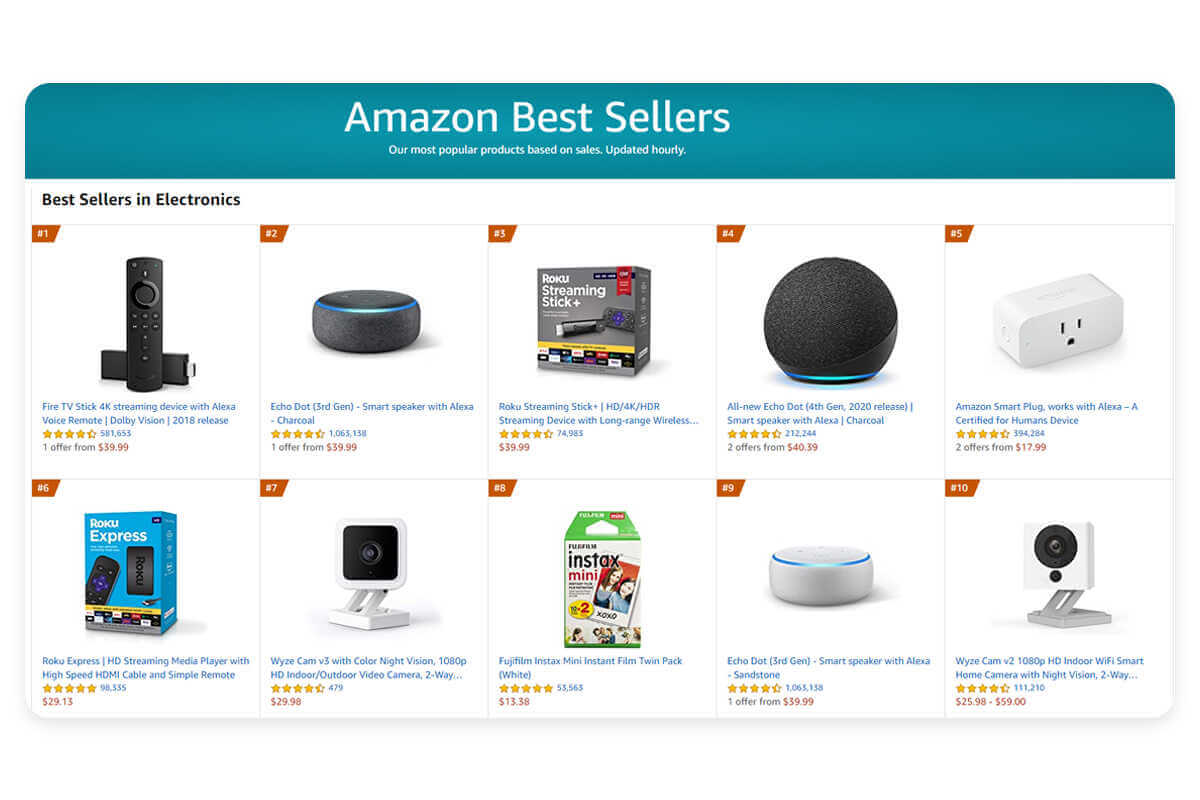 Consumers, especially those who do their shopping online, are always on the lookout for the newest and latest technology, be it computer hardware, Laptop, TV, mobile, or sound device. In fact, internet sales account for over half of all computer and electronics revenue.
Most sold items in this category are:
Computer hardware such as graphics cards, hard drives, etc.
Laptops and accessories.
Television sets and sound systems.
Computer accessories such as keyboards, mouse, mousepads, headphones, etc.
It's not a shocker that so many people prefer shopping on Amazon for electronics since the site often has attractive discounts on some of the most sought-after models available. If you have the means to purchase gadgets in large quantities, this may be a viable area to explore as a potential re-seller.
5. Beauty and Skin Care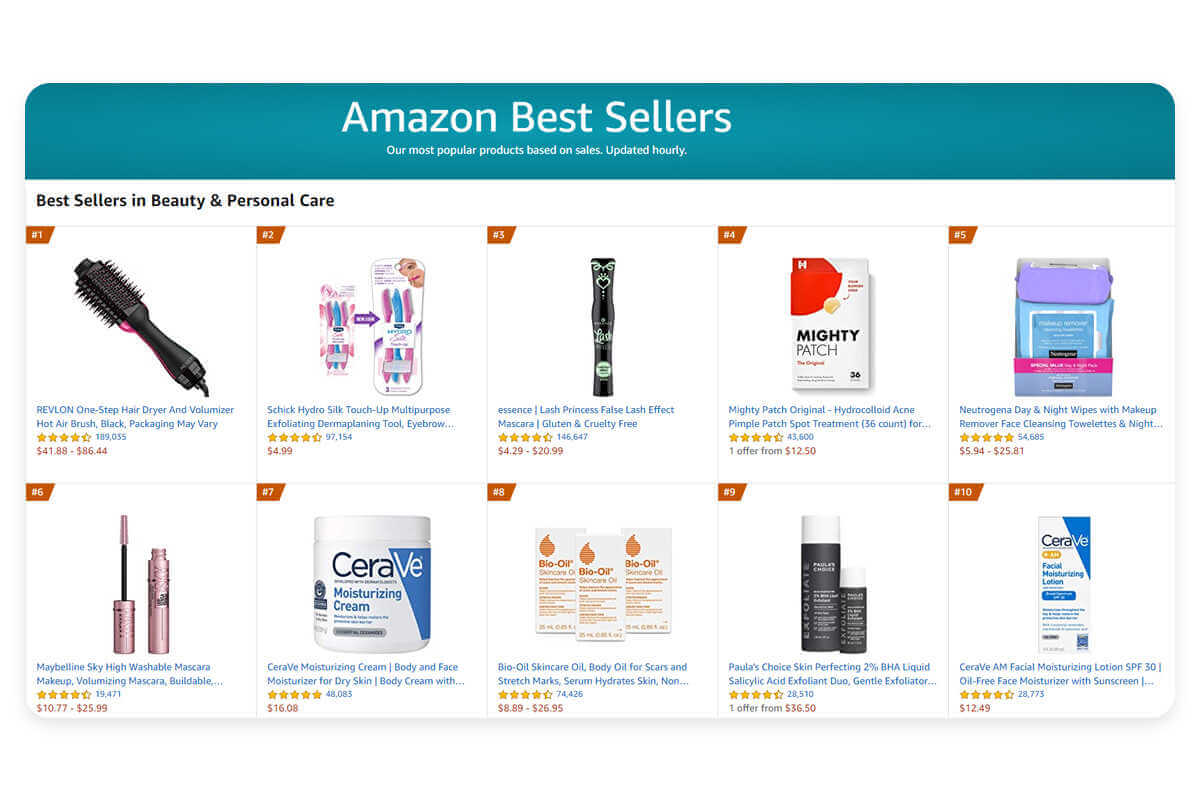 Social media has made people a lot more conscious about their appearance. There are plenty of people spending money on beauty and skin care products to look after themselves. Products for skincare, hair, and nails, as well as those linked to oral hygiene, are quite popular and top selling items on Amazon.
Furthermore, consumers are always searching for fresh and appealing items, particularly those that are all-natural, organic, and devoid of chemical additives.
Top items sold on Amazon in this category are:
Bath and bathing accessories
Foot and nail care
Hand creams
Fragrance
Hairdryers
Makeup
If you choose to sell beauty items make sure they are of good quality, in the original packaging of a manufacturer. Ensure the products are correctly described and labeled, as while talking about health, your items must influence trust.
6. Camera & Photo Accessories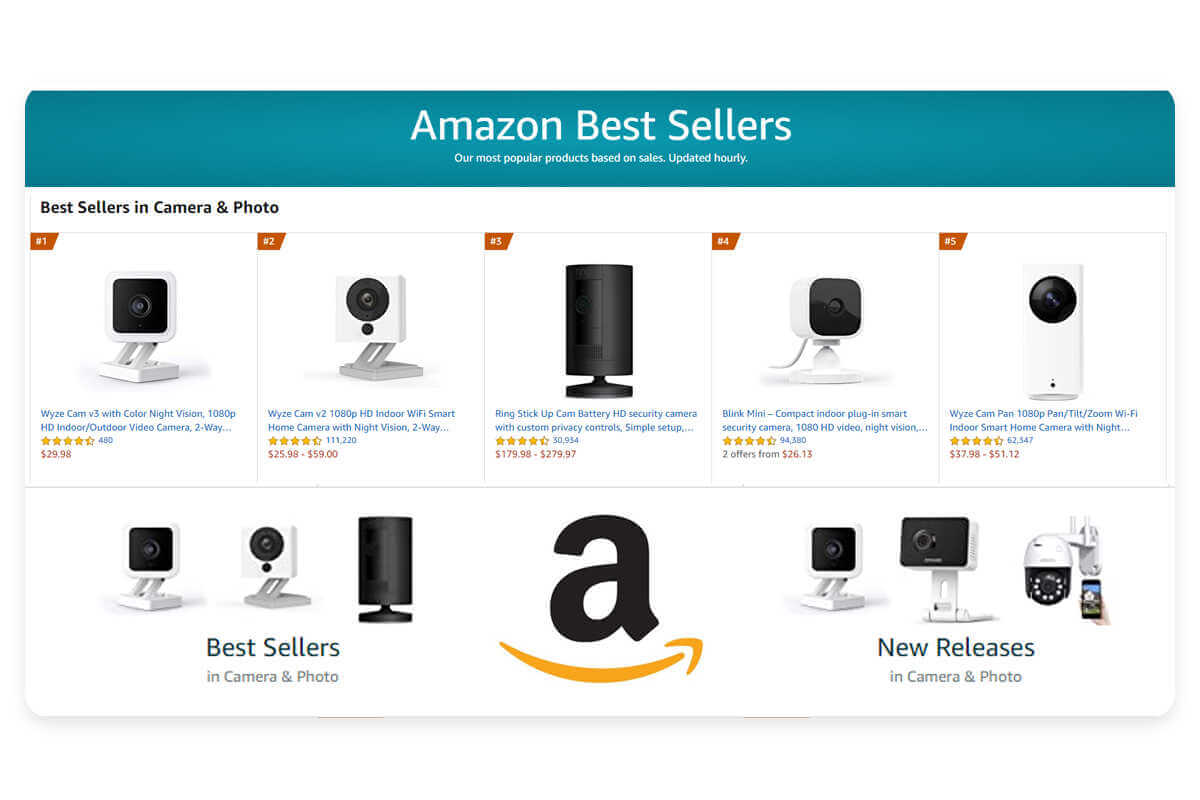 Consumers of this niche are mad about taking pictures and photography, so the last but not the least trend is related to the popular Amazon photography category.
The best-selling Amazon products in this category include everything from Wi-Fi-enabled cameras to instant videotape. The camera & Photo category is a subsection in the Electronics category. The products here include cameras, accessories for cameras, and photographic equipment.
Top selling products under this category are:
Instant films
Instant click cameras
Camera accessory kits
Photo papers
GoPro
Home security cameras
Here is a tip for you, focus on products designed for a specific use or that require refills. Consider selling products that will make customers need to return to you for the supplies and accessories regularly.
7. Pets supplies
Every day more and more people are adopting pets. And if you own a pet you would know how much pet owners love their animal companion. Due to their scarcity in local shops, pet supplies are among the top-selling categories on Amazon. There are plenty of products you can sell in this section, to name a few dog beds, cat litter, pet toys, grooming items, etc.
8. Video games
We all know video games are popular with the young population. But the interest is not limited to them alone. During the pandemic, video games became a popular activity, and people of different ages adopted this habit while they were stuck in their homes. Video games and gaming accessories are the best products to sell on Amazon for you because you can target the audience of different gaming consoles.
However, make sure you've bought the rights to sell a copy of the game.
9. Home and Kitchen
Home and Kitchen products are a huge sell on Amazon. Rightfully so, the category encompasses a vast range of items, including but not limited to appliances, furniture, and decorative items.
Amazon top selling items in this category are:
Dishwasher
Airfryer
Dishes and other kitchen utensils
Custom design cups.
Bed sheets & pillows.
Coffee maker.
These are just some of the top products to sell on Amazon, this category is wide open for you to explore. However, you should be aware that this category's high levels of competition may make it harder for you to break in. Therefore, if you want to enter this industry, you should focus on developing a high-quality product that fills a unique need.
10. Handmade
During the epidemic, people turned to making things out of their spare time.
Customers found handmade products interesting and they became a popular sellers on Amazon. Handmade paintings, knitted items, and handmade wood products are just some of the top-selling items on Amazon in this category.
You don't have to create the products yourself, you can hire artists to design them for you. Or visit your local art clubs and resell it on Amazon.
11. Health and Household
For a long time selling in the health and household, the category was a challenge for new and even for established sellers. But recently it is amongst Amazon's top-selling categories. Amazon's reputation and customers' positive reviews have helped sellers to introduce products in this section. Here are the top-selling products on Amazon:
Household supplies such as cleaning and washing products.
Vitamins, diet, and nutritional supplements
Weight loss products.
Baby & child care products such as diapers, children's medicines and skin care.
Medicines for common allergies, colds, and pain relievers.
Sports nutrition such as protein bars, supplement powders, energy drinks, and amino acids.
There are a few considerations you have to keep in mind if you choose to sell such products.
Make sure you don't sell any illegal substances.
Make sure your product is approved by relevant health authorities.
The expiry date of your item.
Your product is legal in the country you're selling.
As long as you follow Amazon's guidelines, you can run a profitable business.
12. Sports & fitness
Items related to indoor and outdoor sports, fitness, and supplementary gear are hot items to sell on Amazon. There has been an increase in customers' interest in fitness and they are looking for products to help them feel, look and function better. Popular items sold in this category are:
Gym and training equipment such as dumbbells, weights, ropes, etc.
Different sports items such as football, basketball, baseball bats, etc.
Indoor cycle.
Yoga mats.
Gym wear and running shoes.
Fitness and fitness devices such as heart rate monitoring watches.
The fitness trend is booming and here to stay. Therefore, gym and sports items are the best products to sell on Amazon for new sellers. If you want to succeed in this niche, you need to sell quality products and market them properly. Lifestyle photography is essential when marketing outdoor-oriented items.
Connect multiple marketplaces to reach out to more customers. Check the full list of features provided by Sellbery
Check Now
What all top-selling products on Amazon have in Common
You can narrow down your search for the best products to sell on Amazon if you figure out which product attracts the customers. Let's look at the few common characteristics of the most sold items on Amazon. This will help you in your product research on Amazon.
Addressing Customer need
All the best-selling products on Amazon clothes, electronics, books, etc have this key element in common. They all add value and are useful to buyers.
Competitive price
It should go without saying that customers love goods if they are cheap and affordable. But it goes even further, most sold items are the ones that come in deals or discounted offers. In fact, customers usually wait for special deals to buy their favorite products. This is a very common practice in the electronic section, buyers will wait for a discounted price to buy the item.
Look at it this way, you can either sell a few high-priced products or you can sell reasonably priced products in high volume.
Quality
In a market that is very competitive, the importance of the product quality that you offer cannot be overstated. If you offer your customers items of poor quality, they are far less likely to continue purchasing from you, which will, in the long run, result in the demise of your company. Increasing your sales and expanding your company both require that you provide high-quality goods and services to your customers. Increasing the percentage of satisfied consumers who rate and review your product positively will increase your reach. In fact, the platform incentivizes sellers to provide customers a positive shopping experience because it is directly related to how Amazon makes money.
Easy to find
This is an important factor that gets overlooked easily. If customers can't find your product or understand the description properly, you won't probably make any sales. Using proper keywords and writing accurate descriptions will help your product rank higher in the search. Implementing Amazon bullet points guidelines is essential to catch customers' eye and increase your sales.
Product's lifespan
Reusable items rarely are top sellers. Electronic items with new technology, worn-out clothes, mobile covers, etc, all have a reasonable lifespan where customers get satisfaction from the use and they can come back to you for a new and better version.
How to Do Product Research for Amazon Yourself – Best Practices and Advice
Your level of success is directly proportional to the things that you sell. Therefore, making an informed decision when selecting them is an essential component of your business. Sellers have access to the huge customer base that Amazon provides as a result of the platform's ability to expand internationally and its relatively inexpensive marketing options.
Conducting some research on the niches or categories of the most popular and highest-selling items on Amazon, which may make you the largest amount of profit, is one approach to go about picking the appropriate things to sell on your online store. To choose the right products to sell on Amazon, you need to constantly monitor the market and Sellers Community.
Here are some key tips and practices to find and pick the right products:
Watch the trends and monitor items, as you don't want to spend time promoting things consumers don't need.
Choose products that are easy to ship. As those products that are easy to break and hard to ship will cause refunds, returns, and negative feedback.
Look for goods that are inexpensive to manufacture/purchase.
The lesser your initial investment, the more your margin can be. Just be sure to check the quality before investing. Many vendors will send you samples of items, so be sure to ask for them during research.
Implementing these tips will make your research for the best products to sell on Amazon easier.
The business model of Best-Selling Products on Amazon
Amazon is a highly competitive marketplace. Your success depends on how fast you're able to fulfill orders. The most sold products on Amazon have a stable supply chain behind them. You have to implement a suitable business model to make sure you can sell enough products and become successful. Here are some options you can choose from:
Dropshipping: The term "dropshipping" refers to a way of sourcing in which you don't hold inventory or distribute it. Instead, you form a partnership with a supplier in order to sell the latter's products on Amazon. So when you sell an item on Amazon, you'll place an order with the supplier and have the product sent directly to the buyer. So, if you're a seller with little capital to spare but big dreams, this strategy is for you.
Wholesale: In wholesale, you purchase goods in bulk from a supplier at a discounted rate. And then resell your inventory on Amazon for a profit. This method gives more control over distribution and the type of products you want to sell. However, you will have to invest a lot of money upfront in order to buy the products.
Private Label: When you engage in private label selling, you also work with a manufacturer or a supplier. But instead of purchasing their product, you use their services to produce a new line of products. You can now sell these products under your own brand on Amazon. Private labeling requires a lot of capital and an understanding of how to market your brand. Furthermore, you'll have to learn about product listings for new products, UPC code and Amazon asin number.
Retail Arbitrage: Amazon retail arbitrage is a business model where you buy items for a relatively cheap price from a retail store like Walmart. After that, you put a higher price tag on them and sell them on Amazon. Although this may be the easiest form of sourcing, it might be challenging to achieve large sales statistics when using this strategy. In addition, the producer sells a good number of the typical things that are available for purchase in conventional shops as well as on the internet via Amazon. This indicates that it may be difficult to identify decent things that have a price gap that may be exploited profitably.
In the end, the way of sourcing that will work best for you will be determined by the unique budget and business strategy that you have. When deciding which approach is ideal for you, it is important to carefully weigh the benefits of each strategy with its drawbacks.
Where can you find suppliers for your products?
Now that you are familiar with the most typical ways of sourcing, the next step is to choose the location that offers the greatest selection of the products you want. Here are some of the marketplaces where you can find best-selling products on Amazon for you business:
Alibaba: Alibaba is one of the most well-known B2B platforms and commonly used sourcing sites. It is an excellent location for purchasing for wholesale as well as private label goods. It is very easy to reach out to suppliers and request for quotations. Although many supplies have fixed rates and order requirements, you can still negotiate a better deal.
Local market: Your local market and garage sales are the best place to find homemade and used niche products. You may often discover undervalued products at a great price at garage sales since many of the people selling their belongings just want to get rid of them.
AliExpress: AliExpress is a B2C version of Alibaba. The difference is that it is designed more for consumers. But the prices are very competitive and ideal for the dropshipping business model.
Retail stores: You can visit physical stores near you and purchase goods in retail for resale on Amazon. This method can work if you bulk purchase products that are on sale. If you want to generate a profit using this method, you will have to manage your spending and calculate your profit margins beforehand.
It should go without saying that they are not the exclusive locations where one can purchase items. There are a lot of additional wholesale websites. Furthermore, you can work with manufacturers and suppliers directly if you have a unique product idea in mind. Similar to your product research on Amazon you'll have to explore all the options and figure out which one suits you the best.
Summing up Best selling products on Amazon
One of the most important aspects of running a successful Amazon company is making the decision on what products to offer. If you don't have a solid product, even the most brilliant business plans and the most cutting-edge marketing tactics won't make much of a difference. You are now aware of the characteristics that define a product as one of Amazon's best sellers and how to identify them. It is the ideal moment to start selling on Amazon right now since the Christmas shopping season is just around the horizon. In addition, by integrating Sellbery for the administration of your inventory, you may accelerate your development and reach your goals much more quickly.


Also Popular on Sellbery
Impact of AI and Cryptocurrency on Omnichannel E-commerce Logistics
Explore the transformative influence of artificial intelligence (AI) and cryptocurrency on omnichannel e-commerce logistics. Delve into the integration of AI in enhancing efficiency across inventory management and supply chain optimization. Discover the rise of cryptocurrency transactions in e-commerce and its impact on cross-border transactions, offering a decentralized alternative. Uncover the regulatory challenges surrounding cryptocurrency integration and its potential for sustainable practices in e-commerce logistics. Gain insights into the role of machine learning for predictive analytics and the emergence of warehouse robotics in AI-enhanced e-commerce. Navigate the evolving landscape, foreseeing the future of these technologies and their profound effects on the e-commerce job market.