The Ultimate Guide on How to Sell Digital Downloads on Etsy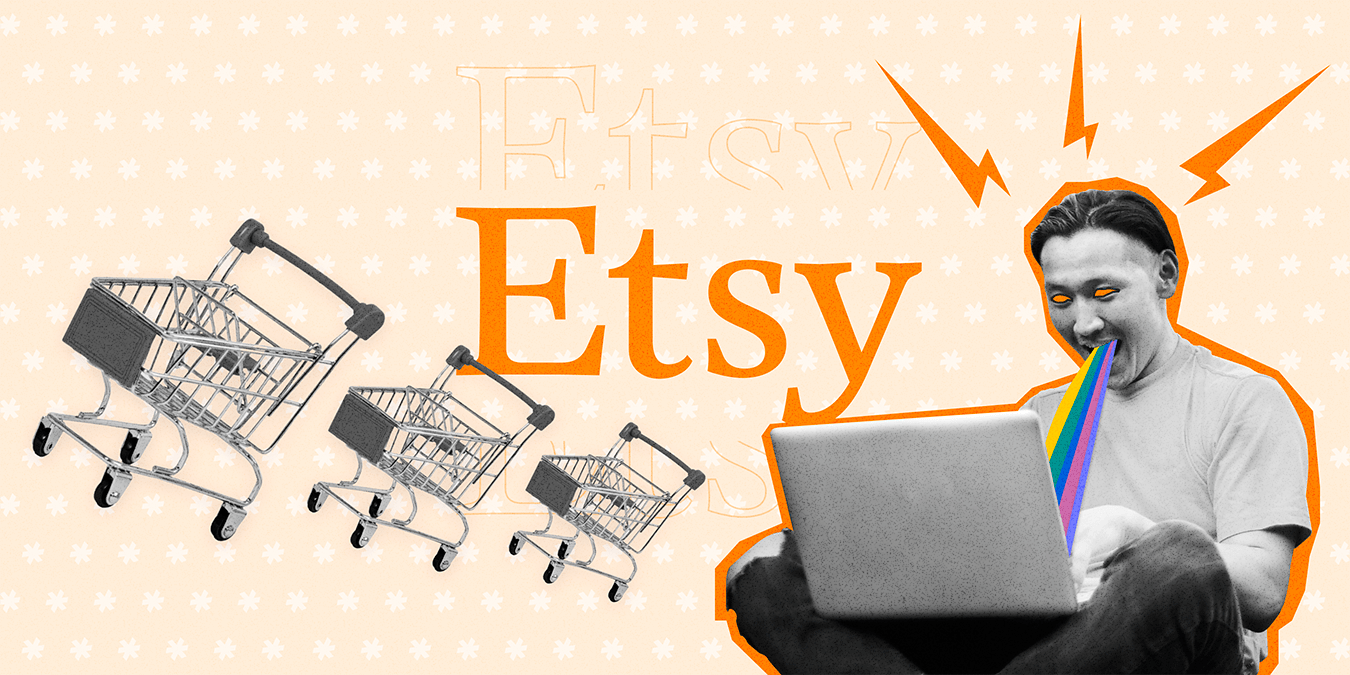 A complete guide on how to sell digital downloads on Etsy. Find out the most popular digital products and tools you'll need to create digital art to sell on Etsy.
We could've never imagined that selling intangible items was possible but here we are. "Welcome to the world of digital download selling! Etsy is a thriving marketplace for digital downloads, offering a wide range of digital products like printables, graphics, e-books, and more. Selling digital downloads on Etsy is a convenient way for entrepreneurs, creatives, and small business owners to reach a global audience with their work. 
It is not difficult to sell digital downloads on Etsy if that is your goal. New and established sellers can both elevate their businesses by listing digital products on Etsy. As a matter of fact, it is a great opportunity for digital artists to become Etsy sellers and monetize their work without needing huge investments. Similarly, established sellers can sell digital downloads on Etsy and make it a source of passive income.
In this guide, we'll go over the steps and best practices for selling digital downloads on Etsy, from setting up your shop to marketing your products and growing your business.

Can you sell digital art on Etsy?
So you must be thinking, can you even sell digital art on Etsy? And rightfully so, the platform is popularly known for handmade and vintage items. However, during the covid 19 pandemic, customers started showing more interest in digital artworks such as digital printables, graphics, etc. because digital art can be easily personalized artwork so they became a popular choice for gifts, home decor, invitations, wall art, etc during that period.
Plus the marketplace is dominated by women sellers. So, yes, you can sell digital art on Etsy. In fact, sellers who offer digital downloads are selling everything from custom website themes to digital prints on etsy.
There's a growing trend for digital prints on Etsy. Customers prefer them over physical ones because they purchase unique and original pieces that cannot be found elsewhere.
If you have digital art that you want to sell, you can create an Etsy shop and start listing your products for sale.
Why sell downloads on Etsy?
For starters, whether you're a creative entrepreneur, freelance artist or small business owner, selling digital products on Etsy can be an additional income stream for you. The platform is user-friendly and straightforward, making it easy to explore and set up a store. It's also incredibly simple to sell digital products on Etsy thanks to convenient features like instant digital delivery and protected payment processing.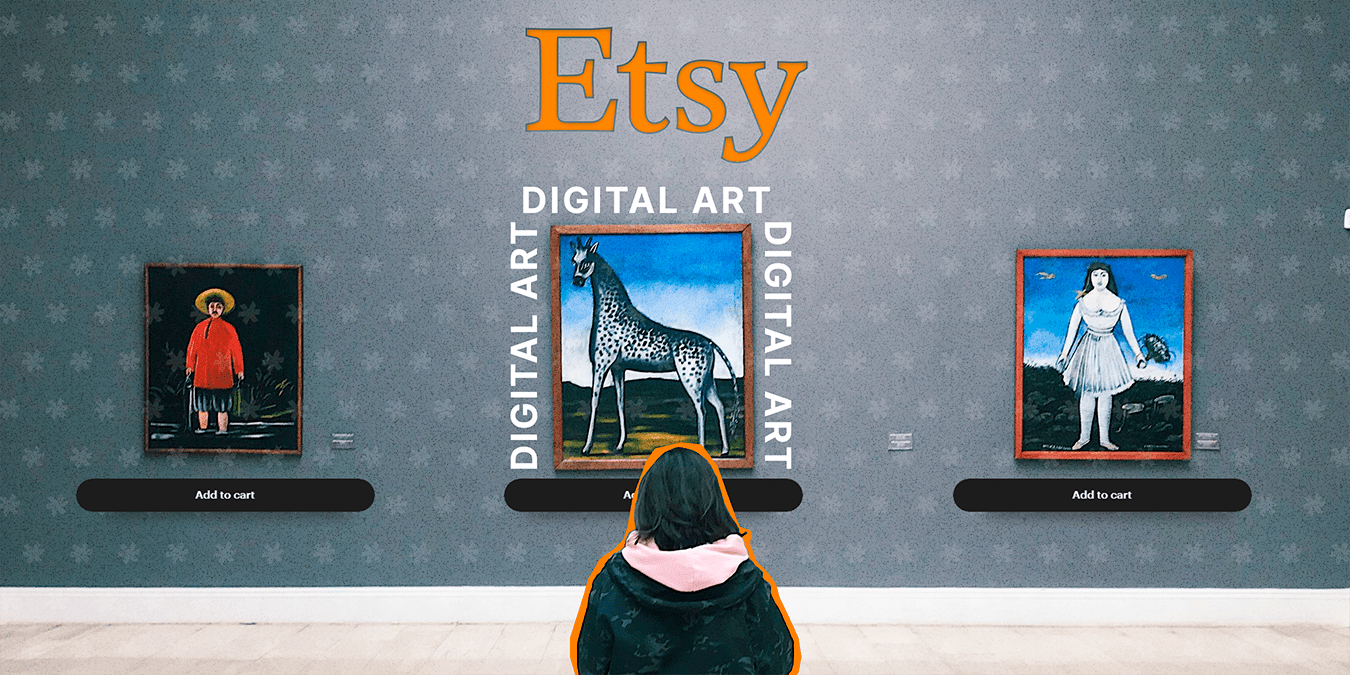 Additionally, because of the "create once, sell forever" nature of digital downloads, you don't have to actively work on the products. So you can sell digital prints on Etsy as a side gig, and focus on your main business.
Furthermore, selling digital downloads on Etsy requires minimal overhead costs compared to traditional business. You don't have to worry about acquiring goods or services, having them manufactured, or delivering them. You can freely use software available on the internet to design your artworks and sell them.
Even as a seasoned business owner, you can start selling digital prints on Etsy and use it to increase your brand exposure which will potentially lead to new customers and opportunities. Additionally, Etsy can be your gateway for a large global audience, so for example, if you're a travel enthusiast, you can create and sell travel guides as digital downloads on Etsy and monetize your passion.
Are you tired of creating new listings every time you list digital art? Learn how to automate listings on Etsy with Sellbery
See the possibilities
Best-selling digital products on Etsy
Image: List of digital products on Etsy with several images. Products can be a Guide on how to sell on Etsy successfully, how to Etsy SEO guide, ebook, Digital routine planner, Product labels, Digital art like painting Logo design, and basically any design products.
With Etsy digital products, the options are practically limitless. Despite this, many people instantly think of digital printables when they hear the phrase "digital downloads." and rightfully so, digital prints are one of the best-selling products on Etsy.
Having said that, you can really sell a lot more than that. If you run a quick search on Etsy digital downloads, you will discover customers are interested in a variety of digital products such as
Digital Planners: Recently, digital planners have become quite a phenomenon. Students and professionals love using them to plan their schedules and keep track of their tasks.
Logo Designs: Graphic design elements such as logos, icons, and patterns are in high demand on Etsy because they can be used by small business owners, designers, and DIY enthusiasts.
Travel guides: The Internet has made information sharing a lot easier and people are eager to learn from others' experiences. You can sell guides as digital pdf on Etsy and share your adventures with the world.
Business cards: Customized business card design has a niche market. It is extremely popular amongst professionals as they seek personalization to present their business information.
Lightroom presets: Lightroom presets are one of the most popular digital downloads on Etsy because they provide a convenient way for photographers and photo editors to enhance their images.
Printable invitation: Digital art on Etsy such as Printable invitations are a big hit with shoppers. They are a cheap alternative to traditional art and offer a lot of personalization.
These are some of Etsy's best-selling digital products at the moment. However, that list can change often in response to evolving market trends and consumer tastes. You should always do your own market research to keep up to date with the latest trends.
How much can you earn selling digital downloads on Etsy?
How much money you make selling digital downloads on Etsy relies on a number of things, including the prices you set, the demand for your products, the level of competition, and the amount of time you put into advertising and promotion.
It is difficult to predict exact earnings, as they will depend on your individual circumstances and efforts. Generally, successful sellers are able to earn several thousand dollars per month selling digital downloads on Etsy.
We will recommend you put more time and energy into your marketing efforts to increase your earnings. Furthermore, you can learn about Etsy hidden fees and manage your operational expenses better. This time investment of yours will pay off in the long-term success of your business.
Planning to expand your Etsy digital download business? Grow your online business with Sellbery multichannel selling
See the possibilities
How to create digital downloads for Etsy?
The question "How to produce digital downloads for Etsy?" has almost certainly crossed your mind at this point. Creating digital downloads for Etsy might seem daunting at first, but it's actually easier than you think. There are plenty of tools and software such as canvas, adobe photoshop, etc available on the internet to assist you. You can find tutorials and guides on how to use them on YouTube and their official websites to get started.
Furthermore, you can also consider hiring freelancers on sites like Upwork or Fiver to create digital downloads for your Etsy shop. This is a viable option, in case you have a concept for a digital product but lack the necessary skills for it. You can find talented personnel for all kinds of digital product ideas. Take, for instance, the case when you want a one-of-a-kind design developed for a website. Instead of trying to teach yourself how to do the job yourself, you can consider hiring a web designer or developer to perform the work for you.
The advantage of hiring expert individuals is that you can create quality products which is essential for brand reputation and long-term success of your business.
How to sell digital downloads on Etsy?
The process for selling digital products on Etsy is broken down into the following phases, which are listed in order from beginning to end.
#Step 1. Market Research
Your initial priority as an Etsy Seller should be to complete your research. If you are unaware of what is going on in the market, it would be impossible for you to discover an appealing target.
The goal here is to identify areas of the marketplace that are not being adequately met by existing offerings. You are able to accomplish this with the help of the following tools:
Google Trends: Google trend is a great place to begin your market research. You can look for all the relevant trends around your niche product and look at the growth over a long period of time.
Etsy search: Type the relevant keywords for your digital product in the Etsy search bar. It will automatically complete long-tail terms related to it that you can focus on. These autocomplete terms will tell you what the shoppers are looking for you. You can use this information to effectively target the shoppers' demands.
Social media: Social media platforms like Facebook, Instagram and Twitter are great sources to research your target audience. You can look for specific trends and audience engagement in relation to your products using the analytical data they provide.
Third-party Analytics tools: You can further analyze the search volume and research shoppers' trends by using one of the third-party analytical Tools that are available.
Use any or all of these research methods to learn as much as you can about your target market. Study your customer's purchasing trends, what specific features they are looking for, and the maximum amount they are prepared to spend for your product.
#Step 2. Create digital products: Use the insights you've gained from your research to design and create high-quality digital products. Make sure your finished products meet the needs and interests of your target audience. Next, decide the selling price for the digital download. You can calculate it by factoring in the total cost of producing the digital product plus the Etsy listing fees and your profit margins.
You should always look to offer competitive prices to gain an edge but avoid running your profit margins thin.
#Step 3. Set up an Etsy shop
Now it's time to create an account and set up a shop to start selling digital products on Etsy. The process is pretty straightforward.
Go to the Etsy website.
Click on "Open Your Etsy Shop" and create an account using your email address.
Next, you'll have to provide essential information including Shop name, language, and currency.
Keep your shop name professional because it will help you build a brand in the long run. You can use random Etsy store name generators if you haven't picked up a name yet.
Planning to expand your Etsy digital download business? Grow your online business with Sellbery multichannel selling
See the possibilities
#Step 4. List your products
Create new listings for your digital products on Etsy, including clear and detailed product descriptions, pricing information, and images. It is important to provide accurate information and don't miss lead the customers. You have to mention proper formats(JPG, PNG, PDF, etc) when selling digital downloads on Etsy. Upload high-quality images for your digital art so shoppers can see exactly what they are buying. You can also look at the Etsy top selling items and see what they are doing better and try to implement those changes in your product listings.
Additionally, you can use inventory management tools to automate your product listings, so you don't have to repeat the same process each time you create a new listing. One such tool is Sellbery, it acts as a central hub for all of the inventory, allowing you to create, update, and manage all of your digital product listings from one location.
To make the listing simpler, use Sellbery to migrate the products, and go multichannel selling
Get it free today
#Step 5. Optimize your shop
It is time to use all the keyword research you had done earlier. Optimize your Etsy shop for search engines by using relevant keywords in product titles, tags, and descriptions. Follow Etsy SEO tips, provide accurate information, use keywords organically and don't overuse them in the description.
Sellbery allows for creation and application of keywords in bulk to description, titles, tags to have more optimized product listings
See the possibilities
#Step 6. Market your products:
After your listings have been uploaded, it is time to promote them and let people know about them. You should aim to promote your digital products on Etsy and other marketing channels, such as social media, email, and blogs, to reach a wider audience. Etsy ads are a good place to start and get shoppers' eyes on the marketplace. But you should also advertise your digital products on other platforms as well. For instance, you can use Etsy Shopify integration to direct traffic to your shop. Additionally, you can ask your customers to leave reviews of your digital art on social media platforms such as Instagram or Facebook.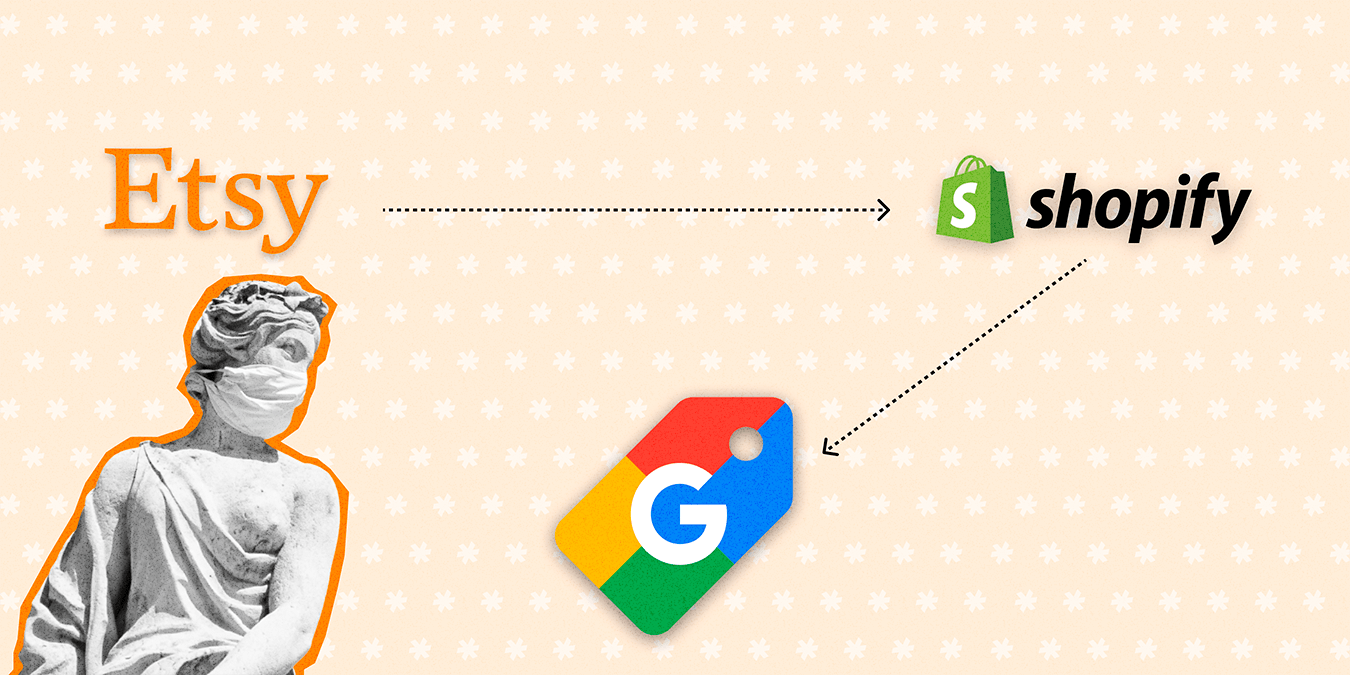 #Step 7. Provide excellent customer service: Quality customer service is a great way to earn positive reviews from customers. Shoppers read customer reviews before making a purchase. Make sure you upload accurate downloadable files on Etsy. You should always respond quickly to customer inquiries and offer support as needed to ensure a positive buying experience. This will help you boost your reputation and sell more digital downloads on Etsy.
#Step 8. Monitor your shop and products: Monitor your Etsy shop and products regularly to track sales and customer feedback. Analyze the performance and make adjustments as necessary. If customers are unhappy with some products, it's better to stop selling them and make adjustments accordingly.
How to sell PDFs on Etsy
You can sell PDfs on Etsy similarly to any other digital product. You just have to convert the contents into PDFs format using file conversion tools which readily are available online.
Tools of the trade for Etsy digital downloads?
Here are some essential tools for selling digital downloads on Etsy: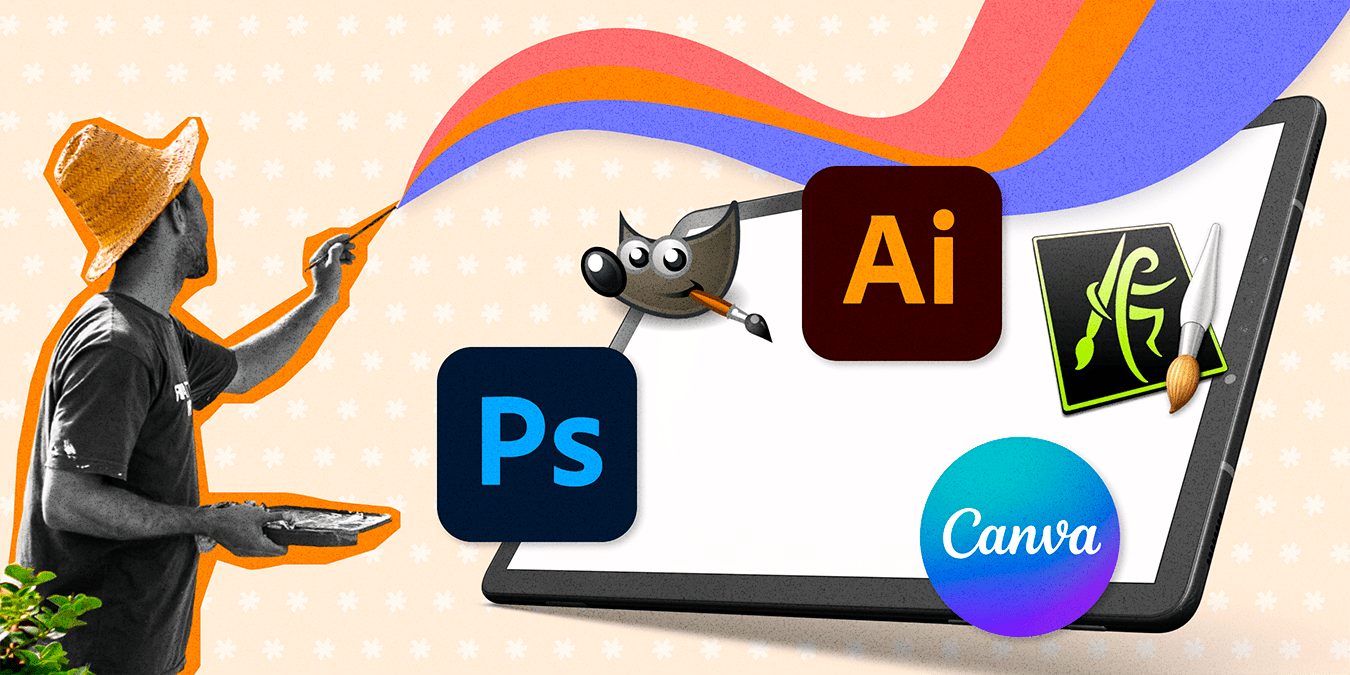 Graphic design software: Adobe Illustrator, Canva, or other graphic design software to create high-quality digital products.
Zip file compression software: WinZip, 7-Zip, or other zip file compression software to package your digital products for delivery.
File hosting and delivery service: Dropbox, Google Drive, or other file hosting and delivery services to securely deliver your digital products to customers.
Payment processing: PayPal, Stripe, or other payment processing services to securely accept payments for your digital products.
Customer relationship management (CRM) software: Trello, Airtable, or other CRM software to manage customer orders, deliveries, and support requests.
Marketing tools: Social media platforms, email marketing tools, or other marketing tools to promote your digital products and reach a wider audience.
Analytics tools: Google Analytics, Etsy Analytics, or other analytics tools to track your sales, website traffic, and customer behavior.
Office software: Microsoft Office, Google Workspace, or other office software to create and manage invoices, contracts, and other business-related documents.
Are digital downloads on Etsy worth selling?
To summarize, yes! They can be worth your while. Selling digital downloads on Etsy can be a convenient and profitable way to reach a large and diverse audience. You can sell your digital on Etsy without any upfront cost. However, selling digital prints on Etsy, requires an investment of a significant amount of time and effort in order to deliver the level of personalisation and customisation that your consumers need.
Additionally, you have to continue promoting your shop through social media and advertisement, and communicate directly and professionally with your customers to build a positive reputation.
Sellbery can help to grow and manage your online business. With its multichannel capabilities, you can manage all your online stores from a single location, allowing you to focus on creating digital art to sell on Etsy. With effort and dedication, selling digital downloads on Etsy can be a successful venture.


Also Popular on Sellbery