How to Sell on Shopify in 2020: Key Features, Challenges, and Cost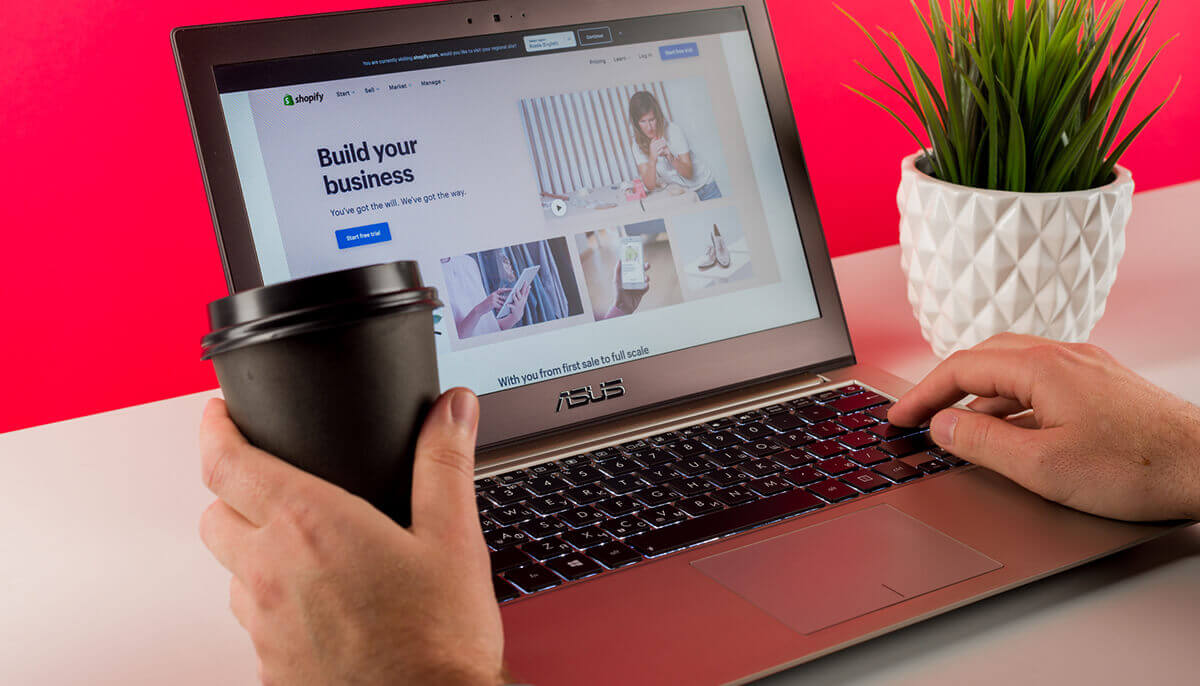 Shopify is the most recognized name in the market of eCommerce software solutions. The number of its sellers have surpassed 4.4 million and there is no sign that the growth will slow down in the near future. Shopify often becomes a starting point for newbie online sellers thanks to its ease of use and reasonable prices.
Shopify is the most recognized name in the market of eCommerce software solutions. The number of its sellers have surpassed 4.4 million and there is no sign that the growth will slow down in the near future. Shopify often becomes a starting point for newbie online sellers thanks to its ease of use and reasonable prices.
In view of this, you should really consider opening your store on this platform. We intend to provide you with insight into how to start a business on Shopify and prosper in online selling. Read the guide all the way through, and you will find all the benefits of being a Shopify seller.
How Do I Sell My Product on Shopify?
There is no doubt that Shopify is the leading brand on the market with all the competitors lagging behind. You have probably heard this name a time or two, as the reasons for its popularity are numerous and undeniable. If you are still not sure about Shopify, the following information will turn you to its side.
Shopify Overview
Shopify was founded in 2004 and during the years to follow has gained traction on the market of eCommerce solutions. The platform provides a set of tools that help sellers set up and run an online retailing. The software is a ready-to-use platform with all the features you may need – from hosting to order management, payment provider and everything else that you might be required to build a ready-to-sell online store.
Now Shopify is used across 175 countries. Up to date, Shopify has already processed over 1 billion orders and brought its merchants more than $55 billion.
The Main Reason for Choosing Shopify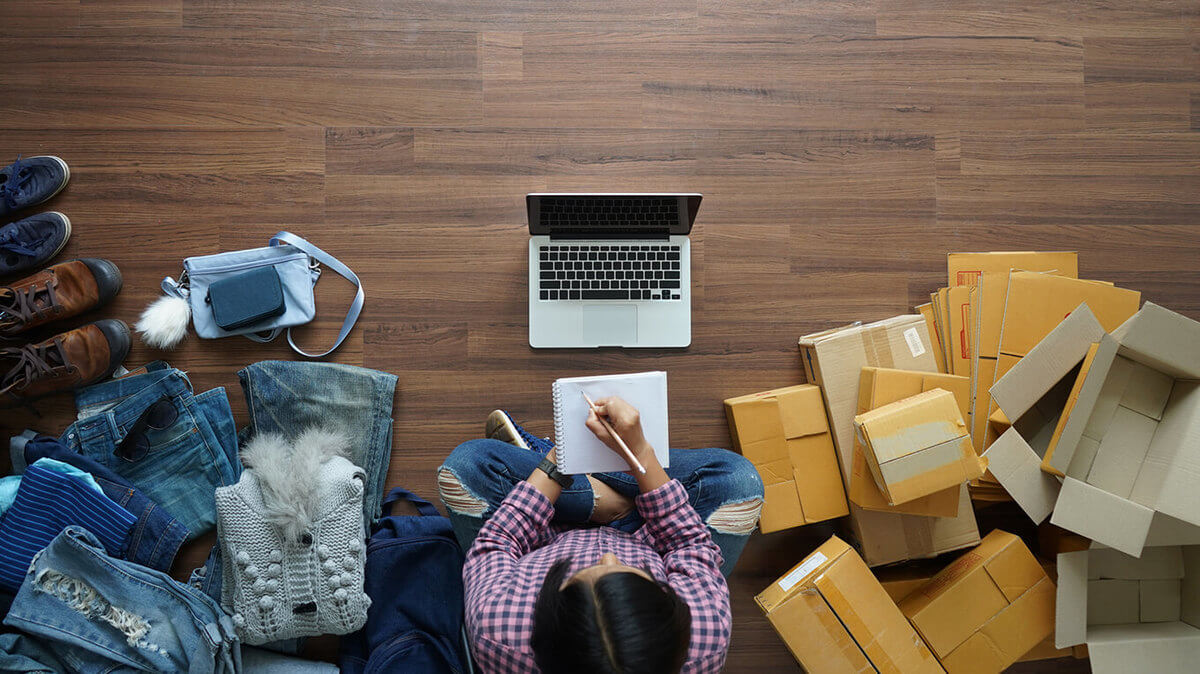 The popularity of Shopify is self-explanatory when you look at the provided features. Here are just a few reasons why you should consider it:
Inside Shopify, you can find all the instruments that your store may require. As a result, you do not have to spend time and find additional external plugins that will boost your sales activities.
If you are afraid that opening your own website would require coding skills, leave these doubts in the past. You can set up your store in a few hours without any technical experience.
You do not need to put in a lot of time and money to set up your store. It frees a lot of valuable time you can dedicate to other business operations.
Shopify Subscription Plans & Prices
Relatively low prices are another reason why Shopify is popular among online sellers. Depending on the size of the online business you are developing, you can choose one of the provided subscription plans:
Basic Shopify – costs $29/month and also entails a 2% transaction fee. It is a great option for those who are just exploring eCommerce.
Shopify is a subscription which costs $79/month. It should be a choice for those who want to develop business and require additional features, like professional analytics reports and gift cards. You will have to pay an extra 1% from sales as a transaction fee.
Advanced Shopify offers you access to all features and costs $299/month. It is great for already successful businesses which require advanced features for further business scaling. This plan has the lowest transaction fee of 0.5%.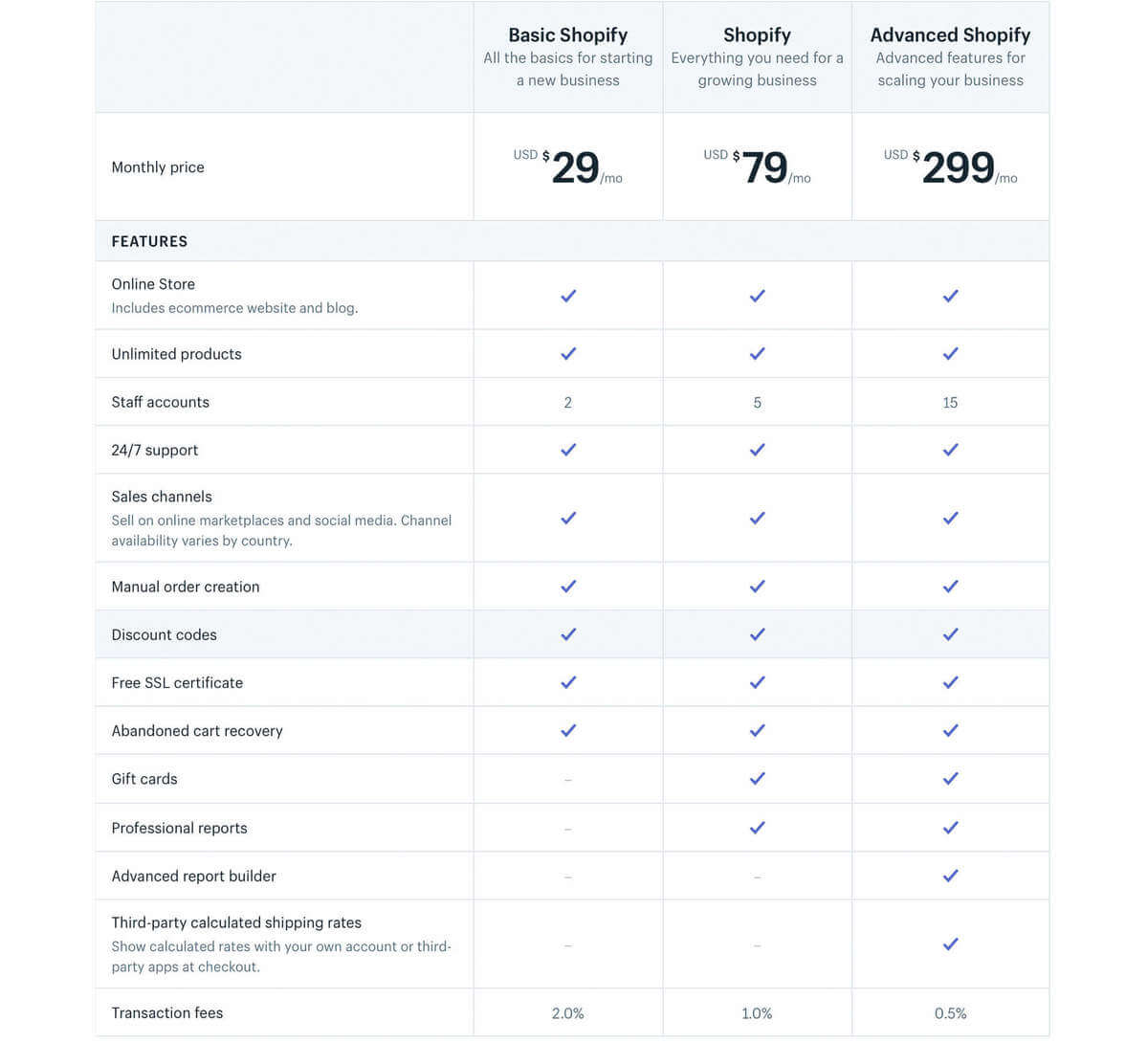 Additional Plans: Shopify Lite & Shopify Plus
In addition to the three already mentioned plans, Shopify also offers other solutions for those who work small and big – Shopify Lite and Shopify Plus. Let's review their differences:
Shopify Lite is designed to sell directly from your Facebook. It also allows you to chat with customers via Messenger. This plan will cost you as little as $9 per month.
Shopify Plus is a solution for high volume merchants who want to have a highly scalable solution. This plan has custom pricing which starts at $2,000 per month. This plan is designed for enterprise-level companies and offers such benefits as a 24-7 dedicated support team. It makes sense to choose this plan if your revenue is close to or has surpassed the mark of $1 million.
How Do I Start My Own Shopify Business?
Online merchants love Shopify for user-friendliness and all the tools that streamline online selling. As we have already mentioned, it is not difficult to make the first steps in eCommerce with Shopify.
Setting up a Shopify Account
The first step in your journey with Shopify is setting up your account. The platform is designed in such a way so that anyone could start a business with it and does not require coding experience.
Go to the official website and sign up with it. You can start with a free trial or go for a paid plan straight away – the choice is yours. You need to have your credit card credentials and your email address at hand for this task.
As you will be required to provide your store name, we recommend thinking about it upfront. Choose a descriptive one so that customers will be able to tell what you sell just looking at it. Also, it will become a part of your domain name, but you can change this configuration later. You need to choose a unique name since if a store with a name already exists, you will see the following error page: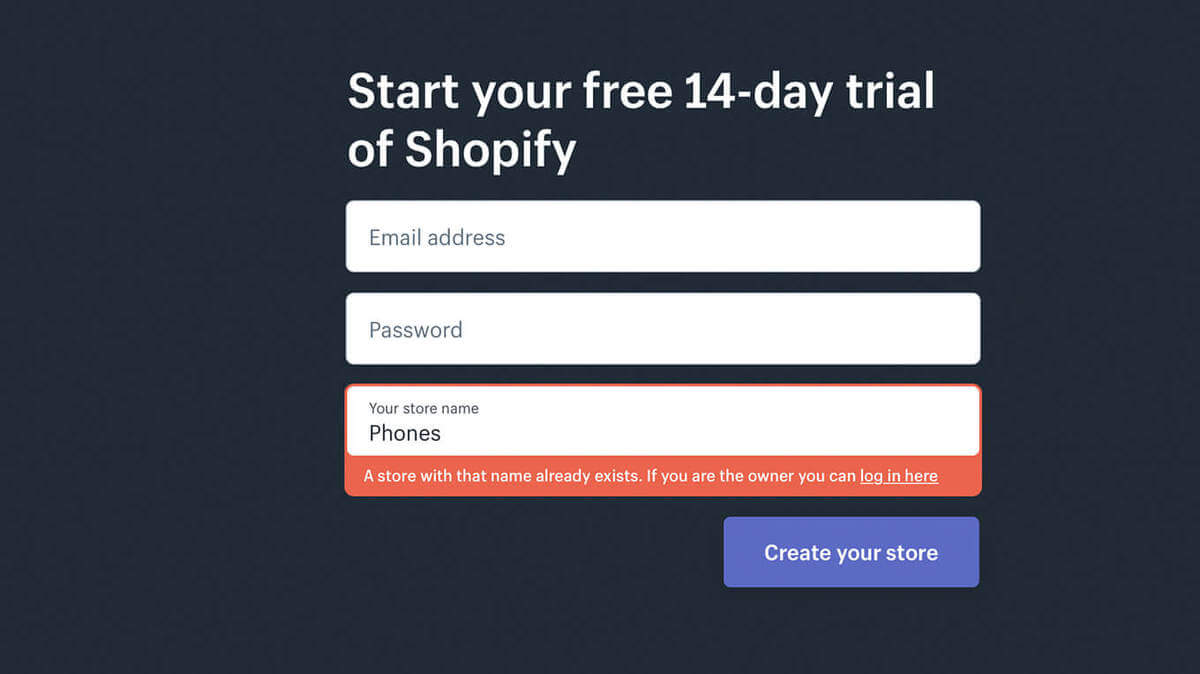 After having provided your store credentials, you will be asked a few questions. We recommend you to answer them as it will allow the platform to offer you the best course of action
After answering questions or skipping them, you will move to the last step in setting up your account where you will need to provide your business details. After that, you are ready to go.
Changing Domain Name
Shopify is configured in such a way that your store's name becomes a part of your domain name, e.g. youstorename.myshopify.com. If you are not happy with it and want to change it, you have such an option. You can either buy a custom domain from one of the domain providers or connect a domain name that you already own.
Here is our advice on how to choose the right domain name:
Short and easy to remember – the best practice is choosing a word that is less than 10 characters in length. This way, customers are more likely to remember it and recall in the future.
Avoid using punctuation and special symbols like a hyphen.
Include the main keyword in your domain name. It will give you a boost in SEO ranking and will provide users with an idea of what products you are selling even before they open your site.
Selecting a Store Theme
Another important aspect of Shopify is that you not only do not need the services of developers, but you also do not designer services. Shopify provides customers with a set of premade online stores templates.
A theme will become a visible shell of your online store and a part of your brand identity. You can either choose a free one or buy a customized theme. The paid themes give you more freedom and additional features so that your store will stand out.
Adding First Products
The next step in your journey with Shopify is adding products. There are a few ways to do that, so let's take a closer look at them:
Manual product uploading – this option is great for sellers with a few products and their variations. If you have up to 10-15 products, it will not take a lot of time uploading your products. You need to provide such details like products name, description, images, etc.
Import CSV files – this is a little better option for uploading products in bulk. However, you still need to add all product details to the file manually.
Use a multichannel listing platform – such a system streamlines the process of uploading products. Sellbery is an example of how you can make this process painless and fast. Use it to create product listing ones and synchronize them across multiple systems and marketplaces including Amazon, eBay, etc. You can also transfer them from your existing store or marketplace to your Shopify store.
Sellbery is a multichannel listing tool which automatically synchronizes product listings, order and inventory data between online stores on Shopify, Magento, Woocommerce and top marketplaces such as eBay, Amazon, Google ads. etc.
A Few Pro Tips for Improving Conversion Rate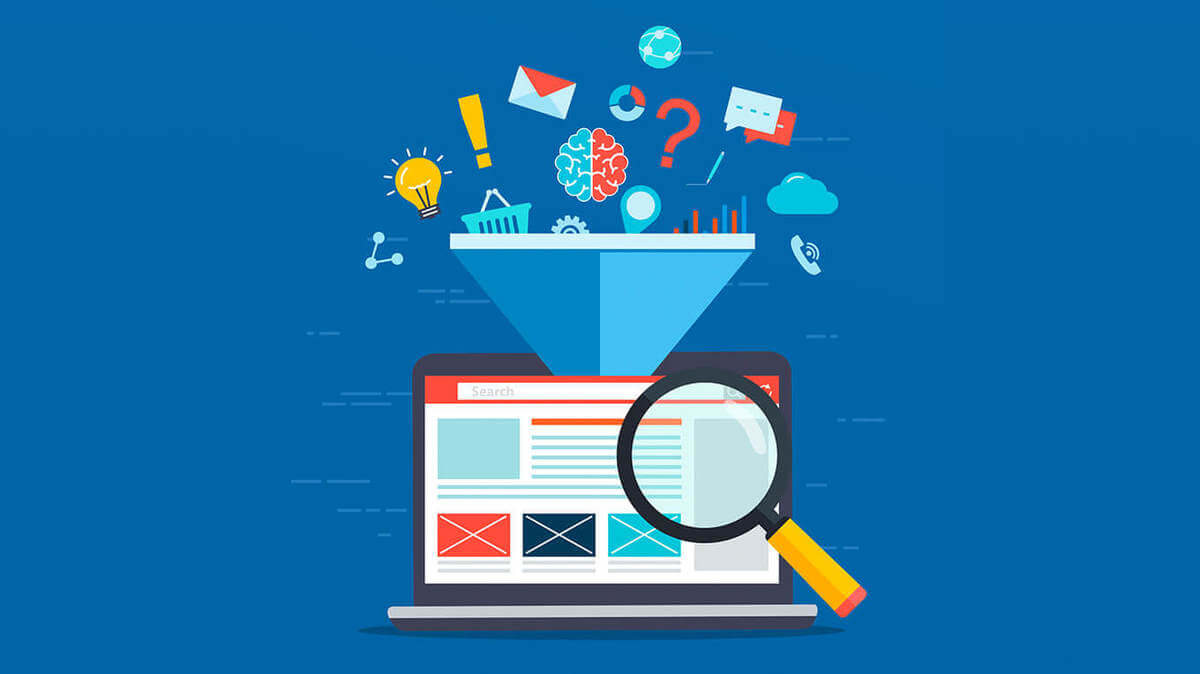 Creating an online store is a huge step. Whether it will lead you to success or not depends on you and your further actions. To stay at the top of eCommerce competitions, you have to be prepared to make additional efforts in promoting your business and bringing it to new heights. Here is how you can do it.
Advertise your Shopify store on social media. Today an average American has at least 7 social media profiles. It is where your potential customers spend most of their free time. So, place your products in front of them, use social media as advertising platforms. Social media will help increase your customer base and retain existing customers.
Optimize product pages. It is not enough to create a product page; you can also improve its conversion rake by implementing improvements. Provide the best-quality photos of that showcase products in detail, include keywords, by which customers may look for products, in product titles, and provide a full description of the items you sell.
Start working on your email list as soon as possible. Email marketing remains an essential part of your marketing activities. You can offer the visitors of your store to subscribe to updates and late on turning them into paying customers. Emails can also be used to remind existing customers about your store, notify them about upcoming sales and share discounts that will entice them to return to your store again.
How to Sell on Shopify: Time to Take Action
Shopify is the leading eCommerce platform for everyone – from experienced sellers to those who are just making the first steps on the market. You have come to the end of this guide with all the knowledge you might need to set up your store and make first sales.
Here is a quick tip that will help you become a successful seller. Be ready to embrace new techniques and solutions that will help you stay at the top of the competition.


Also Popular on Sellbery
Connect eBay With Your Online Store: Step-by-Step Guide
How can I integrate my store with eBay? It is a common question among online sellers who want to bring a new sales channel into play. Their interest in multichannel selling is easily explained as it helps to expand eCommerce operations, increase revenue, and put products where potential customers prefer to shop.