Shopify Product Listing & Order Synchronization
Created in 2004, this leading eCommerce online storefront website builder now hosts more than 600,000 stores.
Shopify is probably the easiest way for anybody to establish their own online store. It offers a variety of tools designed for helping with anything from window dressing to payment processing. And it is praised by the majority of merchants for its user-friendly interface and a very straightforward setup process.
Sellbery adds on to this experience by offering the simplest way to scale up your Shopify store sales and turn the company into a multichannel business.
Features
Easily reach your potential customers
Advertising on the Internet to attract customers to your website can cost a fortune. But with Sellbery it is easy to sell directly to an interested audience. The App can bulk-list all of your products on Amazon, eBay, Etsy or any other supported digital marketplace to reach potential customers.
Free up your time
The main purpose of Sellbery is to automate as many tedious processes involved in online selling as possible. Product uploads, description updates, and order synchronization are automated in the App. Sellbery does everything it can to free up your time and let you concentrate on growing your business.
Get rid of overselling
When you juggle thousands of products on multiple platforms, keeping track of your inventory can be troublesome. And customers ordering more items than you have in stock becomes a real problem. To solve it Sellbery changes inventory information across platforms automatically while synchronizing orders.
Easily sort your product listings
Sellbery allows you to download and sort products in Shopify by various parameters. This makes it easy to create special sales, seasonal product collections or group certain items together. And you can upload these custom collections to any marketplace automatically with Sellbery.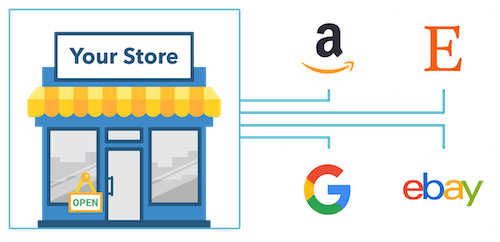 Want to Increase Profits?
Get 99 SKU Package for FREE and
start selling on the largest marketplaces in 50+ countries.
It's as easy as 1-2-3!
Try Free Plan