How to Sell on eBay: Extensive Guide on Becoming a Successful Seller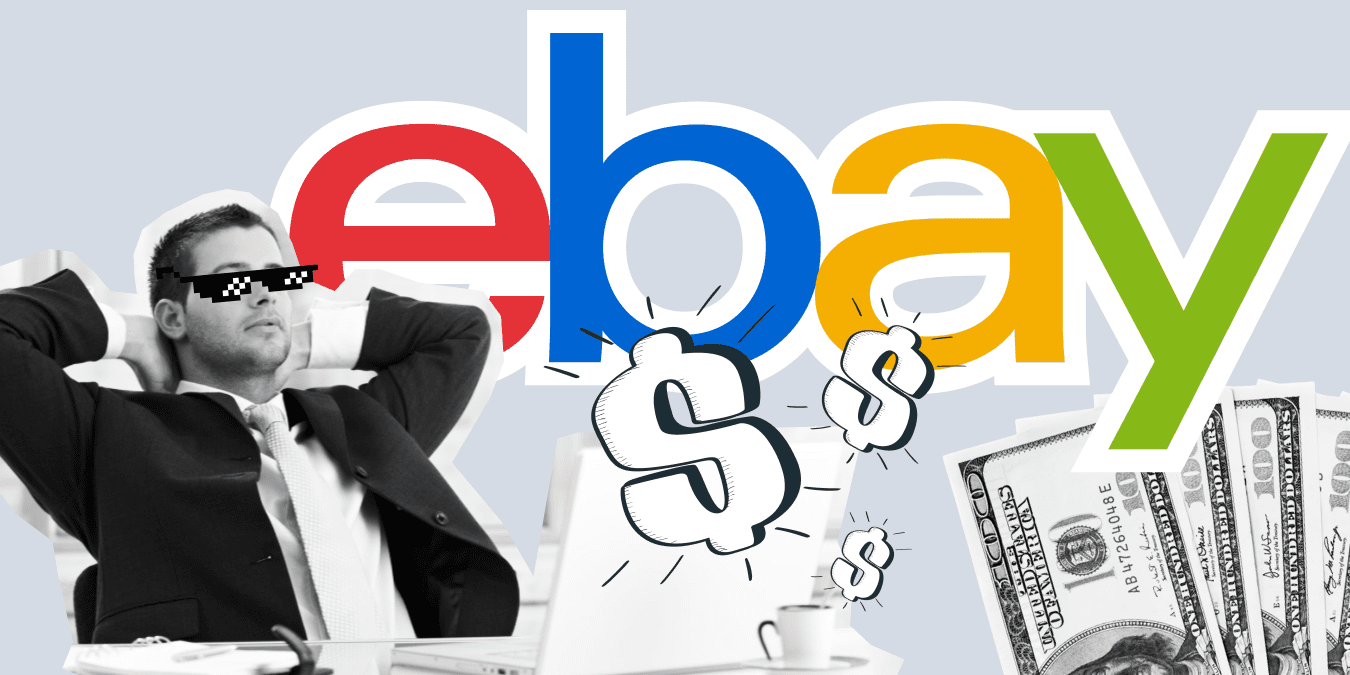 Including multichannel selling into your sales strategy is a logical step for any growing business. Marketplaces offer massive opportunities for those who are ready to explore new sales channels. eBay, one of the most-visited shopping platforms in the USA and UK, is a viable option as it allows selling almost anything.
Including multichannel selling into your sales strategy is a logical step for any growing business. Marketplaces offer massive opportunities for those who are ready to explore new sales channels. eBay, one of the most-visited shopping platforms in the USA and UK, is a viable option as it allows selling almost anything.
We have gathered the most important tips on how to become a successful eBay seller by utilizing the offered features to the utmost. You will learn how to sell more products, increase your revenue, and build a consistent presence on eBay.
How to Sell on eBay: Introduction to the Marketplace

eBay is a popular online shopping marketplace which was founded in 1995. It is popular among buyers for the provided auctions and customer-to-customer sales and among merchants for being an efficient place to sell products locally, nationally, and internationally.
Even if you have never used it before, you definitely heard its name before. That is because you can buy and sell nearly anything. eBay is capitalistic in nature, i.e. an item being sold on eBay is worth precisely what someone is million to pay for it.
For sellers, it means they can sell highly popular products for more. This advantage is especially beneficial for those who sell vintage items, collectibles, and any unusual things in short supply.
If you are still not sure whether eBay is worth exploring, here are the most vivid statistic that will remove any doubts from your decision making:
In 2018, the company's revenue accounted for 10.7 billion U.S. dollars
By the end of 2018, the number of active users on eBay surpassed the mark of 179 million
eBay has more than 133 million monthly visits.
If you want to know more about becoming a successful eBay seller, read on the article to learn all about the marketplace.
How to Sell on eBay for Beginners: Basic steps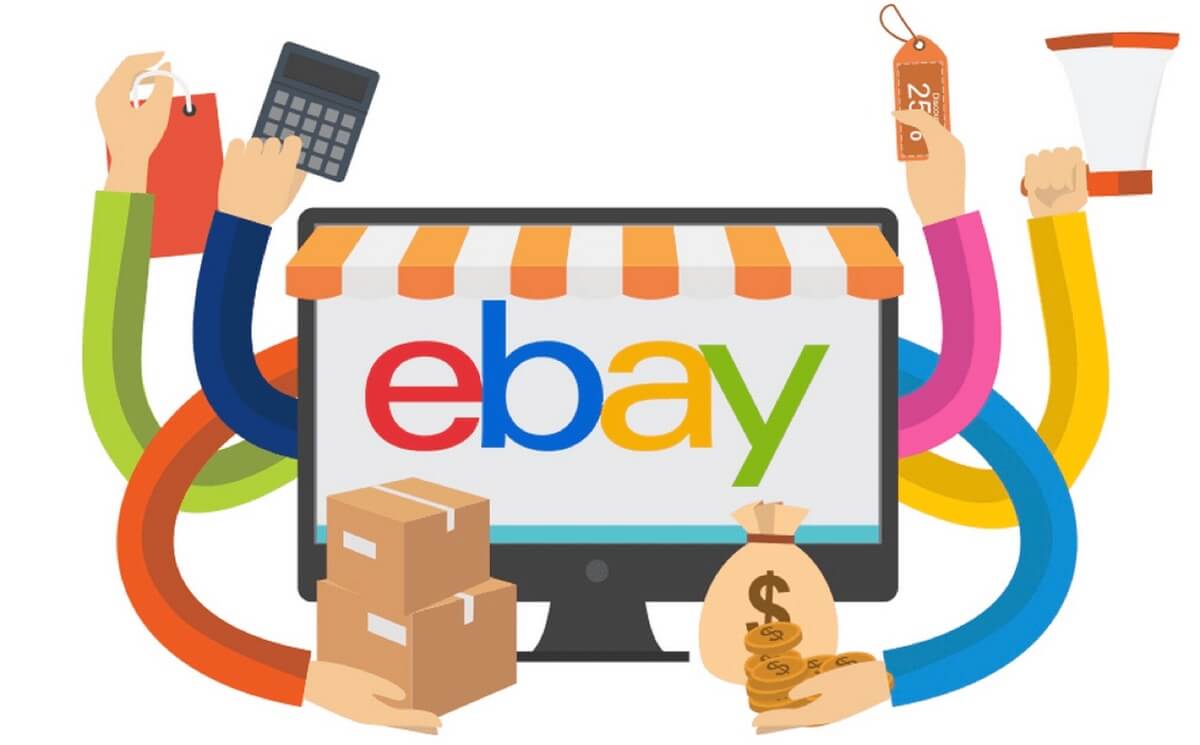 To become an eBay seller, let alone a successful eBay seller, you need to follow a few basic steps. But first things first, setting up your account is what you need to deal with at the very beginning of your journey. In this chapter, we will guide you through the signup process and its special aspects.
Signing up with eBay is the first thing you need to do. You can go two ways and either sell products with a personal account or register a business account.
eBay Personal Account vs Business Account
As eBay states, Personal accounts are for casual buying and selling on eBay. This type of account is for those who want to sell products they do not use anymore and unique items with limited propositions or to make purchases for personal needs.
Business eBay account is designed for sellers who:
Sell items that are bought for resale
Manufacture products and sell them to make a profit
Regularly sell a large number of goods
Buy item for their businesses
A business account on eBay provides useful tools to help you grow your business. You can also add an account manager to help manage your account and sales on eBay. This feature is exclusive to Business accounts.
It is a good practice to create a Business account for your e-commerce operations.
How to Sell Stuff on eBay: Setting up Your Business Account
There are two ways you can create a business account, either by upgrading a Personal account or by registering a Business account right away.
Steps to follow if you want to upgrade your personal account:
After logging into your personal account click the

Account

tab. On the left side of the

My eBay Views

click

Personal Information.

After moving the Account Information section find

Account type

and click

Edit

.

On the page

Change Account Type

select

Business Account

and click

Confirm

.
You will be redirected to another page. You need to enter all your business details such as name, contact information, etc.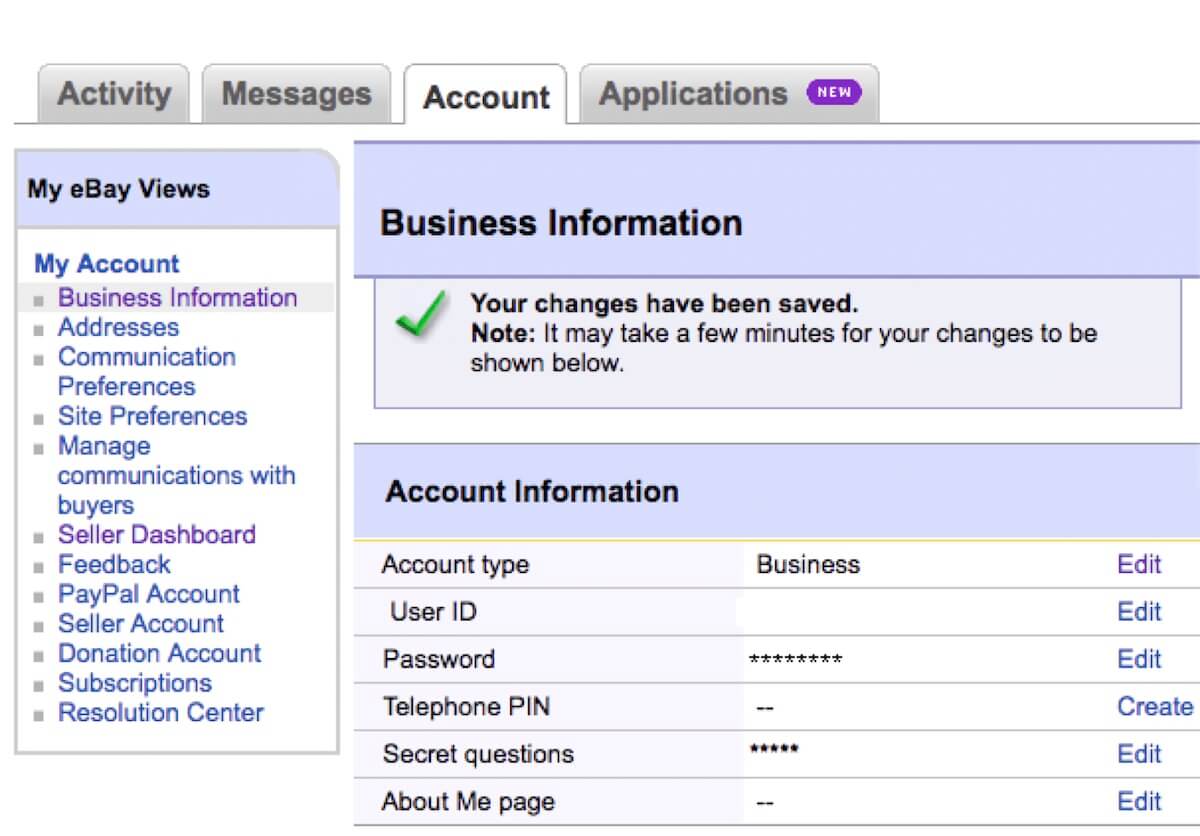 After having accomplished all the stages, you are ready to sell products.
Here is what you need to create a new Business account:
Go to eBay and in the upper right corner click My eBay. You will be redirected to the webpage where you can log in into an existing account or create a new one.
Click

Create an account

and choose on the next page

Create a business account.

You will need to provide your company's detail like legal business name, email, and phone number.
After you register with eBay, you are ready to start your road of selling on the marketplace.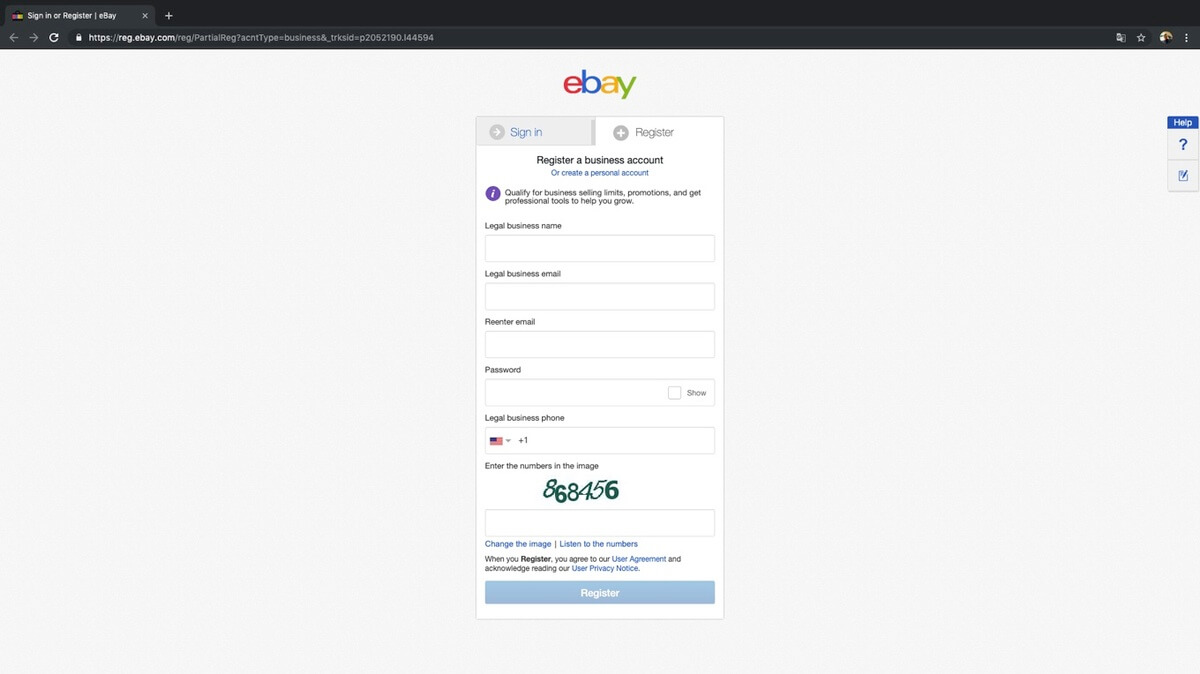 How to Sell Things on eBay: Register Your Store
Until recently there was a common practice to sell products on eBay without registering an eBay store. But the situation has changed and now many see it not as an additional feature but a must-to-have addition to Business profile on eBay.
You can open a store on eBay only after you create an eBay account. Prior to opening a store, it is better to sell a few items as an individual as the marketplace has some restrictions for new members and they might interfere with your sales strategy.
Consider creating your store after 3-6 months of experience on the eBay platform. This will allow you to learn the buying and selling processes specific to the marketplace, receive positive feedback from buyers, and lift restrictions applied to new sellers.
Here are a few things you need to pay attention too:
Make sure your store is worth opening. You need to make enough money and have at least 24 active listings on eBay. Be prepared to dedicate time to manage that level of inventory. You can also use Sellbery, our listing management platform that will help you control products listings, orders, inventory, and price across marketplaces.
Forever Free 99 SKU Plan — the best offer on the market.
Pain-free integrations with the largest marketplaces to sell your products in 50+ countries.
Free & Easy connection to Google Merchant for an unlimited product upload to start Google Smart Shopping Campaigns.
Set up your payment method as eBay automatically charges a fee for every item sold.
The next step is choosing the right subscription. eBay offers three options with different fees and features: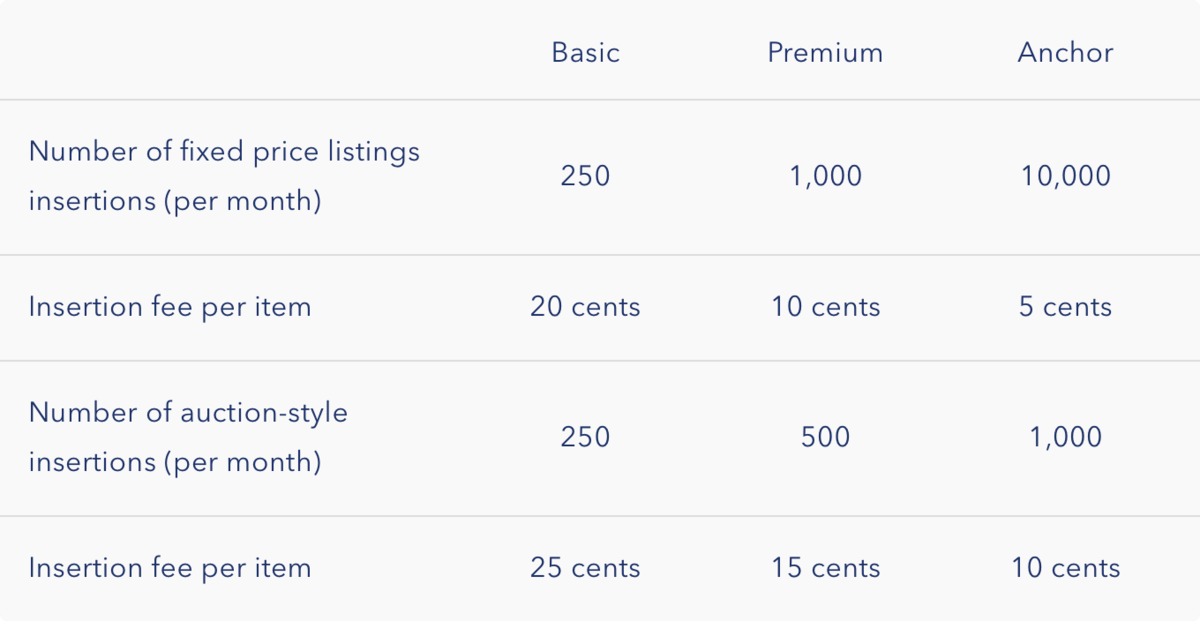 The next step is very important in the long-term outlook. You need to choose the name for your store. Choose carefully as it will become a part of your store's URL.
After you agree to the terms of use by eBay, you can move on to two of the most important settings in any eBay store – product categories and email list for newsletters.
eBay lets you divide products into categories which makes it easier for buyers to find your products and for you to manage listings.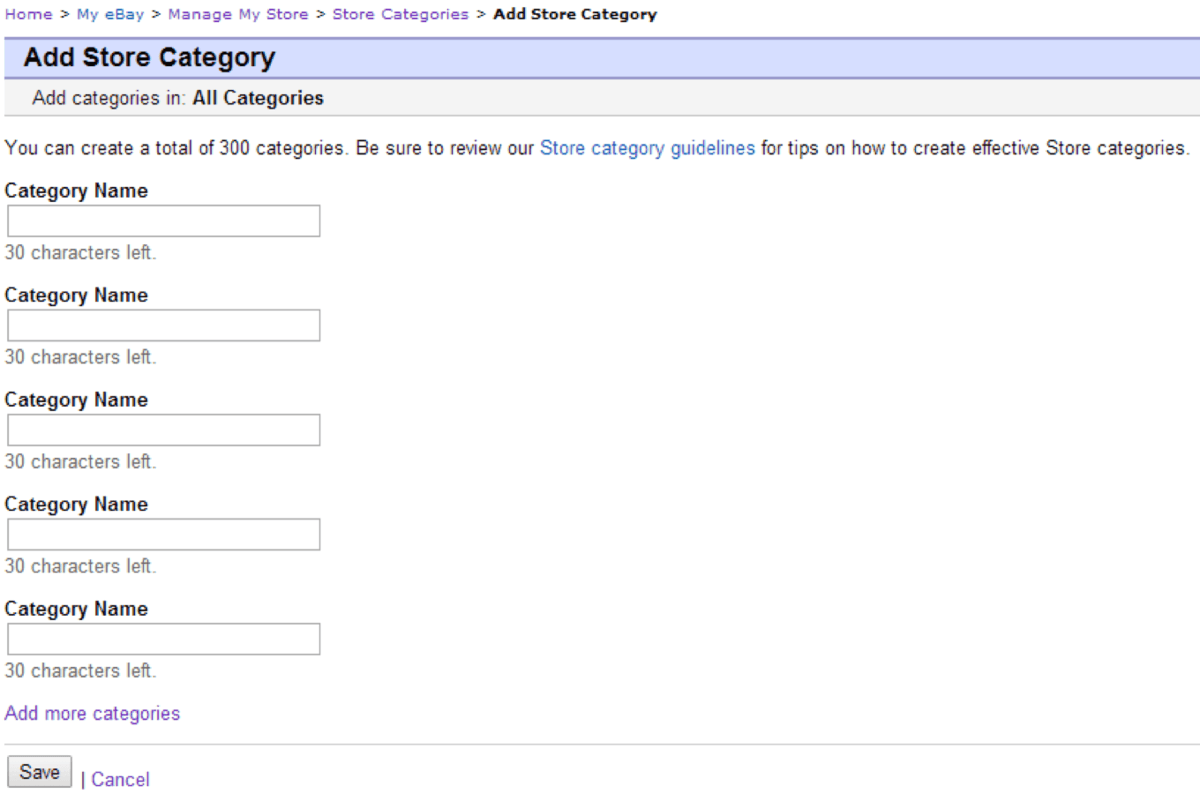 Email list for newsletters
A list of your shoppers is vital if you want to create and support a long-term relationship with your customers as it allows generating more sales. eBay provides you with the necessary tool for email marketing. Shoppers can add your store in the list of favored merchants or choose the option of signing up for your store's newsletter.
Email newsletter may be used to notify customers about discounts and sales, inform them about new items you have added to your store, or just to send emails and remind them that your store is still running.
How to Sell Stuff on eBay: Tips for Supreme Growth
When you have your account up and ready it is time to sell your products. But how can you make them more visible among competitors and maximize sales? We've gathered best-performing tips on how to achieve the highest results with little investment.
1. Show your trustworthiness
How do buyers choose between the same products being sold by different merchants? They choose stores they can trust. On eBay, you can show that you are a trustworthy seller by gaining positive feedback from customers. The more positive reviews you get, the more credibility you gain in the eyes of potential customers and the marketplace.
The best way of getting positive feedback is to provide customer experience of an exceptional level. Another working tactic is to sell small and inexpensive items as high inventory turn around in a short time increases your chances of customers commenting on your services in a positive way.
2. Make attractive products photos
Photos are the first thing customers pay attention to when searching for a product. High-quality product images is a sure way to increase conversions. Use the following tactics to make them more attractive:
Make your photos look like professional ones
Make product photos from different angles and with great detail
Take pictures of your products in real-life circumstances. i.e. if you sell clothes, showcase how it would look like on a person.
3. Investigate selling limits
eBay love limits and it loves setting limits for newbie sellers even more. They may easily become a stumbling stone in your eBay sales strategy. By setting limitations, eBay encourages sellers to create and support a positive history of operations on the platform. New sellers have to deal with account, categories, and items limits. You need to know what these selling limits are before you working on the marketplace.
4. Be careful with high-risk products
Smartphone, designer handbags, clothing, and shores, electronic, and event tickets are considered to be products of high risk. These often become a part of fraudulent actions and eBay keeps a track of sellers who deal with them. However, if you want to sell them you need to become a seller with a crystal-clear reputation first.
Remember, if you sell a designer product on eBay and it turns out to be fake, you will not be given a second chance. The platform suspends such sellers on the first instance.
5. Choose between auction and fixed price
Very often eBay sellers, especially newbie ones, cannot decide between auction and fixed price? There is no clear-cut answer as it depends on the type of product you sell.
Auction may seem more attractive as it promises to bring higher revenue. However, it is possible only with the right starting price. eBay auctions have changed since the time they were launched. Be sure to set the starting price acceptable as there is a real chance of getting only one bid. The last thing you want as an e-commerce business owner is to sell a product for less than its purchase value.
Fixed-price items may take longer to be sold as you need to wait for the right buyer. But they are worth it.
6. Decide on free shipping
Free shipping is the most disputable topic among online sellers. There is no straight-forward answer as it depends on the circumstances. In most cases, free shipping is not really free. E-commerce businesses increase prices by the fee of shipping, otherwise, it may disrupt the flow of income.
Shipping fee for large and heavy objects are difficult to predict. Avoid offering such products with free shipping as your revenue may take a toll if your customers are far away geographically or additional shipping fee is charged. In case you have not included this sum into the product price, you will need to pay out of your pocket.
7. Learn how to package products
If you think that the products packaging process is easy as pie, you have never had to deal with bulky items of unusual forms. Your task as a seller is not only to sell products, but also to deliver them to your customer up and running. For that, you need to package them properly and choose the right packaging materials each and every time you prepare a product for shipping.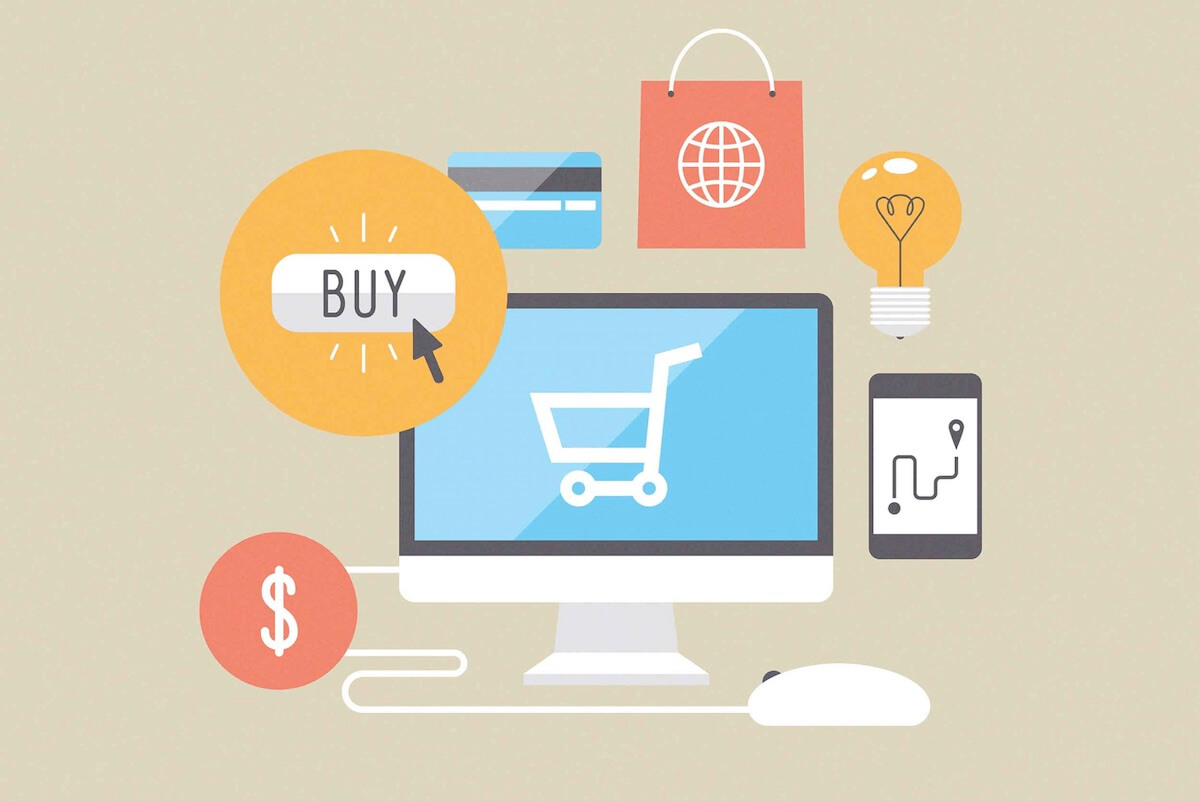 8. Offer return options
By offering purchases return option, you increase your trustworthiness as an eBay seller. If your products are of high quality, you will not have to deal with a lot of returns. Moreover, many requested returns are closed by eBay as the vast majority of buyers fail to shit purchases back.
Writer a clear Return Policy and indicate your own rules. Indicate in your rules that only items in original condition and packaging can be returned to avoid people sending you products that they've used and decided to return for whatever reason.
9. Recover fees for unfinalized transactions
When selling auction products, eBay charges you a final value fee, even before the buyers pay its price. In some cases, customers change their decisions and do not pay for the item they bid on.
eBay provides you with the ability to reimburse such fees. You can do it manually or just by turning on the "Unpaid Item Assistant" to automatically get your money back.
10. Sign up for eBay free listings alerts
As you already know, eBay provides you with a limited number of free listings. You do not have to pay a fee for adding them. But did you know that over some periods eBay offers free listings without limitations? This means you can add as many products as you want without paying for them.
If you have a product that you can allow yourself to keep in stock and list on eBay later, wait for the announcement of such deals. You can sign up for eBay free listings alerts not to lose your chance of saving money.
11. Qualify for lower fees
High rates not only place your products higher in search results and make them more visible, but it also gives you a discount for final value fees (not including shipping costs). You may save a whopping 10% which in the long-term perspective will help you save money and improve profit margins.
12. Get merchant status with PayPal
Even though eBay is no longer a part of the PayPal company, this payment system still remains an integral part of the marketplace. Many users prefer to pay for products with PayPal and you pay a fee for every transaction. Those who receive $3,000+ dollars a month through the system pay 30 cents per transaction and additional 2,9% of the transaction amount.
By applying for merchant status, you will be able to decrease the fee to 2.5%, 2.2% or even to 1.9%!
To do this, follow the next steps:
1. After logging into PayPal, go to Profile and Settings.
2. Click My money and then select Merchant fees.
3. Click Apply now and fill out the provided form.
If you qualify for the program, you will save on fees for every product sold and paid for with PayPal.
13. Master bulk listing
When dealing with online selling, it is essential to make all processes time and cost-efficient. Mastering bulk listing is one of the ways to spend less time on routine tasks. Sellbery may become your competitive advantage as mastering bulk listing will help you to further expand your business. Instead of adding your products manually, you can transfer them from an online store or other marketplaces.
Sellbery is a listing tool that helps with pain-free integrations with the largest eCommerce platforms and sales channels to market your products in 50+ countries
How to Sell on eBay: Bringing Sales to the Next Level
Whether you are adding a new sales channel to your existing business or just want to use a single marketplace, eBay is your go-to resource. With millions of users all over the world, this marketplaces promises to present your products to a huge audience, boost sales, and drive up profits.


Also Popular on Sellbery
How to Increase eBay Sales?
eBay is one of the oldest and most established marketplaces out there. If the first quarter of 2019, the marketplace reached 180 million active users. eBay enables merchants to increase customer outreach while selling internationally.