Amazon vs. eBay: Where Should I Sell My Product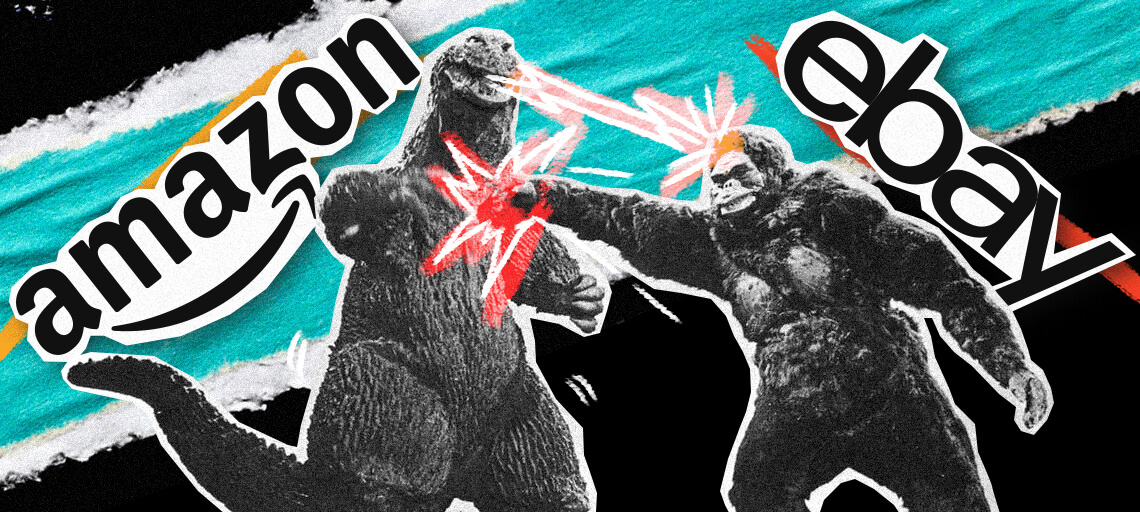 Amazon or eBay – which choice makes more sense for your selling business? A thorough comparison of the platforms will help you find out.
Amazon or eBay – which choice makes more sense for your selling business? A thorough comparison of the platforms will help you find out.
Do you want to join the club of online businesses but don't know where to start? You're at the right place!
Online retail provides amazing opportunities to reach a huge crowd and carve out your niche. In fact, retail ecommerce worldwide reached 4.2 trillion dollars in 2020 and its share of global sales is projected to go up to 21.8 percent by 2024.
Of course, building an ecommerce business and making a living is not that easy. To be a successful online retailer, you'll have to make a couple of strategic decisions. Choosing the right platform to sell on is one of them.
Amazon and eBay are two of the biggest marketplaces you should definitely look into. But how do they compare? Which one's better? Which one's cheaper? Today, we'll try to give you a detailed comparison to make the decision about selling on Amazon vs. eBay a little bit easier. Let's check out the essentials.
Amazon
eBay
Pros

Wide reach
International sales
Many advertising tools
Fulfillment options

Less competition
International sales
More product categories

Cons

High competition
Fewer categories
Additional fees

No fulfillment options
Smaller reach
Higher selling fees
The Market Size: How Do eBay and Amazon Match Up
Selling is all about reaching the right people and convincing them you're their guy or gal. This is why you need to understand the market share and demographic profile of a digital platform that you plan to employ.
Amazon's annual revenue as of 2021 is 870.7 billion US dollars. In comparison, eBay's is 10.27 billion dollars. Hence, if you're looking for a bigger market, there's one obvious winner.
When examining potential clients, however, you shouldn't just look at market size and take into account the latest statistics on where shoppers usually begin searching for the desired products.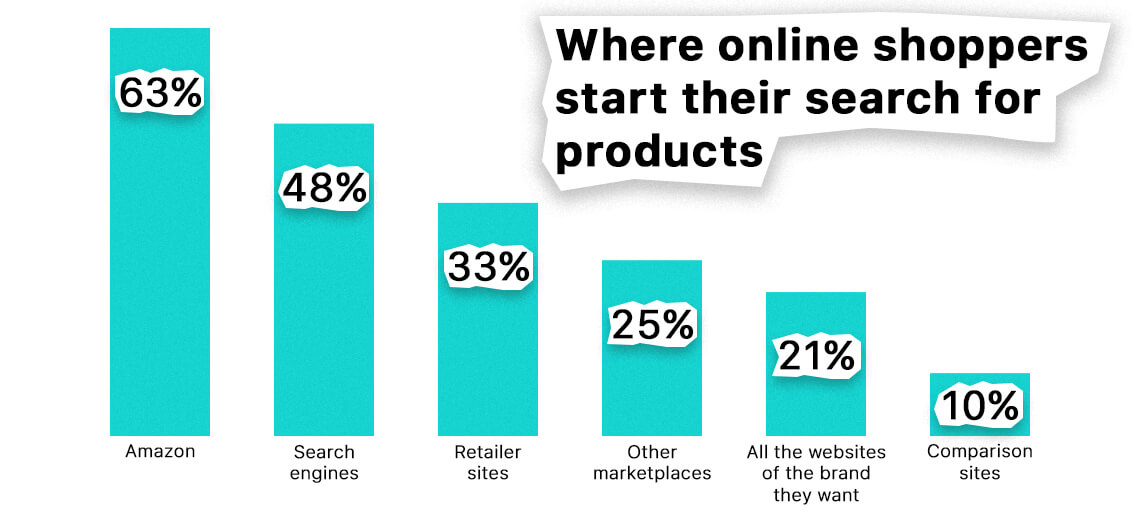 Amazon is very well known for its customer-centric approach. This means that building your reputation and winning the trust of potential clients is easier on Amazon, especially if you're committed to product quality and exceptional customer service.
Amazon's customer support is stellar – there are guarantees, return policies, customer reviews and many other perks for clients to enjoy. eBay gives the seller more freedom but creates some difficulties for buyers who'd like to return products or get a refund.
Winner: Amazon, because it has a bigger audience, and it provides easier opportunities to build trust and ensure client satisfaction.
Types of Products to Be Selling on Amazon vs. eBay
Next comes the product range sellers can present on either platform. The good news is that both Amazon and eBay offer a lot of freedom when it comes to selling a huge range of stuff. It doesn't matter if you'd like to feature auto parts or organic cosmetics you've concocted via special recipes – you can do both.
If you haven't made up your mind about what to sell, you may want to explore some of the most popular product categories on Amazon and eBay.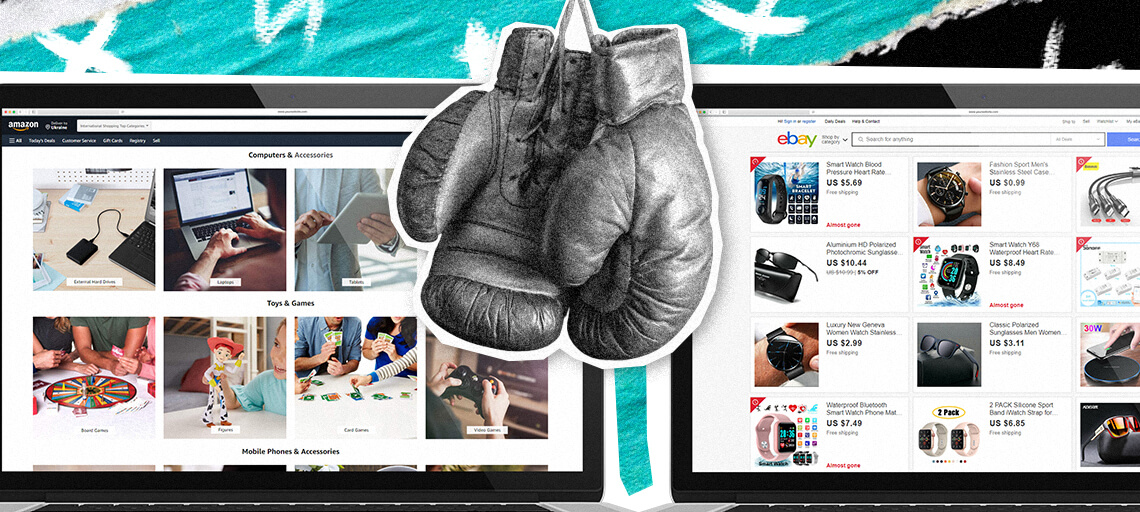 Looking at best-sellers and featured products can give you a pretty good idea about what's hot and what potential buyers are seeking.
Statistics right now suggest that some of the top product categories on Amazon include:
toys and games,
electronics and gadgets,
books and ebooks,
clothing,
jewelry,
home accessories.
In comparison, eBay sellers rock categories like:
electronics,
collectibles,
clothes and fashion,
lifestyle,
home and garden.
These lists don't mean you can't sell other stuff on eBay or Amazon. In fact, seeking out a smaller niche that isn't over-populated yet could be a good approach towards business establishment. The examples listed above just illustrate what buyers are currently most interested in. Both Amazon and eBay provide excellent opportunities to sell a diversified range of products.
Winner: eBay, as it offers more freedom!
Amazon vs eBay Selling Fees
When assessing selling on Amazon vs. eBay, we also have to talk about fees and charges.
Amazon Seller Fees
The type of product being sold and the fulfillment method will determine the seller fees on Amazon. The good news is that Amazon gives you access to a convenient selling calculator you can use to determine what percentage of the product price will go to the platform itself.
The expenses you have to account for include a seller plan (either per item or per month, depending on the subscription you choose), referral fees, fulfillment fees and potential other costs like long-term storage fees.
Ebay Seller Fees
Here's a detailed guide on eBay seller fees that shed light on the costs.
The charges will once again vary on the basis of product category. Depending on the sales volume and the price of an individual item, the fee could either be a percentage of the price or a fixed amount. eBay gives you a very thorough chart you can use to calculate charges and costs within the sector you're interested in.
Winner: eBay, because the seller fees might just be lower.
Looking for an easy start with the Amazon platform as a seller?
Check out

Fulfillment Essentials
This one's fairly easy to discuss due to the fact that eBay doesn't give you a ton of freedom as far as fulfillment goes.
In other words, you have to pack and ship items yourself.
Some sellers really enjoy this opportunity because it ensures autonomy and freedom from corporate models. If you'd like to get a bit of assistance with fulfillment, however, Amazon may be a better choice for you.
Amazon gives you two choices:
Fulfillment by merchant (FBM): in essence, this is the option you have with eBay. You're the sole entity responsible for how fulfilment is going to be handled. There aren't any differences between eBay fulfillment and the FBM methodology put together by Amazon. Anyone looking for self-sufficiency can count on both.
Fulfillment by Amazon (FBA): this is the perk that really sets Amazon apart from other ecommerce platforms out there. In this case, Amazon offers a lot of assistance in terms of picking up items, storing them and shipping them to clients whenever you have an order. Returns and refunds are also handled by the Amazon team, which is a nice added perk. Obviously, the fees are higher when you choose FBA as your fulfillment method but you could benefit from more affordable warehousing and shipping than in the case of handling such processes on your own.
Winner: Amazon, because it can take the burden of fulfillment off your shoulders!
Advertising, Marketing and Outreach Tools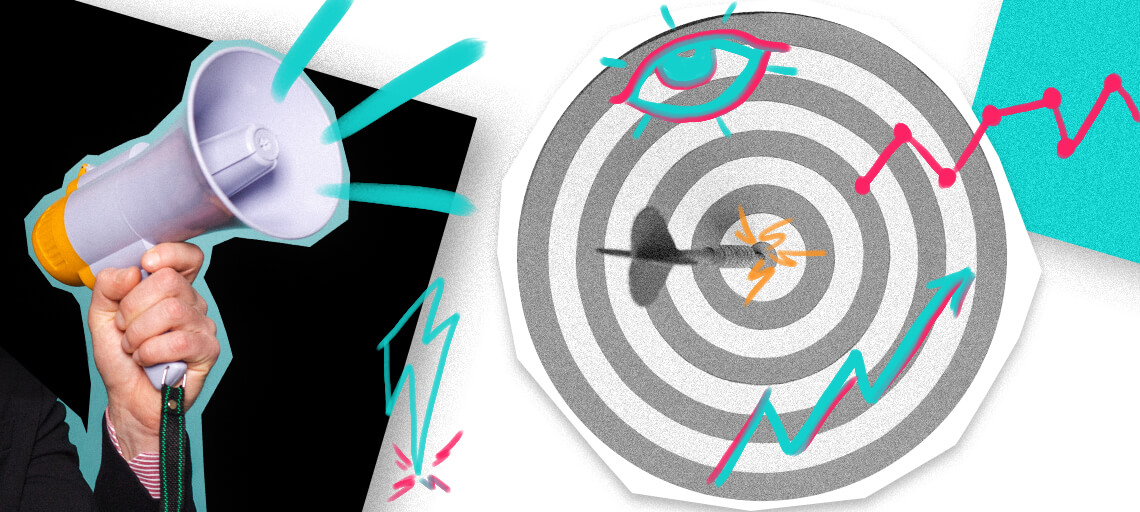 When selling, you also have to think about promotion. Because after all, you could have the best product on the face of the planet but you're not going to accomplish anything if people don't know about it.
Amazon Advertising Methods
To reach more people, you can try Amazon Sponsored Products. The program allows your products to reach the first page for certain keywords that buyers are interested in. This is a pay per click (PPC) opportunity, which means you spend money every time someone generates a click via a relevant keyword.
But needless to say, if you're serious, you're not going to rely solely on Amazon promotion to reach customers. Social media marketing, search engine optimization and even email outreach will be required to get people seeing your products.
Sure, you can get started by counting solely on the Amazon marketing tools. Such an approach, however, isn't optimal and it will deprive you of huge opportunities to ensure the long-term sustainability of your business.
eBay Advertising Methods
eBay Promoted Listings are the answer to Amazon Sponsored Products. The program works pretty much in the same way, allowing you to surpass the competition and boost your visibility.
You have to bid (PPC model, once again) in order to have your promoted listings reaching the right demographic.
Since eBay is a less competitive platform than Amazon, however, you will potentially get a bigger bang for your buck by advertising here.
Winner: Amazon, because there are more advertising tools.
Amazon vs eBay Revenue
Both platforms offer their sellers an opportunity to sell products at a fixed price. That takes away the element of surprise that you have with auctions. Amazon and eBay both have fees that cannot be avoided. As such, eBay has a selling fee and Amazon takes commission from each purchase. In addition to that, when you sell through eBay, you will also be charged a payment processing fee by PayPal.
When you know what the fees will amount to, you can calculate how to price your product to be profitable on each platform. You should also take into account the cost of your product, marketing, and shipping. Lucky for Amazon sellers, the platform can help you with the shipping and advertising using its abundance of tools.
eBay's auction feature can make you very successful, or it can be a hot mess. You can only let the buyers decide how much they're going to pay when you know your product is in high demand. You may hit a jackpot! In other cases, go with a fixed price; you'll be guaranteed to get exactly the amount you expected.
Winner: Amazon, in most cases, unless you get lucky with an auction!
Seller Competition
Amazon is a massive platform for international sales. The online retailer has made its way to almost every household in the west. That's because Amazon is a brand in itself, with popular products like the Echo speaker receiving huge commercial success. When you sell on Amazon, you compete not only against other sellers but against Amazon itself.
Not to mention, the marketplace is flooded with sellers that offer all kinds of products. Regardless of how unique your product is, you will probably find a dozen sellers that will compete with you in quality and/or price.
eBay may be a little bit less competitive just because it doesn't have its own brand and products. In the case of eBay, you would only be competing against other sellers. Keep in mind that it is still an international platform with thousands of sellers that will try to steal your business.
Winner: eBay, because you won't have to compete against the brand!
UX Interface
No matter if you're a beginner or an experienced seller, you will probably enjoy a platform that's easy to use. eBay and Amazon have significant differences in this area.
eBay offers a very simple sign-up process. It will only take you a few minutes to register, upload your products, and start selling. Once you start selling, however, it gets a little more complex. The money you earn has to go through PayPal, which creates additional fees for you to account for.
Amazon has the advantage of sending your earnings straight to your bank account. It is, however, more difficult to register on the platform. Once you've signed up, it's all smooth sailing!
Winner: eBay, because it's easier to grasp if you're a beginner!
Support
Amazon's FBA (Fulfillment by Amazon) program offers you full protection when it comes to customer support. The platform will communicate to customers about any orders on your behalf, so you won't have to move a finger. Of course, that comes at a price. You'll have to pay FBA fees for Amazon taking care of your customer inquiries.
eBay has tools that increase transparency in the customer journey. The platform also ensures that each sale is fair from both sides. As a bonus, you don't need to pay extra for that!
Winner: eBay, because it's free!
Payment Methods
Amazon gives its customers a variety of options when it comes to paying. Amazon accepts Apple Pay and other digital wallets, as well as credit and debit card payments. Once the transaction is completed, the platform takes 2 weeks to process it and send it directly to your bank account. How convenient!
eBay works in the same way from the customer side. Buyers can pay by card, use cards in their digital wallet, or make a transaction through PayPal. Regardless of the payment method chosen by the buyer, the seller receives money in their PayPal account. That leads to some transaction fees and the extra work of transferring the money to your bank account, which is not ideal.
Winner: Amazon, because you'll have your money right where you can see it!
Start multichannel selling from different eCommerce platforms
Learn More

Pros and Cons Selling on eBay: Why is Ebay Better Than Amazon?
| | |
| --- | --- |
| Pros | Cons |
| Beginner friendly – easy to register and use. | Payments only through PayPal – additional fees. |
| Wide selection of categories – sell almost anything, even used items. | Smaller reach. |
| Great customer support and fair policies. | Have to do your own marketing. |
| Less competition. | |
Pros and Cons Selling on Amazon: Why is Amazon Better Than eBay?
| | |
| --- | --- |
| Pros | Cons |
| Higher conversion rates. | Tough competition from other sellers and the Amazon brand. |
| Lower fees. | Takes a while to register and get your store up. |
| Ease of use. | |
| Wide selection of marketing and SEO tools – good for boosting sales and increasing traffic. | |
| International reach. | |
| Customer reviews can boost your store in the search rankings. | |
Which Criteria to Consider, and When?
The reason it's so difficult to say which platform is better is because every online business has its own needs. Don't look at your competitors for advice. Instead, consider your own situation.
Let's start with the market size. Though market size is important, you are not expected to appeal to everyone. In fact, your products should target a specific audience. Once you find your niche, the size of the platform really doesn't matter. Consider the market size if your product is generic.
The type of product is important, only if your product is very unique. You can sell generic items like clothing or electronics on both platforms. However, eBay allows for more creativity in terms of product categories. If you want to sell something handmade or second hand – eBay might be the right choice.
The selling fees, just like any expenses, are important to every business. You don't want to find yourself in a situation where the sale is costing you more than the product itself. However, keep in mind that the nature of eBay is quite different, as it is an auction platform. If you have some truly unique items you'd like to auction off, you can disregard the extra fees.
Amazon's fulfillment policies are a lot friendlier to those who want the platform to handle the shipment of products. If you prefer to ship the orders yourself, disregard the fulfillment category.
Marketing tells us that you can have the best product at a reasonable price and still get no customers if you don't market the product well. Marketing is more important than you may think. Having a variety of tools that you can use will help in creating successful ads. Unless you are capable of doing your own marketing, check out the tools each platform offers.
Categories like UX interface, support, and payment methods may be disregarded if you've already made a decision. You can always learn to use the platform you've chosen if you're in it for the long-haul. Though receiving payments through PayPal can be inconvenient, it's a small price to pay for a platform that suits you in all other aspects.
Alternative Marketplaces
Amazon and eBay are not the only options for selling your products online! There are other marketplaces you can explore. Though they are usually not as big or a bit more niche, you can find something that will fit your brand like a glove.
Newegg
Newegg is the self-proclaimed number 1 marketplace for tech products. If you've got some earphones or keyboards in store, it will work very well for you. Newegg allows sellers to take care of the shipment themselves or leave it up to the platform. You can create a seller account for free and give it a shot.
AliBaba
AliBaba is a huge B2B marketplace that can aid you in conquering the global market. Registering is quite easy. You don't need any coding or design knowledge to upload your products and create your storefront. The platform is quite user-friendly, so it's suitable for beginners. It also has an abundance of tools and analytics to help you succeed in business.
Etsy
Etsy is a peculiar marketplace that's not quite like the rest. If you've ever shopped on Etsy, you'll know what I'm talking about. The platform is mostly geared towards sellers who want to sell their own work. That could mean anything, from handmade jewelry to halloween masks and trivia question packs.
It's quite easy to set up a store on Etsy. The only prerequisite is fitting the product categories offered on the platform. Dropshippers and sellers of generic goods will not succeed. You need to show creativity and wow people with your original designs (and low prices).
Conclusion: Is It Better to Sell on Amazon or eBay?
So, where should you be selling your products?
Should you join the Amazon gang? How does selling on eBay work in comparison to what the world's biggest eCommerce giant has to offer? We hope that you've gotten some clarity on the topic.
Unfortunately, nobody can tell you for sure if you should sell on eBay or Amazon. Both opportunities give you perks. The one and probably most important thing to keep in mind is that size doesn't always matter (especially when it comes to ecommerce). Sometimes, a smaller and more niche audience is a better choice than a large and generic audience that doesn't have any interest in your products.
In our eyes, Amazon is the winner. Amazon gives you a larger audience and a managed fulfillment option. The range of advertising tools is also somewhat bigger. eBay is not far behind! It isn't as competitive and you will find it easier to build your niche. There's also some evidence that selling internationally is a bit easier via eBay.
You can easily try out selling via both platforms to assess performance. You have the facts and you can continue digging for some additional info before making up your mind. What matters is being confident in your choice and committing to it. Establishing a successful ecommerce business will take some time and patience, so don't be afraid of building your presence and sticking through the slow moments until the respective platform starts revealing its full potential.
FAQ
Q: Is it better to sell on Amazon or eBay?
A: The answer will depend entirely on what you're looking for in a marketplace. If you fit the criteria of an average seller, Amazon might just be better for you overall because it has just the right capabilities.
Q: Is it cheaper to sell on Amazon or eBay?
A: It might be a little bit cheaper to sell on eBay! Don't take that for granted though, as the overall cost of running a business depends on other factors too. Those looking for a fulfillment plan will find that Amazon offers better value for money than eBay.
Q: Why is eBay cheaper than Amazon?
A: It is cheaper to sell on eBay because the platform offers fewer features and capabilities than its competitor. It also has a smaller reach and overall revenue.
Q: Is it easier to sell on eBay or Amazon?
A: Both platforms are user-friendly, but Amazon might just make your life as a seller a little easier with all the additional features and tools it offers.
Q: What's the difference between eBay and Amazon?
A: Amazon is a major retailer that offers a wide variety of brands to choose from, including its own brand. eBay gained popularity through online auctions and continues to function as an auction website.
Q: Which is better: Amazon or eBay?
A: Depending on your demands, you may find one platform to be better than the other. Generally speaking, Amazon has a greater reach and can offer your business more opportunities to shine.
Q: How to sell on Amazon and eBay?
A: In order to start selling, you need to create a seller account on the platform of your choice. Upload your product listings and market them. Shoppers will start flooding in, if you marketed to the right audience!
Q: How to dropship from Amazon to eBay?
A: The platform doesn't allow dropshipping, so this option is not available to eBay users.
Q: Who was first: Amazon or eBay?
A: Technically, Amazon was born in 1994, a little bit before eBay (1995). The trade name Amazon, however, was also brought to life in 1995.
Optimise you online selling!
Try Now



Also Popular on Sellbery