Amazon Pricing Strategy: Ultimate Guide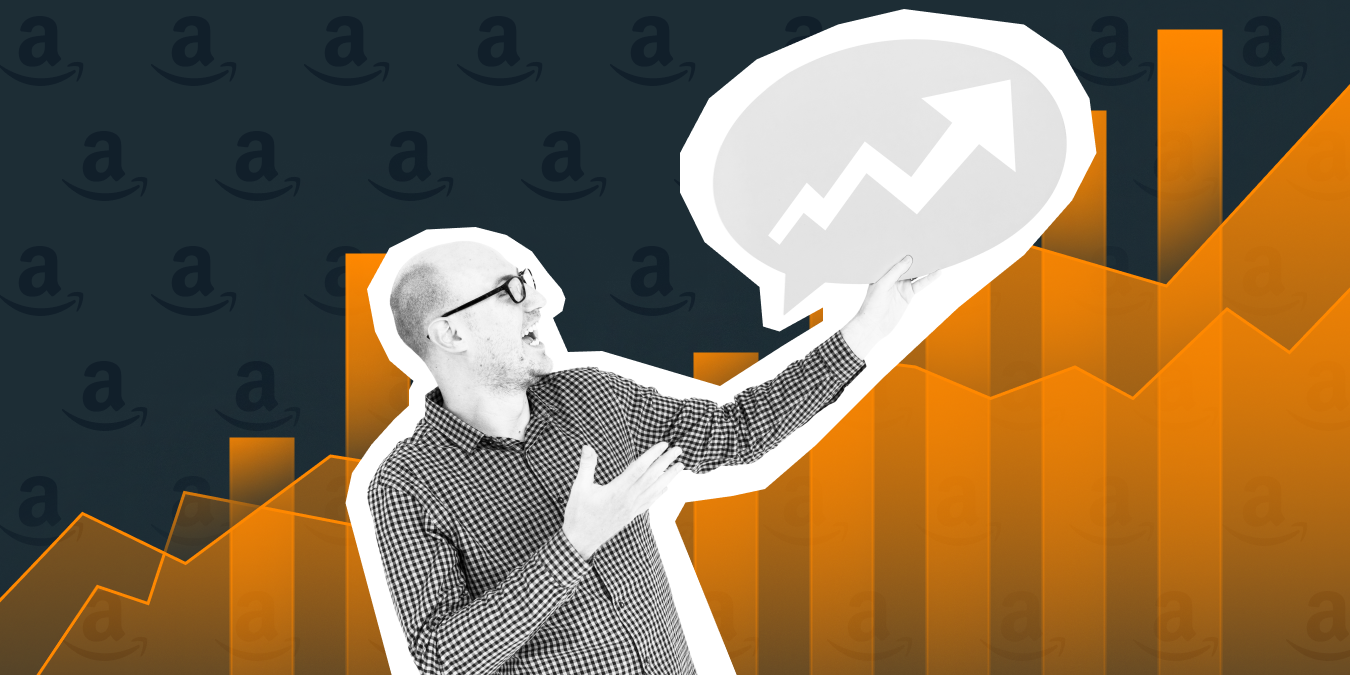 Trying to figure out your Amazon pricing strategy? Here you can find everything about pricing on Amazon to step up your sales game.
Psst! Selling on Amazon? Or just getting ready to conquer this ginormous platform? Either way, you came to the right place.
With 18 orders per second, Amazon is the biggest eCommerce company in the world. No wonder, you want to join the ranks of successful Amazon sellers. But what does it mean to be successful in business terms? To be profitable, for sure! But on Amazon you can't just set the highest price or, on the contrary, slash all the prices to attract more shoppers. So what to do?
If you're here, you probably know that Amazon prices are not stable. Amazon has its own strategy and changes prices every 10 minutes. So, if you want to become successful and competitive on this platform, you should know how to ride this bull!
No worries though. We will answer your question "What is Amazon's pricing strategy?" in as much detail as possible! Ready? Let's jump into it.
What is Amazon's Pricing Strategy?
What pricing strategy does Amazon use? Amazon pricing strategy called Amazon dynamic pricing (or repricing) is an algorithm that continuously changes prices. The system tracks every price there is on the website and on the Internet. If the algorithm finds a cheaper price somewhere beyond Amazon, it changes pricing on Amazon accordingly.
Just imagine, Amazon dynamic pricing system ends up making around 2.5 million changes a day! Because of this Amazon pricing strategy, the tags on the products may alter up to 20% a few times a day.
Amazon does it to make merchants compete for the place under the Sun. And by that we mean not just the highest ranking positions, but also the Buy Box spots.
The company has been developing Amazon pricing strategy since the expansion in 2012. In a nutshell, it comes down to keeping the prices low and fair for customers.
For this, Amazon has created a so-called Fair Amazon Pricing Policy. According to it, Amazon competitive pricing is only available to the sellers who don't:
sell at much higher prices compared to their competitors on Amazon or other platforms
set misleading prices
set a shipping fee that cost much more than public carrier rates
set higher prices for a product as a part of the bundle than for the same individual item.
Why Do Prices Change on Amazon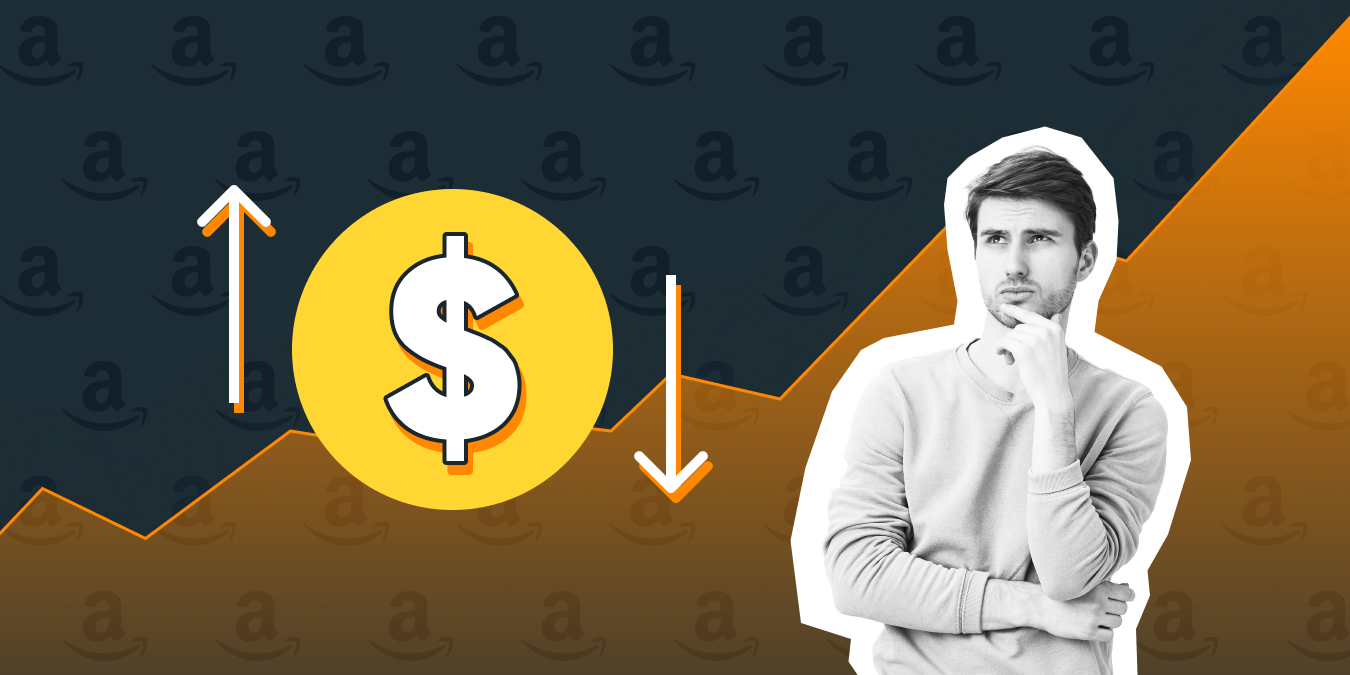 As we've mentioned, Amazon dynamic pricing aims to offer the best deal to its customers. With around 400 million products on the platform, it's quite an honorable goal! Not to mention, that making the life of the customers easier comes with a lot of perks. It is how Amazon makes money and draws loyal audiences.
With its pricing strategy, Amazon has many merchants competing to sell one product. No, it's not a torture. Amazon made it that way, so the popular products never run out of stock. Sounds like a dream come true, right?
Amazon pricing strategy is the part of what keeps Amazon the leader of the market. It's one of the most successful stores in terms of customer satisfaction. Amazon customers know how helpful Amazon dynamic pricing can be to them. There are numerous services and extensions that allow shoppers to hunt the best prices on Amazon.
We hope now you have your answer to the question: "Why do prices change on Amazon". Sure, Amazon dynamic pricing is extremely beneficial for the customers. But you, as a merchant, can benefit from it too. Yes, it will take a bit of work. However, you will stay competitive, attract more customers, hence, generate more revenue.
There's one more way to stay competitive and generate more revenue. Automating manual work! Sellberry can help you with it
Learn What Sellbery Offer!
Amazon Pricing Algorithm: How Exactly Does It Work?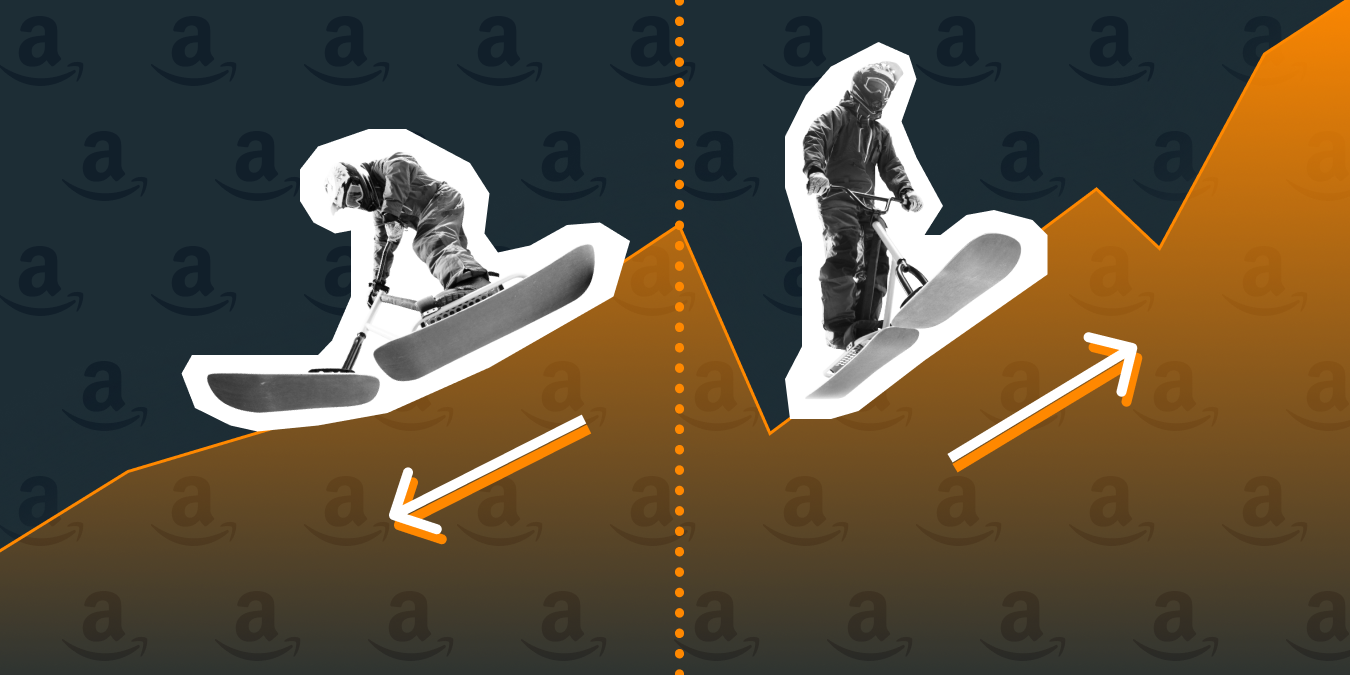 Does Amazon raise prices based on cookies? Yes, it uses cookies to track users' behavior. Amazon sells around 400 million products a day and gathers a lot of data on why and when shoppers buy them. For instance, would your fur mittens sell great in summer? Huh, even if mittens are one of the best products to sell on Amazon, there's a pretty low chance they will be popular when summer is in the full swing. Apart from the seasonality of the purchase, Amazon dynamic pricing algorithm also considers:
1. Other demand-driving factors.
Amazon dynamic pricing strategy applies mostly to the products which are on demand at a given time. Is any major holiday coming? Do people have vacations any time soon? Some products are selling better at night, other ones during the lunch break time. And Amazon knows it. It's not hard to guess that the products in high demand get more expensive.
2. Supply.
This factor often works together with the demand. Is your product popular and in low supply? Well, get ready to see the prices rise! However, Amazon pricing algorithm will allow it only if the demand will continue after you sell all your items. On the other hand, if there are many unsold items in the category, Amazon will lower their prices.
3. Number of product visits.
Even if your product is not yet in high demand, the Amazon pricing model already knows it can be. If shoppers click repeatedly on the same product or browse it via the Amazon asin number, ding-ding! The prices to these ones will also get altered.
4. Your general performance as a seller.
Well, this one is easy. Of course, the Amazon dynamic pricing algorithm is more likely to choose you, if your customer reviews are in order and your communication with the shoppers is clear and consistent.
There are the other two factors over which you have power. We'll talk about them in detail:
your own prices
competitors' prices for the same products
First, let's figure out how you can strategically set your own prices.
Types of Amazon Pricing Strategy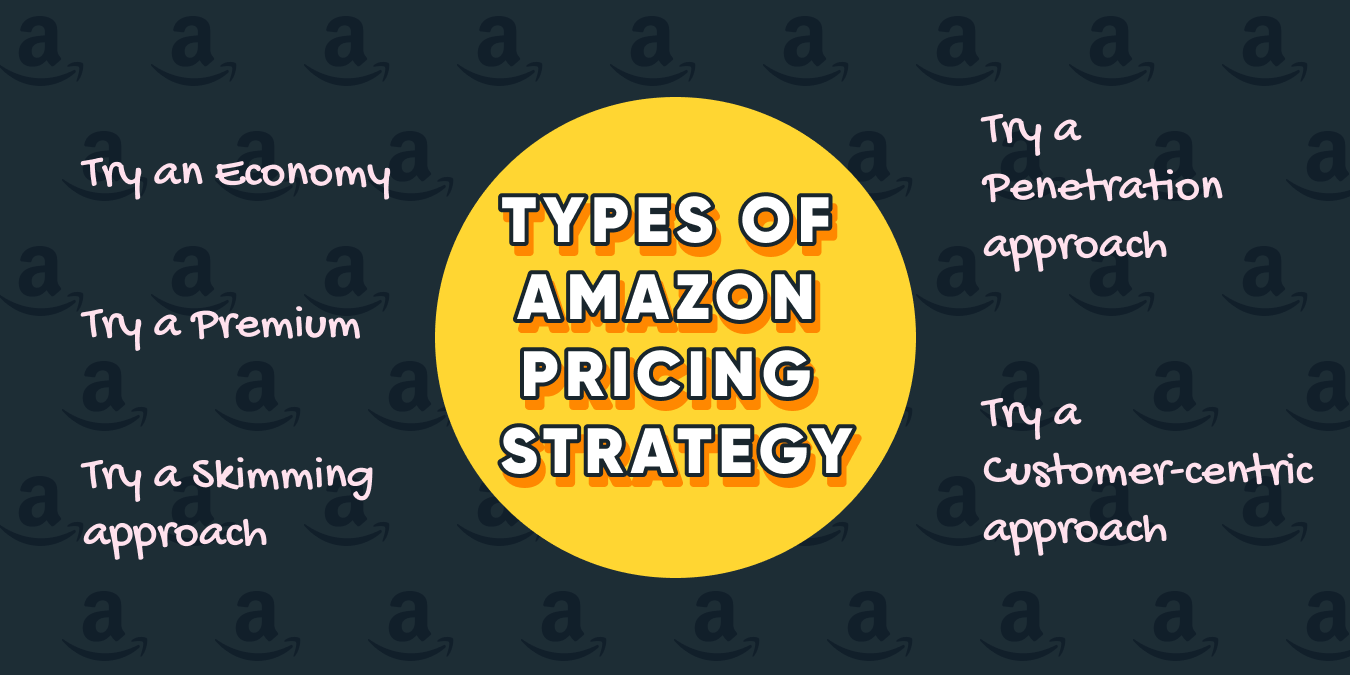 With so many factors impacting the price, the Amazon low cost strategy won't always work. So what will? There are a few types of Amazon pricing strategies you can implement. They won't let you down. But pay attention that each of them refers to a different kind of product. Let's see:
Try an Economy pricing approach, if you're selling everyday products people use around the household. It is a strategy for things that don't require a lot of advertising (everyone buys soaps, no matter what time of the year it is. At least, we hope so!). Those products often do not have large profit margins. So this strategy won't work for you in case you're interested in Amazon retail arbitrage. However, these items are in an everlasting demand, so you should rely on the volume game. To put it simply, make sure to never be out of stock.
Try a Premium approach, if you sell soaps made out of lavender from the Swiss Alps. Generally speaking, if you know your product is superior in some way to your immediate competition, think about increasing the price. However, this change has to be well-communicated. Your advertising should subtly cultivate the sense that your product is of higher quality than everyone else's.
Try a Skimming approach if you are the first one to sell a certain popular product. This strategy is good for businesses that introduce new versions of their well-known products from time to time. They set high prices right after the release. Over time, when the others are starting to sell the same products, the original seller puts the prices down. A Skimming strategy is best illustrated with Apple's new IPhones. When they come out, a lot of people buy (or even pre-order) IPhones at extremely high prices. But as the hype dies down, the prices go back to normal.
Try a Penetration approach if you are an early adopter. Are you selling anything unique and completely new to the market? Or maybe your brand is yet unknown? Swoop in with low prices. Let the shoppers warm up to you. Sure, this approach may not be very profitable short-term, but it works for brand loyalty in the long run.
Try a Customer-centric approach if neither of the mentioned strategies can apply to what you are selling. To successfully implement this strategy, you should know your audience segment pretty well. This approach is very rewarding, but will require a lot of well-thought customer listening. You should put your finger on customers' perception of your product and assess the value it brings them.
To sum up, Amazon seller pricing strategy may differ from product to product. So, if you're still in search of what to sell, here are a few tips on how to do product research on Amazon.
Amazon Pricing Strategy Analysis
Another thing that can help you set realistic prices is an Amazon pricing strategy analysis. What is that?
Amazon pricing strategy analysis is what helps you make better decisions about prices you set. If you do it manually, there are a few steps to it:
Comparing your competitors' prices for the same products
Considering their shipping costs
Finding out what discounts are available for Prime members (maybe some sellers have their own Amazon Prime pricing strategy?)
You can also find tools that can help you conduct Amazon pricing strategy analysis automatically. Especially, if you'd like to sell more than through one channel!
So, you've chosen one of the Amazon pricing strategies and conducted Amazon pricing strategy analysis. This information is a great place to start. But let's move on to actual numbers.
Profit margin formula
To calculate your own profit margin (and then, price), you can use the following formula: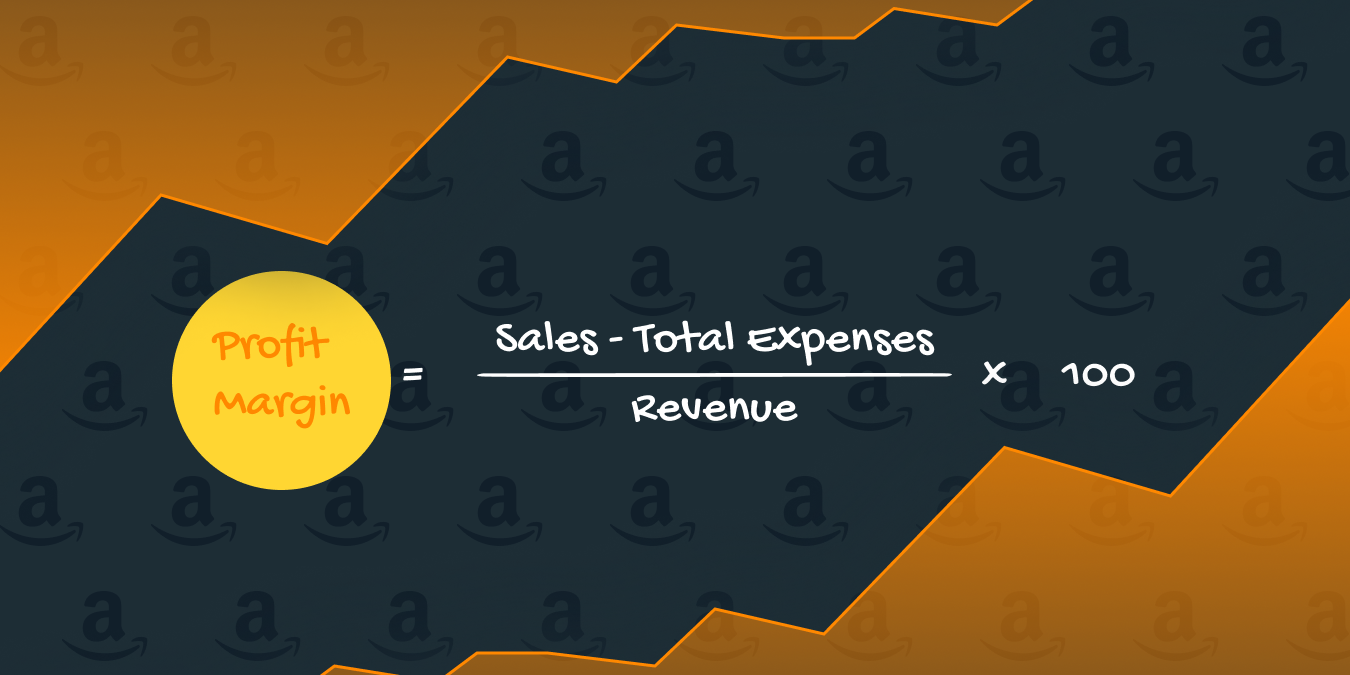 Pay attention that Total Expenses include what you're paying not just for goods, but shipping, customs, return/storage fees and other associated costs.
For example, a pair of your mittens costs $5. Apart from that, you require $5 more for advertising and $3 more for storage. So, your minimum price is $13. That's where you don't even make profit; just break even.
We recommend calculating your minimum and maximum prices and use them during your Amazon pricing strategy analysis. If it's too much to calculate the prices by yourself, try Amazon Pricing Calculator. But remember, it doesn't include additional costs, like taxes, shipping or storage fees.
To conclude, use our tips to have a profound understanding of your own prices and where they are coming from. Only after that, you are ready to deal with the loose cannon called Amazon dynamic pricing.
Pricing on Amazon Model: Tactics
If you're selling on Amazon, it can be pretty challenging to change the prices. Amazon doesn't allow you to do it in bulk, only one-by-one. So, sometimes things may get overlooked. Of course, you can't change the prices every 10 minutes, like Amazon does. However, there are some pricing tactics you can use to still stay successful in the Amazon competitive pricing environment.
As opposed to strategies, pricing tactics are aimed at short-term wins to achieve particular business objectives. Here are some ideas how you can drive more people to your shop on Amazon and manage Amazon dynamic pricing in the long run.
1. Use coupons
It's no secret that discounts are loved by many. And coupons can be a great way to implement a discount rather than just slashing the price. Why? You see, Amazon will display an eye-catching label next to a product where a shopper can apply a coupon. It will boost the number of click-throughs. Moreover, this label is often a sign of luck for an average shopper. When you see a coupon, you feel like you came across a great bargain!
2. Set a free shipping minimum
According to Business Insider Intelligence research, the most important reason why people buy on Amazon is free shipping. But only Amazon Prime users have free shipping options almost at all times. All the others, especially in the US, have to pay around $5-6 every time they order something. So, it's actually reasonable for the shoppers to buy $35 worth of items, than $29 worth of items plus $6 more for the shipping.
The great advantage is that Amazon will list those items with a "free shipping" label which can increase your conversion. This can be a great tactic if you're doing Amazon dropshipping.
3. Benefit from the human brain's irrationality
Prices like $19.99 are much more attractive for our brain than $20.00. "It's basically the same!" you can say. Sure, but that's how our brain works. The thing is, number 1 at the beginning of the price makes it seem cheaper. This is called "charm pricing". It's all about educating yourself in the field of consumer psychology. Here are some more psychological pricing tactics:
Odd pricing. Shoppers perceive prices like $28.73 as a "good deal".
Even pricing. Prices like $128.88 create a perception of a premium or luxury brand.
Center-staged pricing. Among a few pricing options shoppers tend to choose the one situated in the middle.
4. Increase prices only by 10-15% at a time
If you increase your prices by more than 15% too abruptly, you risk getting punished by the pricing strategy of Amazon. Amazon is known for being a rather cheap retailer. So, you should increase your prices slowly and one-by-one.
5. Adjust pricing on Amazon for different types of shoppers
No matter what your audience segment is, you can divide them into two groups. The first ones are the diligent shoppers. They compare prices, spend hours looking for deals and better bargains. The second group includes people who are much more spontaneous. Those shoppers get bored easily, don't like to research a lot and usually go with the first or second price they've seen.
So, how do you make your pricing on Amazon attractive to both types?
Planners:
Remember, that the planner type needs a bargain. It should be clear to your methodical buyers what they are paying for. Learn more about Amazon bullet points guidelines and make sure this is reflected in your product description. They will definitely read it.
Spontaneous shoppers:
Spontaneous shoppers don't bother to read a lot. However, they will spend more money than planners ever would. Especially, if the product is presented as high-quality or even luxurious. We've already talked about how to set prices for such products. What else can you do though? Take care of your products' presentation! Make sure they are photographed in the flattering light and arrive in nice packages. Then spontaneous shoppers will come to your shop like moths to the flame!
As you see, those tactics can be used within almost any pricing strategy you choose. And will definitely help you be more successful with Amazon dynamic pricing!
How to Change Price on Amazon
Before we speak about how to change pricing on Amazon, let's talk about different types of Amazon pricing.
What are they?
Retail price
The price that you set for your product
List price
Retail price minus discounts
Minimum advertised price
The lowest amount you can spend for advertising on Amazon (this is set by Amazon itself or a manufacturer)
Buy Box price
The price that appears after the shoppers add your product to their shopping cart
You can only change the retail price and a list price with the discounts or sales on Amazon.
So, how to change price on Amazon?
When you're on Amazon Seller Central, choose a "Manage inventory" option. You'll see the list of the products with their prices next to them. Choose the item the price of which you'd like to change. You can simply edit the price in the "Price + Shipping" column and then press "Save" in the far right corner.
There is another way to change pricing on Amazon. You can go to the far right corner of the same row and click "Edit". Go to the "Offer" tab. There you can see and update not just your retail price, but input a sale price. After you're finished, press the "Save and Finish" button.
Amazon Dynamic Pricing Strategy: Important to Consider
Keeping up with Amazon dynamic pricing is not easy, so consider using some price changing tools. If you often need to change prices for multiple items, use an Amazon Automate Pricing tool. It helps to stay competitive and adjust prices in your catalog. You won't have to revisit each product a few times per day.
This tool allows you to establish maximum and minimum price for specific products. You can also set particular parameters and create a pricing rule for any group of items. And only the prices of this group will alter in response to Amazon price strategy changes.
Updating prices manually is even harder if you sell on multiple channels! Thank God, we know an expert of managing such platforms.
Sellberry can be a good way to manage multiple sales and quickly update product information! We can spare you 30+ hours a month with our tool
Learn More About Sellberry!
The bottom line
The Amazon price strategy is not always easy to manage. It requires some self-education and willingness to try and try again. However, the key here is choosing the right Amazon seller pricing strategy and tactics for your business. We hope information in this article brings you a couple steps closer to figuring out what works best for you.
Here's some final advice: try to stay up-to-date with the Amazon pricing strategies your competitors choose, understand where your price comes from and try different tactics we've talked about! Now you're fully armed to manage Amazon price strategy!
This is a handful for someone who sells via the one channel. And if you're managing a multi-channel business, it may be even harder. So…
Try out Sellberry for free! No strings attached, we promise. If you like it, you like it

Talk to us!
FAQ
What are four types of pricing strategies? 
The 4 best pricing strategies are:
Economy strategy
It is used for pricing everyday products that are always in high demand. Those products often have lower prices due to low production cost. But they are always available.
Premium strategy
This strategy can apply to the products which are of a higher quality than their immediate competition. Make sure not to just increase the prices, but communicate the best qualities of your products.
Skimming strategy
This strategy is used by sellers who have a new exclusive product coming out. First, sellers increase their price. But after more and more shops are starting to sell this product, its price in the original store goes down.
Penetration strategy
It is used to price products that are completely new to the market. As early adopters, companies have to lower the prices sometimes. It gives the opportunity to get to know the new product.
Does amazon change prices based on the user?
Yes, Amazon takes into consideration your browsing history and previous purchases. It may show you the products that are close to your previous price range. However, there are a lot of other factors that define pricing on Amazon: time of the day, products' demand and supply, prices of Amazon's competitors and others.
How does the Amazon price fluctuate?
Amazon prices change once every 10 minutes and about 2.5 million times per day. It happens because of the Amazon dynamic pricing model. This system changes the prices by up to 20% to keep the Amazon environment competitive for the vendors and get the cheapest prices for the shoppers.
Does amazon raise prices based on cookies?
Amazon does use cookies to track the shopper's behavior. It may show you products based on your previous buying and browsing history. But the main reason prices are changing is Amazon's dynamic pricing model. It changes prices millions times per day. This system takes into account lots of factors, like product's popularity and demand, time of the purchase, competitors prices and other factors.
Why do amazon prices change so quickly?
Amazon has a dynamic pricing model. Its algorithm tracks millions of prices on Amazon and beyond and changes them around every 10 minutes. Amazon does it to keep vendors competitive and offer the best prices for shoppers.
How often does Amazon change prices?
Amazon changes prices around 2.5 million times per day.


Also Popular on Sellbery
Amazon Bans HTML Tags for Product Page Details
It is announced by Amazon that they will no longer parse, support and display HTML tags on product detail pages. In other words, there will be no more Amazon product descriptions in HTML.