What is Shopping Cart Abandonment & Tips How to Reduce It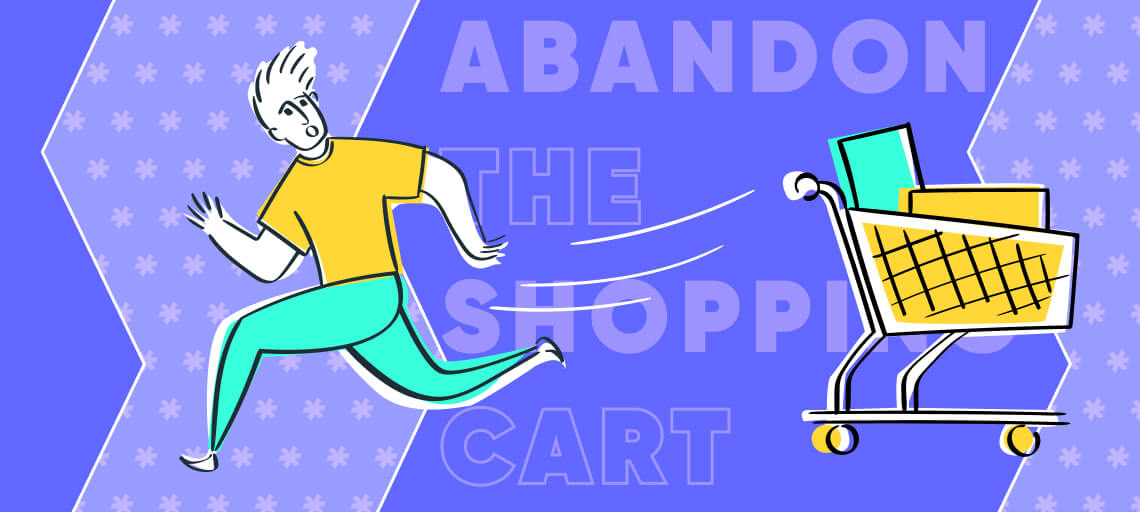 Find out about shopping cart abandonment, and helpful ways to reduce it and keep your revenue high.
As an e-commerce business, you want everyone who visits your website to leave it with some goods purchased. Unfortunately, leaving without buying anything is far more common than going on a shopping spree around a visited site. That begs the question, what is the meaning of shopping cart abandonment and what are the top reasons for the visitors to abandon their shopping carts?
The term "shopping cart abandonment" refers to the situation when a potential customer initiates the buying process, but doesn't go through with it. In other words, imagine a full shopping cart left in the middle of a supermarket, with the items never purchased.
That's a problem for a seller like you because a high abandonment rate may signal a big problem in the shopping experience as a whole. By  optimizing the shopping process provided by your e-commerce store, you can increase sales and revenue, and lower the abandonment rate, but more on that later!
Pick any plan for free!

Get more info on how to integrate your platform to a marketplace to make the most of it: list, manage and optimize all your product listings to increase your sales.
Shopping Cart Abandonment Rate & How to Calculate It
Calculating your online shopping cart abandonment rate is very simple. All you have to do is:
Divide the number of completed purchases made on your website by the overall number of shopping carts made.
Subtract the resulting number from 1.
Multiply that by 100.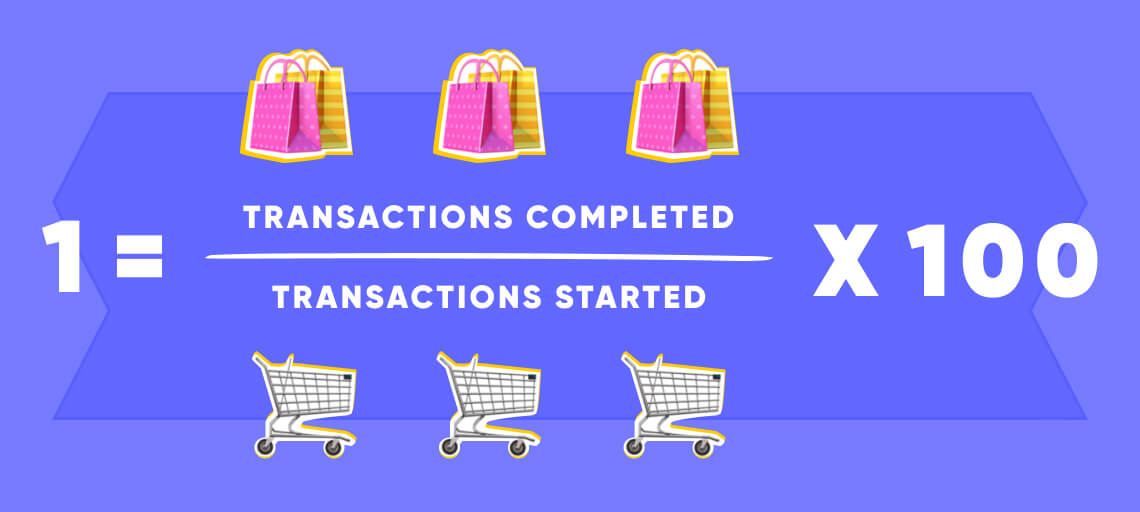 Obviously, the lower the percentage the better. Ideally, you want to strive for 0, though that is impossible. In fact, studies conducted between 2006 and 2018 show that the average shopping cart abandonment rate was 69.57%.
There are many different aspects that go into that percentage. For instance:
consumers are more likely to abandon their cart when they're on mobile (85.65%) than desktop (73.03%),
food products only had a 4% cart abandonment rate, while clothes had a 40% rate of abandonment,
the travel industry experienced a 81.7% abandonment rate, while
the gaming industry was better off, with a 64.2% abandonment rate.
Another factor that plays a big role in shopping cart abandonment rates is shipping. Shoppers are very likely to abandon their cart if they find the shipping cost to be too high. A recent survey discovered that most shoppers that took part in the questionnaire (95%) said that shipping cost played a role in their final decision. If you want to lower your cart abandonment rate, you should consider offering free shipping.
In other words, your shopping cart abandonment rate will largely depend on a variety of factors.
Common Reasons Why Shoppers Abandon Carts
Every seller wants to know why customers abandon shopping carts and what they can do about it. Here are some of the top reasons for abandoning a shopping cart:
No intention to buy. Many people surf Amazon, eBay, and Etsy daily and online shop without ever buying anything. The reason for that is that we never intend to buy anything in the first place. If that's the case, then there's not much you can do. Perhaps the shopper is a child who has no access to real money or a person who is simply online window shopping for fun.
Shipping cost. Perhaps, the shopper was actually willing to make the purchase, until they had almost completed checkout and were presented with the shipping cost. Some might think it's too high. Others would rather wait to add more things to the cart and qualify for free shipping.
Fear of losing money. Some shoppers are wary of buying from new websites. Maybe the seller doesn't seem trustworthy or the website doesn't look professional enough. Either way, many people will back out at the stage of providing personal information.
Complicated checkout process. Really great websites make the  checkout process super easy. If you're a beginner, your checkout process might be a bit more complicated, which can turn people off.
Ways To Reduce Shopping Cart Abandonment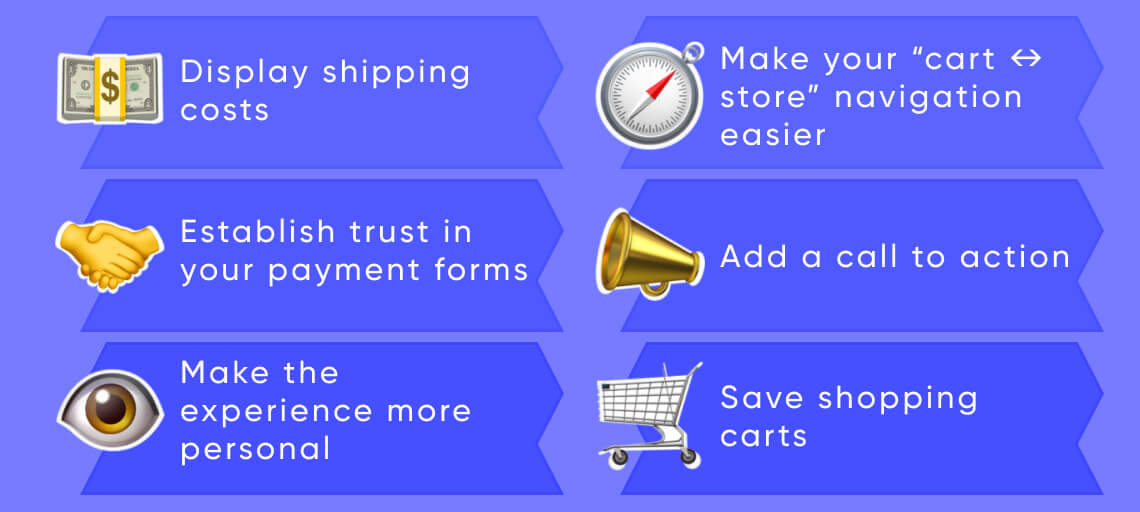 Tip 1. Display shipping costs
Sellers often run into problems because they don't disclose their shipping costs right away. That may create a problem for the shopper, as they probably didn't account for high shipping costs. If you display the shipping costs on the main page and/or in the shopping cart directly with the price of the items, there will be no surprises. Those who cannot afford to pay for shipping will know it right away and likely never even add anything to their cart. Those who can afford it will be happy to know that there are no surprises.
Tip 2. Establish trust in your payment forms
As you already know, many people refuse to make a purchase when the website looks weird or unfamiliar. That is further exacerbated by a lack of payment options. In order to avoid that and establish trust with your customers, you can display recognizable security logos during the checkout process. That will often be enough to convince the customer that you're not trying to scam them out of money.  Shopify released information claiming that around 61% of consumers refused to go through with the payment when they didn't see any security logos.
Tip 3. Make the experience more personal
Surely, your customers don't care to see a simple list of items they're paying for. You need to account for the fact that they cannot touch the items, so they should at least be able to see them. Include item thumbnails in the shopping cart. That not only adds a nice touch, but allows the buyer to confirm they've got everything they wanted without having to go back and check each item individually. It also helps to include the item name, size, color, and price.
Tip 4. Make your "cart ↔ store" navigation easier
In an ideal world, customers who visit your online store choose the products they need within minutes, move them to the cart, input their personal information, and authorize the payment. In the real world, that's not how things work at all. Much like shopping in a brick and mortar store, online shopping requires quite a bit of comparing and contrasting. Thus, you need to make the move between the cart and the store as simple as possible. In the opposite case, your customers may choose to buy from another seller, whose website is easier to navigate.
Tip 5. Add a call to action
Many people falsely believe that if a shopper adds an item to their cart, they need no further incentive to make the purchase. In reality, the high rate of shopping cart abandonment tells us that that's rarely the case. Therefore, don't be scared to include an additional call to action directly in the shopping cart and checkout area, or in the form of an email. Make sure that the phrasing and tone of the call to action is consistent with the rest of your website. Changing the tone suddenly may confuse the shopper and stain the shopping experience. Including a clear and fitting call to action will strongly encourage your customer to complete their purchase.
Connect multiple marketplaces to reach out to more customers.

Check the full list of features provided by Sellbery
Tip 6. Save shopping carts
When compared to the "real" shopping experience, online shopping is quite different. You get the advantage of being able to stop shopping and return to your cart hours, days, or weeks later. In a physical supermarket, you either buy what you want to buy or you don't. You can ask the sales assistant to reserve your items for you, but that usually doesn't last longer than a day. Thus, as an online seller, you should capitalize on all the benefits of online shopping. Make saving shopping carts easy and effortless. Allow your customers to come back to their items tomorrow, the day after, and so on.
Summary
Hopefully, you understand the shopping cart abandonment meaning and why customers abandon shopping carts overall. If you can recognize that you have a problem, you can work on it and learn to increase the profit of your business. Use the tips above to work on your revenue and learn more about e-commerce!


Also Popular on Sellbery