9 Reasons Sellers Should Have Their Own eCommerce Website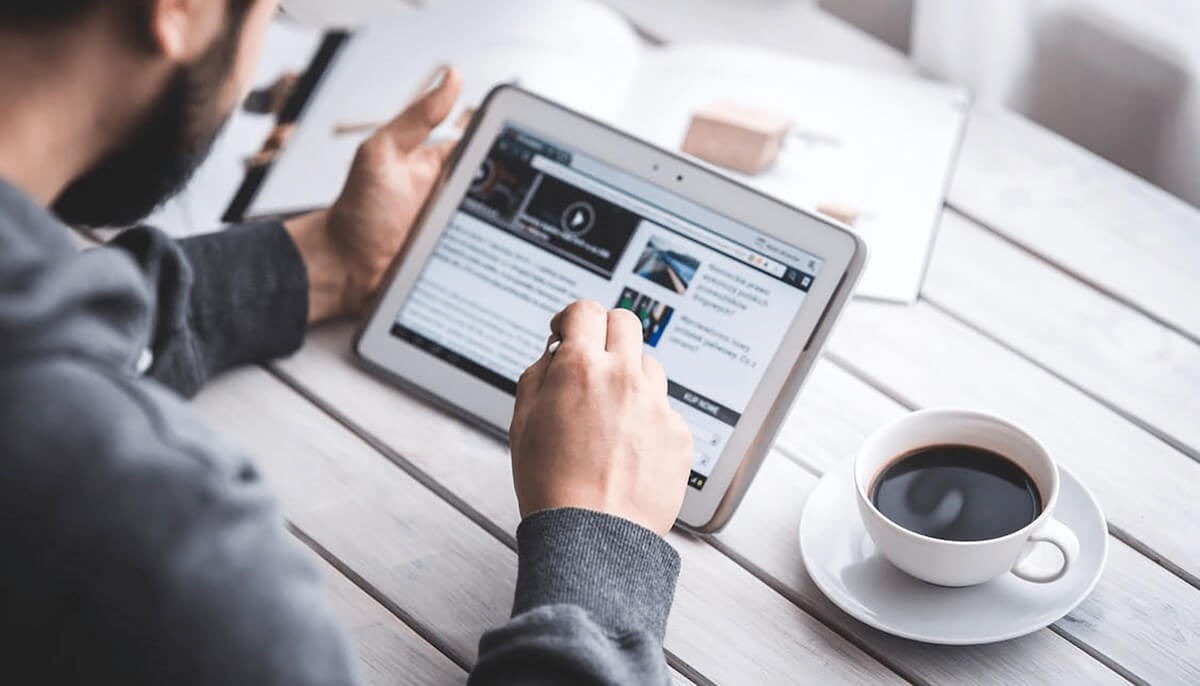 Online retailing is becoming a huge part of everyone's life. Dozens of new online stores open every day. We present the 9 reasons why each seller should get their own ecommerce website and constantly work on its development.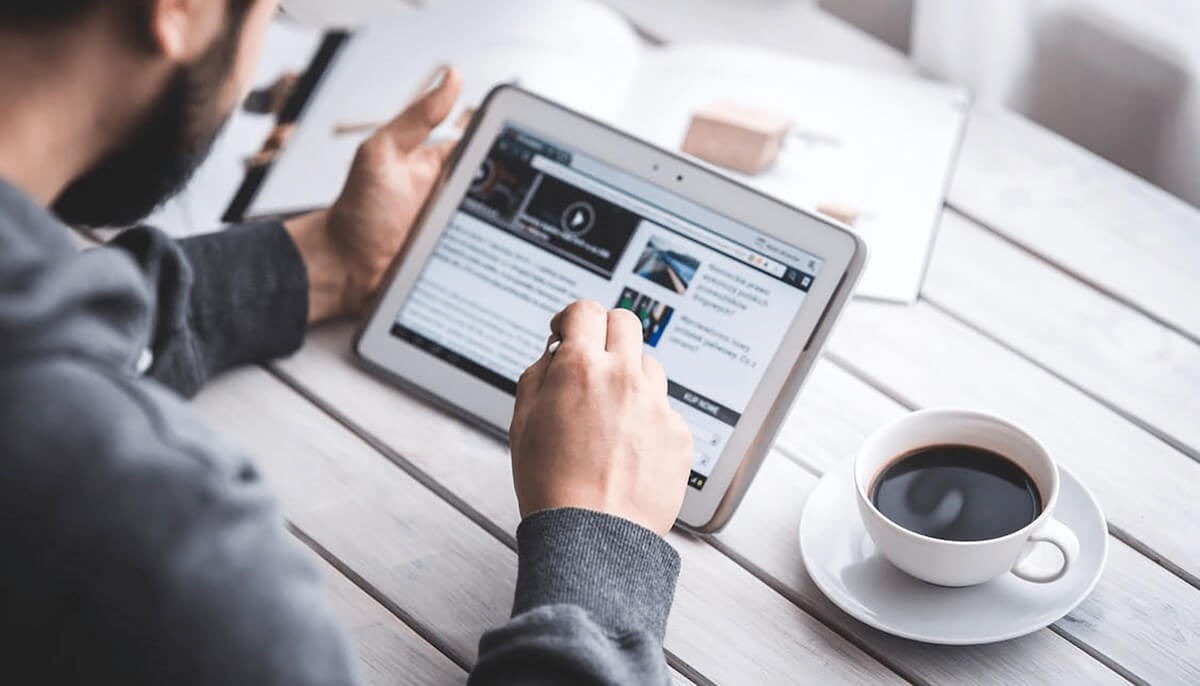 Online retailing is becoming a huge part of everyone's life. Dozens of new online stores open every day. An even larger number of sellers try their luck on established online marketplaces like Amazon, Walmart, and eBay because these online platforms have a steady and large flow of customers and make it easy to build a successful business.
Some marketplace merchants do not have their own online stores and those who do might abandon their best practices for growing online presence of their stores. And to them, we present the 9 reasons why each seller should get their own ecommerce website and constantly work on its development.
Global reach
All marketplaces have a certain number of locales or territories that they work in. Usually, each of the locales has a separate country-specific website. From the customers' point of view, it is very convenient: they get better service and quick delivery. But for sellers who want to sell in different countries, it creates additional steps and might make the process of selling more complicated and cumbersome. Plus, not every country might be available.
Your website, on the other hand, is your window to the whole world.? Additionally, with proper research, it is entirely possible to reach higher positions in search results for certain territories.
Better branding opportunities
When a customer purchases on any marketplace, particularly Amazon, they do not attribute the purchase to an individual seller. In most of the customer's eyes, they purchase from Amazon.
Marketplaces are not the best place to establish your own brand and gain recognition. Look at the two Amazon listings below. At first, you notice that the two products look extremely similar: ?‍♀️ the shape is the same, the materials look identical, it is just the product colors that are different.
The brands of the bottles can only be seen in the title of the product and nowhere else. And it is virtually irrelevant to the buyers on Amazon. Many of the customers will compare the price, the product specs, the reviews, and the shipping options and choose what fits them best without paying attention to the brand.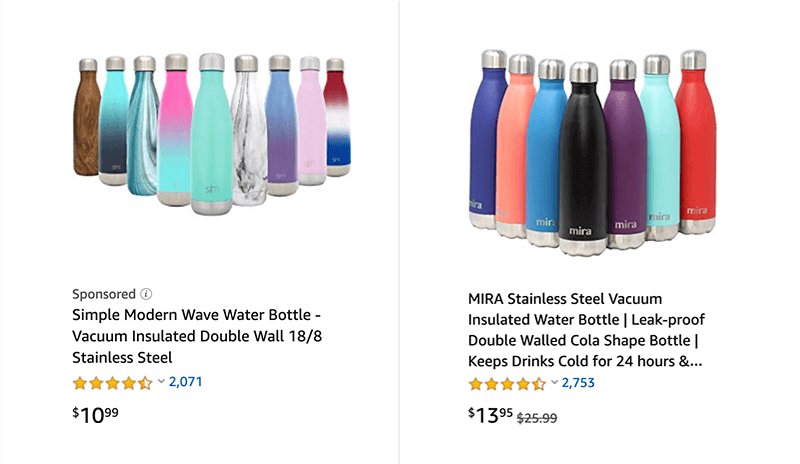 In contrast, your own website allows you to develop your own brand using every tool available: vision and mission statements, your brand history, etc. In the long run, customers loyalty to your brand can play a great role in your business' growth.
SEO
Your own website gives you better opportunities for search marketing. Some Amazon and eBay product listings are shown to users when they run a regular Google search. ? But it is extremely hard to make your listing to be the one to pop up on the first results page. It is much easier to just run ads for your products through Google.
The undoubted advantage of having your own website is the ability to run your blog. Blogging is a very important tool for your SEO efforts and it is completely absent on marketplaces. On your website, however, you can apply all the best SEO practices and gain a good flow of organic traffic.
Marketing opportunities
Every seller knows that getting new customers is hard and costly. The much easier task is working with recurring customers. Marketplaces can bring you a lot of new customers but you have virtually no means of turning them into recurring ones.
When somebody purchases directly from your website, on the other hand, you hold all the cards. You know what they bought, when they bought it, what else they were or might be interested in, how much money they spent, and most importantly, their contact information. All this data ? is a great source of ideas and strategies for successful marketing campaigns. Without it, you cannot even start with implementing cart abandonment practices or omnichannel marketing.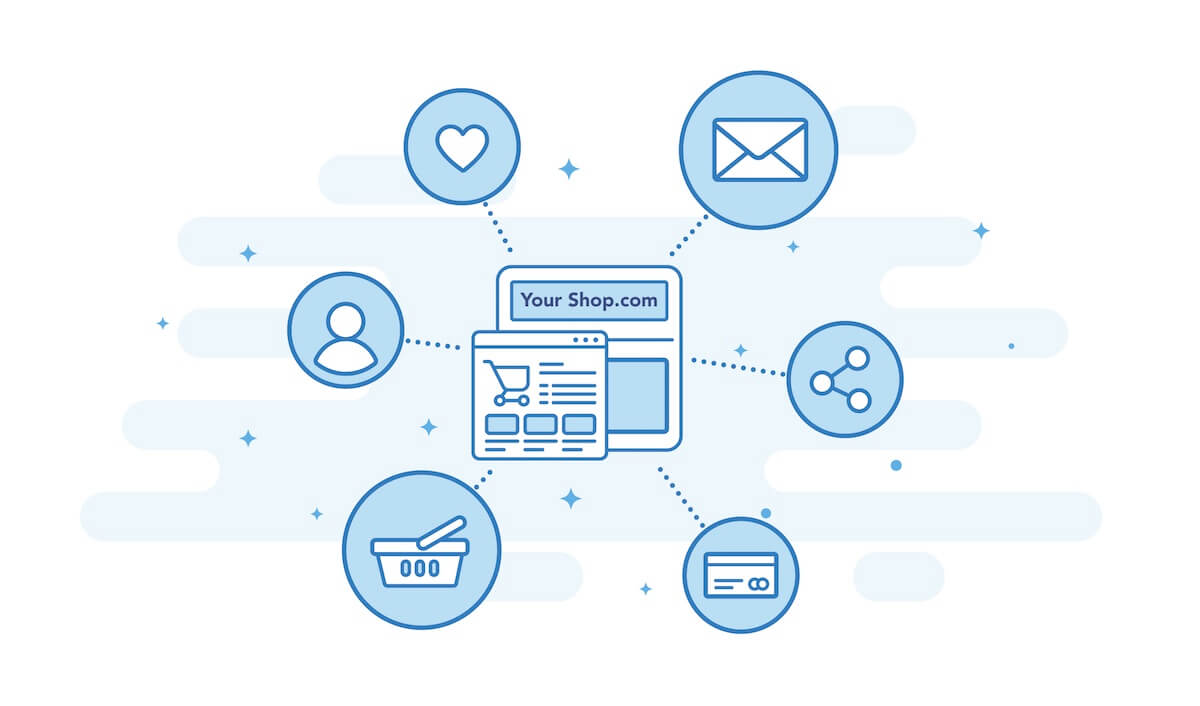 Personalization for customers
The oldest trick in the book of marketing is upselling and cross-selling. And marketplaces mastered them perfectly. For example, Amazon does it through "Frequently bought together" and "Other items customers buy after viewing this item".
The obvious problem is that upsold products are sourced from other sellers. So, ultimately, Amazon raises its own average order value, not yours. This is easily solved by implementing the mentioned marketing tactics in your online store.
No competition and fewer distractions for customers
This one speaks for itself. Not only do you have to master the search algorithms to beat your competition in the search results but you also need to beat them on your Amazon product pages. ? Amazon allows sellers to advertise their items on the website, as do other marketplaces. So when customers look through your product listing they see a lot of unrelated information. There are not one but several sponsored product carousels and banners on the page. Plus, there are banners with Amazon's ads.
You might not like this design but you have to work with it. On your website, you can create perfect product pages without distractions that will serve as a better representation of your products.
More trust in the product
Customers always do their research. Especially when the product's price is out of their 'impulsive' price range. If they find your product on Amazon or eBay and it does not have enough reviews ? to convince them to purchase they might go to the web to look for more. This is when you are presented with the opportunity to wow the customer with your website.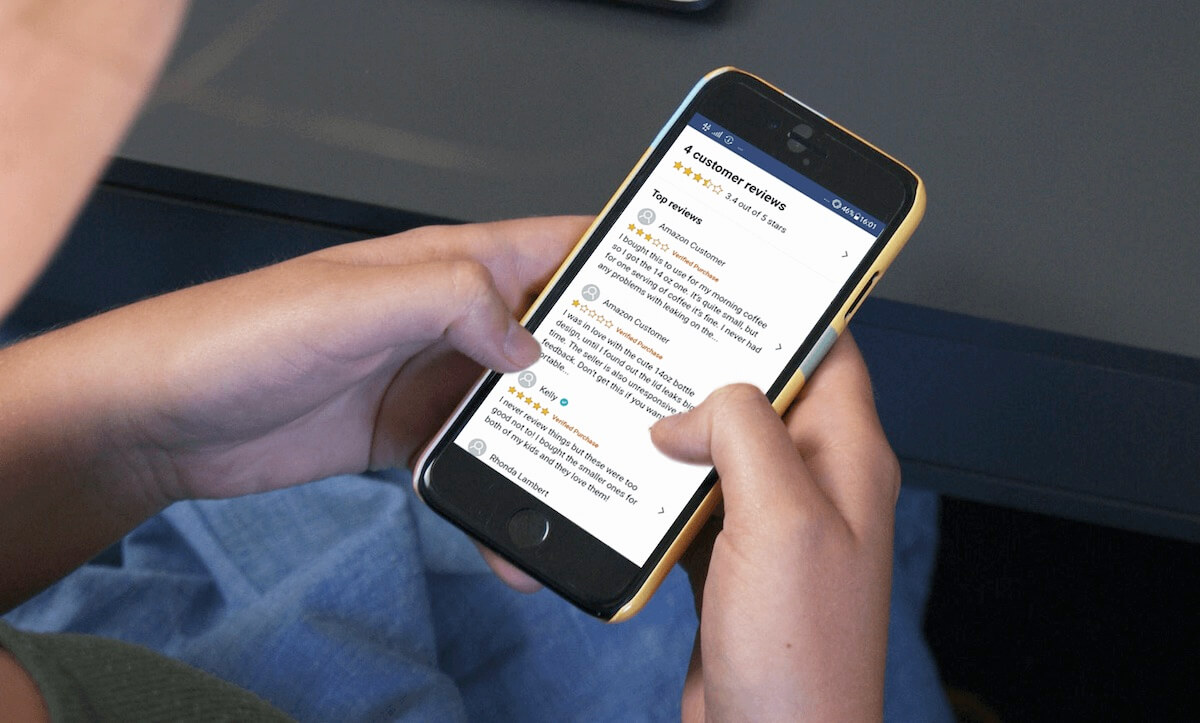 B2B sales and investments
Marketplaces like eBay and Amazon are primarily aimed at retail sales — B2C. Of course, they still allow B2B sales and even provide some tool for it, like Amazon Business for example. However, there are many restrictions that sellers have to abide by. And the qualification process is not that easy. These problems are not something that you have to worry about when selling on your own website.
Another point is the possibility of investment in your product idea. Investors generally do not like when you have some third-party power over your business. ?So, selling on marketplaces might become a drawback if you are looking for funding.
Security
There is one huge disadvantage that you put yourself in if you decide to sell exclusively through some marketplace. It is no secret that Amazon, eBay, and others have an extensive list of rules and regulations for their sellers. ? And any diversion from these regulations might result in termination of your seller account. But even if you follow them precisely, your business is not always safe.
It is not unheard of for the honest sellers to be targeted by their competitors and the rules being turned against them. There are real-life stories of sellers' accounts being terminated for something that they did not do. The process of appealing Amazon's decision takes a very long time and sometimes even ends up in court. But if you have a successful website of your own you at least have something to fall back on.
PRO Tip
Selling through an online store and on marketplaces is something that many sellers do. Such a multi-channel approach provides vast possibilities for business growth. But it has some disadvantages too. You need to have full control over all your channels, make sure to not oversell because of incorrect inventory numbers, and process orders in multiple accounts. To avoid these issues with multichannel selling you can use automation tools ?️ like Sellbery. It covers all the bases by automatically updating product, inventory, and order information between multiple platforms.
Click here to learn more.


Also Popular on Sellbery
Ecommerce Sales Funnel: Content Strategy to Help Customers
There is nothing more important than content marketing nowadays. Quality content is as important today as it was decades ago. Top companies understand that and 86% of B2B marketers report that their companies are using content marketing to grow business.