10 Mistakes You're Making on Shopping Campaigns (and How to Fix Them)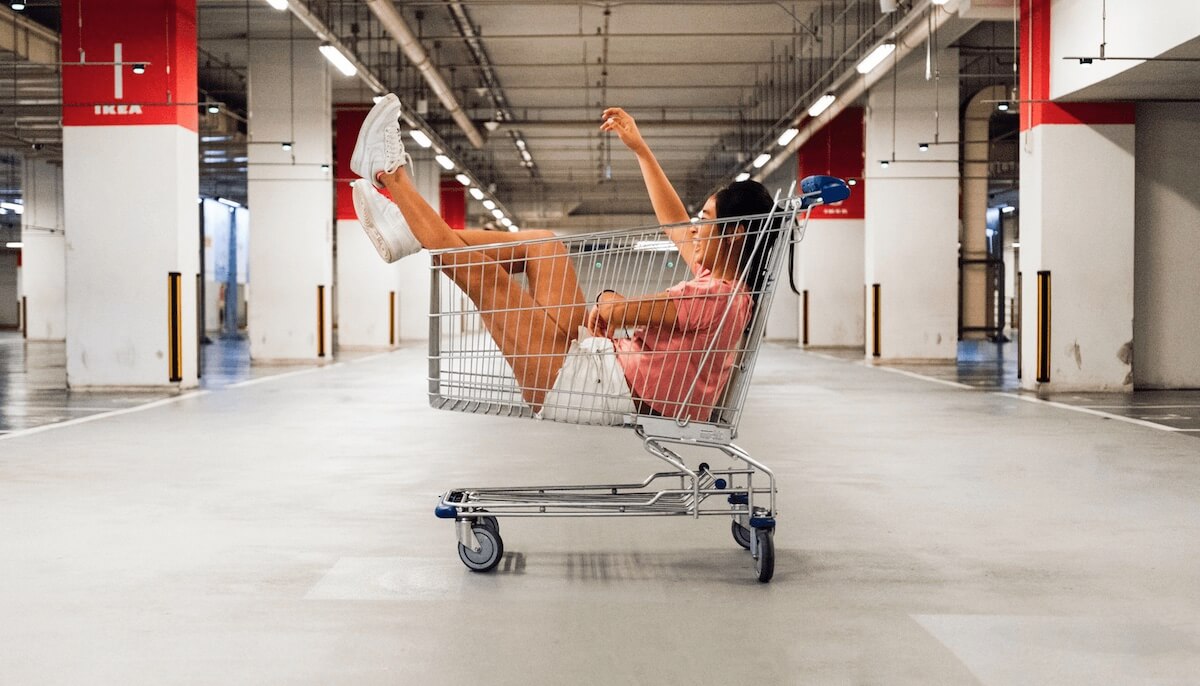 Google Ads is the most popular advertising network among businesses. Thousands of companies use pay-per-click advertising by Google Shopping to show their products to billions of potential customers.
Google Ads is the most popular advertising network among businesses. Thousands of companies use pay-per-click advertising by Google Shopping to show their products to billions of potential customers.
When an advertising campaign is well-managed and pays the necessary attention to details, it can easily bring in a great volume of new sales and revenue. So, if you see that your campaign is not performing well enough, you know that there is room for improvement and something needs to be done.
Here is the list of 10 Shopping Campaign mistakes many sellers make and how to fix them right now.
1. Only caring for Shopping Campaigns that perform badly
You log in to your Google Ads account to check on how your campaigns are running. There you see that your top-performing campaigns are still doing good, so you just skip to the ones that don't. That's intuitive because you feel the urge to find out what is wrong and make improvements.
Some sellers consider well-performing shopping campaigns as an "if it ain't broke, don't fix it" kind of thing. Admittedly, that is true in some cases. But it is also true that routinely checking their performance and making some tweaks can be very beneficial. Always test if you can do better. Even if you cannot, there is always a good campaign to go back to.
2. Not customizing product titles
The title is one of the most crucial things when it comes to product marketing in any marketplace, be it Amazon, eBay, Walmart, Rakuten USA, etc., an online store built with Shopify, Magento, and WooCommerce, or in shopping campaigns. But sellers tend to forget about that when they export data from their stores to Google Shopping.
Posting product ads with generic titles like "Rubber Boots" is not a way to go. This real-life case study by a retail performance advertising company Crealytics confirms this statement with its findings.
In this particular case, they analyzed the search queries that resulted in sales and decided to add one of them to the product title. The original title was "Lipsy Lace Panel Body-Conscious Dress – Navy". They added the search term at the beginning and got the following title "Party Dresses Navy Blue Lipsy Lace Panel Body-Conscious".
As you can see from the graphic below, they got a lot more traffic for that particular product.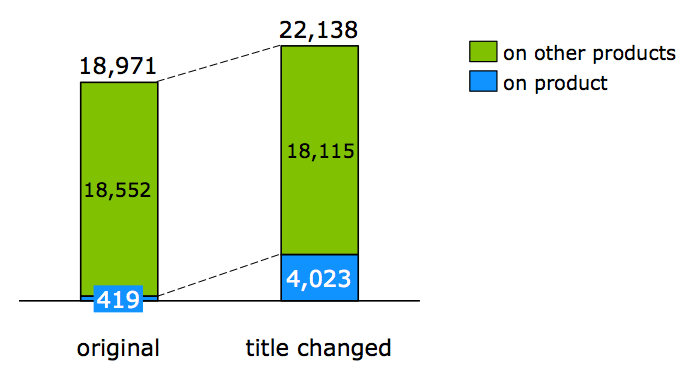 Image source: searchengineland.com
On top of that, they found that the increase in clicks on the product did not take clicks away from their other ads.
3. Running campaigns unsplit by devices
Nowadays, catering specifically to users on various devices is a must. Website developers pay a lot of attention to making the user experience on mobiles and tablets equally convenient. Designers work on mobile user interfaces to be responsive and intuitive. But some sellers still make the mistake of not splitting campaign ads for these groups.
Firstly, by your personal experience, you can tell that you use mobile and desktop devices at different times of the day, under different circumstances, and for different purposes. Based on that fact, setting up separate bid adjustments is very important.
Additionally, depending on the product, there can be a very big difference between results that the ads bring on mobile and desktop. People tend to purchase high-value products on the desktop and use mobile for on-the-go purchases. Splitting campaigns, in this case, will allow you to assign different budgets to them and drive different traffic.
Splitting mobile and desktop campaigns can be especially beneficial for eCommerce stores because this is a perfect way to have full control over which exact products and when will be displayed on which device.
4. Abandoning Low-ROI campaigns before checking segmentation
This is connected to the problem mentioned above. Unsplit campaigns can skew results and deprive you of getting valuable information about ad performance in different device segments.
While you might be seeing some campaign as a failure that needs to be paused, take your time to review the segmentation.
As we said, some products do not perform as well with mobile users so they might be draining your budget without getting substantial results. But the exact same products can still be very relevant for desktop users.
5. Processing feeds manually
One of the popular ways of transferring product information to Google Shopping is by submitting a product feed in the form of an Excel document.
It is not that bad if you have only a couple of dozens of unique products in your stores. But even in this case the amount of manual labor is a real time-waster.
Plus, with that approach, you can easily run into a serious issue. One of the key elements of successful online advertising is that the actual product that you sell on your website and the one you display in ads are exactly the same. It important for customers and it is also important for Google.
Google is very strict with its policies. If you ever submit incorrect product information (particularly price or cost of shipping) to a shopping campaign you risk suspension of your Google account.
Of course, you can try to export information from your store directly to the file to make sure there are no errors. But then you will still need to update the titles manually before uploading to Google Shopping. To fix this issue you can employ Sellbery's feed automation tool.
Sellbery can integrate your online store directly with Google Ads and transfer all product info with a few mouse clicks.
6. Not having your campaigns structured correctly
This is the mistake that literally any seller can make at any stage. All because the structure of campaigns is not something that has universal best practices or rules. It is very individual in each particular case.
You need to structure the campaigns in accordance with your business' strong suits.
If you are a reseller that has many different products try putting brands in the center of your campaign structure. If your business is manufacturing or private label maybe go with product lines.
The mistake that a lot of sellers make is getting ahead of themselves. The urge that you might have is to gain total control on bids and auction insights. So, setting up product groups for every product in your store might seem like a googs idea. But in the long run, managing hundreds of product group ads can become impossible. Plus, not every product group will have enough information to set an appropriate bid for it.
Campaign structure is something that you will have to build over some time to get it right. And it requires a great deal of analysis, planning, and deep understanding of your goals and offerings.
7. Not utilizing custom labels
Custom labels are a part of the campaign's structure. Google Shopping will treat all of your products as equal in terms of a regular blanketed shopping campaign. But as a seller, you know that not all of your products are equal. Some are more popular, have a higher margin and different seasonality than others.
For example, with custom labels, you can subdivide product groups according to:
Seasonality (pushing those products that sell better during winter, spring, summer, or fall);
Margin (pushing those products that have higher margins);
Selling Rate (pushing bestsellers and bidding less on low-performers);
Product features (pushing the product variations that sell better than others, e.g. some color, gender, or size of clothing items might perform better);
Release Year (pushing new releases).
You can set up these or other custom labels for your products, depending on your goals and objectives. Click here to learn how to create custom labels in Google Shopping campaign.
8. Not trying hourly bid adjustment
Basically, any kind of advertising is a trial and error process. But in an intelligent kind of way. When you run advertising campaigns, the most valuable asset is information.
Based on analytics, ad performance, and your best judgment, you can make the necessary tweaks to make bad campaigns do good and good campaigns do even better. One of such tweaks that you can utilize for your campaigns is setting up hourly bid adjustments.
By default, your ads are shown 24/7 to any customers who enter the relevant keywords. Ad scheduling allows you to set up certain periods of time when your ads are not shown at all, to save your budget. You can also decrease or increase bids for a specific time or day to improve ad visibility.
9. Overusing negative keywords
Negative keywords are the best way to restrict unrelated searches and prevent people from clicking on your ad when you do not offer services that they are looking for. And, of course, they prevent your budget from draining due to irrelevant clicks.
Even though negative keywords are a very practical tool, there is a possibility of overusing it. Excluding top-of-the-funnel search terms that are not specific enough is generally a good idea. At that stage, people usually look for general information about a product that they possibly want to purchase in the future, for example, reviews, high-quality images, comparisons with other types of products (e.g. "retina vs amoled display").
At the same time, being overly restrictive with top-of-the-funnel keywords might not be a good idea. Such keywords can be quite useful in terms of raising brand awareness to some degree. Plus, people who visit your website via these keywords can be added to your remarketing lists.
If you want to test out whether you are overusing negative keywords in your account, try running a Dynamic Search Ads campaign to see if there is really any relevant traffic that can be brought to your website.
If you decide to run a Dynamic Search Ads campaign, make sure to add all the regular keywords that you bid on in other campaigns as negative ones. This will prevent you from competing with yourself.
10. Not allocating budgets correctly
Nobody's campaign budget is unlimited. That is why allocating budgets to the most relevant campaigns is paramount for succeeding.
When you first start running Google Shopping campaigns, it is hard to know for sure how to distribute the budget correctly. The only concrete rule is to test, measure, and react.
After you determine the overall budget and allocate parts of it to a few campaigns, go back to your account weekly and check the account analytics. ROAS and lost impression share are the metrics to pay particular attention to.
Try excluding products that do not bring in enough revenue and redistributing budgets. Cut on low-performing campaigns and allocate this money to the ones that bring better results. And after that, again test, measure results, and react accordingly.
This is a process that does not really stop. But it is the one that has the potential to make your Google Shopping campaigns real winners.


Also Popular on Sellbery
What is White Label & Private Label: Ultimate Guide
Working with eCommerce, there are two terms that are applied to products people sell on Amazon. These are white and private labels. Both of them determine the items which you sell, but still, one can find some differences between these labels. In this article, you will get to know some significant features which play a great role in selling goods online.