7 Steps to Master the Walmart Search Algorithm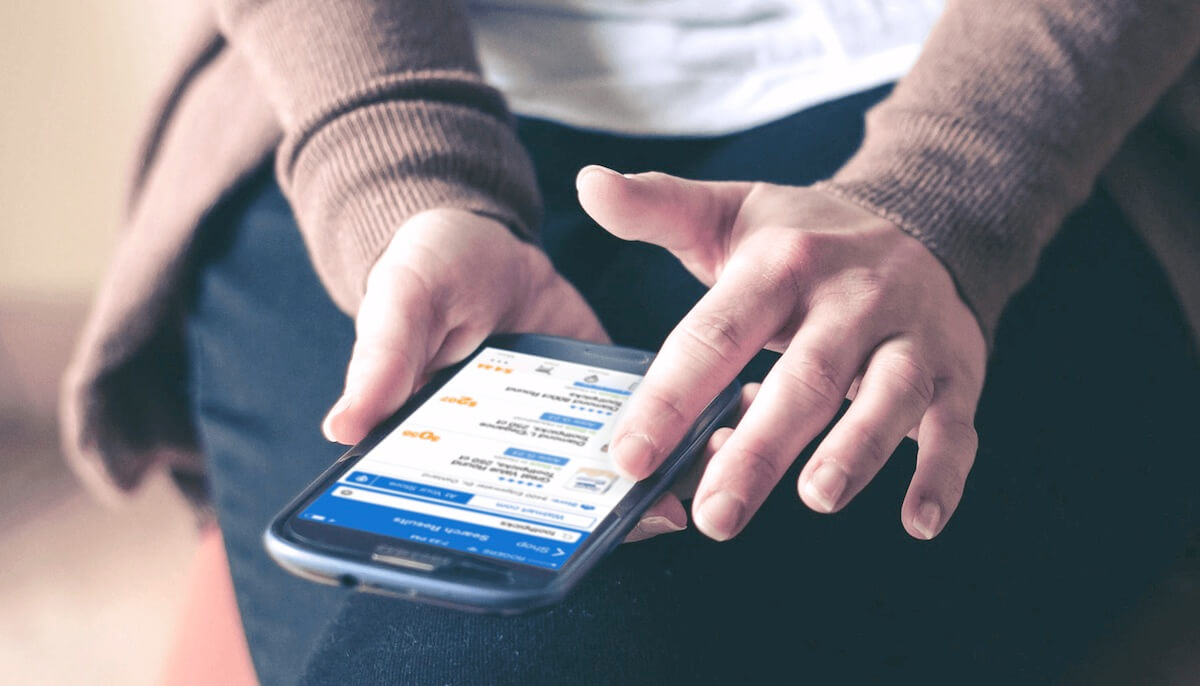 In 2018 Walmart came second in the list of the most popular online retailers in the US, outdone only by the retail behemoth Amazon. Walmart is one of the most recognized brands in the world and it is hugely popular among buyers and seller alike.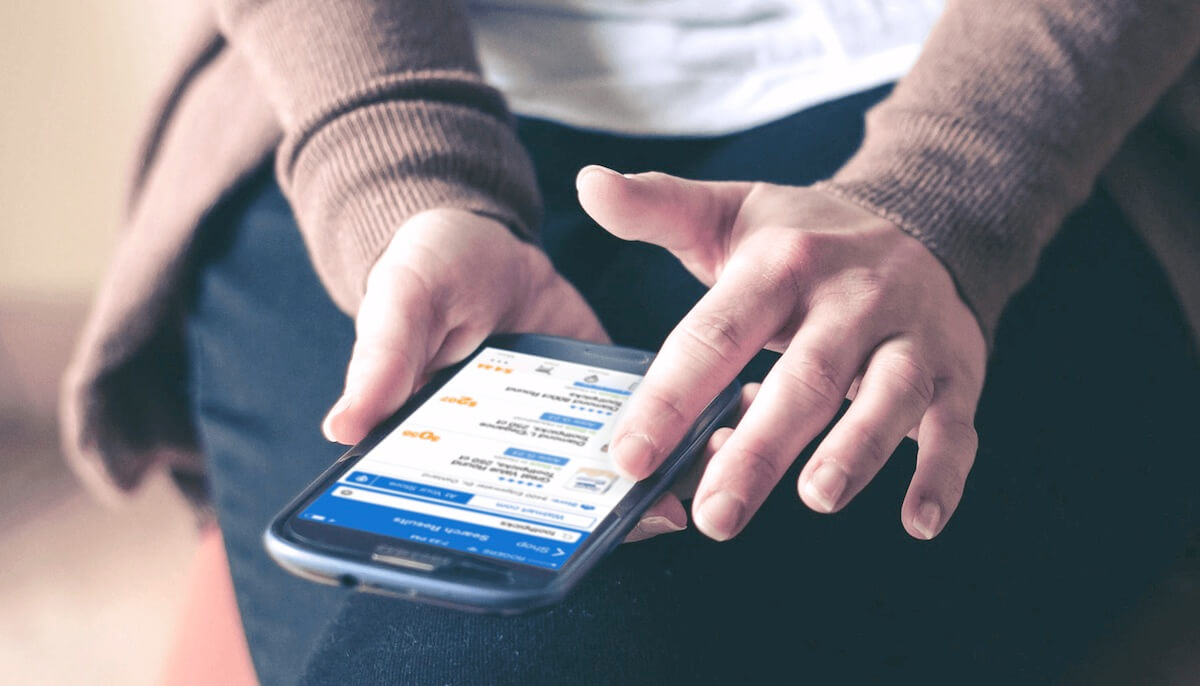 In 2018 Walmart came second in the list of the most popular online retailers in the US, outdone only by the retail behemoth Amazon. Walmart is one of the most recognized brands in the world and it is hugely popular among buyers and sellers alike.
Like any other marketplace, Walmart strives to provide the best service for its customers. So, it has special algorithms in place to help customers find the most relevant products in their search results. And as a seller, you can utilize this algorithm to boost your product listings to the top.
In this article, we have defined 7 important steps to master the Walmart search algorithm and bring your product listings to the top of search results.
1. Walmart SEO Product Listing Optimization: Main Secrets Behind Successful Ranking
Bringing your product listing to the top in search results without knowing all the ins and out about search algorithms is challenging if at all possible. Walmart Marketplace has an intricate algorithm in place which you need to hack to become a successful seller. We have gathered the best practices that will help your listings rank higher on Walmart Marketplace.
1. Creating a Perfect Listing
Due to the fact that Walmart has a somewhat stricter qualification for applying merchants, sellers still can enjoy a lower number of competitors on it, compared to Amazon for example.
Walmart itself outlines the most important parts of the listings that you need to perfect in order to beat the competition. Let's break them down.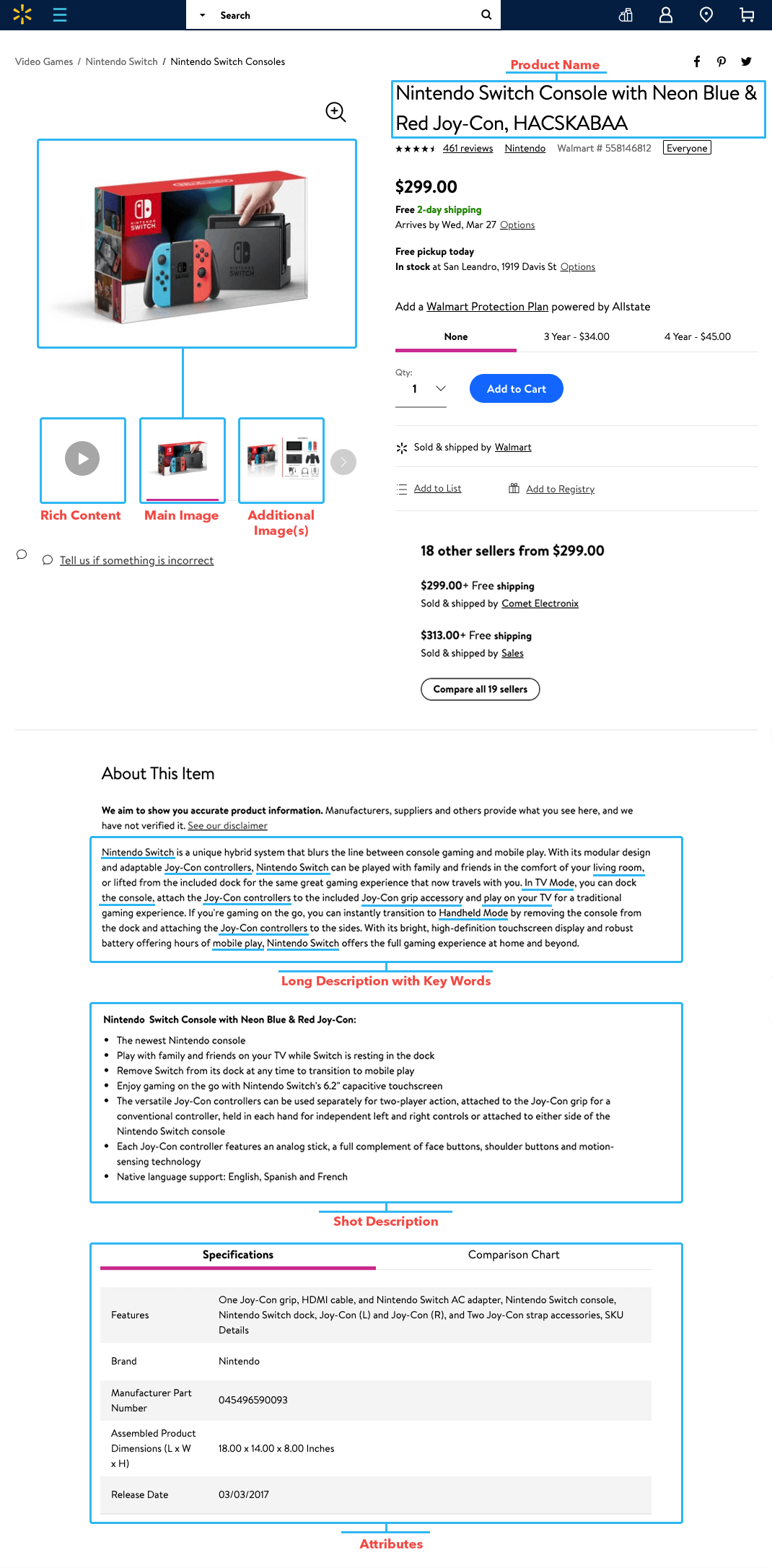 2. Product Name
With the product name, the general rule of thumb is keeping strictly to the point. Walmart provides the space of up to 75 characters for the title and points out that it must not be an exact copy of product names from other websites, meaning that SEO optimization is implemented and important in the marketplace.
The winning title formula is as follows:
Brand + Clothing Size Group (if applicable) + Defining Quality + Item Name + Style (if applicable) + Pack Count = Great title!
Below, you can see some examples of good titles that follow the formula.
The title formula is pretty straightforward but there are some other guidelines to make product names more comprehensible and informative. For example, if your product's color is important for customers, you can add it to the title, as Walmart did in the Nintendo example above. But if the color is the part of a variant group, only mention it in the Key Features or Description, e.g. color options in clothing.
Retailer-specific information, such as your store or company name, sales or shipping guarantees, as well as product's attributes info, is not allowed in the titles. You can only add it in the short and long descriptions.
3. Long Description
It should include no less than 150 words and be as descriptive and in-depth as possible. The most important part of it is the inclusion of keywords for additional SEO benefits. Equally important is for the description to be unique. Compare the two examples below and you can see how all requirements manifest themselves in a good description.

The good example includes relevant keywords that customers might search for (e.g. "shrug", "cardigan", and "sweater") but it is not overstuffed with them. Plus, it includes suggestions on how the cardigan could be worn with other clothes and tells you that it is easy to wash. It basically talks to the buyer and creates a certain mood which might become an additional incentive for purchasing. The long product description is the one that helps the customer to make the choice in favor of your product.
The bad example, on the other hand, adds nothing to the information available in product specifics or images.
4. Short Description With Key Features
The short description is similar to the title inasmuch as it should be describing the product very informatively. This description should contain 3 to 10 bullet points that must highlight the most important features and contain keywords for the search.
Creating a well-written short description is especially important for complex products, like electronics or appliances. It must give the customer everything in one quick look-through.
There are additional points for what not to do for both the long and the short description. You should not add:
Special characters

Information regarding sales, e.g. costs, promotions, or shipping

Promotional buzzwords, like "bestseller", "best quality", "rated #1", and others

Any mentions of other marketplaces or related brands, like eBay, Amazon, Alexa, etc.
5. Images & Content
As always, all product images must be of a high standard and either include enlarged pictures or allow zoom-in.
Walmart distinguishes between one main image and additional ones. There are some extra requirements for the main product image:
It cannot include any text, graphics, or anything else but the product itself;
It must not show accessories that are not included with the product;
It must have a white background, and you need to crop any excessive white space to keep the product clearly visible. However, Walmart does allow to showcase some products in a real-life setting, for example, patio furniture.
The set of additional images should contain pics of all product angles, packaging, and included accessories.
Whenever possible, it is better to provide rich content alongside the images. Examples of rich content are video reviews, size charts, 360-degree imagery, etc.
Sellbery is a multichannel listing tool which automatically synchronizes product listings, order and inventory data between online stores on Shopify, Magento, Woocommerce and top marketplaces such as Ebay, Amazon, Google ads. etc.
6. Attributes
It is crucial to correctly fill out all relevant attributes for the items that you list on Walmart. Attributes are what helps customers to refine their search results and find your item among others.
The more attributes you provide for your listings, the more likely your products are to be shown to potential buyers.
If you are not sure which attributes are the most relevant ones, try running a search for your product on Walmart and just copy them from the filter on the left side of the search results.
7. Win the Buy Box and Provide the Best Service
Walmart organizes items in their catalog system in a way that allows avoiding duplicate listing. Meaning that when several sellers offer some product, there is only one listing for it. And all the sellers are presented on that listing, with one of them being the "main" seller who has won the buy box. Customers can still purchase from other sellers but they will need to go to a separate page and make additional steps.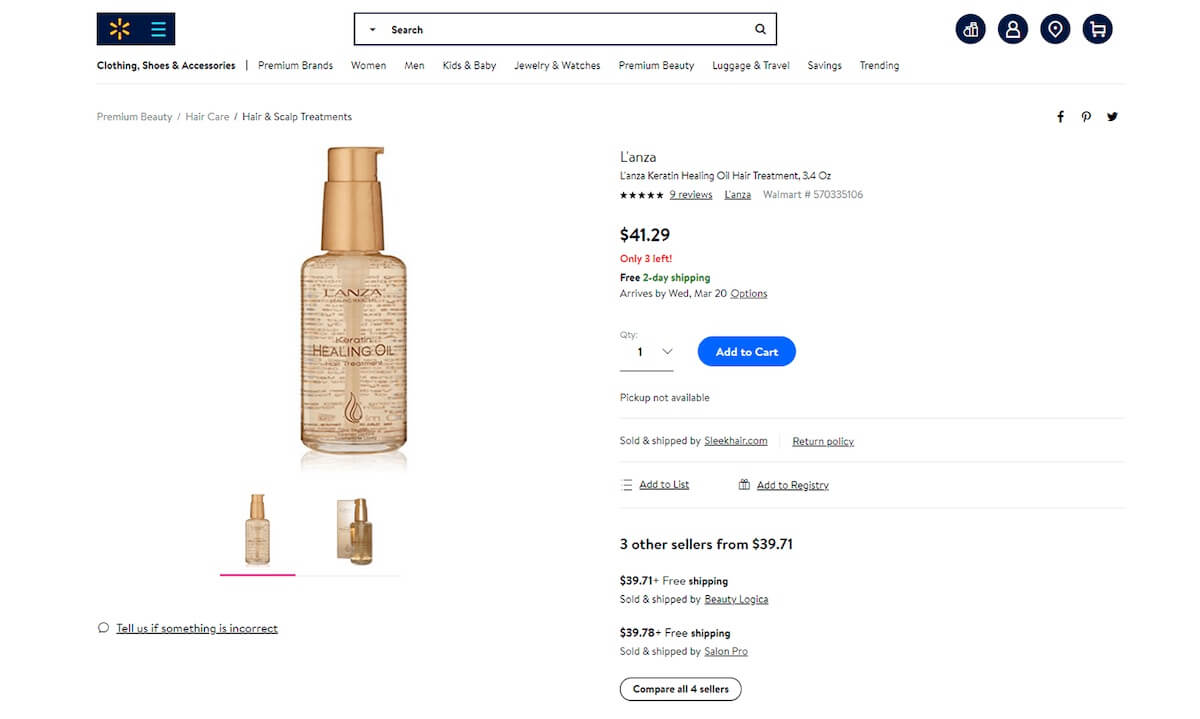 Basically, winning the buy box means that all the sales from that product listings go to the winner. To get to the top you need to provide the best service, mainly the lowest price and the fastest shipping. A lot of the listings are dominated by Walmart itself which is no surprise since the retail giant has vast possibilities to provide better pricing and shipping.
In the screenshot above you notice that the seller who won the buy box does not offer the lowest price. On top of that, the winning seller does not have the best seller rating. So, how did they win that buy box? The answer is "2-day shipping". Walmart knows that customers want their products delivered quickly and heavily promotes sellers who offer 2-day shipping. So, if you have a lot of competitors, try beating them by activating this shipping option for your products.
If you are the only seller in your listings and only compete in the search results you need to find a way to make your listings more relevant to shoppers. The best option here is to have reviews.
The review system builds customer trust and shows potential buyers that your products are worth purchasing. Walmart has two separate review sections: product and retailer reviews. To get positive retailer reviews you need to provide excellent customer service: answer questions and requests in a timely manner and fulfill the orders as quickly as possible. Do that, and positive product reviews will come your way if your items are of great quality. Basically, those are the two pillars of online retail.
Walmart Search Algorithm: It Is Time to Bring Your Products Up
Becoming a successful seller on Walmart is a challenging task that requires a complex approach. You need to be excellent in everything from working with customers to listing your products. The provided guide will help you move on with your task step-by-step and achieve the best results in record time.
But when you have hundreds of different items in your inventory, listing all of them manually can be a daunting task.
A tool like Sellbery can help you automate this process and upload all of your products swiftly from your online store to your Walmart account, eliminating hours of manual listing. Click here to learn more about product management is Sellbery.
We hope that this article will help you in becoming a successful Walmart seller. Best of luck!


Also Popular on Sellbery
Amazon Bullet Points Guidelines: Requirements & Tips
Are you utilizing tools that Amazon provides to the utmost? The marketplace has built different tools that are designed to help sellers with their eCommerce business. Product listing is one of the ways to set items apart from similar ones, attract the attention of shoppers, improve ranking, and enhance the overall performance in the marketplace.