Best Black Friday & Cyber Monday Campaigns That Stand Out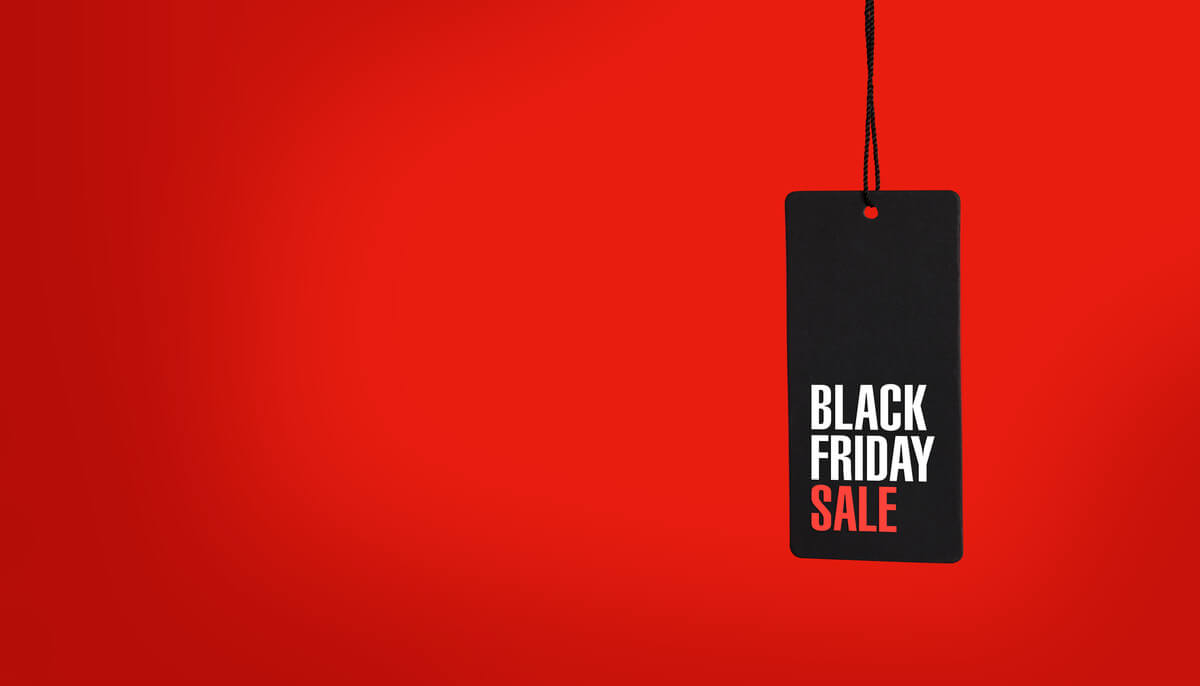 Sellbery prepared a list of efficient tips and pieces of advice that every online seller should implement this year to increase their income. Moreover, we have analyzed much info, and now we offer you not only the secrets of raising your profit but also how to make the customers loyal. So let's delve deeper into this issue.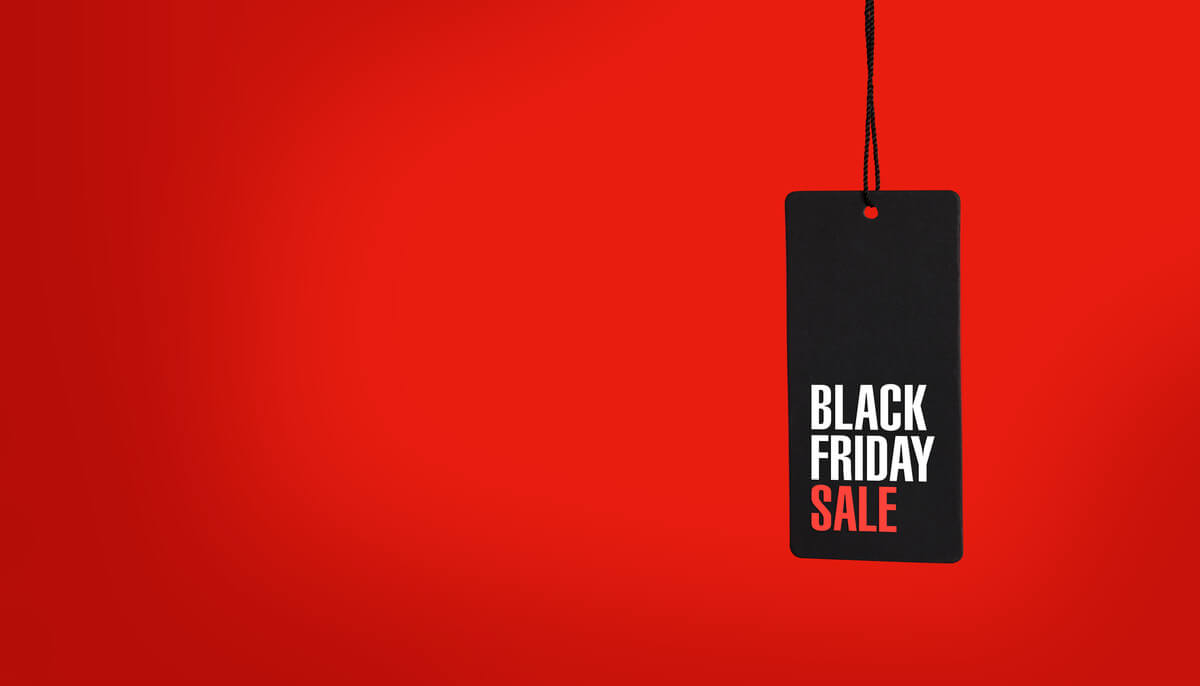 Black Friday and Cyber Monday are the most anticipated events not only for shopaholics but for sellers also. According to Finder data, people in 2018 spent more than $90.14 billion, making purchases in online stores. A crazy number that establishes the fact that if you have never tried offering any discounts and sales on holidays, it is high time to try it this season. 
Sellbery prepared a list of efficient tips and pieces of advice that every online seller should implement this year to increase their income. Moreover, we have analyzed much info, and now we offer you not only the secrets of raising your profit but also how to make the customers loyal. So let's delve deeper into this issue. 
Best Black Friday Marketing Ideas
Effective company Black Friday marketing strategy creation is an important point in attracting and holding a big amount of customers. As a rule, there are weekend discounts for 4 days. Some of the sellers prefer organizing different types of sales for each day. So, the first day is going to be a 50% discount day, for example, the second one is devoted to items on an 80% discount or free products. Sunday can be the day of 30% discount and so on.
In fact, there are no certain rules on how to organize huge sales. The most important thing here is to think of something special that will tempt clients to buy at least one item. 
Build a Creative Black Friday Strategy and Content Plan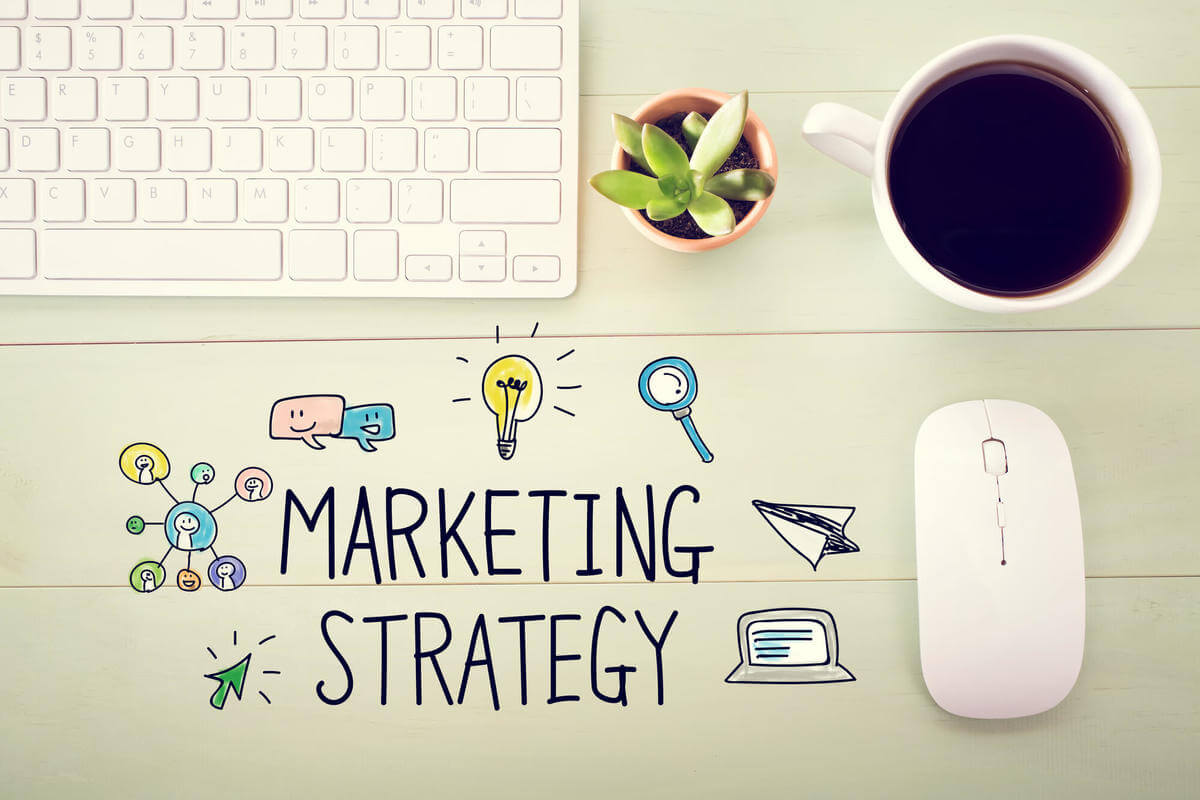 Firstly, it is efficient to create a particular best Black Friday and Cyber Monday marketing strategy. Set the deals you can offer to your clients. Do not miss this point, as this is the start of your future sales campaign. Create a list of discounts and special offers from your company. When you and your partners are satisfied, start creating a content marketing plan in which you need to include: 
Design items. These are banners, images, GIFs, etc. Think about each detail for the blog, mailing, ads, and home page performance. Visuals should blow the minds of potential customers.
Social networks. Automate your posts on social networks, thus making your life easier. Write a copy in advance with the appropriate hashtags, then use special programs to automate your marketing. Pay attention to moments where your subscribers' interests are located, so that you can publish news at a convenient time for them.
Discounts and Sales. Determine what discount you can offer without affecting your income too much. If you offer some VIP discounts for customers for additional savings, you need to make sure that you are still making a profit. Keep in mind that you will spend more money on advertising and pay for real products, so be sure to consider these costs.
When everything is ready, you can start promoting your offer and making money. 
Impress with Emotions and Fillings
All the sellers should know the importance of a qualitative influence. Content is the first thing people pay attention to. These can be text, images, video. All the product illustrations must be high-quality to evoke positive emotions. It is they that affect people's willingness to buy your merch. Customers usually make purchasing decisions based on color, aesthetics, and photo quality.
In addition to photographs and illustrations, it's a good practice to insert video reviews or video advertisements. Video content is now a true trend in all successful marketing strategies. Moreover, the use of the video format is a good chance to increase brand awareness and attract new customers. The Facebook manual says that viewers save 95% of the messages sent via video and only 10% with text. What's even more interesting, WebFX says that after watching a video, brand association increases by 139%.
Coca Cola ads seem to be famous and recognizable all over the world. We remember this because of emotions and a festive spirit. This is a pretty nice trick for people to remember and identify their products. Thus, do not miss the chance to make your products unique and vibrant, and your customers – loyal.
Make Some Noise. Announce Your Offer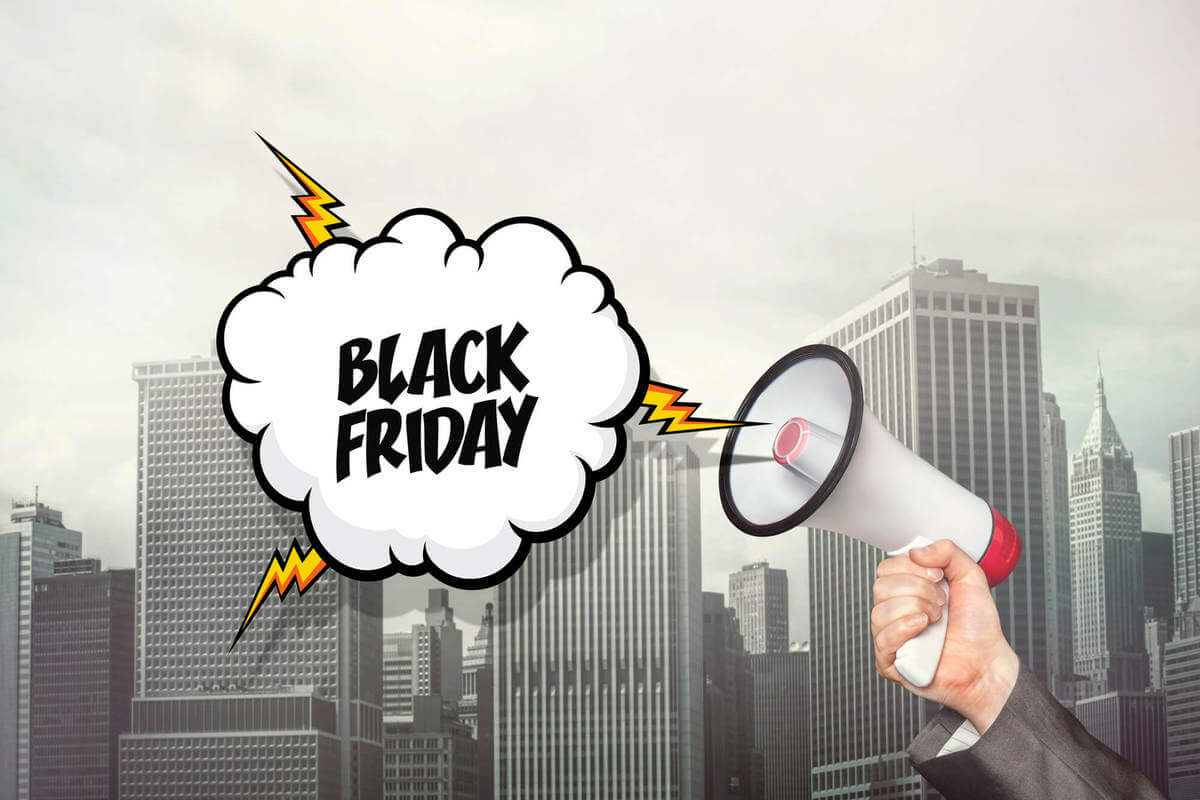 Everybody knows about Black Friday and Cyber Monday, but nobody knows about the discounts in your store. Talk to your audience. They are waiting for the news. You need to tell your clients about the special offer that you have prepared and will be offering. 
Most successful Black Friday campaigns start with emails. For many years email marketing is considered to be one of the best promotional channels. The Direct Marketing Association announced that sellers have a chance to earn about $32 for each $1 they spend on email marketing.
Use a special template with bright images and letters. Particular phrases that attract people's attention, make them remember your brand and create participation before the special deal. Sounds great, so why don't you try it? There are several ways to work with emails on holidays. 
Loyal and previous clients.
Contact your customers and offer them an exclusive deal with a unique promo code that will help them to save some money while buying a qualitative product. It works due to the fact that these people have already made a purchase in your web store, so there is a great chance that they will do it again. Include clients who have bought something for the last 30 days. This plays for the moment that these clients still remember you and your brand and they are still under a good impression. 
This point is a little bit more complicated as it is necessary to garner the attention and trust of new people. Create a complete list of your offers so that potential customers can check it online. Make sure all the products, links, and images are clickable. Nobody wants just to look at some pictures or read a text with a discount offering without any proof and demonstration. Pay attention to the email subject lines. Keep in mind that if it is too promotional, there is a great chance your letters might end up in your subscribers' spam folders. 
For both ways, it's important to know your clients and make sure your e-marketing practices comply with GDPR rules if some of your recipients are from the EU. Sacrifice a part of your time to make your promotional letter bright and catchy. It is also a valuable point people really love. 
Create a Special Sale or a Gift Guide
It a nice chance to make new customers feel comfortable on your website. Especially if you are dealing with some physical products. You must know that it is important to catch customers' attention for the first 3 seconds of their first session. Make special categories with products or even create real instruction on how to make purchases on your site not to let clients leave your store because they cannot find anything.
There are 2 ways to create such a guide.
Create a collection
Write a blog article.
To create a collection, it is necessary to set up a product tag with the same name. Then go to all the product pages that you want to add to this guide and add the product tag.  The collection is usually automatically overseeded.
Creating a blog post is a bit more work to do, but it can be a more effective eCommerce Black Friday strategy. You can make a real list, for example, 15 best gifts for car and moto lovers with a link to pages with discounts.
Sellbery is a multichannel listing tool which automatically synchronizes product listings, order and inventory data between online stores on Shopify, Magento, Woocommerce and top marketplaces such as Ebay, Amazon, Google ads. etc.
To attract more customers' attention to your guide share it everywhere. Place it right on the homepage of your store, make a special holiday mailing. By the way, it is a great way to create a word of mouth strategy that will help more and more people to remember your brand and store. 
If you decide to turn your guide into a blog post, it might be a rewarding idea to share it on social networks. We recommend advertising your post through Facebook Ads to attract more traffic to it. Be sure to add UTM tags to track the sales performance of your guide.
Provide Free Bonuses or Presents with Every Purchase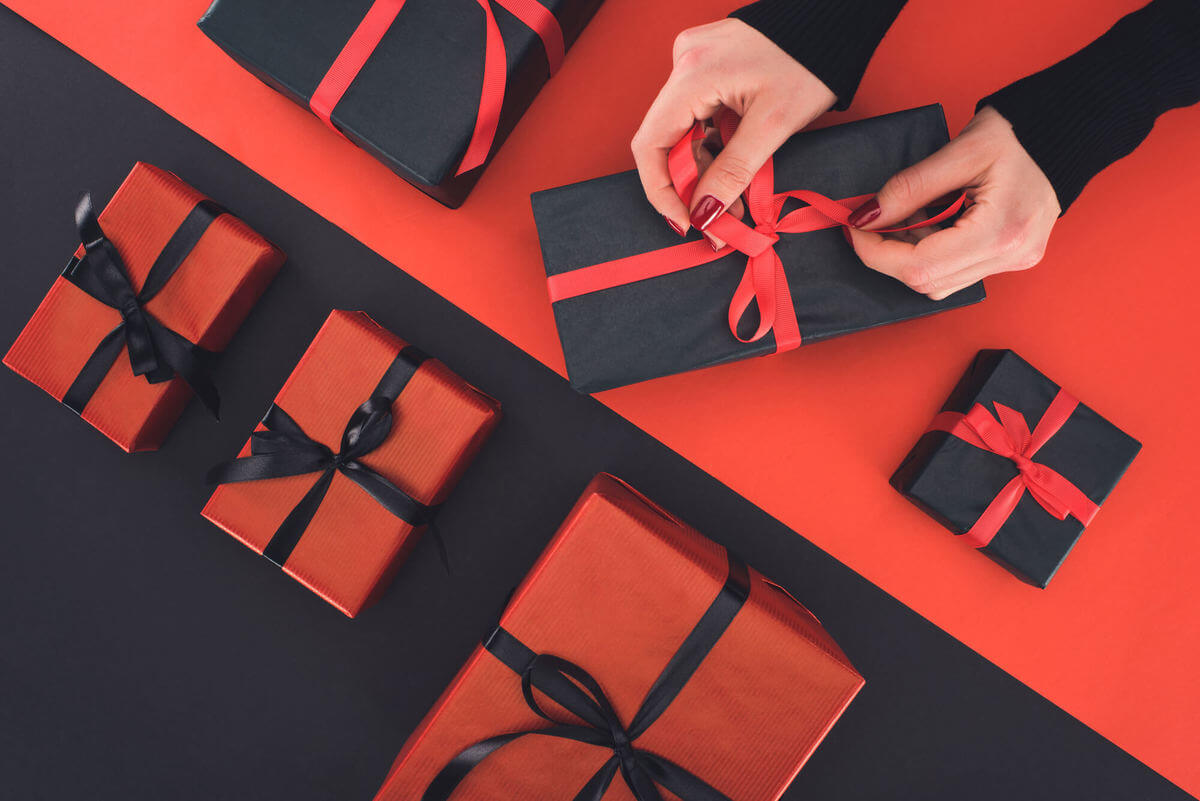 While we are talking about the gift guide, let's take a closer look at the presents and bonuses themselves. This point also includes several ways to boost this action. Demonstrate a free gift that you offer on a banner, create a unique and catchy visual. Set some minimums as "with every $100 order get a complimentary gift" or you can provide this offer to everybody who purchases if you have high margins.
There is a great variety of variants you can present:
Accessories if you sell clothing
The household item for orders in your furniture store
Cosmetics probe if your clients buy a mascara, for example. 
There are special programs that help automate the process. It offers a free 14-day trial for new users, which is ideal for testing during the holiday season and continues if you see great results. The application will allow you to set a minimum purchase amount, receive a product with a complimentary gift, and much more.
All in all, people love getting complimentary bonuses and gifts. It makes them happy as a clam.
Don't Forget to Add New Products and to Replenish Stock
All the clients are fond of browsing new merch. Regardless of whether the customer bought one product from your store once or if they are loyal clients already, new products will always arouse their curiosity.
Do it a few days before Black Friday. It is important to notify clients about the arrival of new products beforehand. This allows former customers to gain a new positive experience once they return to your store. An additional choice of new items can mean additional sales without the cost of the promotion before a big sale.
Then introduce the exclusive Black Friday merchandise to boost sales on that day. You can add a countdown timer that shows the time until the end of the promotion. You can also add an image of the product at the top with the inscription "Black Friday Exclusive" so that people know that the merch will be available only on this particular day. This creates a call to action to buy the item right now, as it will no longer be available after the sale.
Moreover, do not forget to have as many products as possible. If you want to sell much, it is necessary to have many items. It will not be a nice situation when people visit your website and are ready to make an order, but you cannot offer them anything as your products have run out of stock.
Increase Your Advertising Costs
As a rule, all the sellers spend more during the holiday season. Black Friday sales profitability is seen by many people as a major investment justifying an increase in spending. This means that the cost-per-click (CPC) will be higher than usual. If you plan to advertise on Facebook, for example, consider increasing the number of advertising days by several days compared to Black Friday. This will give the ad enough time to optimize conversions, and also allow you to adjust before a big day. 
By spending more money than usual, you might be noticed by potential customers. This is another reason why is it important to mention the Black Friday deal or have attractive discounts to win people's attention. Customers will be willing to buy if they are offered the right offer at the right price and at the right time. Focus on your best selling Black Friday products to promote the efficient offer.
Final Thoughts and Go Ahead Making Money 
So now, when you are already in deal, pay attention to the points we have described above. Your web store must be ready for Black Friday and Cyber Monday sales. The largest retail weekend is approaching, so implement the tactics that best suit your store to maximize your profit during these big days. 
To be a real influencer and giant of sales, create a campaign that:
Uses social evidence from your top clients and influencers
Makes people share their experiences or your products on social networks.
Collects email addresses to facilitate future communication
Rings to your brand values.
Good luck!
Forever Free 99 SKU Plan — the best offer on the market.
Pain-free integrations with the largest marketplaces to sell your products in 50+ countries.
Free & Easy connection to Google Merchant for an unlimited product upload to start Google Smart Shopping Campaigns.


Also Popular on Sellbery
How to Increase Amazon Sales: Ultimate Guide
Amazon is an online marketplace with the world's largest competition. Today, more than 2 million merchants generate 40% of all Amazon sales. More than 100 thousand of them have a turnover of no less than six-digit sum each year. Impressive and scary to start!