Shopify-eBay Integration: How to Use Channels at Once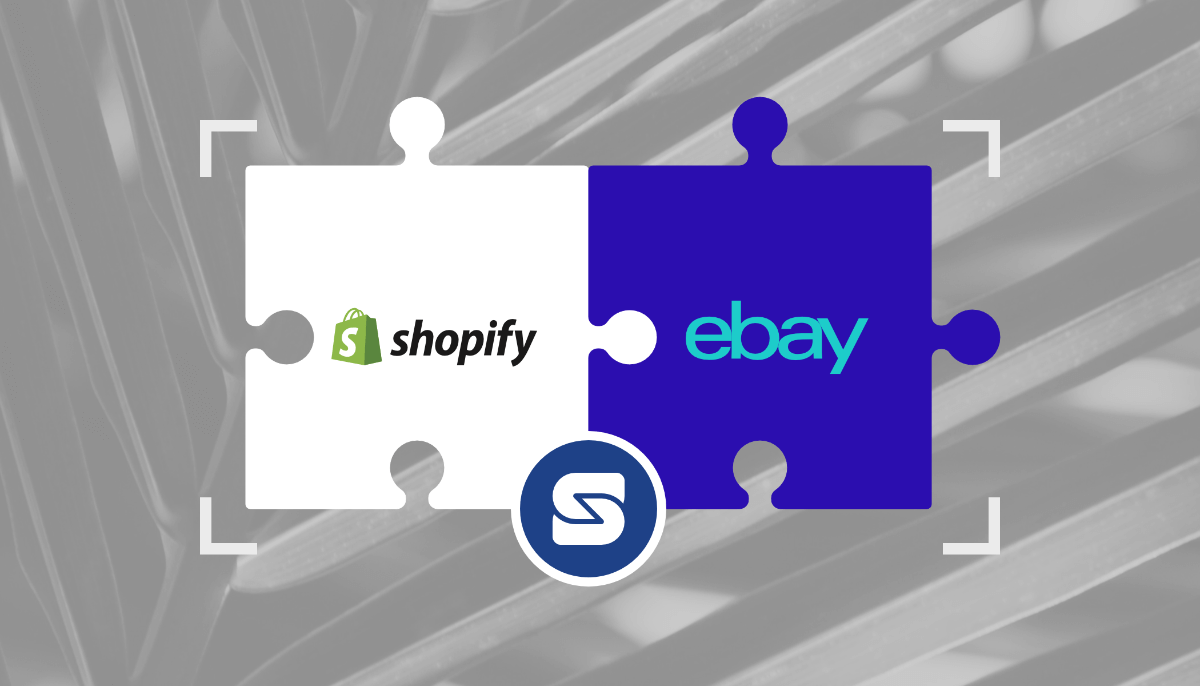 Rule your multichannel selling and win big. Let's learn about Shopify-eBay integration, why and how we need to do it, tariff plans for both channels, and the benefits of multichannel.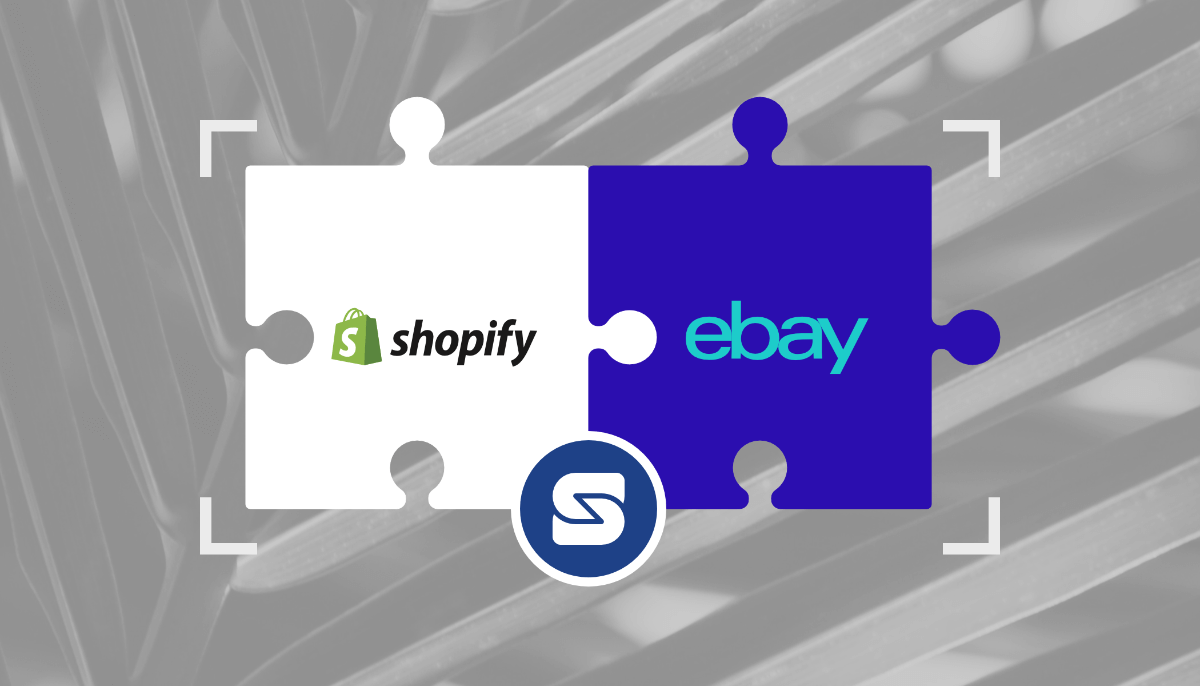 Sellers increase their online visibility by offering goods on multiple channels. In this way, they sell more to customers than if they worked on a single platform. The advantages are evident:
Large potential audience
access to the sales order and shipping management system;
Savings on advertising: buyers are automatically more loyal to the brand if they see it on many platforms (especially large marketplaces).
Today, it is especially vital to run your business across multiple sales channels in today's dynamic market environment. As the saying goes, "don't put all your eggs in one basket". Having several baskets for your eggs, meaning several sales channels, that can complement or replace each other in case of an unforeseen situation. If the business is down on one marketplace, other platforms are helping to keep your head above water.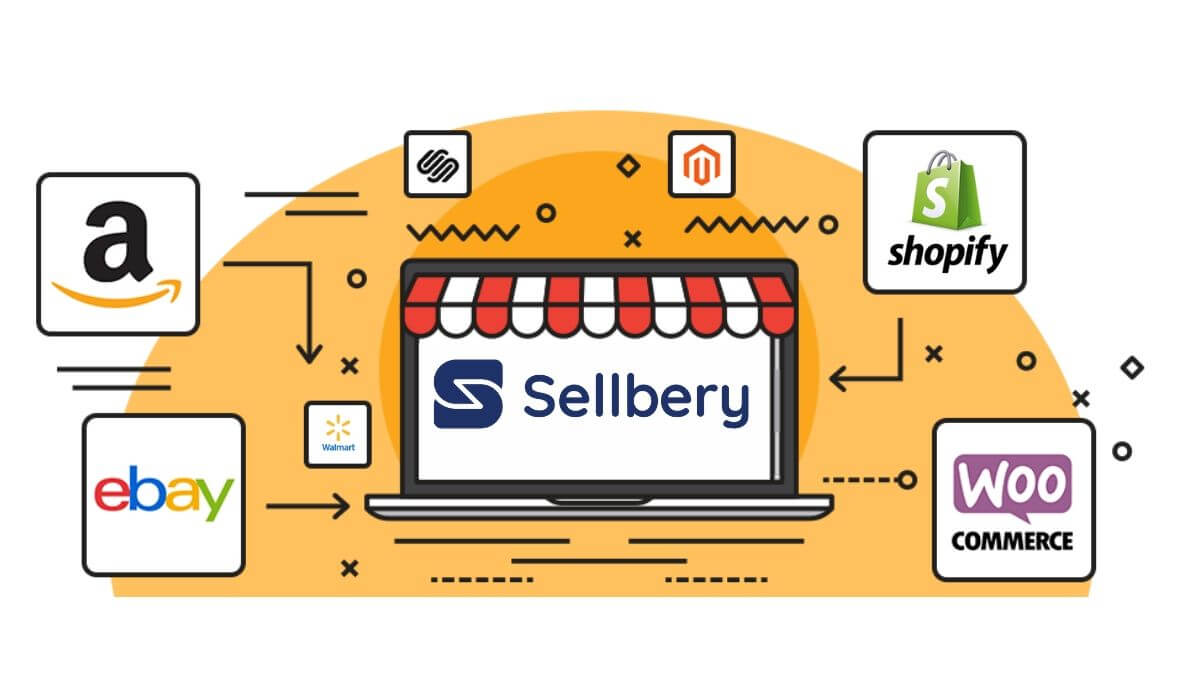 Here the question arises: How do you manage three, five, even ten sales channels with limited time and labor resources? It is necessary to integrate the sites. The easiest way to do this is by using special tools such as Sellbery. In this article, we will analyze the advantages of Shopify and eBay integration.
Shopify is a cloud service that provides a platform and hosting for online stores. Here you can store data, add products, and process orders. An average user can work with the service easily to add photos, create discounts, etc.
eBay has been known since 1995 as an online auction and consumer-to-consumer transaction platform. You can also create shops there and sell items at a fixed price. Therefore, it is one of the most popular platforms for online commerce.
Stay at home and sell with Sellbery for FREE!

COVID-19 crisis significantly affects many retailers and online sellers. That's why Sellbery decided to help businesses and offer our services free of charge through October 1, 2021. Get any plan for free and start selling multichannel.
What Does It Take to Start Selling with Shopify and eBay Simultaneously?
First, you need both accounts — Shopify and eBay. How do you register profiles on both sites?
Shopify requests an email address, password, and store name to register. The name has to be unique. The platform offers a free 90-days period before the first payment. Another advantage of Shopify is you can choose the option "I'm just playing around" on the website if you want to test the platform before starting sales.
The only thing you need to have to activate an eBay account is an email address. However, there are two more registration options: with your Facebook or Google profiles, or your Apple ID.  After that, you can browse the platform for free to explore all the services. You should verify your account to start selling (or buying). The online auction sends an email with instructions. Please note:
Individual sellers can choose a personal account for occasional sales
Businesses will need a business account
Shopify Plans for Sellers
Shopify allows you to work with three basic tariff plans (specified on the site), and two additional:
Basic — USD 29.00 per month plus 2.9% and 30 cents per transaction. Better for shops with monthly revenue less than USD 16,333.
Shopify — USD 79.00 a month plus 2.6% and 30 cents per transaction. For shops with month revenue from USD 16,333 until USD 110,000.
Advanced — USD 299.00 a month plus 2.4% and 30 cents per transaction. For shops with revenue of USD 110,000 to 680,000 per month.
Lite — USD 9.00 a month. With this tariff plan, you sell on an existing website or social network public.
Shopify Plus is designed for enterprises; according to it, the business pays USD 2,000 a month and 2.15% for a transaction. That is for brands with revenue of over USD 680,000 per month.
Remember that using bank credit/debit cards adds extra cost to the plan. You can use Shopify Payments to reduce the expense.
The basic Shopify account offers everything you need to start an online business. The list includes:
Two accounts for employees
Twenty-four-hour support
Unlimited number of placed goods
Online blog shop
Payment system
SSL certificate
Discount Codes
Manual order creation
Abandoned cart recovery
Within the standard account, gift cards and reports are added to this list. The number of employee accounts is increased to five. The advanced plan gives fifteen accounts, advanced reports, and third-party calculated shipping rates.
eBay Plans for Sellers
eBay can be divided into two categories: one for store owners and one for standard (one-off) sellers.
The basic account is suitable for retailers with extremely low sales volumes. For the regular sellers, it costs:
Insertion fee — the amount charged for the product listing. There are fifty listings per month free of charge.
Final value fee — it is paid when the item is sold. Percent depends on product price, delivery, and storage costs. For most goods categories you have to pay 10% (maximum up to USD 750).
Not sure how to start selling on eBay? Read our Extensive Guide on How to Sell on eBay and Become a Successful Seller.
The eBay Store subscription reduces fees and gives more free listings per month. The final value fee is reduced by 60%. The client also gets additional tools for business. Store package comes in five options:
Starter — monthly subscription of $7.95 USD. Suitable for 65-176 listings per month (or sales level below $366USD  per month).
Basic — USD 27.95. Suitable for 177-328 listings per month.
Premium — USD 74.95. Best for 713 — 3,416 listings.
Anchor — USD 349.95. When creating at least 62,501 listings.
Enterprise — USD 2,999.95 annually. When creating at least 64,001 listings per month.
What are the Benefits of Multichannel Selling?
So, what to choose, eBay or Shopify? The answer is both. However, if your budgets are seriously limited, the solution depends on the business needs.
eBay is better suited for side and fast earning, for income on discarded items. It is also good for businesses that don't have their own brand. Buyers come to eBay, not to your store.
But when you're holding a branded store or you're committed to building a name and reputation in the long run, then Shopify is the best choice. You'll have to spend more money on advertising and traffic creation, but you have complete control of the online shop.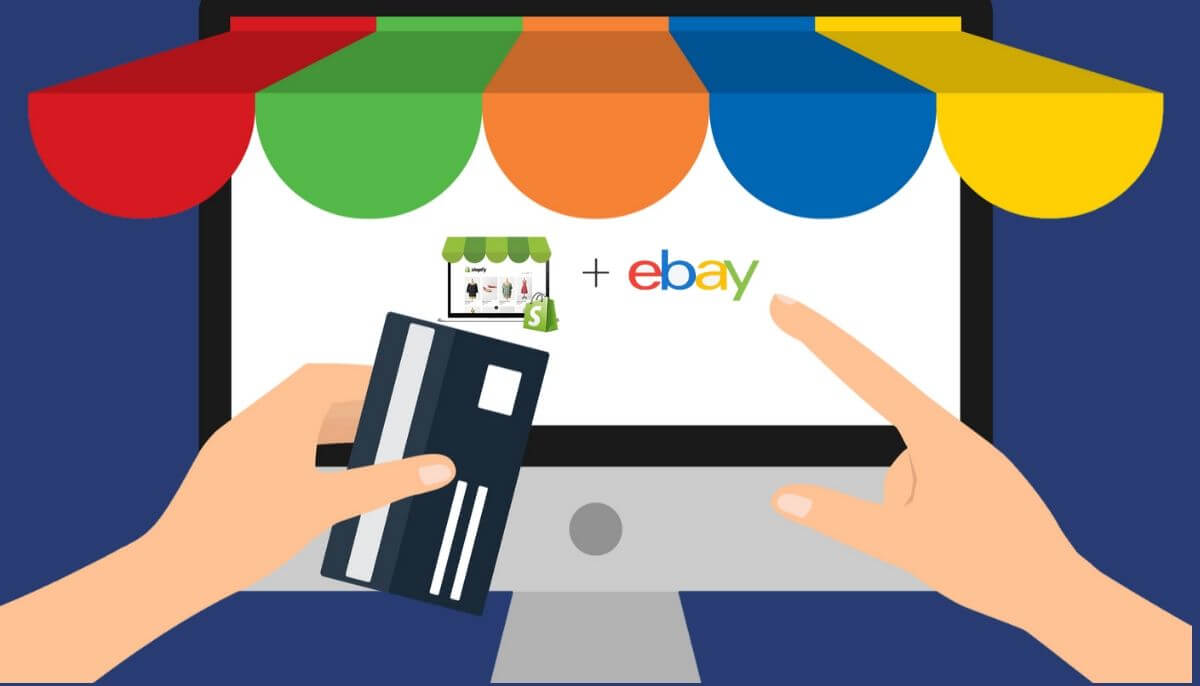 If you compare two completely different platforms, selling on eBay is like selling from a booth in a market while selling on Shopify is the equivalent to selling products from your own store.
However, these sales options are not mutually exclusive. On the contrary, they can carry specific benefits and complement each other in a pair. That way, the multichannel is always better. Building your online store requires budgets and time. The auction can serve as a starting point for your online presence and as a testing ground for your products.
Benefits of Shopify-eBay Integration
With multichannel Shopify-eBay integration, you can perform better. First, because customers tend to choose products on several platforms (at large retailers, marketplaces, brand stores, etc.). They compare prices and reviews on at least five different websites.
It means that sellers have to be responsive to consumer expectations. By going to several sites, they get better results by accessing a larger audience.
Which retailers are the most successful at eBay?
Sellers of iPhones and other Apple products
Video games
Beauty and fashion
Fitness products
Home and garden
To manage multiple channels, it is useful to utilize special tools such as Sellbery. The multichannel platform gives your business the functionality to:
Manage lists by syncing channels — less work, more efficiency
Automate many routine processes, then use free time for marketing or processing feedback
Simplify connection to other shopping carts (Magento, OpenCart, WooCommerce, etc.)
Sellbery makes the connection between Shopify and other marketplaces like Amazon, Walmart, and Etsy easier. Estimate the number of possible integrations on the site.
How to Import Shopify Items to eBay
So, yes, you can put an eBay shop on Shopify. Or vice versa — publish your Shopify products on eBay. This is how it works:
Choose a Plan. All plans are free now!
Register at Sellbery (You need only an e-mail)
Link eBay Account
Link Shopify Account
Set up Default Category (listings)
Map Shopify — eBay
By registering for Sellbery, you get a Dashboard where you work with all integrations, products, and orders. Click on "Create a new project" to create an integration.
Select import and export points:
To transfer eBay shop on Shopify: eBay import point, Shopify export point
To port Shopify products in eBay: Shopify import point, eBay export point
For the platform to be able to work with marketplaces on its own, it must be equipped. Articles in the Help Center will help you with  credentials eBay and  Shopify.
After selecting import and export points, you should go to the import point and configure the products for download in the Download Strategy and Options menu. After downloading the products, select the desired ones, and click on the "Push" button. All selected products will go to the export point.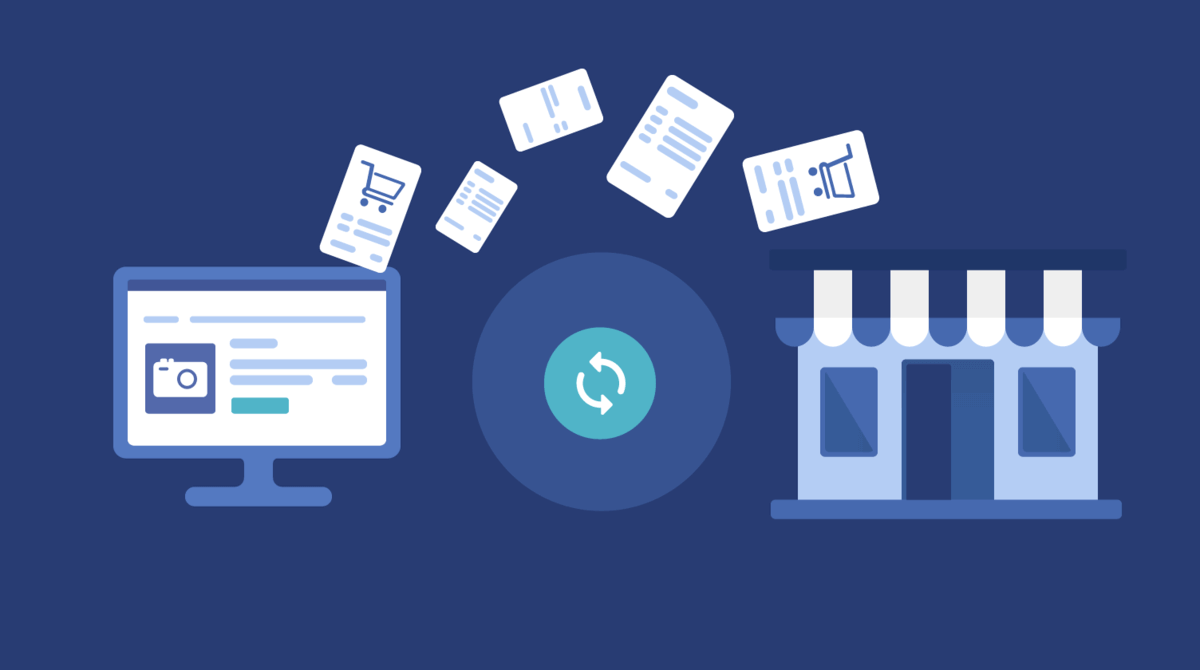 Then you need to run mapping. This process is carried out only once when setting up the integration. In its course, you set the parameters by which the platform converts data into the format required by the Shopify or eBay platform. The full instructions are available in  Advanced Tips — Mapping.
All Sellbery plans are FREE now and until October 1, 2021! It means you can start selling on the most popular marketplaces today and without paying a penny. JUST DO IT — GO MULTICHANNEL.
Bottom Line
Multichannel selling helps you reach every shopping step and device. Every channel targets different stages of a shopper's journey. If you present at all these stages or channels, you win big. Rule your multichannel strategy and your clients will keep coming back.
Sellbery is here to help. We make your multi channelling effortless and efficient.


Also Popular on Sellbery