Best B2B eCommerce Platforms for Your Business in 2023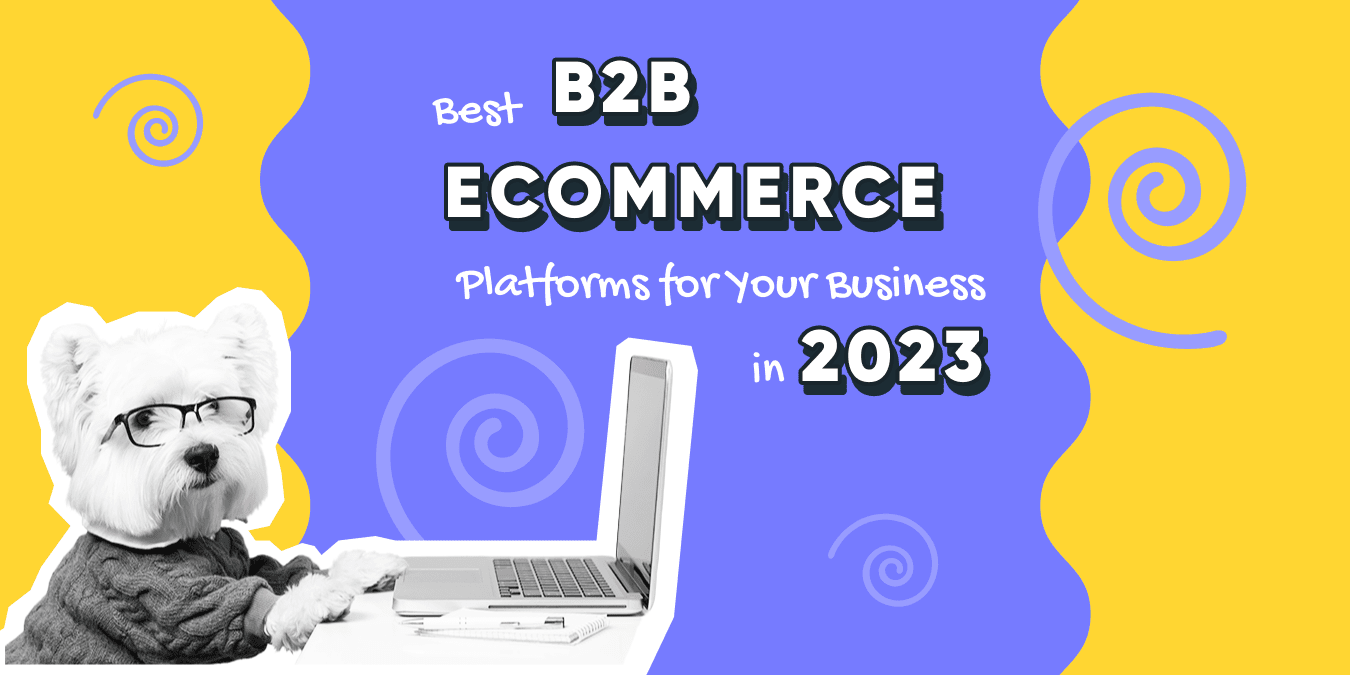 Let's explore this elaborative guide for a detailed comparison among the best B2B eCommerce platforms in terms of pricing, features and capabilities.
Since Amazon's launch in the mid-1990s, it has changed the business landscape and how people shop. With the financial security of both buyers and suppliers at risk from supply chain interruptions, logistical problems, and the delayed flow of cash, eCommerce has given businesses new opportunities to create shopping experiences that have proven to be competitive differentiators.
Technological advancement has helped B2B eCommerce bridge the gap between buyers and sellers. And the fact is that neither the consumerization of B2B eCommerce nor the rapid spread of eCommerce shows any indications of slowing down anytime soon.
In light of the importance of B2B eCommerce platforms, in order to grow your online business, whether it's your existing B2C eCommerce business or your aspirations to branch out into B2B, you'll need a solid B2B eCommerce platform. We've compiled this guide to introduce you to the best B2B eCommerce platforms in the industry. So let's get started.
Selection criteria for B2B eCommerce platforms
To help you make an informed decision about the best B2B eCommerce platform for your business, we've compiled this list of considerations.
Type of business
It's important to remember that various B2B eCommerce businesses have distinct requirements. Online stores that are looking at potential B2B eCommerce solutions should begin by familiarizing themselves with the eCommerce models.
B2B2C: With Business-to-business-to-consumer (B2B2C) eCommerce, you can sell directly to other businesses or consumers directly. The way you can remove the middleman which traditionally exists in B2B or B2C models.
Wholesale: Instead of selling your items directly to consumers, you can sell products in high volume to other businesses at a discounted price using the B2B model of wholesale eCommerce.
Manufacturer: As a manufacturer, you can produce products in huge quantities yourself and sell them to other B2B businesses which later sell to consumers.
Distribution: In the distribution model, you work closely with manufacturers to sell the goods they produced. You use different eCommerce platforms to market and sell your product.
Ease of using the platform
There are a few factors that will affect how well your team uses the platform you've selected.
The most important one is the user interface of the platform.
The depth of expertise necessary to make full use of the platform's services.
Your team member's skill and experience with previous platforms.
The user interfaces of these many platforms are distinct, each one catering to those with varying degrees of coding and development expertise.
You shouldn't expect every feature of the B2B eCommerce platform to mesh perfectly with your company's workflow. That's why you shouldn't go for the trending and popular platform, but rather the one that your team can make the most of.
Cost
When we talk about "cost," we're referring to both the price of acquiring the platform's services as well as the expenses of launching and maintaining the website. When comparing SaaS systems like Salesforce eCommerce versus on-premise alternatives like Adobe Commerce, this is one key area of differentiation.
While on-premise platforms will provide you with a high degree of personalization, they also necessitate the employment of dedicated programmers to address the numerous technical challenges that arise throughout the construction process. Additionally, On-premises B2B eCommerce solutions also come with the added cost of security and compliance.
On the other hand, a SaaS platform streamlines operations and assists you in managing and maintaining the site. Additionally, a SaaS platform takes less time to set up and go live. However, the cost can vary depending on the scale of your business.
Customization
B2B eCommerce platforms are required to provide a solution that can be easily modified to meet the needs of individual businesses. Companies can no longer expect to deliver a single, universal solution and have it immediately adopted by every business and consumer. With today's advanced technology, pinpoint accuracy is essential.
There is a correlation between the degree of customization an eCommerce platform offers and its success in attracting both retailers and consumers. The capacity to scale is the primary driver behind this. In order to accommodate rapid expansion, or to plan ahead for such expansion, businesses require a scalable solution.
Companies all over the world have caught on to this fact, and they now provide options with superior features and aesthetics, but at no extra expense.
Data-driven
Increasing your company's data-driven approach is essential to your continued success in the 21st-century commercial sector. Differentiating yourself from the competition and expanding your business may be accomplished through a thorough understanding of the data at your disposal as well as a constant search for new information sources.
Platforms like Google Analytics and the interplay of many internet channels make it simpler than ever to gain insight into consumer behavior, such as their geographic location, areas of interest, and the factors that lead to sales conversions.
To maximize its potential, an eCommerce platform needs comprehensive data-driven decision-making processes.
Security
When deciding on a platform, security is often a customer's top concern. Protecting their information is essential to getting them to use your business.
There must be a guarantee of safety while using a B2B eCommerce platform in the following areas:
Payment information.
Information collected from the visitors.
Protection from Fraud/Scam.
The use of Secure Sockets Layer (SSL) certificates.
Keeping these things protected will make clients more confident in choosing your business.
On top of that, specialized security software may shield your site from cyber threats, which in turn can boost your site's search engine optimization.
Ability to integrate software
If your company employs several pieces of critical business software, such as enterprise resource planning (ERP), customer relationship management (CRM), operations management software (OMS), etc., then choosing a platform that can interact with all of these programs is key.
There's nothing worse than investing in an eCommerce platform only to find out it's incompatible with your present set of tools. That's not simply a waste of time and energy; it's also a missed opportunity to make money.
The best B2B eCommerce platforms out there offer a streamlined method of linking together your various software.
Product management tools can help automate product lists on B2B eCommerce platforms
Check Out
Essential B2B eCommerce platform features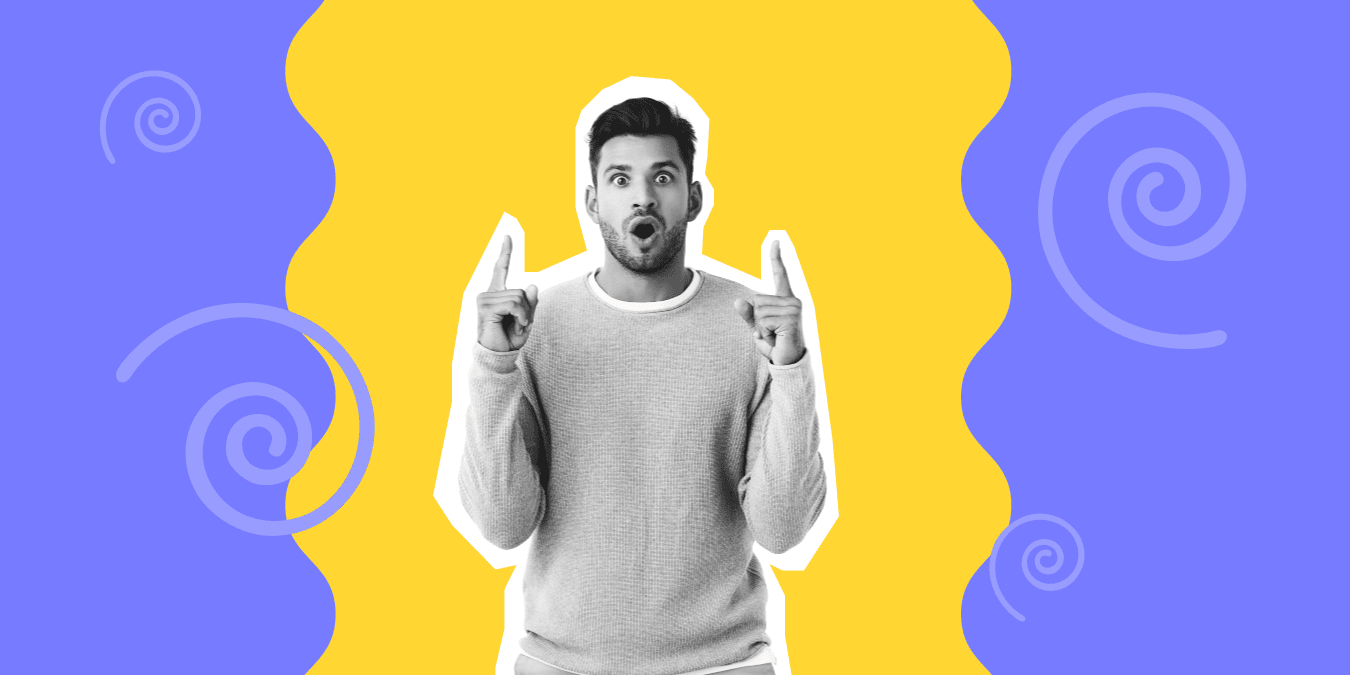 Let's examine some of the most crucial qualities of successful business-to-business (B2B) eCommerce websites and platforms in further detail:
B2B2C
In today's eCommerce world, having flexibility and scalability is important. An eCommerce Platform that can host both B2B and B2C markets helps you save money, and resources and keep your options open for expansion.
However, not all eCommerce platforms provide this capability, so you'll want to do your homework before settling on a solution.
Access to multiple sales channel
The omnichannel approach has revolutionized modern eCommerce by enabling companies to take advantage of a multi-channel strategy that includes retail stores, eCommerce marketplaces, and social media. The best way to boost sales and provide a more satisfying experience for customers is to provide a consistent and enjoyable journey across all channels.
You should make omnichannel support a top priority in your hunt for a platform's features. Customers want to be able to buy from you wherever they are, and given how much customers' shopping habits have evolved over the past decade, this is more important than ever.
Global reach and connectivity
Nowadays, people all around the world may easily access the global market. Customers can shop from anywhere in the world and receive their purchased goods in a matter of days.
Due to the global nature of business, having the capacity to sell worldwide is essential for long-term and steady expansion, and this begins with providing content in more than one language.
You should find a B2B eCommerce platform that connects you with different markets across the world. This will help you to build your brand and expand when you want to.
Different ways to limit access are available.
There is typically more involved in running a B2B eCommerce firm than a B2C one. Because of the special considerations and regulations that come with selling to other businesses, your eCommerce platform must be flexible enough to accommodate a wide range of customer needs.
The best eCommerce platform will provide you with all the tools you need for such events.
For instance, you need to:
Prevent B2C consumers from seeing your wholesale prices.
Preventing everyone from seeing the prices(for a variety of reasons).
Blocking information from non-members of your B2B site.
When and how you will be using these will depend on the unique needs of your business, your customers, and the range of products and services you offer. The B2B eCommerce software you use should provide these customization options pre-hand. In the absence of this, you will have difficulties in the future while managing these issues.
The ability to tailor costs, payments, and orders.
There are a lot of moving pieces in B2B enterprises. Order management and personalization need the cooperation of several systems, including customer relationship management tools, fulfillment facilities, and customized catalogs.
Since having many tools that don't operate together may lead to disorganization, confusion, and possible difficulties with inventory management and order fulfillment, it's important to make sure your B2B eCommerce platform supports transactional alternatives in a single, unified solution.
If your online store operates in both the B2C and wholesale markets, minimizing channel conflict and optimizing your channel management is critical to the success of your organization.
Furthermore, you may choose to offer your top customers varying delivery choices according to their tier, geography, and other characteristics.
Prioritizing customer experience
When companies want to launch an online store, the quality of the customer experience is the first priority. In order to convert B2B visitors into loyal customers, your brand and website's content must simplify and enhance their shopping experience.
For example, you may want to upload higher resolution thumbnails for your products and have the option of the additional description for the items.
Your best chance is to choose a platform with the customization choices you want since more and more B2B companies go towards an improved UX/UI with optimization possibilities. You should look for an eCommerce solution that gives you the tools to build a store that is:
Ease to interact with and browse around.
Brandable and Flexible.
Capitalible with different operating systems.
Simple to integrate with other tools, such as customer feedback polls, loyalty programs, and lead collection forms.
Are you listing products manually on multiple stores? You can automate multichannel product listing with Sellbery.
Try Now

Best B2B eCommerce Platforms in the industry
Shopify Plus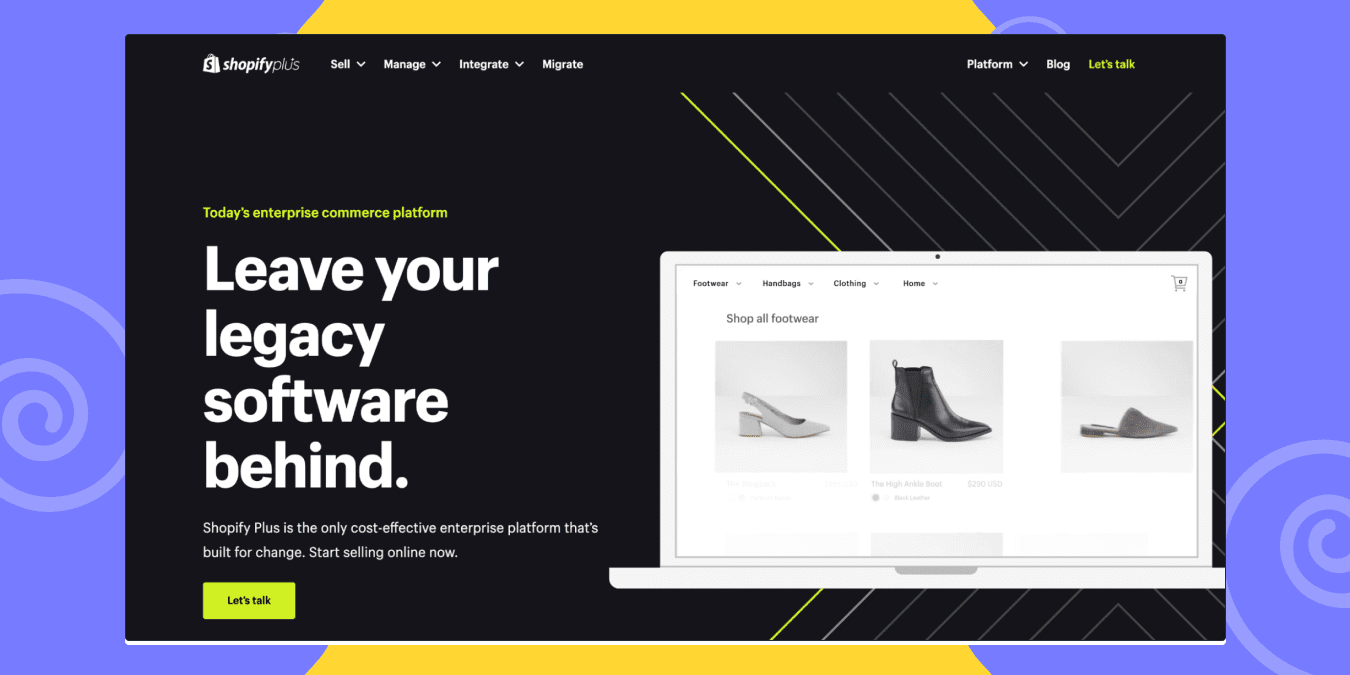 Shopify is one of the leading eCommerce platforms with over 1 million websites. And its enterprise-level plan, Shopify Plus, is a fully hosted B2B eCommerce designed for rapidly expanding businesses and brands.
Features
The Shopify Plus plan allows you to operate in both B2B and B2C markets. It offers all the features you need in a B2B platform. Some of its key features are ERP and CRM integrations, more than 100 payment providers, and conversion optimization and personalization capabilities.
Pricing
Shopify Plus payment plans start at $2,000 per month and go up to $40,000 per month, depending on your monthly earnings. After a seller's income reaches $800,000, the pricing model shifts from a subscription to a revenue-based fee of 0.25 percent of monthly revenue.
Notable Customers
Shopify Plus is hosting over 7000 brands including Pepsi, Bombas, Leese, and Nestle.
BigCommerce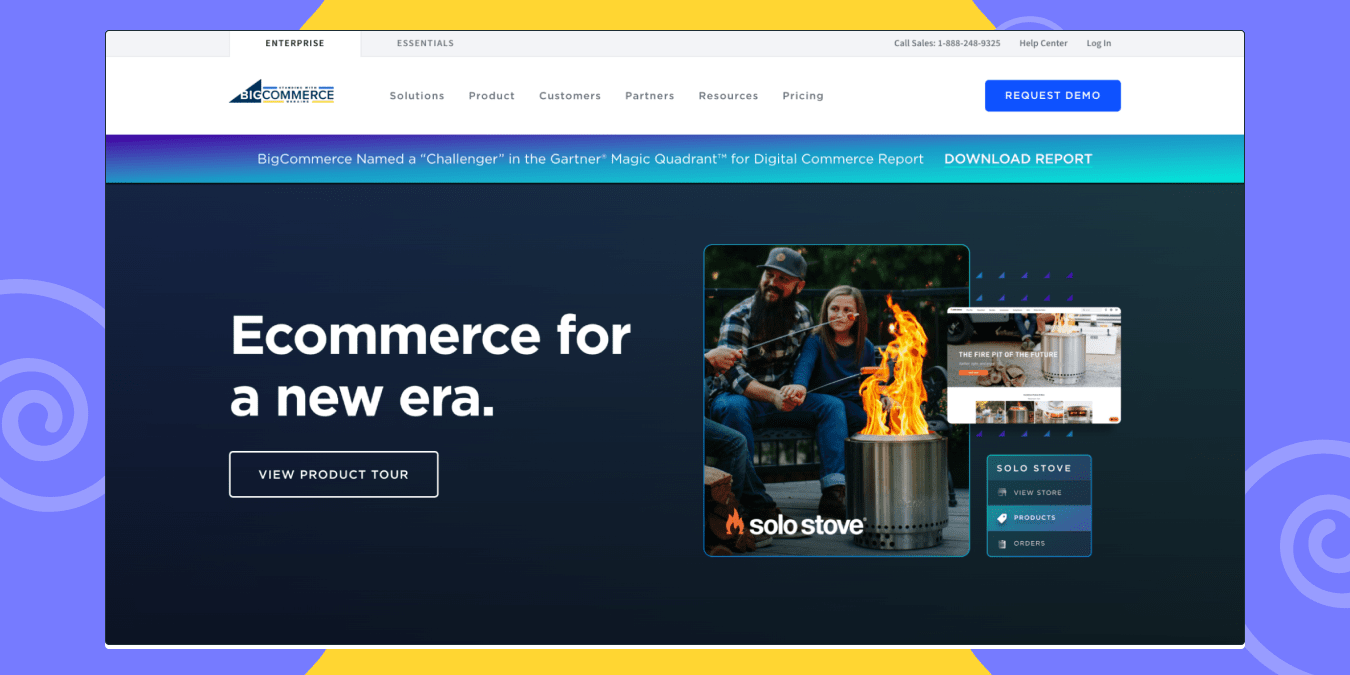 As a fully hosted SaaS platform, BigCommerce allows you to create, launch, and manage your online shop regardless of your level of technical expertise. BigCommerce is an easy-to-use B2B eCommerce platform that allows a lot of customization and provides additional tech support to assist you in building your storefront.
Features
Its key features include third-party tools integration, custom real-time shipping rates for B2B buyers, and sync data across their CRM, ERP, OMS, and other platforms.
Pricing
The enterprise plan pricing is available upon request.
Notable Customers
BigCommerce started its B2B eCommerce platform quite recently and information about its B2B client isn't public. However, it is hosting over 60,000+ brands on its B2C platform including Toyota, The Real Yellow Pages, and Avery Dennison.
Magento Commerce for B2B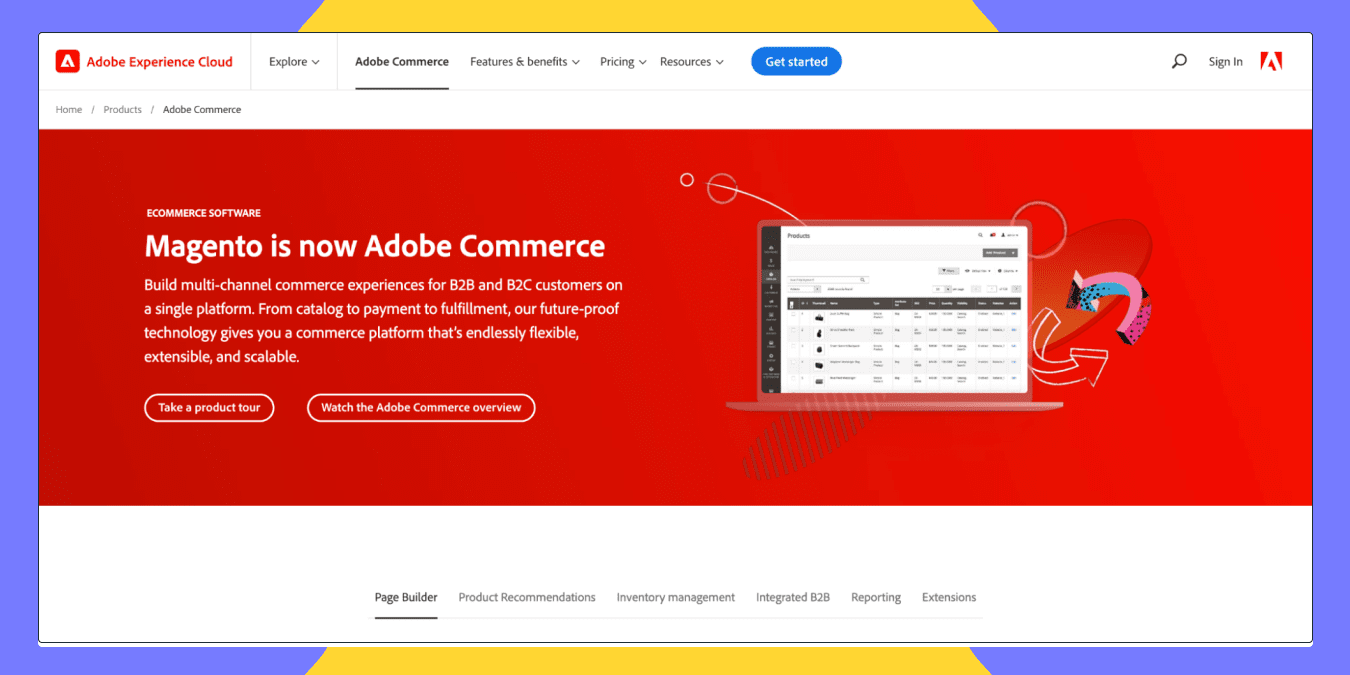 Magento is one of the best B2B eCommerce platforms with multi-channel capabilities on a single platform. It is open source which offers a lot of flexibility and customization and is catered to brands with unique product lines.
Features
Magento Commerce offers all the features you need in a B2B eCommerce Platform and also allows you to customize them according to your requirements. It has a long list of features including on-site optimization, customized catalog and price lists, advance quoting features, etc. Additionally, Magento Commerce allows numerous integrations and offers a massive extension library.
Pricing
Magento pricing starts at  $3,000 and increases as your business scales.
Notable Customers
Magento Commerce is extremely popular in the B2B eCommerce industry and has a total market share of 29.89% in eCommerce Industry. Around 260,000 eCommerce companies are using the platform including Procter & Gamble, 3M, Oliver Sweeney and Kurt Geiger.
OracleSuite Commerce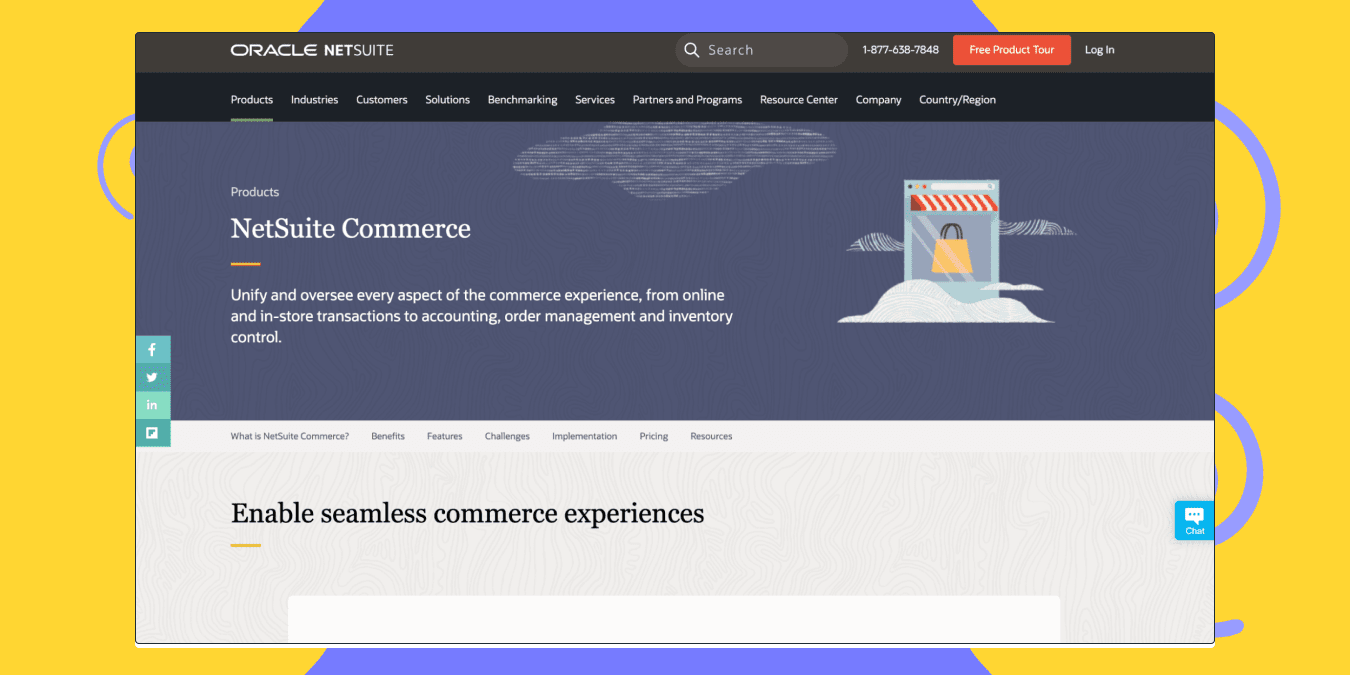 SuitCommerce is a SaaS platform by the Oracle NetSuite family. It is considered as one of the best B2B eCommerce platforms for medium size businesses, allowing them B2B and B2C access from a single platform.
Features
SuiteCommerce was developed solely for NetSuite customers, and it can be integrated with the NetSuite ERP system without any inconvenience. Additionally, all of its tools are designed to make B2b sales, payments, and customer service more efficient.
Pricing
The monthly fee for using OracleSuite Commerce is $2,500. Meanwhile, development expenses might vary considerably.
Notable Customers
SuiteCommerce is used by 3000 different companies, such as Lovesac and The Noerr Programs.
WooCommerce B2B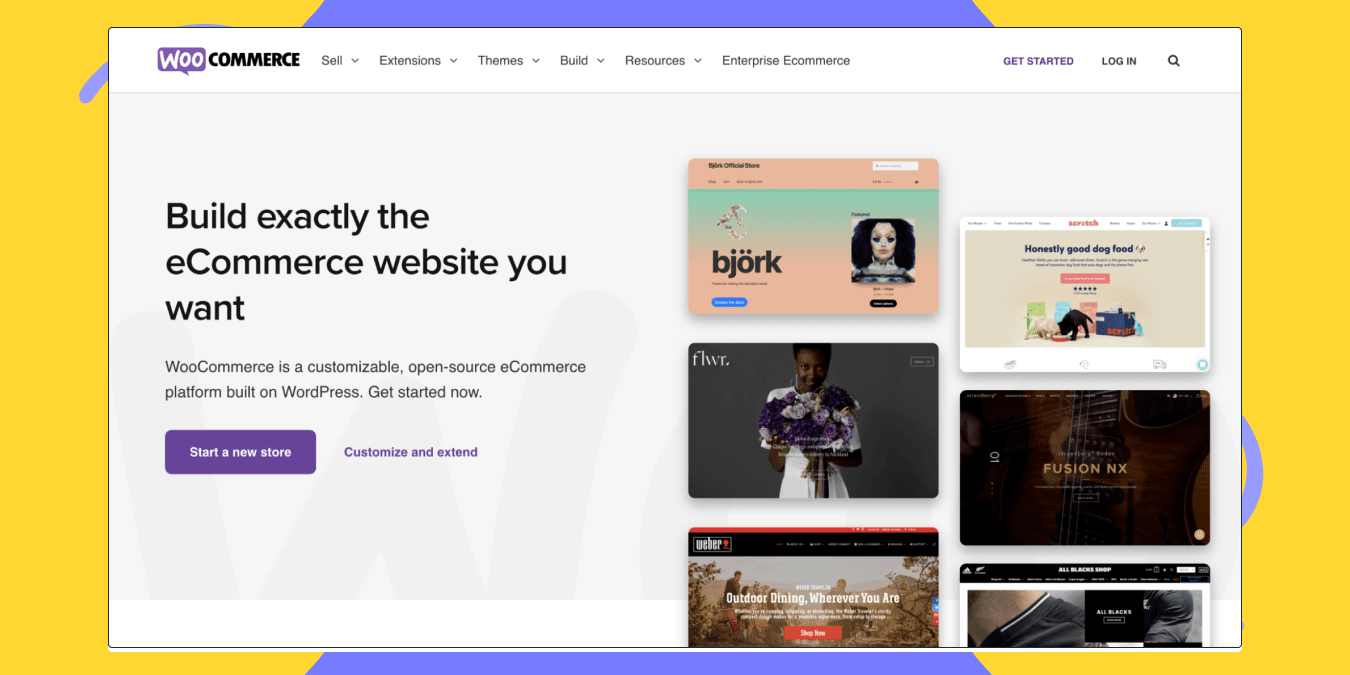 The WooCommerce B2B plugin is a comprehensive wholesale eCommerce solution for WordPress-based websites that caters to both B2B and B2C businesses.
Features
This free and open-source plugin is suitable for all online stores. It comes with a large collection of plugins that can be used to customize the functionality of a storefront according to your business requirements.
Pricing
The core version of WooCommerce is cost-free. The additional plugins do, however, come with their own fees.
Notable Customers
WooCommerce stands out among other top B2B eCommerce platforms as a result of its widespread use. 26% of all eCommerce sites are hosted by it including Weber, AeroPress and Ghostbed.
Salesforce Cloud Commerce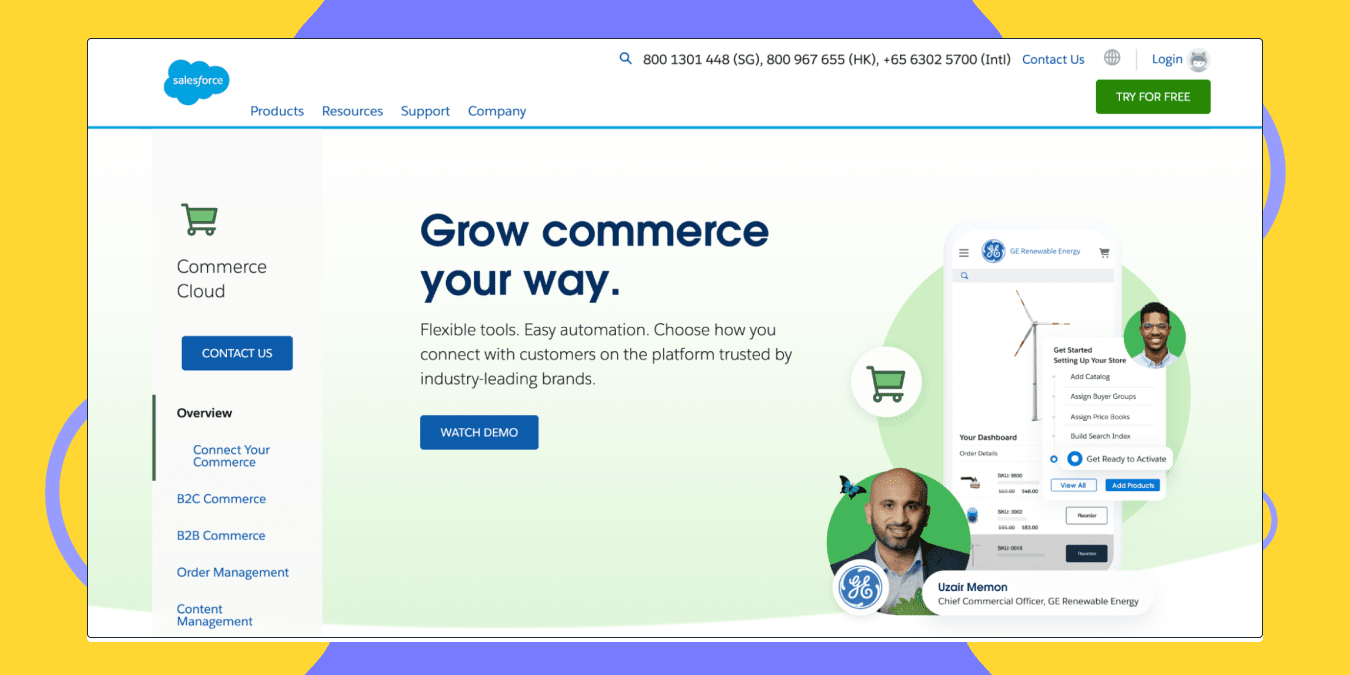 The Salesforce Commerce Cloud is a SaaS platform that serves as an eCommerce solution for businesses of all sizes. Because the service provider handles the servers, hosting, networks, and even cybersecurity, it's ready to use right out of the box.
Features
The B2B features provided by Salesforce Commerce Cloud include custom catalogs, negotiated pricing, quick ordering, lists, quote submission, multiple payment options, split shopping locations, and scheduling.
Pricing
Salesforce Cloud Commerce pricing is based on Gross Merchandise Value. The standard fee ranges from 2% to 3% of the GMV.
Notable Customers
There are over 150,000 businesses across a wide range of sectors using Salesforce solutions to centralize all of their business processes. Its popular clients Shopify, Amazon Web Services, and U.S. Bank accounts.
OpenCart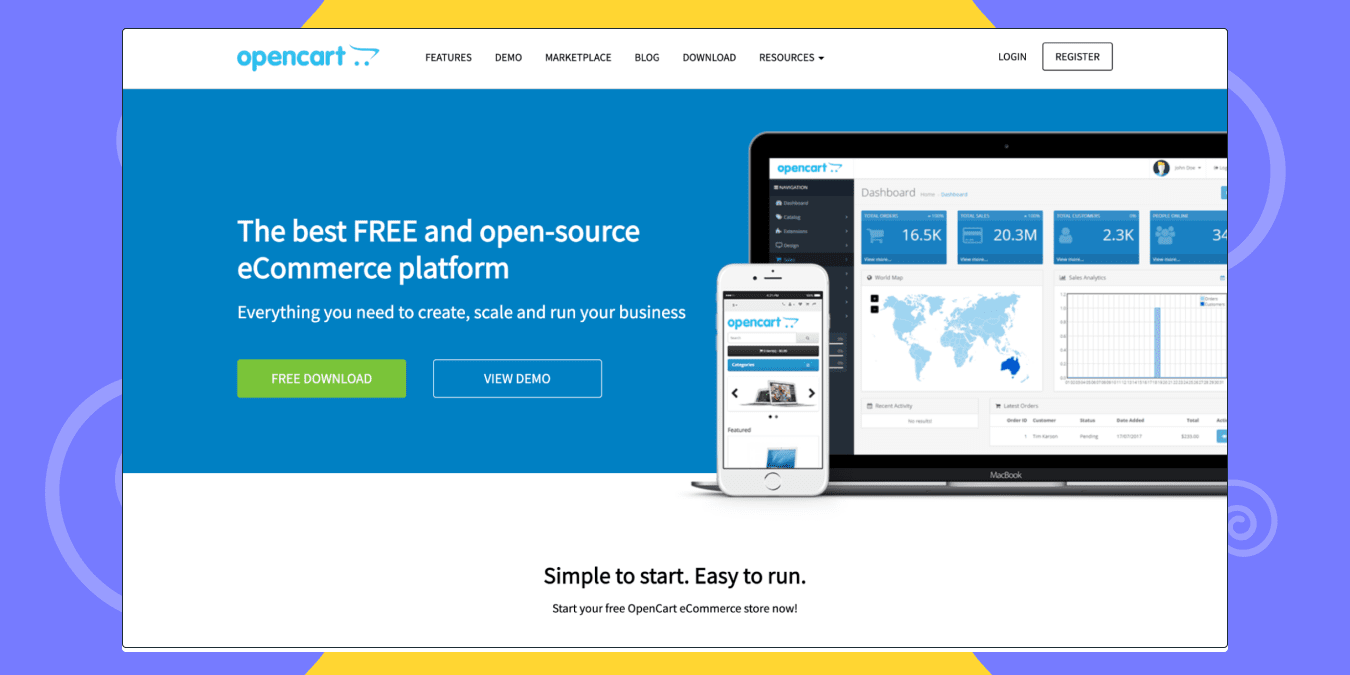 OpenCart is considered one of the best B2B eCommerce platforms. It is open source and free-to-use platform making it a popular choice for brands that are just entering the B2B eCommerce industry.
Features
As a free and open-source B2B eCommerce platform, Open chart offers a lot of features. It has several built-in features, including search engine optimization (SEO), product management, bulk product listing, discount coupons, and more. Additionally,  you can increase your store's capabilities with over 13,000 available modules and themes.
Pricing
There is no installation or monthly fees for using OpenCart. However, you'll have to pay for some of the extensions and themes.
Notable Customers
OpenCart is one of the most used platforms in the industry. Over 340,000 brands use it, including the British Red Cross, Volvo, Ace, and FX Creations.
PrestaShop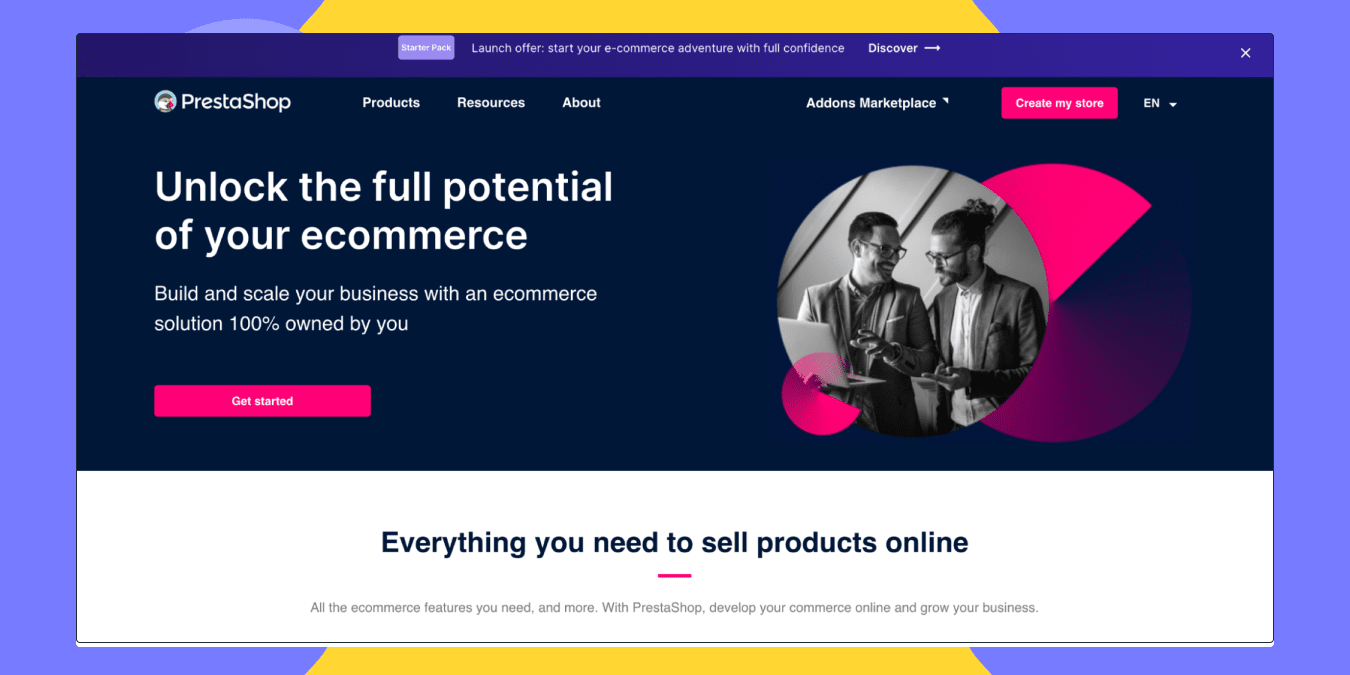 Presta is another free eCommerce platform that is on this list because it allows small and medium-sized companies to enter the B2B industry with just an addon.
Features
The platform has all the capabilities you need to run an online store. Furthermore, it allows you to convert your B2C store into a powerful B2B eCommerce Solution.
Pricing
When it comes to PrestaShop, there are zero costs involved. There may be costs associated with using the premium version of the theme or a premium module.
Notable Customers
There are 300,000 users on the platform from all around the world.
Pulse Commerce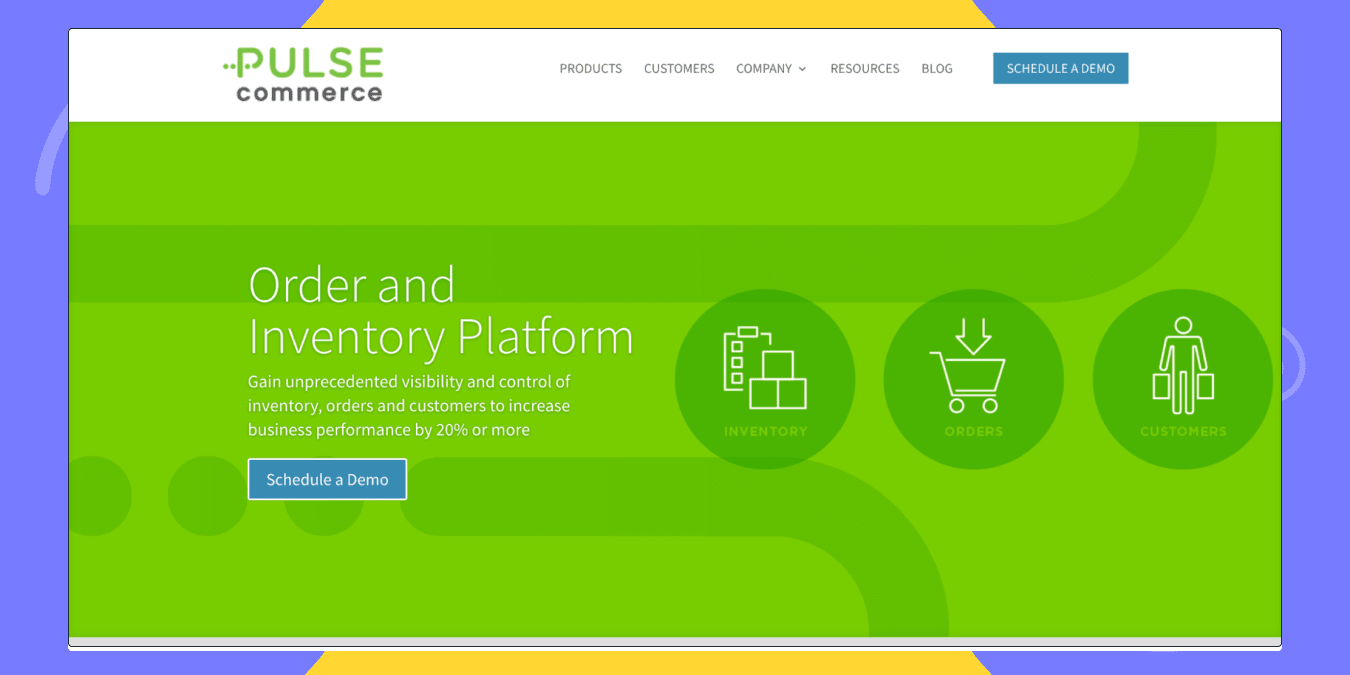 Pulse Commerce is on the list of best eCommerce platforms because of its flexibility. The multichannel platform allows you to build and host for B2C, B2B and multi-brand store sites.
Features
The platform offers over 250 configurable features including order entry & processing, negotiated pricing, promotions, product catalog management and other extensions.
Pricing
The price will depend on your project.
Notable Customers
include Badgley Mischka, Goode Co., and SoocerPro.com.
NuOrder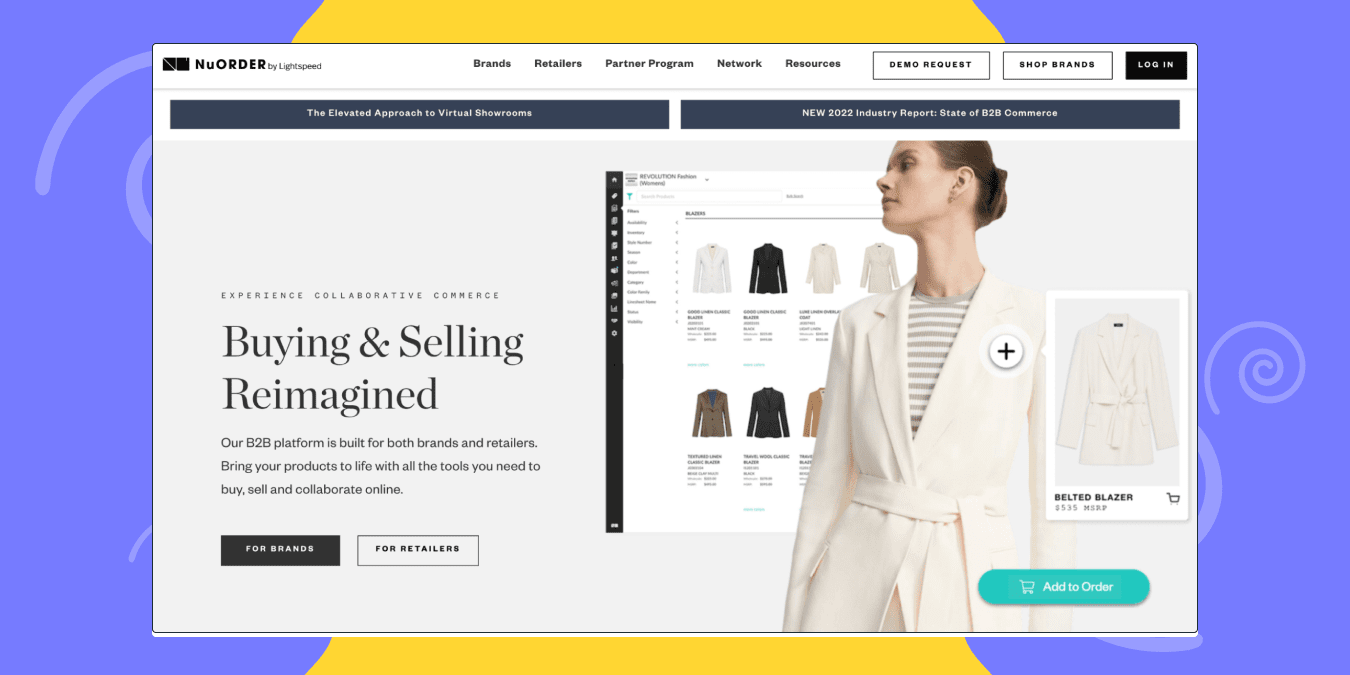 NuOrder is a B2B eCommerce platform that guarantees both B2B sellers and buyers a more streamlined, aesthetically pleasing, and financially lucrative wholesale experience. It is the best B2B eCommerce platform based on its personalization options.
Features
NuOrder provides you with the tools to make a creative digital catalog and place orders whenever you like. Additionally, You can manage your inventory on the web or through iPad, and find new buyers by reaching out to new customers through the NuOrder marketplace directory.
Pricing
Its yearly pricing starts at $7,000 and can go above $100,000.
Notable Customers
Including Rag & Bone and Lacoste, NuOrder works with over 2,000 other brands and hosts 500,000 different stores.
TradeGecko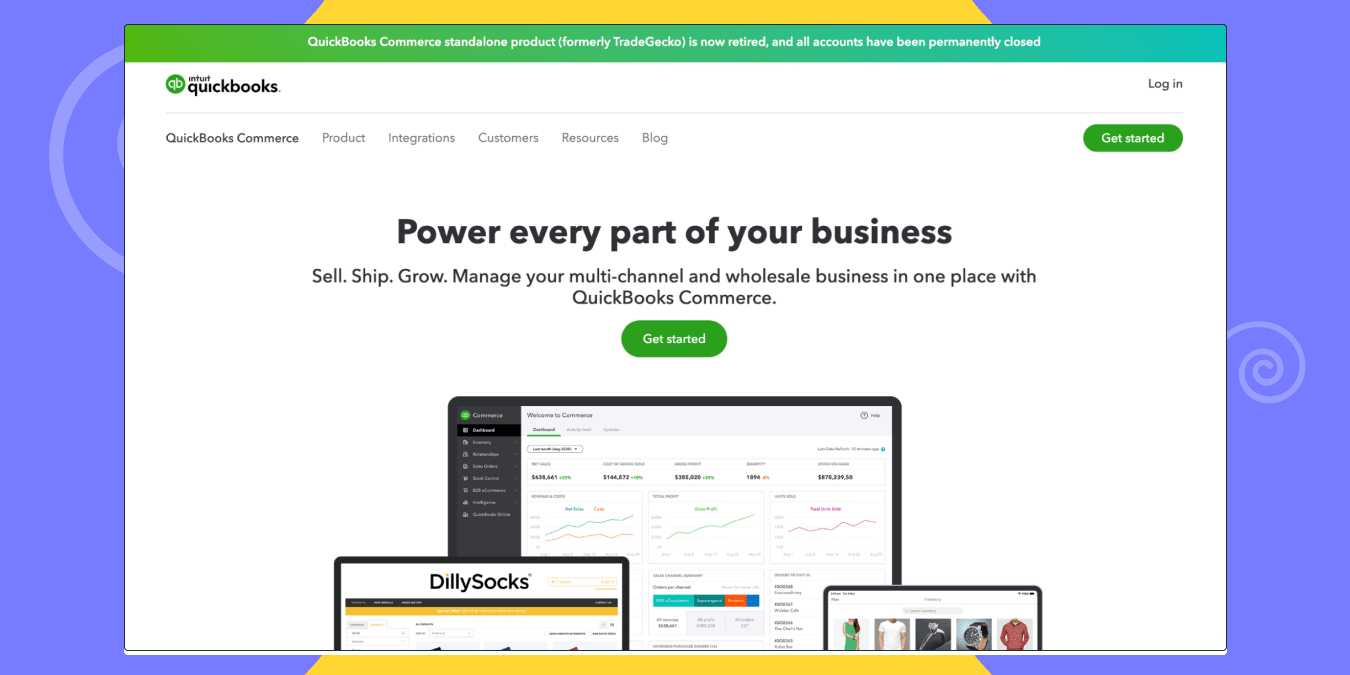 TradeGecko is a B2B eCommerce platform focusing on the wholesale market online.
Features
TradeGecko has introduced features that make online wholesale business transactions easier such as a private online storefront, exclusive pricing, minimum purchase requirements, and a single-click payment method.
Pricing
The platform charges between $39 to $599 depending on your storage location and number of orders.
Shift4Shop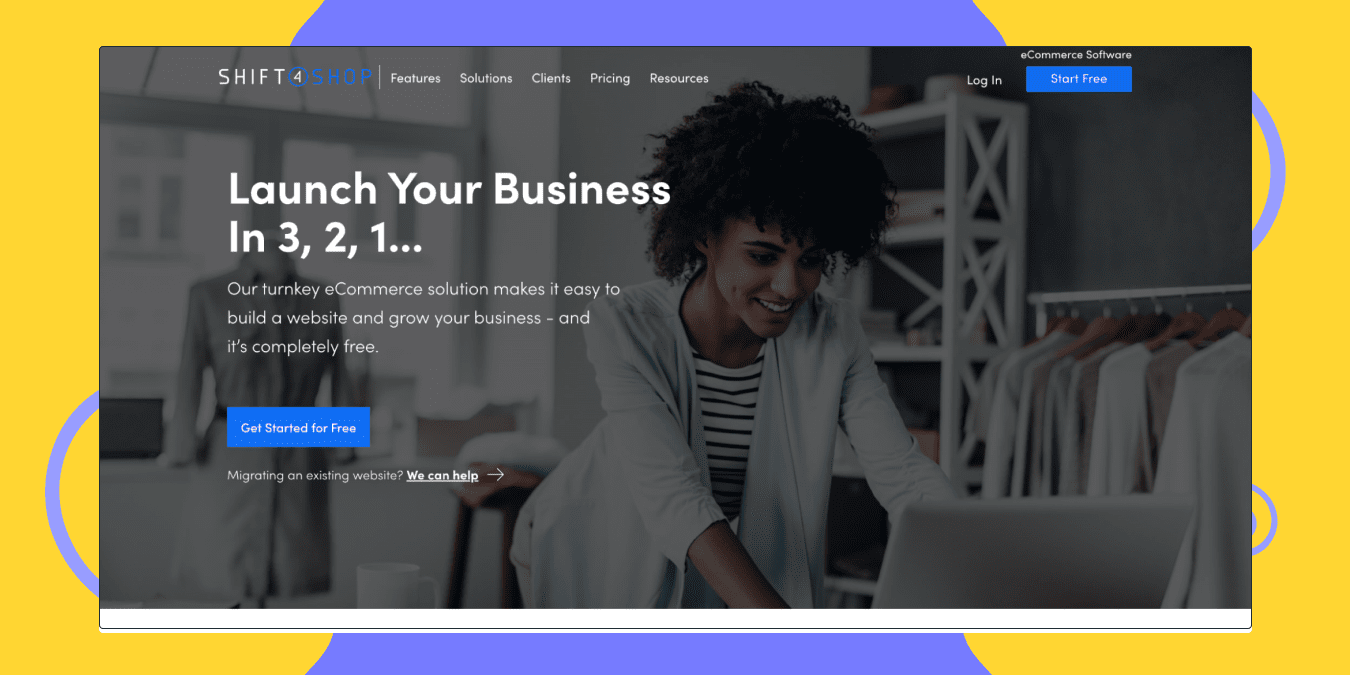 Shift4Shop provides a one-stop shop for all of your B2B eCommerce needs. It is the best B2B eCommerce platform for all B2B business models. Additionally, If you want to expand into B2C, you can do so from the same site.
Features
Shift4Shop has all the standard features of a B2B marketplace. This entails personalized rates for each customer, bulk rates, and specialized access points for retailers.
Pricing
Shift4Shop pricing is available upon request.
Notable Customers
There are over 3000 brands on the platform including Kitchen Restock, Gorilla Supply, and H-Mac systems.
OroCommerce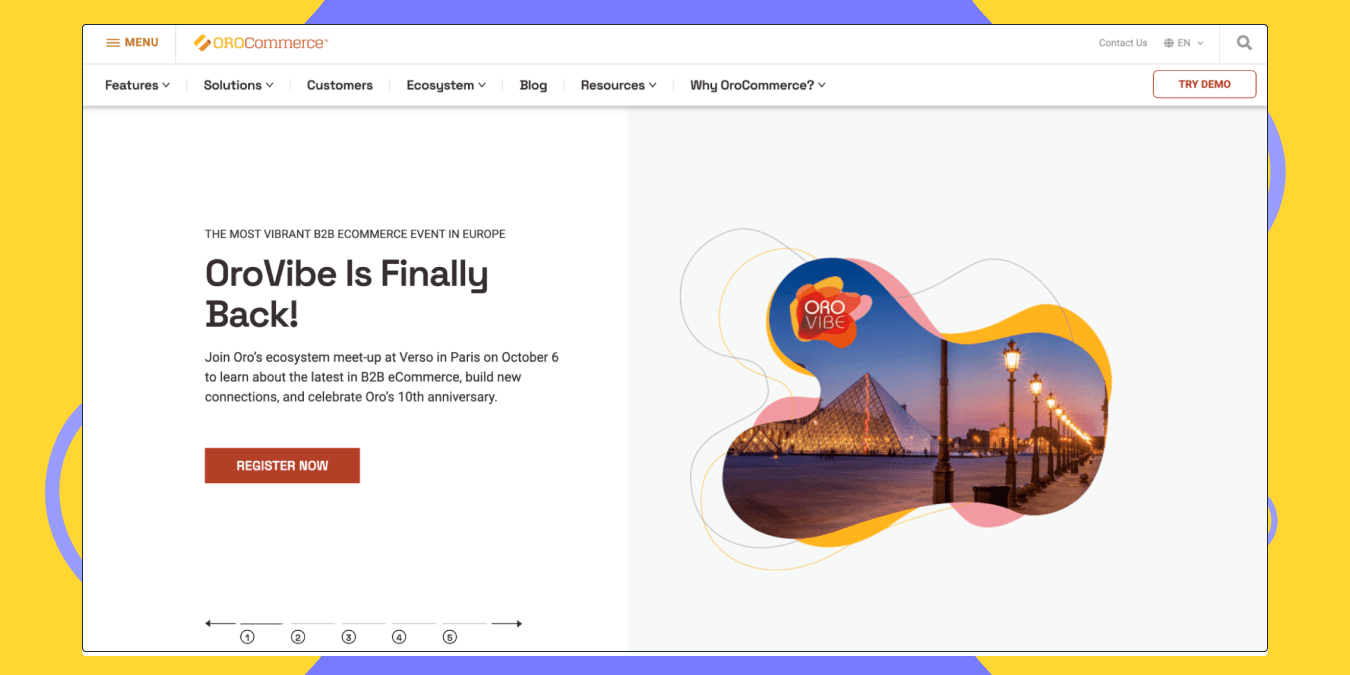 OroCommerce is designed for the B2B market making it one of the best B2B eCommerce platforms for small and medium-size brands.
Features
OroCommerce allows companies to implement essential B2B e-commerce features such as corporate account management, custom price catalogs for each business customer, streamlined processes, and more. OroCommerce also features a flexible API that streamlines the process of integrating the platform with your other systems, whether you're looking to bring it up to speed with your existing tech or build a completely new ecosystem around it.
Pricing
OroCommerce offers a free community edition for start-ups and smaller brands. And an enterprise edition for larger brands, price is available upon request.
Notable Customers
Notable brands that use OroCommerce are Igual, Ccoburo and Dunlop.
Which is Best eCommerce platform for you
After learning what to look for in a B2B eCommerce platform and evaluating the best B2B eCommerce platforms in the industry, choosing a platform should be difficult. If you're struggling to decide which one is best eCommerce for you? Remember, each platform has its own capabilities and features. Choose the one that will help you build the store you want, reach your target market, and reach the business goals you have.
Whatever platform you will choose, you have to put in a lot of manual work; from the product listing to optimizing inventory for marketplaces the right way. Simply expand to new channels with less manual work. Be result driven and become a top online seller with Sellbery. Give Sellbery a shot by using it for free for 7 days before you buy it.
Optimise you online selling!
Try Now



Also Popular on Sellbery
10 Must-Have Features to Look for in an Amazon Listing Tool
In 2018 almost 50% of all eCommerce retail sales in the US were made through Amazon. This marketplace dominates the eCommerce space while its closest competitor — eBay — only takes up the measly 6.6% of online sales. These numbers are the very reason that so many merchants want to list their products on Amazon. But being a seller on Amazon is not as easy as it used to be.