WooCommerce Product Listing & Order Management
WooCommerce is the world's most popular eCommerce platform. More than 2 million online stores use it to power up their business.
WooCommerce is open source software for WordPress, so no wonder that there is a vast selection of extensions and plugins available for it. One of the most popular plugins is Codisto LINQ that provides WooCommerce integration with Amazon and eBay. Everybody from small businesses to large corporations can find something useful for themselves.
Sellbery provides another great tool to enrich your WooCommerce seller experience.
Features
Sell where your clients buy
Easily download your items from WooCommerce to Sellbery and transfer them to any supported eCommerce platform: Amazon, eBay, Etsy, and others. This feature is great for effortlessly finding new marketplaces to sell your products on.
Outsource work to Sellbery
Listing products and updating product descriptions take up most of the seller's time when handling multiple marketplaces. But Sellbery will do this work for you. After listing your items the App tracks changes in product info and automatically applies them to all platforms. Sellbery also synchronizes all orders to a single dashboard so you don't need to log in to each merchant account and handle orders manually.
One place to track all info
With Sellbery you can control everything in your personal account. The App allows you to transfer new products to various marketplaces and change synchronization settings at any time. And sales data along with the information about orders and revenue are readily available in your custom analytics dashboard.
Automated inventory management
Avoiding unnecessary refunds is easy with Sellbery. The App tracks and automatically updates stock information across all channels to prevent overselling. This way your customers will not be able to purchase out of stock items and you will not need to provide refunds for such orders.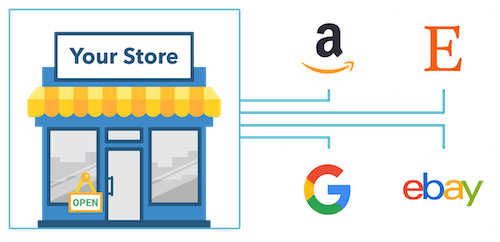 Want to Increase Profits?
Get 99 SKU Package for FREE and
start selling on the largest marketplaces in 50+ countries.
It's as easy as 1-2-3!
Try Free Plan