eBay Product Listing & Order Synchronization
eBay is a multinational eCommerce corporation that allows B2C and C2C sales on its website. This digital marketplace has more than 1 billion listings and about 170 million active buyers. eBay is a place designed to accommodate all sellers: from small merchants to big brand name shops.
The platform provides smart, easy, and profitable selling experience for everybody. Sellbery adds on to this experience by introducing its automation tool for eBay.
Features
Find more prospects
Discovering new markets to sell your products on is not always easy. With Sellbery you can upload all of your product listings in bulk from your store to eBay and vice versa. This way you can effortlessly reach millions of potential customers across multiple marketplaces.
Let Sellbery do the most time-consuming work
Simply upload products to Sellbery and it will take care of the rest. The App automates many of your business processes and there is no need to go through product management and order processing manually anymore. Sellbery updates product listings and synchronizes orders from all marketplaces to save your time.
All data in one place
Sellbery becomes you seller central for multichannel retailing. Everything you need for successful product and order management is at the tips of your fingers in your account. It also holds all of the important data about sales and revenue and presents it to you through analytics.
Up-to-the-minute inventory
With Sellbery you no longer need to use spreadsheets to control inventory, the App will do that for you. When a customer makes an order Sellbery picks up the changes and updates stock information on all of the platforms.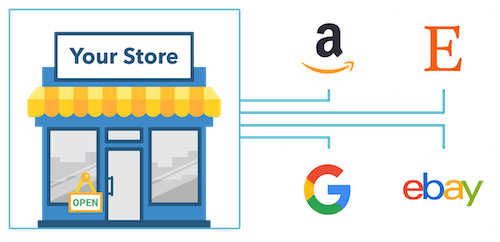 Want to Increase Profits?
Get 99 SKU Package for FREE and
start selling on the largest marketplaces in 50+ countries.
It's as easy as 1-2-3!
Try Free Plan