Amazon Product Listing & Order Synchronization
Amazon is the largest online marketplace in the world. Selling on Amazon provides you with a great opportunity of scaling your business up and successfully establishing your own brand. It is the easiest way of presenting your products to more than 200 million unique monthly viewers. Sellbery enables you to get all the advantages of selling on Amazon and saves your time and resources by listing products and monitoring orders automatically.
Amazon Features
FBA listing support
Whether you use Fulfillment by Amazon or Merchant Fulfilled Network, Sellbery is able to transfer and synchronize your product information and orders between multiple channels.
Two-way synchronization
Amazon also works as a source platform in Sellbery. This means that you can choose products that you have listed on Amazon, transfer them to another channel and synchronize the orders.
Add Amazon fees automatically
Sellbery can be set to automatically increase the price of your products to include the marketplace fee for easy accounting.
Browse Nodes
Amazon uses a system of Browse Nodes to organize all items on the website. With Sellbery you can generate and assign Amazon Browse Nodes for your products automatically via Amazon API or using a custom list in your account. This will make it easier for potential customers to find your listings among billions of others on Amazon.
Features
import_export
Downloading and uploading products
Sellbery helps bulk list all of your products across multiple marketplaces and services without a hassle. All you need to do is connect your shop or marketplace account to Sellbery, set up a link to a different channel and let Sellbery automatically transfer all product information.
sync
Order and inventory synchronization
Choose one platform and receive all orders from multiple channels there. With Sellbery there is no need to constantly log in to various merchant accounts and worry about overselling. The app keeps your inventory up-to-date and synchronizes all orders automatically on the platform of your choice.
update
Feed automation and selective feed update
Sellbery for Amazon supports various feed types. So you can synchronize all product data including descriptions, tags, keywords, pricing, pictures, and many more. You can update all feeds simultaneously or choose only some of them to provide a unified brand experience across all platforms.
shuffle
Mapping templates
This innovative Sellbery feature turns the tedious task of listing your products across multiple platforms into a swift effortless process. These templates contain pre-programmed listing rules that make Sellbery a fully automated bulk-listing tool.
school
Quick and easy onboarding
Register an account with Sellbery and turn your business multichannel in just a few simple steps. The process of listing your products across several platforms is clear and intuitive. Also, every subscription includes free setup of one channel.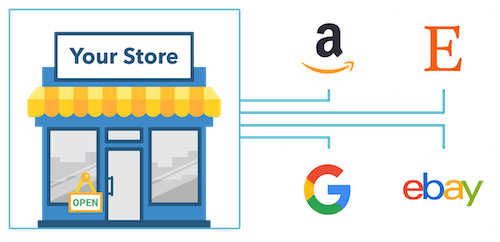 Want to Increase Profits?
Get 99 SKU Package for FREE and
start selling on the largest marketplaces in 50+ countries.
It's as easy as 1-2-3!
Try Free Plan