Magento Feed Automation & Order Synchronization
Magento is an open-source eCommerce platform which was first released in 2008. Since then it has come a long way, and nowadays it is used by such business giants as Coca-Cola, Ford, Nike, Christian Louboutin, and many others. Magento developers have made sure to deliver a fully-featured and versatile product to achieve the maximum result. Sellbery enhances this experience by helping any Magento seller to seamlessly turn their business multichannel by providing Magento integration with Amazon, eBay, and other online marketplaces.
Integrating Sellbery with your Magento store provides you with all advantages of channel feed automation.
Features
Quick and Convenient Management
So, you have a Magento store but also want to sell on other channels, like Amazon, eBay, Etsy, Google Shopping. The very thought of the amount of time you will need to list all your items on each one of them is exhausting. With Sellbery this is not an issue. You can list your products in bulk on all available platforms and sync orders from these channels automatically. And on top of that, you can manage all the orders in your Magento panel.
Selected Product Upload
If you want to upload only some of your products and not all of them, Sellbery allows you to do that with use of category ID. Simply, log in to your Magento panel, check the ID and specify it in Sellbery. And, voila, only the necessary products are uploaded.
Up-to-Date Inventory
With Sellbery there is no need to worry about overselling. The App will keep your inventory in check and update it automatically. This, in turn, will help you avoid unwanted delays or refunds due to customers ordering more products than you have in stock.
Store View Feature
For further convenience, Sellbery integrated the Store View supported by Magento. This feature is great if you want to manage orders from other channels separately from your Magento orders. No additional setup is required, just choose the Store View in the settings and Sellbery will do the rest.
Two-Way Synchronization
Another excellent feature that makes Sellbery a great asset is the ability to use Magento as an endpoint. This means that you can upload products to your Magento store from other platforms. So, whether you want to expand your business to multichannel sales or open your own brand store using Magento, Sellbery is here to help you.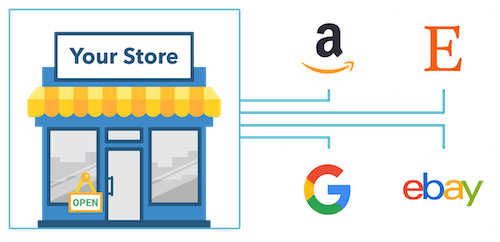 Want to Increase Profits?
Get 99 SKU Package for FREE and
start selling on the largest marketplaces in 50+ countries.
It's as easy as 1-2-3!
Try Free Plan