Lazada Product Listing & Order Synchronization
Lazada is a comparatively new online shopping marketplace launched in 2012. Its core audience is located in Vietnam, Thailand, Singapore, the Philippines, Malaysia, and Indonesia.
Lazada follows the successful Amazon's model of online retailing. It offers a wide range of products — more than 300 million SKUs across all websites — and provides quick free delivery for its customers.
Sellbery can assist you in conquering the Southeast Asian market by automating product feeds and order management for Lazada.
Features
Help customers discover your products
Driving new customers to your website can be difficult. Sellbery solves this problem by bringing your products to potential buyers instead. You can effortlessly bulk-list your Lazada inventory across multiple channels with the Sellbery App.
Save time and effort
Sellbery automates major steps of product management and order processing, so you no longer need to go through them manually. The App provides easy onboarding and pre-defined rules for various product categories. Automation of all processes allows you to direct your effort elsewhere.
Single admin panel
Sellbery enables you to track and control everything in your account. Download and upload products, check orders and analyze the performance of your business, all in one place.
Keep inventory in check
Sellbery makes it easy to avoid overselling by keeping your Lazada inventory up to the minute. While synchronizing the orders our  multichannel listing software automatically updates the number of items left in stock across the channels.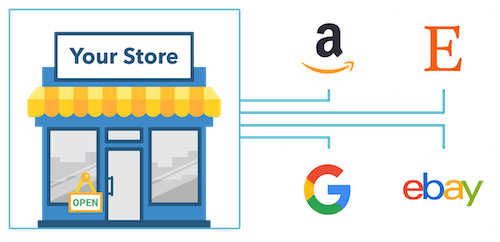 Want to Increase Profits?
Get 99 SKU Package for FREE and
start selling on the largest marketplaces in 50+ countries.
It's as easy as 1-2-3!
Try Free Plan