Taking Everything Under Control. Sellbery Releases Analytics Dashboard!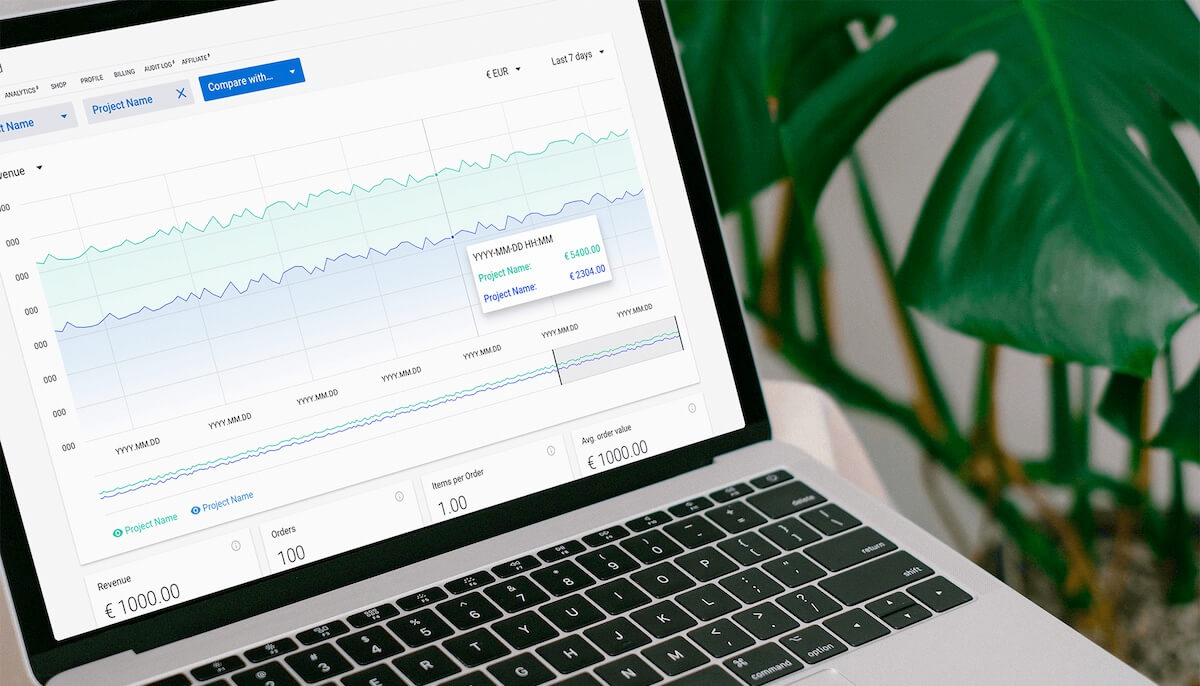 This time you won't stay indifferent! The mission of this update is to help you keep an eye on all your progress, sales, and revenue. We know that you need a tool to track all your activities.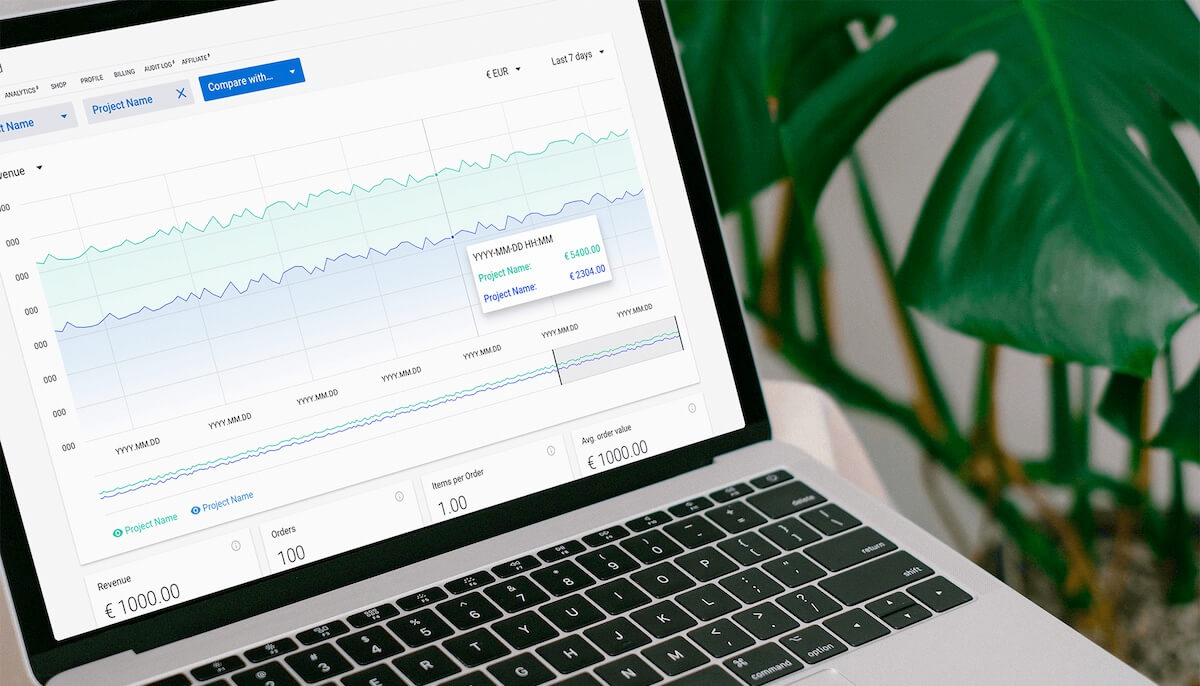 This time you won't stay indifferent! The mission of this update is to help you keep an eye on all your progress, sales, and revenue. We know that you need a tool to track all your activities.
Why do you even need analytics?
The answer is simple: any business needs analytics to make intelligent decisions. Such an overview can be useful for marketing planning and business expansion. You can improve profits, build a strong multichannel strategy, and track all the important metrics of your progress.
This is a direct way to gather the statistics that can be vital for your business development. Compare your distribution channels, and find out which is performing better. As a result, you will be able to analyze your stores' performance and decide where to foster your efforts.
Quantifying your progress is very important: you can recognize the problems (if you have any), and plan your future activities.
Take a look at your products, which of them are underperforming? How are newly launched products performing?
What's so special about analytics in Sellbery?
Well, you definitely know that you can manage not only one sales channel in the Sellbery app. The possibility to compare several components or projects is a very illustrative way to monitor which one performs better. You can get a clear image that shows what amount of revenue and orders you had for a certain period of time.
Our Analytics overview provides you with valuable metrics of sales channels and products in your stores. You can determine which one of your projects perform better and build a new sales strategy.
Please note, that Analytics Dashboard displays only products that are downloaded in Sellbery and uploaded to your target platform.
Dashboard elements
Inside Sellbery Analytics Dashboard you can see the following elements:
Selection Menu
Overview Chart
Tiles
Top 10 products
Selection menu. Composing your own Analytics dashboard starts with picking your projects. You can choose up to 7 projects and they will be distinguished by different colors.
Sneak peek: you can actually choose more than 7 projects, but they won't be distinguished by color.
Expand this menu and choose any of your Projects by their names. The first chart is comparing the components and projects you've chosen. Here is how it looks like: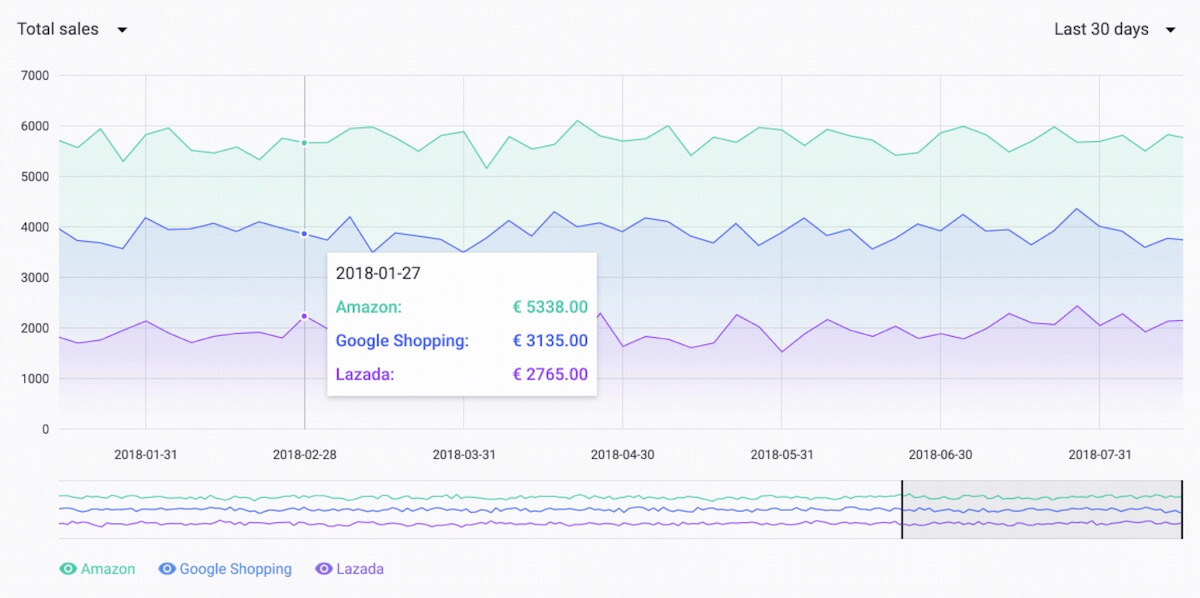 Every project has its own color for making your chart more intelligible. Analyze all the basic markers of your eCommerce business: revenue, orders, items per order, or avg. order value during a certain period of time. You can choose the period for tracking your insights that is most suitable for you: during the last day, last 3 days, last week (7 days), last 2 weeks or last month (30 days).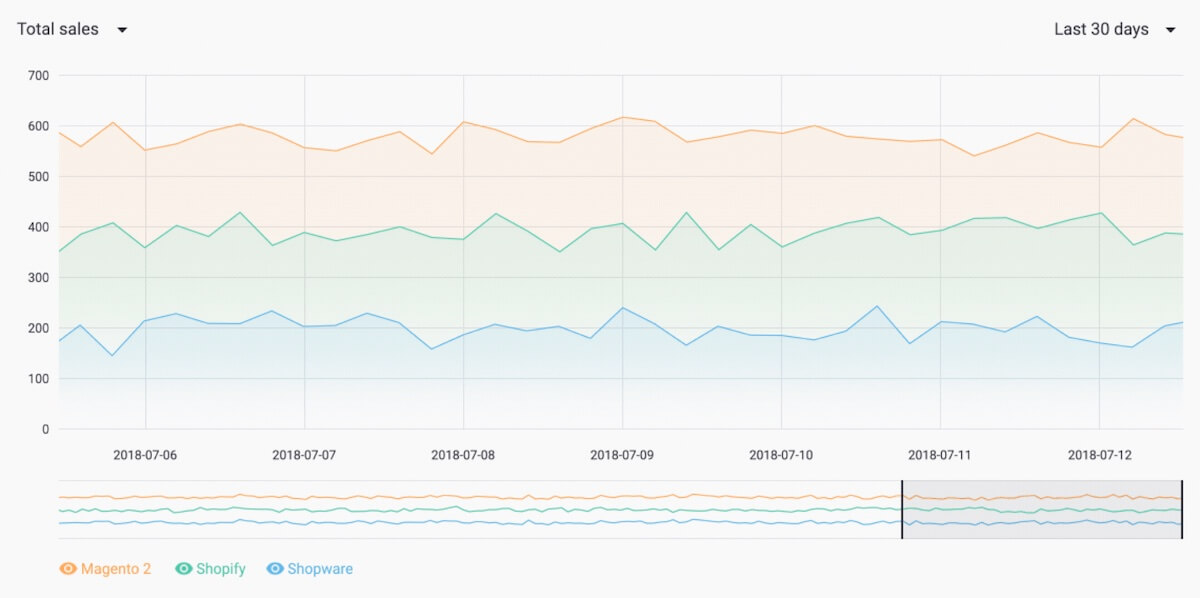 The data is generated and displayed according to the currency set in your endpoint. Moreover, all sales are displayed in your time zone for convenience.
The following block of tiles is a quick overview of stats that you've previously chosen.

Each chart has its own meaning:
Revenue shows the total amount of money received during the selected time period.
Orders tile displays the number of orders you had during the same period of time.
Items per order tile explain the average number of items ordered by each customer during the selected period of time.
Avg. order value is the amount of money spent by each customer during this period of time.
The green arrow indicates the growth of your metrics. At the same time, the red one means their decrease. The calculations are done by comparing the data from your chosen period of time with the data from the previous equal period.
The last dashboard summarizes information about your products:

Products Top-10 chart ranks all the data by "Revenue" and "Units Sold". It also displays the following benchmarks:
Product's name
Product's Category e.g. swimwear, accessories, etc.
Units sold — the total amount of items you've sold
Revenue — is the total amount of income generated by a company's operations over a period of time per product.
So, in this tab, you can see the name of every product within your projects and the indicators that describe the performance of each of these items.
Every business has its own aims, especially when selling on more than one channel. And every business needs its own measures according to the goals. Analytics Dashboard, driven by a demand, represents various metrics, which you can take and use for your own purposes.


Also Popular on Sellbery
How to Start a Multichannel Retailing Business: Prerequisites & Main Steps
Did you know that multichannel retailing brings billions of dollars to sellers every day? Retailing has been steadily developing for many years but the real revolution happened with the advent of the internet. Online stores allowed for customers to shop from anywhere in the world without leaving the comfort of their own home. And marketplaces changed the industry all over again.